Rank
FIFA (25th August 2022)

5th


EFO ranking Group One (4th)
ELO rating 12th
Colours
The Nike 2022 away uniform

-

Challenge red jerseys

with navy blue

winged collars(with turquoise trim)/cuffs, challenge red shorts, challenge red socks with navy blue tops.
Captain
Harry Kane
Manager
Gareth Southgate, 52 (3 September 1970), appointed caretaker manager on 27 September 2016, appointed as permanent manager on 30 November 2016.

⁴³

most goals as captain

fiftieth of 59, W 29 - D 11 - L 10 - F 111 - A 43.

P 76th of 85, W 46 - D 17 - L 13 - F 161 - A 53

England Lineup

two changes to the previous match (Walker & Saka out, Stones & Shaw in)
league position (15th September)

1
Pope, Nicholas

D.

30
165 days
14 April 1992
G
Newcastle United FC

(PL 11th)

10
5ᵍᵃ

the 34th goalkeeper to face a penalty-kick

final app 2017-22
4
Stones, John, injured off 37th min. (36.25)
28
121 days
28 May 1994
RD
Manchester City FC

(PL 2nd)

59
3
5
Dier, Eric J.E.
28
254 days
15 January 1994
CD
Tottenham Hotspur FC

(PL 3rd)

47
3
6
Maguire, J. Harry
29
205 days
5 March 1993
LD
Manchester United FC

(PL 5th)

48
7
2

James, Reece T.
22
292 days
8 December 1999
RWB
Chelsea FC

(PL 6th)

15
0
7
Rice, Declan
23
255 days
14 January 1999
LDM
West Ham United FC

(PL 18th)

34
2
8

Bellingham, Jude V.W., off 90th +1 min.
19
89 days
29 June 2003
RDM
Bsv Borussia 09 Dortmund, Germany
17
0
3

Shaw, Luke P.H.
27
76 days
12 July 1995
LWB
Manchester United FC

(PL 5th)

23
3
9
Kane, Harry E.
29
60 days
28 July 1993

CF

Tottenham Hotspur FC

(PL 3rd)

75
51


¹⁶

the 102nd penalty-kick scored

(139)

the 25th player to reach the 75-app milestone

10
Sterling, Raheem S., off 66th min.
27
292 days
8 December 1994
in Kingston, Jamaica
LF
Chelsea FC

(PL 6th)

79
19
11
Foden, Philip W., off 66th min.
22
121 days
28 May 2000
RF
Manchester City FC

(PL 2nd)

18
2
England Substitutes
15

Walker, Kyle A., on 37th min.

(36:53)

for Stones
32
121 days
28 May 1990

RD

Manchester City FC

(PL 2nd)

70
63
0
7

the 29th player to reach the 70-app milestone

scoreline:

England 0

Germany 1
18

Saka, Bukayo A.T., on 66th min.

(65:01)

for Foden
21
21 days
5 September 2001

RF

Arsenal FC

(PL TOP)

20
13
3
7

193rd player to reach the 20-app milestone

17
Mount, Mason T., on 66th min

. (65:05)

for Sterling
23
259 days
10 January 1999

LF

Chelsea FC

(PL 6th)



32

22
5

10

101st goal by a substitute

scoreline:

England 3

Germany 3
14

Henderson, Jordan B., on 90th+1 min.

(90:30)

for Bellingham
32
101 days
17 June 1990

DM

Liverpool FC

(PL 7th)

70
46
2
24

the thirtieth player to reach the 70-app milestone

result:

England 3 Germany 3

unused substitutes:
12-Kieran Trippier, 13-Aaron Ramsdale, 16-Conor Coady, 17-James Ward-Prowse, 20-Ivan Toney, 21-Ben Chilwell, 22-Dean Henderson, 23-Tammy Abraham.
team notes:
John Stones appeared to have pulled his hamstring when running across the halfway line

(34:28)

after a superb interception and began another attacking play. He went down

(34:39)

and began to receive treatment

(34:53)

, before eventually walking off the pitch

(36:25).


This is England's highest scoring Nations League match, in this, their eighteenth.
Tottenham Hotspur have now provided the team captain for 96 matches, one more than Wolverhampton Wanderers, but still two less than Liverpool and 42 less than Manchester United.
Nick Pope becomes the 22nd goalkeeper to have achieved ten England appearances. He is alos the oldest goalkeeper to face a penalty kick since David James (37) in March 2008.
Mason Mount and Bukayo Saka had been waiting on the touchline as replacements since

62:20.


Luke Shaw's goal ended a run of 521 official minutes

(554 actual)

since England scored from open-play.
stadium notes:
Germany have now played at the new National Stadium five times, one more than any other nation.
records:
Not since June-November 1958 have England not won six consecutive competitive matches, equalling a record already set in 1925-27.
Not since 1993 (also set in 1958, 1977 and 1981) have England not won in six matches. The unwanted record is seven (1958).
This is England's highest scoring Nations League match, in this, their eighteenth.
The previous five meetings between these two nations have all been scoreless at halftime.
Harry Kane becomes England's record goalscorer against Germany with four goals. He has now scored against the Germans in their last three meetings, and the last four that England have scored a goal.
In the 71st minute, Luke Shaw scored the 254th England goal by a Manchester United player. Twelve minutes later, Harry Kane scored the 254th England goal by a Tottenham Hotspur player.
Kai Havertz's second goal is the twentieth goal England have conceded at a home venue in the month of September.
Manager Gareth Southgate first played for England against Germany in the Euro 1996 semi-final. His shoot-out kick being saved. He was an unused substitute for the match during Euro 2000. He did start in the qualification match that was the last at the old Wembley Stadium, but an unused substitute in the 5-1 victory in Munich.
3-4-3
Pope -
Stones (Walker), Dier, Maguire -
James, Rice, Bellingham (Henderson), Shaw -
Foden (Mount), Kane, Sterling (Saka)

Averages

(Starting XI)

:

Age

26

years 104 days
Appearances/Goals
38.6
7.9
Rank:
FIFA (25th August 2022) 11th


EFO ranking

Group 5




ELO rating

9th
Colours
Made by Adidas - White crew-necked jerseys with black centre stripe/cuffs/adidas shoulder stripes/underarm panel, black collar with gold trim, black shorts with white adidas sidestripes, white socks with black adidas trim/calf hoop.
Captain
Joseph Kimmich
Manager
Hans-Dieter Flick
57 (24 February 1965), appointed 25 May 2021, effective 1 August.

15th match, W 9 - D 5 - L 1 - F 45 - A 12.

Germany

Lineup
22
ter Stegen, Marc-André
30
149 days
30 April 1992
GK
FC Barcelona, Spain
30
0
5
Kehrer, J. Thilo
26
5 days
21 September 1996
RB
West Ham United FC, England

22

0

83rd min. for an unkno

wn reason, but given after England's third goal celebrations

15
Süle, Niklas
27
23 days
3 September 1995
RCD
Bsv Borussia 09 Dortmund
42
1
23
Schlotterbeck, Nico
22
299 days
1 December 1999
LCD
Bsv Borussia 09 Dortmund

5

0

82nd min. for a late tackle on Jude Bellingham on the edge of the area

P

ENALTY

3
Raum, David, off 69th min.
24
157 days
22 April 1998
LB
RB Leipzig
11
0
6
Kimmich, Joshua W.
27
230 days
8 February 1995
RDM
FC Bayern München
70
5
21
Gündoğan, İlkay
31
337 days
24 October 1990
LDM
Manchester City FC, England
62
16
62nd penalty against scored

(91st overall)

18
Hofmann, Jonas, off half-time.
30
74 days
14 July 1992
RM
Borussia VfL 1900 Mönchengladbach
16
4
14
Musiala, Jamal, off 79th min.
19
212 days
26 February 2003
AM
FC Bayern München
17
1
19
Sané, Leroy A., off 69th min.
26
258 days
11 January 1996
LM
FC Bayern München
47
11
7

Havertz, Kai L., off 90th+1 min.
23
107 days
11 June 1999
CF/AM
Chelsea FC, England
30
10
Germany Substitutes
9

Werner, Timo, on half-time for Hofmann
26
204 days
6 March 1996
CF
RB Leipzig
55
24

scoreline:

England 0 Germany 2

10

Gnabry, Sergio D., on 69th min.

(67:40)

for Sané
27
74 days
14 July 1995
LM
FC Bayern München
36
20
20
Gosens, Robin E., on 68th min.

(67:44)

for Raum
28
83 days
5 July 1994
LB
FC Internazionale Milano, Italy
14
2

scoreline:

England 2 Germany 2

13
Müller, Thomas, on 79th min.

(78:12)

for Musiala
33
13 days
13 September 1989
CM
FC Bayern München
118
44

scoreline:

England 3 Germany 3
17
Bella-Kotchap, Armel, on 90th+1 min.

(90:01)

for Havertz
20
289 days
11 December 2001
in Paris, France
CD
Southampton FC, England
1
0

result:

England 3 Germany

3
unused substitutes:
1-Oliver Baumann, 4-Matthias Ginter, 8-Max Arnold, 12-Kevin Trapp, 16-Benjamin Henrichs.
team notes:
Germany, as a unified nation, had never taken a penalty-kick against England, until now. Gündoğan becoming the 86th different player to do so.
Gündoğan is the oldest player since Zinedine Zidane in Euro 2004 to score a penalty against England.
4-2-3-1
ter Stegen -
Kehrer, Süle, Schlotterbeck, Raum (Gosens) -
Kimmich, Gündoğan -
Hofmann (Werner), Musiala (Müller), Sané (Gnabry) -
Havertz (Bella-Kotchap)

Averages

(Starting XI)

:

Age
26 years 137 days
Appearances/Goals

32

4.1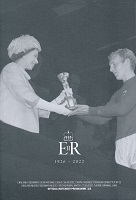 The Wembley pitch looked stunning as the two teams and the crowd showed their faultless tribute to Her Majesty Queen Elizabeth II, it really was a memorable picture celebrating the life of a truly remarkable Monarch.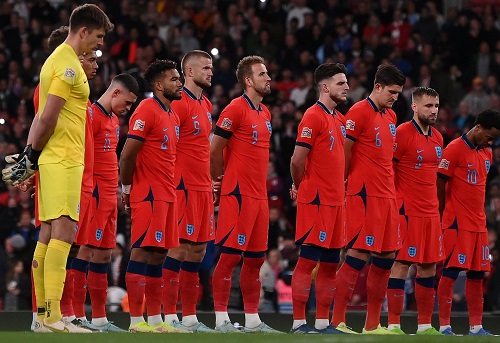 The match turned out to be a bit special too, although at half-time, all the doubts of recent games were still raising their ugly heads. It all started in a similar way to the Italy game, with Germany hustling England out of their stride, shutting them down at every opportunity. It was clear that Gareth Southgate had again opted for a defensive line-up, but also looking to break quickly when they had the chance. Germany had possession for much of the early stages, without creating too many problems for the England defence. Only England mistakes would gift the visitors their chances and once, when Nick Pope slipped, the goalkeeper was relieved to see a German shoot over the bar. That was followed by another dangerous error as John Stones almost sold Pope short with a backpass, but the keeper hacked that one away as a German forward pressed. At the other end Raheem Sterling was twice close to breaking through, but alas, both Harry Maguire and Harry Kane's passes failed to reach the Chelsea man.

Jude Bellingham and Declan Rice were working tirelessly to stem the possession of the Germans, and worryingly, the England defence was often at sixes and sevens, as the team tried to settle down to the job in hand. This they gradually did and on 25 minutes England should have been ahead. A fabulous pass from Luke Shaw gave Sterling a clear run at goal. When he shot goalkeeper, Marc-Andre der Stegan , saved well, when really he should have had no chance. A real let-off for the Germans and one wondered if England would regret that miss?

Two minutes later Kane tried a volley that whizzed past the far post with the keeper nowhere, and then after a spell of more German possession, Sterling had another fine chance which he again squandered. At times there were 9 England players defending, but they were still making chances at the other end, but just couldn't add the killer touch. Rice then broke from deep, but again the final pass has limited options and went astray. Meanwhile, Germany, with Ilkay Gundogan pulling the strings, were probing from side to side, trying to stretch England, who, it must be said, held them at bay well.

There was a blow for Stones in the 36th minute as he pulled up clutching his hamstring. Kyle Walker went on to replace him Two minutes later Sterling and Shaw combine to win a corner, but like many others in recent games, that was wasted. Do England actually practice taking corners? I do have my doubts. Just before the break Sterling had another fine chance, but shot straight at the keeper. The Chelsea striker could have had a first half hat-trick on another day. Right on half-time Joshua Kimmich fired in a powerful shot which whistled past Pope's right hand post, but apart from that England had kept Germany out quite well.

Wearing another hat, I am a Preston North End fan, and no goals for, and only the odd goal against, has been a feature of our season to date. All is well until a lapse of concentration, or a mistake, changes the picture. Deja vu perhaps?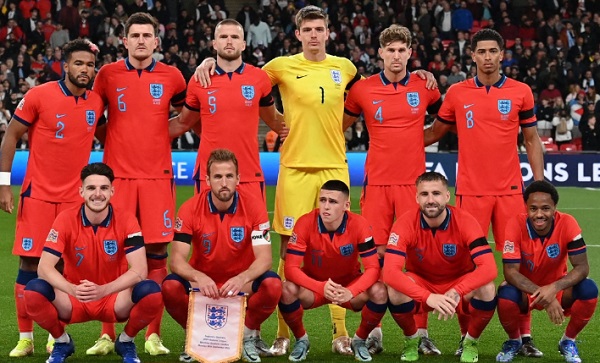 Timo Werner came on for the Germans after the break but England are first to show. Once again Sterling shoots on target, but the shot is weak and the goalkeeper is down smartly to his left to save. That's four Sterling could have had. And just a minute later, that mistake, that was always going to happen, did. Maguire was the culprit, twice, sad to say, because up until then he had done well. First off, he tried a pass that was easily intercepted by Jamal Musiala. Musiala ran at Maguire and in the defender's attempt to stop him, he tripped him in the area. At first it seemed he had got away with it, but the VAR check confirmed what everyone in the stadium knew, it was a definite penalty. Gundogan despatched the spot-kick with the minimum of fuss, and those Sterling misses, suddenly took on a different meaning.

On 56 minutes, Reece James set up Bellingham for a shot, but the ball flew way over the bar. Straight away a clever flick by Phil Foden to James, and Bellingham was again presented with a shot at goal, again off target. In the next few minutes Werner missed two chances and another shot flew wide as Germany tried to press home their advantage. Eric Dier made a rare mistake that almost led to another goal, before another England corner was wasted, with Dier heading over. Southgate responded by sending on Bukayo Saka and Mason Mount for Foden and Sterling, but before either had time to settle, Germany added a second goal. The unfortunate Maguire was again at centre stage, losing possession in the German half, and then watching in horror as Werner set up Kai Havertz to cut inside and curl a terrific shot in off the far post, giving Pope no chance. Havertz had so much time and space to pick his spot. And that seemed to be that...or did it?

England started to hit back with first Bellingham shooting straight at the keeper, and then James crossed from the right on 72 minutes, across that eluded everyone and found Shaw coming in from the left. His shot squirmed in off the keeper and over the line, despite a last ditch clearance. Confirmation came after another VAR check. Could this be a lifeline at last? Sure enough it certainly could, as just three minutes later the two substitutes combined for an equaliser. Rice, to James and on to Saka, who burst through the German defence, and his pass to Mount was met with a first time shot which no goalkeeper would have saved. It was not to end there, though. Bellingham went down just inside the area as the attack continued with Kane going oh so close to scoring. Bellingham was hurt, but felt much better after yet another VAR check found that he had had his leg taken from under him, penalty! Up stepped the skipper, to allay all fears of any nerves with a superb spot-kick taken with aplomb!

Just as the fans and players were about to hail an amazing victory, and the fat lady was about to sing, there was one more twist, and mistake, in the story. Sergio Gnabry was not closed down at all and was able to fire in a shot at Pope. An easy save for a goalkeeper of his class? Sadly not, as he allowed the ball to bounce away from him, and Havertz was in like a whippet to shoot home the rebound. AARGH!!! Why do we love football so much? Even then, Saka had yet another chance to win it for England, but the keeper saved again. Still, plenty to write about and a 3-3 was a lot better than a 0-0 or 0-1, but oh, how we rued all those Sterling misses from earlier. So, a spirited performance to send us on our way to the World Cup, where who knows what might happen next?