Rank:
FIFA (31st March 2022) 12th


EFO ranking

Group 5




ELO rating

10th

Colours:
The women's kit
Made by Adidas - White crew-necked jerseys with black collar and adidas shoulder stripes & black/red/gold cuffs, black shorts with white adidas sidestripes, white socks with black adidas trim.
Capt:
Manuel Neuer
Manager:
Hans-Dieter Flick, 57 (24 February 1965), appointed 25 May 2021, effective 1 August.
11th match, W 8 - D 3 - L 0 - F 36 - A 5.

Germany

Lineup
1
Neuer, Manuel P.
36
72 days
27 March 1986
G
FC Bayern München
111
0
16
Klostermann, Lukas M.
25
4 days
3 June 1996
RD
RB Leipzig
17
0
2
Rüdiger, Antonio
29
96 days
3 March 1993
CD
Chelsea FC, England
52
2
23
Schlotterbeck, Nico
22
188 days
1 December 1999
LD
SC Freiburg

3

0

8th min. for tripping Harry Kane as they were both running into the penalty area
18

Hofmann, Jonas, off 65th min.
29
328 days
14 July 1992
RWB
Borussia VfL 1900 Mönchengladbach
12
3
6

Kimmich, Joshua W.
27
119 days
8 February 1995
RDM
FC Bayern München
66
4
21
Gündoğan, İlkay, off 83rd min.
31
226 days
24 October 1990
LDM
Manchester City FC, England
59
14
3
Raum, David
24
46 days
22 April 1998
LWB
TSG 1899 Hoffenheim
7
0
13
Müller, Thomas, off 75th min.
32
267 days
13 September 1989
RF
FC Bayern München
114
43
7
Havertz, Kai L
22
361days
11 June 1999
CF
Chelsea FC, England
27
8
14
Musiala, Jamal, off 65th min.
19


92 days

26 February 2003
LF
FC Bayern München
13
1

Germany

Substitutes

scoreline:

Germany 1 England 0
9
Werner, Timo, on 65th min.

(64:35)

for Musiala
25
93 days
6 March 1996
LF
Chelsea FC, England
51
22
10
Gnabry, Serge D., on 65th min.

(64:42)

for Hofmann
26
328 days
14 July 1995
RWB
FC Bayern München
33
20
8
Goretzka, Leon C., on 75th min.

(74:57)

for Müller
27
121 days
6 February 1995
RF
FC Bayern München
43
14
19
Sané, Leroy, on 83rd min.

(82:54)

for Gündoğan
25
147 days
11 January 1996
RM
FC Bayern München
44
11

result:

Germany 1 England 1

unused substitutes:
4-Anton Stach, 5-Thilo Kehrer, 11-Lukas Nmecha, 12-Kevin Trapp, 15-Niklas Süle, 17-Benjamin Henrichs, 20-Julian Brandt, 22-Oliver Baumann.
records:
Germany have now scored in each of their previous 22 home matches (72 since September 2018).
They are still unbeaten under Hans Flick (11 matches).
3-4-3
Neuer -
Klostermann, Rüdiger, Schlotterbeck -
Hofmann (Gnabry), Kimmich, Gündoğan (Sané), Raum -
Müller (Goretzka), Havertz, Musiala (Werner)

Averages

(Starting XI)

:

Age

28

years 1 day
Appearances/Goals
43.7
6.7
Rank:
FIFA (31st March 2022)

5th


EFO ranking Group One (3rd)
ELO rating 7th to 6th
Colours:
The Nike 2020 away uniform

-

Mega blue and royal blue collared jersey and shorts. Abstract three-lions pattern throughout with challenge red sidestripes. Mega blue socks with a thin challenge red/sport royal blue hoop.
Capt:
Harry Kane ⁴²


47th, W 29 - D 10 - L 8 - F 108 - A 35.

Manager:
Gareth Southgate, 51 (3 September 1970), appointed caretaker manager on 27 September 2016, appointed as permanent manager on 30 November 2016.


72nd match, W 46 - D 15 - L 11 - F 158 - A 45

England

Lineup

1
Pickford, Jordan L.
28
92 days
7 March 1994
G
Everton FC
45
34ᵍᵃ
2
Walker, Kyle A.
32
10 days
28 May 1990
RB
Manchester City FC
67
0
3
Trippier, Kieran J.
31
261 days
19 September 1990
LB
Newcastle United FC
36
1

the 37th United player to represent England

4
Rice, Declan
23
144 days
14 January 1999
RDM
West Ham United FC
31
2
5
Stones, John
28
10 days
28 May 1994
RCD
Manchester City FC
57
3
6
Maguire, J. Harry
29
94 days
5 March 1993
LCD
Manchester United FC
44
7
7
Saka, Bukayo A.T.M., off 80th min.
20
275 days
5 September 2001
RAM
Arsenal FC
16
3
8
Phillips, Kalvin M., injured off 14th min.
26
187 days
2 December 1995
LDM
Leeds United AFC
21
0
9
Kane, Harry E.
28
314 days
28 July 1993

CF

Tottenham Hotspur FC

71
50


¹⁵

the 101st penalty-kick scored

(138)

10
Sterling, Raheem S.
27
181 days
8 December 1994
in Kingston, Jamaica
LAM
Manchester City FC
75
19
11
Mount, Mason T., off 72nd min.
23
148 days
10 January 1999
AM
Chelsea FC
29
4
England Substitutes
19
Bellingham, Jude V.W., on 14th min.

(13:52)

for Phillips
18
343 days
29 June 2003
LDM
Bsv Borussia 09 Dortmund, Germany
14
9
0
5

scoreline:

Germany 1 England 0

14
Grealish, Jack P., on 62nd min.

(71:55)

for Mount
26
270 days
10 September 1995
LAM
Manchester City FC
22
11
1
11
20
Bowen, Jarrod, on 80th min.

(79:05)

for Saka
25
169 days
20 December 1996
RAM
West Ham United FC
2
1
0
1
result:

Germany 1 England 1

unused substitutes:
12-Reece James, 13-Nick Pope, 15-Marc Guéhi, 16-Conor Coady, 17-James Ward-Prowse, 18-Conor Gallagher, 21-Trent Alexander-Arnold, 22-Aaron Ramsdale, 23-Tammy Abraham.
team notes:
Jordan Pickford and Harry Kane remain the only players to have played in all of England's Nations League matches, with Pickford starting them all.
Kalvin Phillips collided with Schlotterbeck (7:54) took a knock to the thigh, staying down. He hobbled on and went down again (8:39). He came off the field for treatment (10:05) and returned within fifty seconds, He limped on until going down again (12:09). The referee immediately held up play, the throw-in resulted in

Müller lobbing Pickford (12:16) and the goal being disallowed. Phillips was replaced when he was assisted off the field (13:52).
Jack Grealish's great great grandfather,

Billy

Garraty, also played for England in 1903.
manager notes:
Southgate is the first to manage England on four

separate occasions against Germany (combined).
records:
Harry Kane has already tak

en

a record amount of penalty-kicks, he extends his record in scoring them, which takes him into clear second, behind Wayne Rooney's 52.
His goal is the thirtieth scored against Germany (combined) by England - and the first ever penalty kick scored.
It is the 36th goal this season, one more than last season, but one less than 1965-66 (record is 45 in 1960-61).
Manager Gareth Southgate first played for England against Germany in the Euro 1996 semi-final. His shoot-out kick being saved. He was an unused substitute for the match during Euro 2000. He did start in the qualification match that was the last at the old Wembley Stadium, but an unused substitute in the 5-1 victory in Munich.
4-2-3-1
Pickford -
Walker, Stones, Maguire, Trippier -
Rice, Phillips (Bellingham) -
Saka (Bowen), Mount (Grealish), Sterling -
Kane

Averages

(Starting XI)

:

Age
27 years 87 days
Appearances/Goals
44.7
8

oldest team since vs. Germany in 2017

most experienced starting XI under Southgate


most experienced since against Ukraine in 2013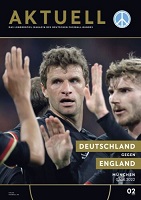 Several changes were made for this second group match in the Euro Nations League. The Germans would be formidable opposition, just what we didn't need after the disappointment in Budapest. And a nervous start by England didn't help matters, as the Germans quickly took the initiative in the early stages. In the first minute, Kai Havertz shot low, but Jordan Pickford was alive to it and gathered the ball well. A minute later, a fine clearance from Kyle Walker, prevented what looked a certain goal. Germany had started on the front foot, that's for sure.

When England finally found themselves in a good attacking position after four minutes, they did their usual thing, by passing the ball backwards, eventually to Pickford. What was that all about? The lively start continued as Raheem Sterling and Harry Kane combined for the latter to fire in a shot. Germany's goalkeeper, Manuel Neuer made the first of several good saves to keep his side level. An accidental collision in midfield saw Kalvin Phillips go down injured, and it looked serious. He manfully tried to carry on before, moments later, reluctantly trudging off to be replaced by Jude Bellingham. That was after just 14 minutes of a game which can best be described as fast and furious so far. It was certainly to be a match when there could be no passengers in the England side, otherwise the Germans would take full advantage.

England were a little bit at sixes and sevens for a few minutes, but Pickford again did well to cut out a low cross from the right. The referee was letting some hefty challenges go unpunished in an effort to keep the game moving. That is all very well but some of those challenges deserved to be punished. When he did give a free-kick it was usually against England, for example, when Harry Maguire jumped cleanly to head away but was then pulled up for a foul.

In the 23rd minute, a long ball forward from the Germans found its way to Jonas Hofmann, who sped forward to calmly beat Pickford all ends up. Thankfully the goal was ruled out for and offside decision, soon confirmed by VAR. Three minutes later it was England who had a near miss. Sterling won a corner, Maguire beat the keeper to scuff a header, and the ball dropped to Kane, who shot over the bar, with Neuer protesting vigorously that he had been fouled. He hadn't!

Players were going down like ninepins as first Kieran Trippier suffered an injury, and then Sterling went down, and both players looked the worse for wear as they tried to recover after treatment. As the clock ticked round to 35 minutes gone, it was again noticeable how deep Kane was operating. It seems that playing, effectively, with two players in the midfield, with another floating, is too easy to play against. Especially, when players are not on top of their game, as both Bellingham and Mason Mount were struggling to make their presence felt. Towards the end of the half, Joshua Kimmich sent over a free-kick, which was headed on dangerously, in the England goalmouth, and it was Kane, of all people, who cleared the danger. Not completely cleared, though, and Havertz put in a shot well saved by Pickford. All the earlier injuries meant the ref added on eight minutes to the first-half. In that added time England had their two best chances so far.

Bukayo Sako first put in a fine effort which Neuer managed to get a strong hand to, pushing it away for a corner. And then, shortly after, Sako was there again, cutting inside to curl a fine shot just the wrong side of the far post with Neuer, this time well beaten.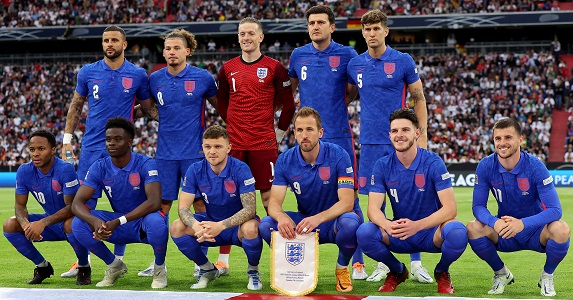 The half-time summary was that Kane was playing far too deep to be effective in the attack, Sterling was struggling with knock he received, Maguire and John Stones were safe at the back, as was Pickford, although the goalkeeper was careless with some of his clearances. But the scores were still level at the break and time to regroup.

Just five minutes after the restart, Germany broke the deadlock. After some good possession by them and some poor defending by England, it allowed Hofmann to pounce and fire a good shot past Pickford. It was a disappointing start to the half for England and it seemed a long way back for them at the time. However, immediately Mount forced another good save from Neuer, and then the Chelsea player was nearly through again, as he upped his game from his first half performance. Another corner was won but that came to nothing for England. Do they ever practice corners, I wonder?

The tiredness seen in Hungary suddenly gripped England and with Bellingham ineffective, surely it was time to give Jack Grealish another run out? But no, a raft of German substitutions was the only movement from the benches. Ten minutes later, Pickford kept England in it with a fine save from the evergreen Thomas Muller, and that finally prompted the belated change by Gareth Southgate. Mount was taken off to be replaced, at last, by Grealish. Immediately the mercurial Manchester City player was in the game, a great cross into the middle and Kane was within a whisker of an equaliser only to be thwarted by the ever more annoying Neuer!

The game was wide open at this stage and on 80 minutes Southgate took off Saka and brought on Bowen, who had made such an impressive debut in Hungary. Now we were firing on all cylinders. A minute later Sterling shoots narrowly over, and three minutes later nobody could quite believe how Bowen's cross was kept out of the German goal after a scramble at the far post. You had to give England credit for this late surge, inspired by Grealish and Bowen, and with two minutes of normal time to go they gained their reward.

At first it looked as though Kane was offside as the ball found him in the box, and when Nico Schlotterbeck brought him down from behind, not many thought about a penalty, apart from Kane. The referee never gave it but was urged to look at VAR. It showed there was a deflection off a German before it reach Kane, and the defender clipped his heel. A penalty is signalled by the referee! Up steps the ever-reliable Kane to bury the penalty past Neuer, giving the keeper no chance to save and scoring his 50th England goal, only the second player to do so. In the four minutes of injury time Walker once again made a decisive interception and the creditable draw was secured.

It had been a strange game in many ways. England had not been at their best but hung on in there, and but for Neuer, they might have scored a few more. However, the same could be said at the other end where, apart from some of his clearances, Pickford had an assured game. And I must say, before I write these reports, I don't look at any others have written. But when I saw the marks out of ten given to the England players in one paper, I could not believe the reporter gave Maguire just a four! That was ridiculous, as the United player was a rock alongside Stones. Just shows you how different people see it all so differently! Full marks too, for Declan Rice, who worked his socks off, Kane, the master, and Grealish, who surely deserves a start in the next match. We shall see. However, once again we haven't lost to the Germans. Good game, this football, isn't it!