Rank:
FIFA (31st March 2022)

5th


EFO ranking Group One (3rd)
ELO rating 6th to 12th
Colours:
The Nike 2020 home uniform

-

White crew-necked jerseys with

navy blue

collar and side trim, blue shorts with dark blue side stripe, white socks.
Capt:
Harry Kane ⁴²


48th, W 29 - D 10 - L 9 - F 108 - A 39.

Manager:
Gareth Southgate, 51 (3 September 1970), appointed caretaker manager on 27 September 2016, appointed as permanent manager on 30 November 2016.


74th match, W 46 - D 16 - L 12 - F 158 - A 49

England

Lineup

1
Ramsdale, Aaron C.
24
31 days
14 May 1998
GK
Arsenal FC
3
4ᵍᵃ
2
Walker, Kyle A.
32
17 days
28 May 1990
RB
Manchester City FC
68
0

85th min. for dragging back

Loïc Négo as he attempted to launch an attack

3
James, Reece T.
22
208 days
8 December 1999
LB
Chelsea FC
13
0
4
Phillips, Kalvin M.
26
194 days
2 December 1995
DM
Leeds United AFC
23
0
5
Stones, John
28
17 days
28 May 1994
LCD

Manchester City FC





58


3


19th player to be sent off for England


37th min. for jumping near halfway with Ádám Szalai and catching him with an elbow.


82nd min. after Dániel Gazdag ran into his shoulder.

6
Guéhi, A.K. Marc-Israel
21
336 days
13 July 2000
in Abidjan, Côte d'Ivoire
RCD
Crystal Palace FC
3
0
7
Bowen, Jarrod, off half time
25
172 days
20 December 1996
LF
West Ham United FC
4
0
final app 2022
8
Gallagher, Conor J., off 56th min.
22
51 days
6 February 2000
RM
Chelsea FC
4
0

the 53rd Chelsea player to represent England

9
Kane, Harry E.
28
321 days
28 July 1993
CF
Tottenham Hotspur FC
73
50
10
Bellingham, Jude V.W., off 68th min.
18
350 days
29 June 2003
LM
Bsv Borussia 09 Dortmund, Germany
15
0
11
Saka, Bukayo A.T., off 85th min.
20
282 days
5 September 2001
RF
Arsenal FC
18
3
England Substitutes

scoreline:

England 0 Hungary 1

20
Sterling, Raheem S., on half time for Bowen
27
188 days
8 December 1994
in Kingston, Jamaica
LF
Manchester City FC
77
67
19
10
19
Mount, Mason T., on 56th min

. (55:50)

for Gallagher
23
155 days
10 January 1999
RM
Chelsea FC
31
22
4
9
21
Foden, Philip W., on 68th min.

(67:01)

for Bellingham
21
17 days
28 May 2000
RAM
Manchester City FC
16
11
2
5

scoreline:

England 0 Hungary 3

14
Maguire, J. Harry, on 85th min.

(84:22)

for Saka
29
101 days
5 March 1993
CD
Manchester United FC
46
43
7
3
result:

England 0 Hungary 4

unused substitutes:
12-Kieran Trippier, 13-Nick Pope, 15-Jack Grealish, 16-Conor Coady, 17-James Ward-Prowse, 18-Declan Rice, 22-Jordan Pickford, 23-Tammy Abraham.
team notes:
Harry Kane is the only player to have played in all eighteen of England's Nations League matches.
manager notes:
Not since Walter Winterbottom has an England manager faced Hungary on four separate occasions.
records:
England's 63rd home defeat is the heaviest since Scotland in March 1928. The first time the have suffered a 4-0 defeat at home.
The first time since November 2012 that England have conceded four goals.
First defeat by four or more goals since the 5-1 loss to Brazil in May 1964, and only the second time England have lost by four or more goals without scoring, the last time being Yugoslavia in May 1958.
England's worst run (D2 L2) since June 2014. One goal in four games is worst since October 2006-March 2007.
The four goals conceded beats the previous record of three goals conceded in a Nations League match, against Netherlands in June 2019.
The twelfth home match against Hungary is the first that England have failed to score in.
Manager Gareth Southgate made his third England appearance against Hungary as a twelfth minute substitute in May 1996. He withdrew from the squad when the two countries met each other in April 1999.
4-3-3
Ramsdale -
Walker, Guéhi,

Stones

, James -
Gallagher (Mount), Phillips, Bellingham (Foden) -
Saka (Maguire), Kane, Bowen (Sterling)

Averages

(Starting XI)

:

Age

24

years 253 days
Appearances/Goals

25.6

5.1
Rank:
FIFA (31st March 2022) 40th
EFO ranking Group Ten
ELO rating

33rd to 21st

Colours:
Made by Adidas - Red v-necked jerseys with white collar (green trim) and shadowed wavy hoops/white Adidas side stripes, white shorts with red Adidas side stripes/back hem, and green socks with white Adidas trim.
Capt:
Ádám Szalai
Ádám Nagy 67:30
Manager:
Marco Rossi, 57 (9 September 1964 in Druento, Italy), appointed 19 June 2018.
45th match, W 21 - D 9 - L 15 - F 62 - A 50.

67th min. for disputing the referee's decisions on no free-kicks

Hungary

Lineup
1
Dibusz, Dénes
31
210 days
16 November 1990
G
Ferencváros TC
22
0
2
Lang, Ádám
29
148 days
17 January 1993
RD
AS Omonoias Lefkosias, Cyprus
51
1
6
Orbán, Vilmos T.
29
223 days

3 November 1992


in Kaiserslautern, Germany
CD
RB Leipzig, Germany
33
5
4
Szalai, Attila

Á.

24
145 days
20 January 1998
LD
Fenerbahçe SK

, Turkey

27
0
5
Fiola, Attila

C.

32
117 days
17 February 1990
RWB
MOL Fehérvár FC
48
2
13
Schäfer, András
23
62 days
13 April 1999
RM
1.FC Union Berlin

, Germany

19
3
17
Styles, Callum J., off 56th min.
22
78 days
28 March 2000
in Bury, England
LM
Barnsley FC, England
6
0
18

Nagy, Zsolt
28
20 days
25 May 1993
LWB
Puskás Akadémia FC
11
2
10
Szoboszlai, Dominik, off 56th min.
21
232 days
25 October 2000
RAM
RB Leipzig, Germany
24
5
20

Sallai, Roland., off 78th min.
25
23 days
22 May 1997
LAM
SC Freiburg

, Germany

36
8
9
Szalai, Ádám C., off 68th min.
34
187 days
9 December 1987
F
1.FSv Mainz 05

, Germany

84
25
Hungary Substitutes

scoreline:

England 0 Hungary 1

8

Nagy, Ádám, on 56th min.

(55:00)

for Styles
26
355 days
17 June 1995
LM
AC Pisa

, Italy

63
1
16

Gazdag, Dániel, on 56th min.

(55:35)

for Szoboslzlai
26
104 days
2 March 1996
RM
Philadelphia Union

, United States

15
4
9

Ádám, Martin, on 68th min.

(67:48)

for Ád.Szalai
27
220 days
6 November 1994
CF
Paksi FC
6
0

scoreline:

England 0 Hungary 2

7

Négo, Loïc, on 78th min.

(77:30)

for Sallai
31
140 days

15 January 1991


in Paris, France
RWB
MOL Fehérvár FC
24
2

result:

England 0 Hungary 4

unused substitutes:
3-Ákos Kecskés, 11-SzabolcsSchön, 14-Bendegúz Bolla, 15-Milos Kerkez, 21-Csaba Spandler, 22-Péter Szappanos, 23-Bálint Vécsei.
team notes:
Bendegúz Bolla and Loïc Négo were both cautioned in the melee that followed the fourth Hungarian goal.
records:
This is Hungary's first victory over England in the host country since the famous victory of 1953.
The first team to score four goals in an England away match since they did so in November 1953.
3-4-3(2-1)
Dibusz -
Lang, Orbán, At.Szalai -
Fiola, Schäfer, Styles, Z.Nagy -
Szoboszlai

, Ád.

Szalai, Sallai

Averages

(Starting XI)

:

Age

27

years 199 days
Appearances/Goals

32.8

4.4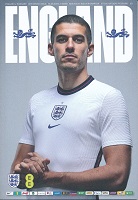 Four games in eleven days, but despite this, the team put up a thrilling and deserving performance. Trouble is, it wasn't England. Hungary were more up for the game, better organised, more positive, quicker to the ball and full of the desire so lacking in England's display.

I don't wish to criticise too much as we have had some fine entertainment from this England squad over the past few years, but this time manager Gareth Southgate got his selection badly wrong, and I'm afraid he has to bear the brunt of the criticism, which he completely understands, I'm sure.

The game had a quiet opening and in the first ten minutes, only one chance, for Bukayo Sako, looked like breaking our recent scoring record. On 12 minutes John Stones headed goalwards, but without power or direction to trouble goalkeeper, Denes Sibusz. In the 16th minute England were caught in possession. Not for the last time on the night, and a free-kick was given away. From the kick the ball was not cleared properly, missed by Harry Kane completely, back helping his defence, and the ball dropped loose. Roland Salloi pounced and crashed a shot past Aaron Ramsdale from close range. A poor goal defensively, with several mistakes compounding the issue. From that moment on it was "no way back" for England.

Four minutes later Kane put through a dangerous pass but Saka and a teammate collided and the move broke down. It was going to be that sort of night. One of the problems for England over these four matches is the standard of crossing, both from open play and from dead ball kicks, has been abysmal. When a decent cross did come in there was no-one on the end of them. Another fault, and this is unusual for England, was the first touches. Jude Bellingham, who was one of several to have a poor game, failed to control the ball and it almost led to a second goal for the visitors. He gave away a free-kick which saw Reece James head off the line, before a breakaway saw Jarrod Bowen sprinting towards the Hungarian goal. Alas, he ran out of steam when under pressure and another chance was lost. He did win a corner and Stones should have done much better with a free header from the kick.

Another fault that is dominating our play at the moment is the predictability of it all. Little triangles playing across the pitch or back to square one, and getting us nowhere. It is all well and good having possession of the ball, but surely more positiveness is needed moving forward?

Stones was again guilty of a bad pass and Hungary went close with a shot that Ramsdale had to save. The England frustration was also beginning to appear as the referee gave many decisions against them, but England were also guilty of some silly challenges. In the 36th minute England came close to an equaliser, but it wasn't one of their players who tested the goalkeeper. A good move down the left ended with Saka putting over a dangerous cross. Vilmos Orban, facing his own goal, tried to head the ball away but instead forced Sibusz to save desperately. Stones was then booked after Adam Szalai threw himself to the ground in theatrical style for the umpteenth time and the French referee deemed it a foul.

At this stage Hungary were in control whilst England lacked ideas and, more importantly, flair, and were also devoid of any rhythm in their play. Bowen was next to make some progress, however, his cross, and then another by Bellingham were not helpful to any forward in the middle. The Conor Gallagher, Kalvin Phillips and Bellingham midfield was not functioning as Southgate would have wanted, and Kane's half-chance right at the end of the half came to nothing. It had been a very poor half for England but Hungary were delighted with their efforts so far.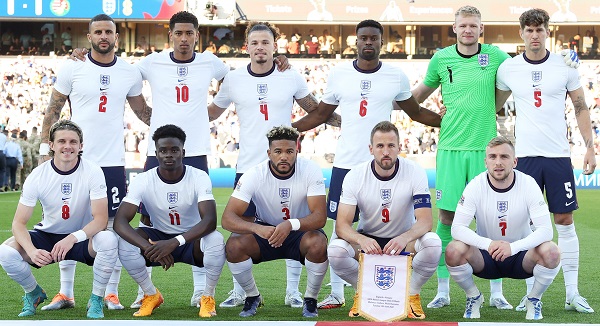 After the break Raheem Sterling came on for Bowen and England started the half with a little more zip in their step. Another poor cross eluded Kane, but then the England skipper found Saka with a good pass only for the Arsenal man to mess up the move. The next problem was in substitutions, as a whole load of changes were made. It does not help when you are struggling as England were, to have a long delay caused by dawdling players going off and coming on. I must admit to dreading next season when five subs will be permitted in League football here.

On 67 minutes Phil Foden replaced the ineffective Bellingham, whilst, three minutes later, an awful mistake by the equally ineffective Phillips, gave Hungary a second goal their play deserved. He lost the ball and it was switched to Sallai, who wasted no time firing past Ramsdale. That was the cushion the visitors wanted, but it was to become much worse for England. They did put together a few attacks in the next ten minutes with none of them threatening. Kane did hit the bar with a looping header from substitute Mason Mount's cross, but it was easily cleared. Then in the 80th minute it was game, set and match to the visitors.

England failed to cut out a right-wing move and the ball was eventually laid back by Martin Adam to Adam Nagy, and he scored with ease. No defending, no challenge and certainly too easy for Nagy. To cap a nightmare evening Stones then received a second yellow card and a red, and was sent off the field. To be fair on the City man he was totally innocent, and how VAR wasn't brought in I can't understand? It came about when Daniel Gazdag ran into Stones' back and shoulder and then went down like he had been hit by a missile. Of course, once again the ref bought it.

So there we were, 3-0 down and what does Southgate do? He brings on Harry Maguire to shore up the defence. It didn't work as just four minutes later Gazdag outpaced the England defenders to clip the ball over Ramsdale and complete England's misery.

Thankfully the referee added on just two minutes when the substitutions alone took at least eight minutes, but by this time no-one in Molineux cared, and the final whistle came as a blessed relief. Fierce feelings were shown by the crowd, against the England players and the Manager, and you couldn't really blame them. Humiliation, shambles, you name it, those words were used. But let's be fair, Hungary played perfectly, took their goals well and really appreciated the generosity of the England team.

In conclusion, I can only add, thank goodness for Jonny Bairstow's magnificent performance earlier in the day.