Rank:
FIFA (31st March 2022) 40th
EFO ranking Group Ten


ELO rating

36th to 34th

Colours:
Made by Adidas - Red v-necked jerseys with white collar (green trim) and shadowed wavy hoops/white Adidas side stripes, white shorts with red Adidas side stripes/back hem, and green socks with white Adidas trim.
Capt:
Ádám Szalai


Attila Szalai 88th min.

Manager:
Marco Rossi, 57 (9 September 1964 in Druento, Italy), appointed 19 June 2018.
42nd match, W 20 - D 8 - L 14 - F 56 - A 47.

Hungary

Lineup
1
Gulácsi, Péter
32
29 days
6 May 1990
G
RB Leipzig

, Germany

48
0
89th min. for timewasting
2
Lang, Ádám
29
138 days
17 January 1993
RD
AS Omonoias Lefkosias, Cyprus
48
1
6
Orbán, Vilmos T.
29
213 days
3 November 1992
in Kaiserslautern, Germany
CD
RB Leipzig, Germany
30
5
4
Szalai, Attila

Á.

24
135 days
20 January 1998
LD
Fenerbahçe SK

, Turkey

24
0
7
Négo, Loïc
31
140 days
15 January 1991
in Paris, France
RWB
MOL Fehérvár FC
21
2
13
Schäfer, András
23
52 days
13 April 1999
RM
1.FC Union Berlin, Germany

18

3

21st min. for bringing down James Justin as he headed towards the penalty area
8
Nagy, Ádám, off 82nd min.
26
352 days
17 June 1995
LM
AC Pisa

, Italy

60
1
18
Nagy, Zsolt, off 88th min.
28
10 days
25 May 1993
LWB
Puskás Akadémia FC
8
0
20
Sallai, Roland, off 71st min.
25
13 days
22 May 1997
RF
SC Freiburg

, Germany

33
6
9
Szalai, Ádám C., off 88th min.
34
177 days
9 December 1987
CF
1.FSv Mainz 05

, Germany

81
25
10
Szoboszlai, Dominik, off 82nd min
21
222 days
25 October 2000

LF

RB Leipzig, Germany

21

6

61st penalty against scored

(90th overall)

Hungary

Substitutes

scoreline:

Hungary 1 England 0
15
Kleinheisler, László, on 71st min.

(70:37)

for Sallai
28
57 days
8 April 1994
RF
Nk Osijek, Croatia
42
3
5
Fiola, Attila C., on 82nd min.

(81:46)

for Szoboszlai
32
107 days
17 February 1990
RB
MOL Fehérvár FC
45
2
17
Styles, Callum J., on 82nd min.

(81:49)

for Á.Nagy
22
68 days
28 March 2000
in Bury, England
LM
Barnsley FC, England
3
0
19
Ádám, Martin, on 88th min

. (87:14)

for Szalai
27
210 days
6 November 1994
CF
Paksi FC
3
0
23
Vécsei, Bálint, on 88th min.

(87:16)

for Z.Nagy
28
326 days
13 July 1993
LB
Ferencváros TC
9
1

result:

Hungary 1 England 0

unused substitutes:
3-Ákos Kecskés, 11-Dániel Sallói, 12-Dénes Dibusz, 14-Bendegúz Bolla, 16-Vancsa Zalán, 21-Csaba Spandler, 22-Péter Szappanos
records:
This is Hungary's first victory over England since June 1962.
3-4-3
Gulácsi -
Lang, Orbán, At.Szalai -
Négo, Schäfer, Á.Nagy (Styles), Z.Nagy (Vecsei) -
Sallai (Kleinheisler), Ád.Szalai (Ádám), Szoboszlai (Fiola)

Averages

(Starting XI)

:

Age
27 years 336 days
Appearances/Goals
35.6
4.4
Rank:
FIFA (31st March 2022)

5th


EFO ranking Group One (3rd)
ELO rating 4th to 6th
Colours:
The Nike 2020 home uniform

-

White crew-necked jerseys with

navy blue

collar and side trim, navy blue shorts with dark blue side stripe, white socks.
Capt:
Harry Kane ⁴¹


46th, W 29 - D 9 - L 8 - F 107 - A 34.

Manager:
Gareth Southgate, 51 (3 September 1970), appointed caretaker manager on 27 September 2016, appointed as permanent manager on 30 November 2016.


71st match, W 46 - D 14 - L 11 - F 157 - A 44

England

Lineup

1
Pickford, Jordan L.
28
89 days
7 March 1994
G
Everton FC
44
33ᵍᵃ

fourth goalkeeper to face 7 penalty kicks

2
Walker, Kyle A., off 62nd min.
32
7 days
28 May 1990
RD
Manchester City FC
66
0

104

3
Justin, James M., injured off half time
24
101 days
23 February 1998
LWB
Leicester City FC
1
0

1270

the 23rd City player to represent England

.
only app 2022
4
Rice, Declan
23
141 days
14 January 1999
RM
West Ham United FC
30
2

127th player to reach the 30-app milestone

8th youngest
5
Coady, Conor D., off 79th min.
29
101 days
23 February 1993
CD
Wolverhampton Wanderers FC
10
1
final app 2021-22
6
Maguire, J. Harry
29
91 days
5 March 1993
LD
Manchester United FC

43
7
51st min. for upending Roland Sollai on the touchline before Coady fouled Á

.

Szalai
7
Alexander-Arnold, Trent

J.

, off 62nd min.
23
240 days
7 October 1998
RWB
Liverpool FC
17
1
final app 2018-22
8
Bellingham, Jude V.W.
18
340 days
29 June 2003
LM
Bsv Borussia 09 Dortmund, Germany
13
0
9
Kane, Harry E.
28
311 days
28 July 1993
CF
Tottenham Hotspur FC
70
49

28th player to reach the 70-app milestone

10th youngest

1271

10
Bowen, Jarrod
25
166 days
20 December 1996
RF
West Ham United FC
1
0

the 45th United player to represent England

.
11
Mount, Mason T., off 62nd min.
23
145 days
10 January 1999
LF
Chelsea FC
28
4
England Substitutes
21
Saka, Bukayo A.T.M., on half time for Justin
20
272 days
5 September 2001
LWB
Arsenal FC
15
10
3
5
14
Stones, John, on 62nd min.

(61:02)

for Walker
28
7 days
28 May 1994
RD
Manchester City FC
56
49
3
7
15
James, Reece T., on 62nd min.

(61:18)

for Alexander-Arnold
22
198 days
8 December 1999
RWB
Chelsea FC

11

6
0
5
64th min. for blocking Zsolt Nagy with an arm as they ran into the area. P

ENALTY

16
Grealish, Jack P., on 62nd min.

(61:35)

for Mount
26
267 days
10 September 1995
LF
Manchester City FC
21
11
1
10

scoreline:

Hungary 1 England 0
19
Phillips, Kalvin M., on 79th min

(78:32) f

or Coady
26
184 days
2 December 1995
CM
Leeds United AFC
20
18
0
2

192nd player to reach the 20-app milestone

result:

Hungary 1 England 0

unused substitutes:
12-Kieran Trippier, 13-Nick Pope, 17-James Ward-Prowse, 18-Conor Gallagher, 20-Raheem Sterling, 22-Aaron Ramsdale, 23-Tammy Abraham.
team notes:
It is Jude Bellingham's first match without victory. It is also the first time he has witnessed an opposition goal from the field.
Jordan Pickford and Harry Kane remain the only players to have played in all of England's Nations League matches, with Pickford starting them all.
Jack Grealish's great great grandfather,

Billy

Garraty, also played for England in 1903.
manager notes:
With the inclusion of James Justin and Jarrod Bowen, Gareth Southgate has now used 100 different players in his 71 matchday squads.
records:
This is England's 350th tournament match (incl. all WC, EC & NL) (W 206 D 88 L 56 F 728 A 248)
The defeat ends a run of 22 unbeaten matches. It is the fiftieth time England have lost 0-1.
England have scored 35 goals in 2021-22, after ten matches. The same number that they scored in 2020-21 with nineteen matches (the record is 45 in 1960-61).
This is only the third time (in 25 matches) that England have failed to score against Hungary, all in this stadium.
The seventieth overall loss and fortieth away loss on a Saturday.
Manager Gareth Southgate made his third England appearance against Hungary as a twelfth minute substitute in May 1996. He withdrew from the squad when the two countries met each other in April 1999.
3-4-3
Pickford -
Walker (Stones), Coady (Phillips), Maguire -
Alexander-Arnold (James), Rice, Bellingham, Justin (Saka) -
Bowen, Kane, Mount (Grealish).

Averages

(Starting XI)

:

Age

25

years 66 days
Appearances/Goals
29.4
5.8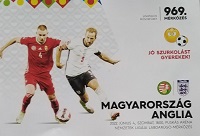 If ever there was a game too far for England, it was this one in Hungary. Tiredness, fatigue, call it what you will, but this really was a lethargic display. It turned out to be a disappointing start to their Euro Nations Cup challenge, but to be absolutely honest, the Hungarians fully deserved their victory.

England took a while to settle, and it was Hungary who made the early inroads. The first attempt at goal came when Roland Sallai put in a low shot. It was saved by Jordan Pickford, but only gathered at the second attempt. England hit back in the fourth minute with a break down the left ending with Harry Kane cutting back inside but shooting wide of the far post. England's long ball tactics in the early stages looked for the speed of the lively Jarrod Bowen, on debut. He was the most lively England player throughout and the defenders had to work hard to block his moves.

England won a corner but even Trent Alexander-Arnold's range finder was off, as his kick went out for a throw-in on the far side. It was that sort of performance by England, with mistakes all round. To be fair, the Hungarians pressed and harried and were often first to the ball, and first to the second balls too. However, England then created two chances in two minutes when first, Kane's nod down to Bowen saw the West Ham man have a shot blocked. Then Alexander-Arnold found his range with a lovely centre which Bowen hit on the volley, but into the ground which made an easy save for the keeper, Peter After that little burst, Hungary broke dangerously down the right, and a terrific first-time cross almost led to a goal. Sallai bundled the ball towards goal as Pickford half blocked the shot. As it trickled towards the line, Conor Coady dashed back to hack the ball away to safety. That was a near thing and it certainly was a bit of a wake-up call for England.

The match ebbed and flowed from end to end and after 15 minutes it was all pretty even. A minute later though, there was another near miss from Hungary as Loic Nego puts in another dangerous cross which Sallai again tries to get on the end of. This time though Alexander-Arnold's challenge was enough to make him miscue his volley. Bowen won another corner with his positive play, and this time Alexander-Arnold's delivery was much better, but Coady headed over. Kane and James Justin then combined well, but the keeper cut out the low cross comfortably. In midfield for England Declan Rice was making some useful interceptions but the game seemed to be by-passing Jude Bellingham, as he struggled to feature. Andras Schafer was then booked as Justin threatened to burst through but was cynically brought down.

After 25 minutes England were looking a little more settled than early on as the players adapted to their roles. They still kept losing possession though, and from one lapse, a break down the left ended with Pickford having to tip Zsolt Nagy's shot around the post. The resultant corner was cleared. On 32 minutes another passing error gave Adam Szalai possession on the half-way line. He immediately tried an audacious lob which was only just wide of the goal with a back-pedalling Pickford groping. A minute later it was action at the other end, and once again it was the lively Bowen who created danger. His run into the box, and pull back from the bye-line, should have brought some reward but the other England forward players were in the wrong place at the wrong time. Both teams had looked susceptible to a long ball over the top, although for England Harry Maguire and Coady were looking secure.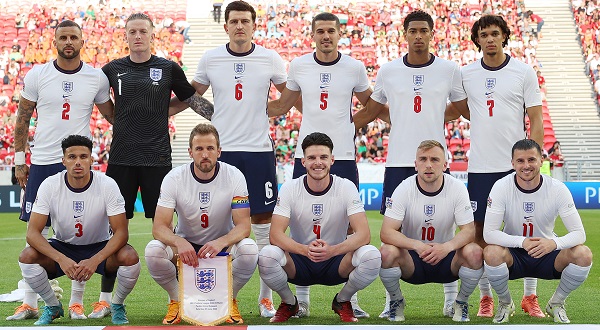 As the half drew to a close, both sides seemed to settle for the 0-0 scoreline, as the pace relaxed a little. After the interval Gareth Southgate brought on Bukayo Saka for the debutant Justin. The knock Justin received in the first-half obviously necessitated the change, which was a shame as the youngster had done well. The first chance of the second-half again resulted in another poor England pass. This time Nagy was presented with a free shot, but he sent it wide of the far post. Immediately, England had their best effort on goal so far. Saka broke down the left and ended a mazy run with a low shot that the keeper only stopped by sticking his leg out. For the next ten minutes though, the acute tiredness of some of the England players really started to show. They found it difficult to gain possession and clear their lines.

Southgate looked to change things on the hour, bringing on Reece James, Jack Grealish and John Stones and taking off the ineffective Mason Mount, Alexander-Arnold and Kyle Walker. Unfortunately for England, the first involvement from James resulted in a Hungarian penalty! He won the ball but followed through with a clumsy challenge on Nagy. It was soft, but the referee was on the spot. Dominik Szoboszlai took the kick and gave Pickford no chance. Again, to be honest, Hungary deserved their lead, as they had been the much more aggressive side, and much more up for the game.

Bowen was still trying his best though and he hit a volley at goal but straight at the keeper who saved easily. Bellingham could, and should have done better when Grealish set him up with a shot, but it was tamely blocked as the keeper gathered the loose ball. On 76 minutes though England so nearly found an equaliser. James sent in a good free-kick and Coady's glancing header flew just inches past the far post. Coady was then taken off for Kalvin Phillips, as Southgate boosted his midfield.

On 81 minutes Hungary should have added a second goal as Pickford saved a shot only for the ball to fall at Schafer's feet just a few yards from goal. He blazed it over the bar and England were still in it, just. In the last five minutes a raft of substitutes virtually stopped the game, and in my opinion, football is getting more like Rugby Union every day, with all the comings and goings.

The last chance fell to Kane, after good work by Grealish set him up for a shot, which just hit the side-netting. And that was it. The Hungarians were delighted to beat England for the first time in many years. James however, will rue Southgate's decision to bring him on, and he even added a booking to his credit with a later foul. I thought Bowen played really well on debut though and all credit to him.

England were poor, but as I said before, Hungary deserved their win, and nothing should detract from their performance. Meanwhile, England must sharpen up for the battles ahead in the next few days.