Rank:
FIFA (31st March 2022)

5th


EFO ranking Group One (3rd)
ELO rating 7th
Colours:
The Nike 2020 home uniform

-

White crew-necked jerseys with

navy blue

collar and side trim, white shorts with dark blue side stripe, white socks.
Capt:
Raheem Sterling ²


4th, W 2 - D 1 - L 1 - F 9 - A 3




Harry Kane

64:13

Manager:
Gareth Southgate, 51 (3 September 1970), appointed caretaker manager on 27 September 2016, appointed as permanent manager on 30 November 2016.


73rd match, W 46 - D 16 - L 11 - F 158 - A 45

England

Lineup

1
Ramsdale, Aaron C.
24
28 days
14 May 1998
GK
Arsenal FC
2
0ᵍᵃ
2
James, Reece T.
22
205 days
8 December 1999
RB
Chelsea FC
12
0
3
Trippier, Kieran J.
31
265 days
19 September 1990
LB
Newcastle United FC
37
1
4
Rice, Declan, off 65th min.
23
148 days
14 January 1999
LDM
West Ham United FC
32
2
5
Tomori, Oluwafikayomi O., off 88th min.
24
174 days
19 December 1997
in Calgary, Canada
LCD
AC Milan, Italy
3
0
final app 2019-22
6
Maguire, J. Harry
29
98 days
5 March 1993
RCD
Manchester United FC
45
7
7
Grealish, Jack P.
26
274 days
10 September 1995
LF
Manchester City FC

23

1

29th min. for a lunging outstretched tackle on Federico Gatti outside the Italy box
8
Ward-Prowse, James M.E
27
222 days
1 November 1994
RDM
Southampton FC

11
2
81st min. for a late tackle on Matteo Pessina outside the centre-circle
final app 2017-22
9
Bakumo-Abraham, K.O. Tamaraebi, off 65th min.
24
252 days
2 October 1997
CF
AS Roma, Italy
11
3
final app 2019-22
10
Sterling, Raheem S., off 79th min.
27
185 days
8 December 1994
in Kingston, Jamaica
LF/AM
Manchester City FC
76
19
11
Mount, Mason T., off 65th min.
23
152 days
10 January 1999
AM
Chelsea FC
30
4

the 128th to reach the 30-app milestone

9th youngest

England Substitutes
20
Kane, Harry E., on 65th min.

(64:13)

for Abraham
28
318 days
28 July 1993
CF
Tottenham Hotspur FC
72
61
50
11
17
Bowen, Jarrod, on 65th min.

(64:26)

for Mount
25
169 days
20 December 1996
AM
West Ham United FC
3
1
0
2
18
Phillips, Kalvin M., on 65th min.

(64:33)

for Rice
26
191 days
2 December 1995
LDM
Leeds United AFC
22
19
0
3
23
Saka, Bukayo A.T.M., on 79th min.

(78:45)

for Sterling
20
279 days
5 September 2001
LF
Arsenal FC
17
11
3
6
15
Guéhi, A.K. Marc-Israel, on 88th min.

(87:20)

for Tomori
21
333 days
13 July 2000
in Abidjan, Côte d'Ivoire
LCD
Crystal Palace FC
2
1
0
1
result:

England 0 Italy 0

unused substitutes:
12-John Stones, 13-Nick Pope, 14-Kyle Walker, 16-Conor Coady, 19-Jude Bellingham, 21-Conor Gallagher, 22-Jordan Pickford.
team notes:
This match ends a run of Jordan Pickford being one of only two players to have played in all of England's fifteen Nations League matches. Thanks to his 65th minute substitute appearance, only Harry Kane remains an ever-present player. By virtue of that, Aaron Ramsdale becomes just the second England goalkeeper to participate in the Nations League.
Jack Grealish's great great grandfather,

Billy

Garraty, also played for England in 1903.
venue notes:
This is the fifth time England have played at Molineux Stadium, the last being in 1956.
records:
This is England's seventeenth match against the current European Champions. It is the first time that that match has been against Italy, and the first time it has been a Nations League match.
Nine of those seventeen matches have been played at home, and this is the first draw. The first scoreless draw since they drew Netherlands in the 1990 World Cup Finals.
This is England's ninetieth tournament draw in 352 matches (inc. all WC, EC & NL).
The fiftieth home clean sheet on a Saturday.
Manager Gareth Southgate played for England against Italy in the Le Tournoi victory in June 1997 (he had been an unused substitute in the friendly four months earlier). He also played in the friendly defeats in November 2000 and March 2002.
4-3(2-1)-3
Ramsdale -
James, Maguire, Tomori (Guéhi), Trippier -
Ward-Prowse, Mount (Bowen), Rice (Phillips) -
Sterling (Saka), Abraham (Kane), Grealish.

Averages

(Starting XI)

:

Age

25

years 348 days
Appearances/Goals
25.6
3.5
Current European Champions

Colours:
Made by Puma - Ignite & Ultra Blue crew-necked quarter design jerseys with green/white/red collar, blue shorts, blue socks
Rank:
FIFA (31st March 2022) 6th


EFO ranking

Group 4




ELO rating

10th to 9th

Capt:
Gianluigi Donnarumma
Manager:
Roberto Mancini, 57 (27 November 1964), appointed 14 May 2018.
52nd match, W 32 - D 15 - L 5 - F 108 - A 31.

Italy Lineup

1
Donnarumma, Gianluigi
23
106 days
25 February 1999
G
Paris Saint Germain, France
46
0
2
Di Lorenzo, Giovanni
28
311 days
4 August 1993
RB
SSC Napoli
21
2
3
Gatti, Federico
23
352 days
24 June 1998
RCD
Juventus FC

1

0

48th min. for a holding back Raheem Sterling on the halfway line
15
Acerbi, Francesco
34
121 days
10 February 1988
LCD
SS Lazio
25
1
13
Dimarco, Federico, off 87th min.
24
213 days
10 November 1997
LB
FC Internazionale Milano
3
0
21
Frattesi, Davide
22
262 days
22 September 1999
RM
US Sassuolo Calcio
2
0
5
Locatelli, Manuel, off 64th min.
24
154 days
8 January 1998
CM
Juventus FC

24

3

25th min. for tripping Mason Mount from behind in the middle of the field
8
Tonali, Sandro
22
34 days
8 May 2000
LM
AC Milan

11

0

92nd min. for a foul on Jarrod Bowen as the English were on the attack
12
Pessina, Matteo, off 87th min.
25
51 days
21 April 1997
RF
Atalanta BC
14
4
9
Scamacca, Gianluca, off 77th min.
23
161 days
1 January 1999
CF
US Sassuolo Calcio
6
0
10
Pellegrini, Lorenzo, off 64th min.
25
357 days
19 June 1996
LF
AS Roma
24
5
Italy Substitutes
11
Gnonto, Wilfried, on 64th min.

(63:33)

for Locatelli
18
218 days
5 November 2003
CM
FC Zürich, Switzerland
3
0
23
Esposito, Salvatore, on 64th min.

(63:41)

for Pellegrini
21
247 days
7 October 2000
LF
Società Polisportiva Ars et Labor
1
0
22
Raspadori, Giacomo, on 77th min.

(76:01)

for Scamacca
22
113 days
18 February 2000
CF
US Sassuolo Calcio
12
3
7
Florenzi, Alessandro, on 87th min.

(86:43)

for Dimarco
31
92 days
11 March 1991
LB
FC Internazionale Milano
49
2
16
Cristante, Bryan, on 88th min.

(87:05)

for Pessina
27
100 days
3 March 1995
RM
AS Roma
26
2

result:

England 0 Italy 0

unused substitutes:
4-Luiz Felipe, 6-Davide Calabria, 14-Pierluigi Gollini, 17-Matteo Politano, 18-Nicolò Barella, 19-Giorgio Scalvini, 20-Alex Meret.

Head Coach Robert Mancini was an unused substitute for Italy in their November 1989 friendly meeting against England.

4-3-3
Donnarumma -
Di Lorenzo, Gatti, Acerbi, Dimarco (Forenzi) -
Frattesi, Locatelli (Gnonto), Toneli -
Pessina (Cristante), Scamacca (Raspadori), Pellegrini (Esposito)

Averages

(Starting XI)

:

Age

25

years 128 days
Appearances/Goals
16.1
1.4
We have all been there before, but just lately it has been a hard watch when England play an International match. The players are spent, they are desperate for their holidays, and although you could not fault the effort, there is no vital spark left at the moment. As a result this game against Italy, inside an almost empty stadium was not what the players wanted. Italy, almost always a negative outfit, relying chiefly on breakaways, could and should have been about 4-2 up at half-time, and I cannot remember saying 'missed a sitter' so many times in a match report, as you will see.

The play was fast and furious in the first-half and after just two minutes David Frattesi was put clean through with only Aaron Ramsdale to beat. Somehow, he missed a sitter (#1), by pulling his shot wide of the far post. It really should have been 0-1, but England came back hard, and following a free-kick the ball found Mason Mount who shot straight at Gianluigi Donnarumma, who saved easily. However, a minute later, the Italian goalkeeper dawdled over a clearance, was robbed of possession, and this time it was Tammy Abraham who missed a sitter (#2), stumbling when all he had to do was hit the target from close range.

The match had opened with several errors from players and officials alike, lots of fouls and precious little controlled football. Mind you, the chances kept coming and next it was Mount who missed a sitter(#3). Fair enough, he was in a good position as a cross came in from the right, and he hit the bar with his first-time effort, but he really should have put that one away. As it was the ball looped up and Abraham tried to head at goal but only managed to head wide. Not a sitter this time, but he should have done better.

A break down the right from Italy caused more danger for England, as the ball whistled across goal with no-one there to touch it home. Another sitter? No, not this time, but it could have been.

On 17 minutes, with all the players working hard in what was a strange Covid-like crowdless atmosphere, Raheem Sterling almost got through but his shot was blocked away for a corner. Declan Rice volleyed over from the James Ward-Prowse corner. Good passing down the left ends with Donnarumma easily cutting out the cross. Rice then made a great tackle on Frattesi to stop a dangerous Italian move. Mistakes were frequent at this point and England almost paid the price after more carelessness led to the chance of the match so far. The ball came in from the right and Sandro Tonali was a certain goalscorer this time, surely? But no, Ramsdale made a fine save, spreading himself wide. Now that really was a sitter missed(#4)!!

For a while the old England habit of a slow build up persisted. Why is it the first thought by England players is to go back instead of forwards? Jack Grealish, quiet so far, almost got through, but was blocked by Frederico Gatti, and seconds later Grealish was booked for fouling Gatti with a lunge. Manuel Locatelli had been booked earlier, and you had the feeling that Grealish wouldn't be the last to incur the wrath of the ref! Having said all that, the match was full of reckless fouls with the referee waving play on like a demented windmill at times. A case in point came when a marauding Rice was clearly brought down, but the windmill never blew again.

Kieran Trippier was not having the best of games and right on half-time more careless defending by him almost gave Italy a goal, but Gianluca Scammaca fired his shot over the bar. Even then there was time for Ramsdale to come to the rescue again as Matteo Pessina had his shot tipped over when he should have scored a sitter(#5). It had been a good half for the Arsenal keeper, but it has to be said, that on chances Italy should be well clear at the break.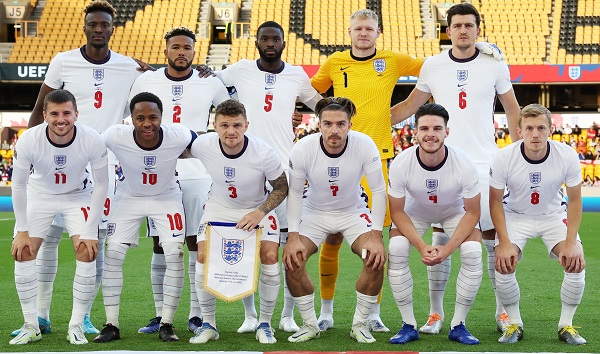 The second half began quietly, with Ward-Prowse shooting over from one early attack by England. It was noticeable how many errors were being made, in passing and in the touch of some of the players, from both sides. Then, on 52 minutes came the miss of the match. Reece James broke down the right and put in a perfect low cross to the far post. In came Sterling to touch it home without anyone there to challenge. He missed the sitter of all sitters by shooting over from two yards out (#6). The rest of the half was made up of pretty mediocre International football, only exacerbated by the usual rash of substitutes from both teams that disrupted any flow in the play.

In the last 25 minutes Italy almost made a James error pay with a cross from the left that evaded everyone and then Wilfried Gnonto hit the England side-netting, when he might have done better. (#6½). Harry Kane came on, but managed just one goal attempt, shooting over after Sterling and Grealish combined. Ward-Prowse was booked, Kalvin Phillips hit a post, but was penalised for a foul, and to be honest it was a relief to hear the final whistle of an instantly forgettable half.

I have some sympathy for Gareth Southgate, as it must be hard to motivate everyone for these games in such a short time, but that's his job and he has to find a way. I thought Rice and Ramsdale were England's best players with Oluwafikayomi Tomori having a steady game alongside Harry Maguire, who again did little wrong. But as I said at the beginning, the spark has gone at the moment, and once the next game is out of the way, let us hope they can all recharge their batteries on a beach somewhere before pre-season training starts again in just three weeks' time. Oh dear!