Rank:
FIFA (23rd May 2021)

7th




EFO ranking

Group 4




ELO rating

3rd

Colours:
Made by Puma - Azure blue v-necked collared jerseys with navy blue collar/cuffs and Renaissance graphics on shirt, navy blue shorts, and blue socks.
Capt:
Giorgio Chiellini
Head Coach:
Roberto Mancini, 56 (27 November 1964), appointed 14 May 2018.
39th match, W 28 - D 9 - L 2 - F 92 - A 18.
The oldest EC Final winning captain

Italy

Lineup
21
Donnarumma, Gianluigi
22
136 days
25 February 1999
G
AC Milan
33
0
2
Di Lorenzo, Giovanni
27
341 days
4 August 1993
RB
SSC Napoli
13
0
19

Bonucci, Leonardo
34
71 days
1 May 1987
RCD

Juventus FC

109

8

55th min. for kicking at Raheem Sterling on the touchline
3
Chiellini, Giorgio
36
331 days
14 August 1984
LCD

Juventus FC

112

8

90th+6th min. for dragging back Bukayo Saka as he tried to sprint away
13
Palmieri dos Santos, Emerson
26
342 days
3 August 1994
in Santos, Brazil
LB
Chelsea FC, England
19
0
18
Barella, Nicolò, off 54th min.
24
144 days
17 February 1997
RM

FC Internazionale Milano

29

6

47th min. for kicking at the back of Harry Kane's legs
8
Jorginho
29
203 days
20 December 1991
in Imbituba, Brazil
DM

Chelsea FC, England

35

5

113th min. for a studs up challenge on Jack Grealish
6
Verratti, Marco, off 96th min.
28
248 days
5 November 1992
LM
Paris Saint-Germain FC, France
45
3
14
Chiesa, Federico, off 86th min.
23
259 days
25 October 1997
RF
Juventus FC, on loan from ACF Fiorentina
32
3
17
Immobile, Ciro, off 55th min.
31
141 days
20 February 1990
CF
SS Lazio
52
15
10
Insigne, Lorenzo, off 90th min.
30
37 days
4 June 1991
LF

SSC Napoli

47

10

84th min. for a late challenge and bringing down Kalvin Phillips

Italy

Substitutes

scoreline:

Italy 0 England 1
16
Cristante, Bryan, on 54th min.

(53:53)

for Barella
26
130 days
3 March 1995
RM
AS Roma
17
1
11
Berardi, Domenico, on 55th min.

(54:09) f

or Immobile
26
344 days
1 August 1994
RF
US Sassuolo Calcio
17
5

scoreline:

Italy 1 England 1
20
Bernardeschi, Federico, on 86th min.

(85:27)

for Chiesa
27
145 days
16 February 1994
LF
Juventus FC
34
6
9
Belotti, Andrea, on 90th min. for Insigne
27
203 days
20 December 1993
CF
Torino FC
39
12
5
Locatelli, Manuel, on 96th min.

(95:50)

for Verratti
23
184 days
8 January 1998
LM
US Sassuolo Calcio
15
3

scoreline:

Italy 1 England 1 AET sub
24
Florenzi, Alessandro, on 118th min.

(117:25)

for Emerson
30
122 days
11 March 1991
RB
AS Roma
45
2

result:

Italy 1 England 1

unused substitutes:

1.Salvatore Sirigu, 12-Mateo Pessina, 15-Francesco Acerbi, 23-Alessandro Bastoni, 25-Rafael Tolói, 26-Alex Meret

team notes:

Federico Chiesa is the son of Enrico, who was an unused substitute for Italy against England in February 1997 and again in Le Tournoi four months later. He was however, a half-time substitute in October 1997.
Giorgio Chiellini played in the first ever official match at the new National Stadium, for Italy U21 against England U21, 24 March 2007 - ending 3-3.

records:

Italy's second European Championship title, 53 years after their first (a record-breaking gap).
Chiellini and Bonucci are 39th/40th players to have played in two European Championship Finals.
This is Italy's 34match unbeaten - lasting back to 10 September 2018 against Portugal.

Head Coach Robert Mancini was an unused substitute for Italy in their November 1989 friendly meeting against England.

4-3-3
Donnarumma
Di Lorenzo, Bonucci, Chiellini, Emerson (Florenzi) -
Barella (Cristante), Jorginho, Verrati (Locatelli) -
Chiesa (Bernardeschi), Immobile (Berardi), Insigne (Belotti)

Averages (Starting XI):

Age

28

years 274 days
Appearances/Goals

47.8

5.2
Rank:

FIFA (27th May 2021) 4th
EFO ranking Group One (3rd)
ELO rating 6th
Colours:
The Nike 2020 home shirt

-

White crew-necked jerseys with

navy blue

collar and side trim, white shorts with pale blue side stripe, white socks.
Capt:
Harry Kane ³¹


39th, W 25 - D 7 - L 7 - F 84 - A 30

Manager:
Gareth Southgate, 50 (3 September 1970), appointed caretaker manager on 27 September 2016, appointed as permanent manager on 30 November 2016.


61st match, W 39 - D 12 - L 10 - F 122 - A 40

now fifth in the most-captains list

England

Lineup

1
Pickford, Jordan L.
27
126 days
7 March 1994
G
Everton FC
38
29ᵍᵃ
2
Walker, Kyle A., off 120th min.
31
44 days
28 May 1990
RD
/RB
Manchester City FC
61
0
5
Stones, John
27
44 days
28 May 1994
CD/
RCD
Manchester City FC
49
2
6
Maguire, J. Harry
28
128 days
5 March 1993
LD/
LCD
Manchester United FC
37
4
106th min. for kicking the back of Andrea Belotti as he tried to turn past him
12

Trippier, Kieran J., off 70th min.
30
295 days
19 September 1990
RWB
Club Atlético de Madrid, Spain
33
1
14
Phillips, Kalvin M.
25
221 days
2 December 1995
RDM
Leeds United AFC
15
0
4
Rice, Declan, off 74th min.
22
178 days
14 January 1999
LDM
West Ham United FC
24
1
3

Shaw, Luke P.H.
25
364 days
12 July 1995
LWB
/LB
Manchester United FC
16
1
10
Sterling, Raheem S.
26
215 days
8 December 1994
in Kingston, Jamaica
RF
Manchester City FC
68
17
9
Kane, Harry E.
27
348 days
28 July 1993
CF
Tottenham Hotspur FC
61
38
19
Mount, Mason T., off 99th min.
22
182 days
10 January 1999
LF
Chelsea FC
21
4

England Substitutes

scoreline:

Italy 1 England 1
25
Saka, Bukayo A.T., on 70th min.

(69:54)

for Trippier
19
309 days
5 September 2001
RAM
Arsenal FC
9
8
1
2
8
Henderson, Jordan B., on 74th min.

(73:24)

for Rice, off 120th min.
31
24 days
17 June 1990
RDM
Liverpool FC
64
43
1
21
7
Grealish, Jack P., on 99th min.

(98:50)

for Mount
25
304 days
10 September 1995
LAM
Aston Villa FC
12
7
0
5
11
Rashford, Marcus, on 120th min.

(119:31)

for Henderson

23


253 days
31 October 1997
RB
Manchester United FC
46
21
11
25
17
Sancho, Jadon M., on 120th min

. (119:44)

for Walker
21
108 days
25 March 2000
RM
Bsv Borussia 09 Dortmund, Germany
22
11
3
11

result:

Italy 1 England 1

unused substitutes:

13-Aaron Ramsdale, 15-Tyrone Mings, 16-Conor Coady, 18-Dominic Calvert-Lewin, 23-Sam Johnstone, 24-Reece James, 26-Jude Bellingham

.

team notes:

Referee Kuipers was referee between the two countries at the 2014 World Cup Finals. He was also in charge during the 2018 World Cup Finals, overseeing England's victory over Sweden, and the World Cup qualifying match earlier this year when England beat Poland.
This is England's eleventh ECF match at Wembley, they remain unbeaten (W 6 D 5), seventeenth in Major Tournament Finals.
Jack Grealish's great great grandfather,

Billy

Garraty, also played for England in 1903.

records:

England are the thirteenth different country to reach a European Championship Final.
Luke Shaw scored England's eleventh Tournament goal, going one better than the ten scored in 2000.
Shaw is also the fiftieth different England goalscorer at the National Stadium since 2007, and the 29th different England player to score against Italy (34 scored). He is also the 33rd different Manchester United FC player to score, a record now equalled with Tottenham Hotspur FC.
This is the first time England have played twenty matches in a single season.
This is the 200th match drawn under Queen Elizabeth II's reign.
This is the 100th time England have conceded just the one goal at Wembley Stadium.

captain records:

Harry Kane equals David Beckham's record of most Tournament matches as Captain (seven in EC, six WC, one NL).
This is also his sixteenth outing as captain at this stadium, a record shared with Steven Gerrard.

manager records:

It is Southgate's 29th match at the National Stadium, seven more than Roy Hodgson managed.
This is the 18th England match to go into Extra-Time, Southgate has now overseen the most with four, ahead of Bobby Robson's three.
Manager Gareth Southgate played for England against Italy in the Le Tournoi victory in June 1997 (he had been an unused substitute in the friendly four months earlier). He also played in the friendly defeats in November 2000 and March 2002.
3-4-3


4-3-3 after 70 minutes

Pickford -
Walker (Sancho), Stones, Maguire -
Trippier (Saka), Rice (Henderson (Rashford)), Phillips, Shaw -
Sterling, Kane, Mount (Grealish),


notes: Shaw went back into a four man defence after 70 mins.

Averages (Starting XI):

Age

26

years 330 days
Appearances/Goals

38.5

6.1

oldest starting XI in 2020-21
Southgate's most experienced starting XI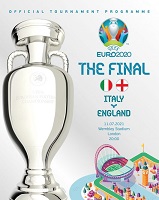 So, that's it then, another Euro Final decided, the first with England involved, and yet, still the trophy does not have our name on it. On a night full of anguish and heartache England failed at the final hurdle. It wasn't for lack of trying, and it has to be said that Italy had much of the game, but to lose in yet another dreaded penalty shoot-out was the final nail in our coffin.

The hype before the match was at extraordinary levels, most of it saying how it would be if we won it. Not a great deal of the conversations ever mentioned what it would be like if we lost in the final. Now we know, and the bitter disappointment of every English fan was there for all to see.

The match was a strange one in many ways, and the announcement of the England team seemed to suggest at a rather safety-first approach rather than a much more proactive one. But Gareth Southgate had made nearly all the correct calls throughout the tournament so far, and within two minutes of the start, all his thoughts came to fruition. Harry Maguire started nervously, and gave away a needless corner in the first minute, but it was then he who cleared the ball to Luke Shaw who laid it inside to Harry Kane. The captain's exquisite pass to Kieran Trippier out on the right ended with a fine cross to the far side by the man from Burnley. Shaw, following up, ran in and hit a superb volley which beat the goalkeeper all ends up! Dare we to dream? Was it all too early? At that moment England were on cloud nine.

Federico Chiesa, Italy's danger man, was then fouled by Shaw on the edge of the England box and hearts were in the mouth for England fans. Thankfully, Lorenzi Insigne fired his shot well over the bar much to everyone's relief. There were a lot of nerves in the early stages, on both sides, and there were several fouls. Italy were rattled though, as they have not been used to being behind in recent years, and it showed when Giorgio Chiellini brought down Raheem Sterling. That wouldn't be his last foul of the evening. On ten minutes Jordan Pickford made a good catch, Kane was fouled by Marco Verratti and Shaw was warned for taking too long on throw-ins. Two minutes later another fine pass from Kane won a corner, and then Mason Mount won another. Italy cleared the danger from both though.

Chiellini again fouled Kane, and then on 20 minutes we had the first 'injury' of the evening, as Jorginho went down, which gave the Italians the chance to have a chat with their agitated manager Roberto Mancini. It was such a relief to see Jorginho up and about and well again soon after the 'chat'.

Declan Rice and Kalvin Phillips were doing a splendid job in stifling and frustrating the Italians, and the England defence stood firm as the possession was ominously starting to be dominated by Italy. On 28 minutes Insigne hit another shot well wide and England continued to repel any threat from Italy. Mount and Sterling almost broke through, but an Italian defender just managed to touch Mount's pass away from his teammate. On 35 minutes a dangerous Italy attack ended with Chiesa shooting narrowly wide. That was a close call, but England came back through Shaw again, down the left, his cross was cleared, somewhat desperately by Italy's defenders. Emerson fouled Rice as England worked so hard all over the pitch. Rice was doing some great work in the engine room and he loved every minute of the challenge. The referee gave nothing when Sterling was clearly fouled by that man Chiellini again. The experienced Italian skipper is certainly a past-master at the dark arts of the game.

There were four minutes added at the end of the half and a great block by John Stones was followed by a good stop by Pickford from Ciro Immobile. There was another flurry of activity before the half-time whistle went with England still holding that precious lead. Italy possession had grown throughout the half, but they needed more from their manager. England just needed more of everything.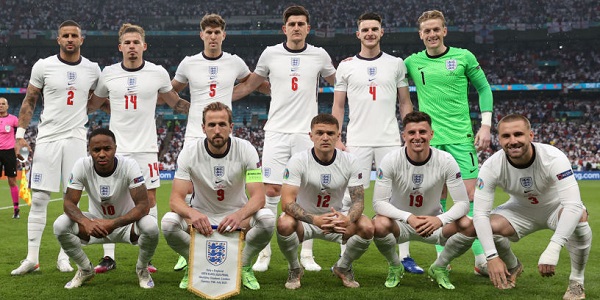 Kane was fouled early on after the restart, which resulted in a booking for Nicolo Barella, and then it looked as though England had a penalty as Sterling went down. It looked clearcut from my study, where I was sitting, but the referee saw otherwise. Sterling then became a villain as he gave away a free-kick right on the edge of the England box. The crowd held their breath, and Insigne duly obliged by shooting over, answering a few prayers at that moment. A superb piece of defending by Kyle Walker, nodding the ball back to Pickford, ended another of Italy's increasing attacks. Just after, Insigne shot wide again, Italy started to make changes, with two subs coming on in the next few minutes. Leonardo Banucci was booked for another crude challenge on Sterling. From the free-kick Maguire's header flies wide.

As the hour approached Italy were stepping up the pressure. Pickford saved well from Bryan Cristante, but England were sitting too deep, hanging on to what they had. On 62 minutes Chiesa again forced a fine save from Pickford. How ironic that 66 minutes had gone when England finally conceded an equaliser. England's defending at corners has been exemplary throughout this tournament, but this time it let them down.

The corner was played to the near post, flicked on and both Stones and Mount were caught out of position. Verrati's diving header was brilliantly tipped on to the post by Pickford but the rebound fell perfectly for the inrushing Bonucci to bundle the ball home. What a blow that was for England and their fans. It has to be said though that the goal had been coming and Italy deserved it. It was also difficult to see how England could score again such was their side so under pressure at the back. Bukayo Sako was brought on for Trippier, but the next attack was again from the Italians as from a blatant foul throw-in Domenico Berardi went very close with his shot. If that had gone in the referee would have been under severe pressure to consult the largely ignored VAR of this tournament.

England were chasing shadows at this time, and getting little possession. Southgate brought on Jordan Henderson for Rice, which many felt was a wrong move, as Rice had been magnificent, whereas Mount had faded out of the match after his bright start. Tackles were flying in and with ten minutes to go England's heads were a bit down. They were glad to see the back of Chiesa, who was replaced, and Insigne earned himself a booking for a foul on Phillips. Six minutes were added on at the end of the half, time enough for a disgraceful foul by Chiellini. He grabbed Saka's shirt as the Arsenal player broke away for a run at goal, and nearly throttled the youngster. It was a dreadful foul, cynical to the highest degree, and yet all the Italy captain received was a yellow card. He just had to go for that one.

The extra-time saw England attack a little more without unduly worrying the Italian defence. Jack Grealish was sent on for Mount with just 21 minutes to go, too little time to make an impact but time enough to receive another dreadful challenge, this time from Jorginho, who again was rewarded with just a yellow. In the Premier League, both those late challenges would have seen red in most people's eyes.

As the game drew to the inevitable close, very late on, Marcus Rashford and Jadon Sancho were sent on, to give us a chance in the shoot-out if there was one. Italy seemed content to go for penalties whilst England still tried hard to find a winner. A couple of scrambles later and time was up. As soon as it was realised we had to have those dreaded penalties to decide this thing, I think millions of English hearts sank.

The Lottery began. Berardi and Kane made it one apiece, but then substitute Andrea Belotti's shot was saved by Pickford. Maguire stepped up and confidently scored 2-1 and England in the lead for the second time in the match. Bonucci scored and up stepped Rashford. I don't think I have ever seen such a stuttering run up as the Manchester United player managed. It was no surprise that his shot hit a post. My own opinion is, that was the turning point. If Rashford had scored I think we would have had the confidence to go on. Federico Bernardeschi then made it 3-2 before Sancho stepped up. His penalty was perfect…...but for the goalkeeper, Gianluigi Donnarumma to save, soft, right height, easy. All hope gone? No! Pickford had other ideas and he saved another weak penalty from Jorginho. Surely Sterling would be next up, but no, the task was entrusted to Sako, a 19-year-old, who had only been on for half the game. Sadly for him, and much to the dismay of all the millions of England fans watching, the goalkeeper dived to make another comfortable save.

So Italy win, and through gritted teeth I say well done to them. Meanwhile, the England team has certainly had a magnificent tournament, and all the players deserve nothing but praise for their efforts over the past month. We are so proud of them all, and we look forward to bigger and better things in the years to come. As for the penalty misses, would you liked to have taken one?

To finish, this result, and the way it ended, is best summed up by the two word message my grandson Matt sent me after the final whistle. It just said, "Absolutely Gutted!" I know how he feels.