Match Summary
Officials

from Slovenia

Germany Squad

Type

England Squad

Referee (pink) - Damir Skomina
40 (5 August 1976), Koper, FIFA-listed 2003.


(sixth match, W 2 - D 1 - L 3 - F 8: A 8)

Assistant Referees - Jure Praprotnik, 32 (30 November 1984) and Robert Vukan, 40 (18 August 1976).
Fourth official - Matej Jug, 36 (25 September 1980)



Germany's captain, Lukas Podolski received a presentation before the match as this is his last appearance for his country.

14
Goal Attempts
11
3
Attempts on Target
2
0
Hit Bar/Post
1
4
Corner Kicks Won
7
2
Offside Calls Against
2
7
Fouls Conceded
9
49%
Possession
51%

Germany Team
Current World Champions

Colours:
Made by Adidas - White v-necked diagonal shadowed jerseys with black/red/gold trimmed collar/cuffs, black Adidas shoulder trim, black shorts with white Adidas side trim, white socks with black trim.

Rank:

FIFA (9 March 2017) 3rd
EFO ranking Group 2
ELO rating 3rd
Capt:
Lukas Podolski, until 84th min.
His captaincy was not replaced.
Manager:
Joachim L

�

w, 57 (3 February 1960), appointed Head Coach on 13 July 2006.
144th match, W 96 - D 25 - L 23 - F 345 - A 134.
Germany Lineup
22
ter Stegen, Marc-André
24
326 days
30 April 1992
G
FC Barcelona, Spain
9
0
18
Kimmich, Joshua
22
42 days
8 February 1995
RB
FC Bayern München
12
0
16
Rüdiger, Antonio
24
19 days
3 March 1993
CD
AS Roma, Italy
12
0
5
Hummels, Mats J.
28
96 days
16 December 1988
CD
FC Bayern München
56
4
3
Hector, Jonas M.
26
299 days
27 May 1990
LB
1 FC Köln 01/07
26
3

20

Brandt, Julian, off 59th min.
20
324 days
2 May 1996
RM
Bayer 04 Leverkusen
5
0
8
Kroos, Toni
27
77 days
4 January 1990
in Greifswald, German Dem. Rep.
RDM
Real Madrid FC, Spain
75
12
15
Weigl, Julian, off 66th min.
21
195 days
8 September 1995
LDM

Bsv Borussia 09 Dortmund

5
0

19

Sané, Leroy
21
70 days
11 January 1996
LM
Manchester City FC, England
5
0
10
Podolski, Lukas J., off 84th min.
31
291 days
4 June 1985
in Gliwice, Poland
RF
Galatasaray SK, Turkey
130
49

final app

2004-17

24

Werner, Timo, off 77th min.
21
16 days
6 March 1996
LF
RB Leipzig
1
0

Germany

Substitutes
9
Schürrle, André H., on 59th min.

(58:37)

for Brandt

26


136 days
6 November 1990
M
Bsv Borussia 09 Dortmund
56
20
14
Can, Emre, on 66th min.

(65:12)

for Weigl

23


69 days
12 January 1994
M
Liverpool FC, England
8
0

scoreline:

Germany 1 England 0
13
Müller, Thomas, on 77th min.

(76:20)

for Werner

27


190 days
13 September 1989
M
FC Bayern München
84
36
21
Rudy, Sebastian, on 84th min

(83:43)

for Podoloski

27


22 days
28 February 1990
RB
TSG 1899 Hoffenheim
13
0

result:

Germany 1 England 0
unused substitutes:
1-Kevin Trapp, 2-Shkodran Mustafi, 4-Benedikt Höwedes, 12-Bernd Leno, 13-Thomas Müller, 17-Niklas Süle.
4-4-2
ter Stegen -
Kimmich, Rüdiger, Hummels, Hector -
Sané, Kroos, Weigl (Can), Brandt (Schürrle) -
Podolski (Rudy), Werner (Müller)

Averages

(Starting XI)

:

Age
24 years 194 days
Appearances/Goals

30.5

6.3

England Team
Rank:

FIFA (9 March 2017) 14th
EFO ranking Group 4
ELO rating 8th to 10th
Colours:
The Nike 2017 third uniform

-

Midnight blue v-necked jerseys with black sleeves with black collared trim/

side stripe, midnight blue shorts with black side trim, navy blue socks.
Capt:
Gary Cahill
(fifth & final captaincy)
Manager:
Gareth Southgate, 46 (3 September 1970), appointed caretaker manager on 27 September 2016, appointed as permanent manager on 30 November 2016.
fifth match, W 2 - D 2 - L 1 - F 7 - A 3.
England Lineup
1

Hart,

C.

Joseph

J.

29


337 days
19 April 1987
G
Torino FC, Italy,
on loan from Manchester City FC
69
45ᵍᵃ
2
Walker, Kyle A.
26
298 days
28 May 1990
RWB
Tottenham Hotspur FC
24
0
3
Bertrand, Ryan D., off 84th min.
26
229 days
5 August 1989
LWB
Southampton FC
11
0

1219

4
Keane, Michael V.
24
70 days
11 January 1993
RD
Burnley FC
1
0

the 26th Burnley player to represent England

5
Cahill, Gary J.
31
93 days
19 December 1985
LD
Chelsea FC
53
4
6
Smalling, Christopher

L.

, off 85th min.
26
120 days
22 November 1989
CD
Manchester United FC
30
1

the 112th/113th player to reach the 30-app milestone

7
Livermore, Jake

C.L.

, off 82nd min.

(81:57)

27
128 days
14 November 1989
CM
West Bromwich Albion FC
2
0

the 44th Albion player to represent England

8
Dier, Eric J.E.
23
66 days
15 January 1994
CM
Tottenham Hotspur FC
16
2
9
Vardy, Jamie R., off 70th min.
30
70 days
11 January 1987
CF
Leicester City FC
15
5
10
Alli, Bamidele J., off 71st min.
20
345 days
11 April 1996
LF
Tottenham Hotspur FC
16
2
11
Lallana, Adam D., off 66th min.
28
316 days
10 May 1988
RF
Liverpool FC
30
3

the 112th/113th player to reach the 30-app milestone

England Substitutes
20
Redmond, D. Nathan J., on 66th min.

(65:05)

for Lallana

23


16 days
6 March 1994
RF
Southampton FC
1
0

1220

35th Southampton player to represent England

only app

2017

scoreline:

Germany 1 England 0
21
Rashford, Marcus, on 70th min.

(69:10)

for Vardy
19
142 days
31 October 1997
CF
Manchester United FC
7
1
1
6
19
Lingard, Jesse E., on 71st min.

(70:20)

for Alli.
23
97 days
15 December 1992
LF
Manchester United FC
4
3
0
1

1221

17
Ward-Prowse, James M.E., on 83rd min.

(82:03)

for Livermore

22


141 days
1 November 1994
CM
Southampton FC
1
0

36th Southampton player to represent England

14
Shaw, Luke P.H., on 84th min.

(83:01)

for Bertrand
21
253 days
12 July 1995
LWB
Manchester United FC
7
5
0
2
first defeat

(W4 D2)

15
Stones, John, on 85th min.

(84:30)

for Smalling
22
298 days
28 May 1994
CD
Manchester City FC
16
12
0
4

result:

Germany 1 England 0
unused substitutes:
12-Nathanial Clyne, 13-Fraser Forster, 16-Ross Barkley, 18-Alex Oxlade-Chamberlain, 22-Jermain Defoe, 23-Tom Heaton, 24-Raheem Sterling.
Manager Gareth Southgate first played for England against Germany in the Euro 1996 semi-final. His shoot-out kick being saved. He was an unused substitute for the match during Euro 2000. He did start in the qualification match that was the last at the old Wembley Stadium, but an unused substitute in the 5-1 victory in Munich.
3-4-3
Hart -
Keane, Smalling (Stones), Cahill -
Walker, Livermore (Ward-Prowse), Dier, Bertrand (Shaw) -
Lallana (Redmond), Vardy (Rashford), Alli (Lingaard).

Averages

(Starting XI)

:

Age
27 years 356 days
Appearances/Goals

24.3

1.5

oldest starting XI in 2016-17

(Southgate's oldest team)
Match Report by Mike Payne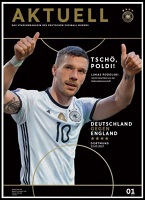 England's first match under the permanent stewardship of Gareth Southgate saw his side produce an excellent performance that only lacked sharper finishing and a slice of good luck. Southgate gave a first cap to Burnley's Michael Keane and brought in Jake Livermore for only his second cap.





Right from the start England played a pressing game that caught Germany out a little as they were forced to defend, sometimes desperately, more often than they were used to. It was a positive and confident opening spell from the visitors as they chased down the Germans when they had possession and used the ball well when England had the play. On six minutes there was a shout for a penalty when Jamie Vardy latched on to a forward pass and then went down as the goalkeeper came out to dive at his feet. It was one of those incidents that, had it been at the other end, then there was more likelihood of the spot-kick being given. As it was, the referee ignored claims from the England players.

By the time the quarter hour was up Germany were settling into the game more, having spells of possession but not creating anything in England's box. Kyle Walker was making some good forays down the right and Tottenham teammate Deli Alli was always busy and full of ideas. All the England players were closing the Germans down and the home players looked a little bemused by England's bright start. Chris Smalling did lose the ball in one German attack but the resultant shot was easily blocked by Gary Cahill. Livermore and Keane were both contributing well, with Keane looking very assured in a back three favoured by Southgate. On 23 minutes a great move down the right involving Alli and Walker ended with the German defenders desperately hacking the ball away. Eric Dier headed a corner into the arms of Marc-Andre ter Stegen, and then a fine pass from Keane to Alli was only just headed clear. England's attacks tended to break down in the final third of the pitch, but there was no doubting that, in the main, England were on the front foot.





Just after the half-hour mark a wonderful break down the left by Adam Lallana almost broke the deadlock. His driving run into the box ended with a fine shot that struck the far upright, with the keeper beaten, before bouncing out to be cleared. It was so unlucky as Lallana did everything right, but as usual when we play the Germans our luck was out.

A great piece of skill by the lively Alli almost saw him break through but it came to nothing. The Germans were not being allowed to play well but always with them there is a danger when they move forward. But England defended well with all the players moving as a good unit to shut down when danger threatened. Both Joe Hart and ter Stegen lived dangerously with their footwork as forwards bore down on them, and then Dier shot over from a free-kick. On 41 minutes Alli had the chance of the match so far when he broke away with a one on one with the keeper. It looks odds on that Alli would score but ter Stegen blocked his shot, must to the disappointment of the England fans watching. Alli then tried again from long range but the goal that England's first half had warranted just would not come.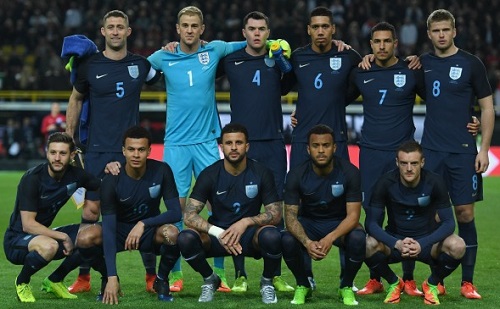 The Germans re-grouped at half-time and after the break they did play better and the first chance of the second half came when Hart miscued a punch out and Julian Brandt fired an instant shot that only just went wide. Chances came and went at both ends with Alli missing a good chance at the far post and then Lukas Podolski, playing his last international, mishit his first chance of the night. Great play by Dier saw him fire in a cross-shot which the keeper saved at full stretch and then Leroy Sane's weak header was easily saved. The game carried on like this until the 69th minute when a moment of magic settled the match.





For the first time England gave Podolski a bit too much space and the retiring player celebrated his last game with a magnificent shot from 30 yards that flew into the top corner with Hart having absolutely no chance of saving it. The goal was so disappointing for England, but there was no denying the quality of the strike and it was an appropriate end for the Galatasary player, his 49th goal in Germany's colours.





Nathan Redmond, Marcus Rashford and Jesse Lingard came on as Southgate wrung the changes and England continued to give a good account of themselves. However, the goal brought back the typical German swagger as they confidently denied England possession. Indeed, only a magnificent save from Hart, low to his left, prevented Sane from extending Germany's lead. The hosts are the pass masters at protecting a one goal lead though and to be frank England never really threatened after the goal. A number of substitutions disrupted the flow a little too, but it did give Southgate the chance to look at some of his players in an international arena. James Ward-Prowse was given a debut, whilst Luke Shaw and John Stones came on in defence.





Podolski was given a standing ovation as he was substituted late on and England were left to rue their lack of goals in a first-half that they largely dominated. Overall though, it was an excellent match, with many excellent individual performances. Southgate had plenty of positives to take away with him, but England must learn one lesson quickly, in games like this, against the top sides, they MUST take the chances they create.




Source Notes
TheFA.com
BBC Sport
DFB.de


Mike Payne - football historian and contributor
cg