Rank:

FIFA (16 October 2017) 12th
EFO ranking Group 4
ELO rating 10th-7th
Colours:
The Nike 2017 third uniform

-

Midnight blue v-necked jerseys with black sleeves

with black collared trim/

side stripe, midnight blue shorts with black side trim, navy blue socks.
Capt:
Eric Dier


first, W 0 - D 1 - L 0 - F 0 - A 0.

⁵

Manager:
Gareth Southgate, 47 (3 September 1970), appointed caretaker manager on 27 September 2016, appointed as permanent manager on 30 November 2016.


thirteenth match, W 7 - D 4 - L 2 - F 21 - A 9.

the second youngest captain at Wembley (since Bobby Moore in 1964).
England Lineup

111

1
Pickford, Jordan L.
23
248 days
7 March 1994
G
Everton FC
1
0ᵍᵃ

1225

the 68th player from Everton to represent England

2
Trippier, Kieran J., off 72nd min.
27
52 days
19 September 1990
RWB
Tottenham Hotspur FC
3
0
3
Rose, Daniel L., off 71st min.
27
131 days
2 July 1990
LWB
Tottenham Hotspur FC
13
0
4
Jones, Philip A., injured off 24th min.
25
262 days
21 February 1992
RD
Manchester United FC
24
0
5
Stones, John
23
166 days
28 May 1994
CD
Manchester City FC
21
0
6
Maguire, J. Harry
24
250 days
5 March 1993
LD
Leicester City FC
2
0

7

Livermore, Jake

C.L.

, off 86th min.
27
361 days
14 November 1989
LAM

West Bromwich Albion FC

6

0

59th min. after he brought down the sprinting German attacker.

8

Dier, Eric J.E.
23
299 days
15 January 1994
CM
Tottenham Hotspur FC
22
3
9
Vardy, Jamie R., off 86th min.
30
303 days
11 January 1987
RF
Leicester City FC
18
6

82

10
Loftus-Cheek, Ruben I.
21
291 days
23 January 1996
RAM
Crystal Palace FC, on loan from Chelsea FC
1
0

1226

the 14th Palace player to represent England

83

11
Bakumo-Abraham, K.O. Tamaraebi, off 60th min.
20
39 days
2 October 1997
LF
Swansea City FC, on loan from Chelsea FC
1
0

1227

the 2nd Swansea player to represent England

England

Substitutes

84

15
Gomez, Joseph D., on 25th min.

(24:01)

for Jones
20
171 days
23 May 1997
RD
Liverpool FC
1


0


1228

45th min. for preventing a German counter-attack by bringing down a sprinting Sané

the 72nd Liverpool player to represent England

19
Rashford, Marcus, on 60th min.

(59:22)

for Abraham
20
10 days
31 October 1997
LF
Manchester United FC
14
5

2
9
14
Bertrand, Ryan D., on 71st min.

(70:30)

for Rose
28
97 days
5 August 1989
LWB
Southampton FC
18
13

1
5
12
Walker, Kyle A., on 72nd min.

(

71:03)

for Trippier
27
166 days
28 May 1990
RWB
Tottenham Hotspur FC
31
27

0
4

1229

17
Cork, Jack F.P., on 86th min.

(85:17)

for Livermore
28
138 days
25 June 1989
LAM
Burnley FC
1
0

the 27th Burnley player to represent England

only app

2017
20
Lingard, Jesse E., on 86th min.

(85:29)

for Vardy
24
330 days
15 December 1992
RF
Manchester United FC
7
3

0
4

result:

England 0 Germany 0
unused substitutes:
13-Joe Hart, 16-Michael Keane, 18-Ashley Young, 21-Gary Cahill.
team notes:
Not for four years (Chile, 15 November 2013) have three debuting players started a match.
It was five years ago when England fielded five debutants (six) (Sweden, 14 November 2012).
Jordan Pickford is the first goalkeeper from Everton FC since Gordon West in 1969.
Phil Jones hurt himself as he headed away a Leroy Sané shot off the line (22:02).
records:
First Wembley goalless draw since Montenegro in October 2010.
The three starting debutants were each the 38-fortieth players to make their England debuts at the National Stadium (14 starters, 28 substitutes, including Gomez and Cork).
Manager Gareth Southgate first played for England against Germany in the Euro 1996 semi-final. His shoot-out kick being saved. He was an unused substitute for the match during Euro 2000. He did start in the qualification match that was the last at the old Wembley Stadium, but an unsued substitute in the 5-1 victory in Munich.
3-5-2
Pickford -
Jones (Gomez), Stones, Maguire -
Trippier (Walker), Loftus-Cheek, Dier, Livermore (Cork), Rose (Bertrand) -
Abraham (Rashford), Vardy (Lingard).

Averages

(Starting XI)

:

Age
25 years 54 days
Appearances/Goals

9.2

0.8

the least experienced side in 2017-18... and for
over 37 years

(Australia, May 1980)

.
Current World Champions
Colours:
Made by Adidas - White v-necked jersey with black Adidas shoulder trim and black/grey/white graphic across upper front, black shorts with white Adidas side trim, white socks with black Adidas trim.

Rank:

FIFA (16 October 2017) 1st
EFO ranking Group Two
ELO rating

first to second

Capt:
Mat Hummels
Manager:
Joachim Löw, 57 (3 February 1960), appointed Head Coach on 13 July 2006.


157th match, W 106 - D 28 - L 23 - F 385 - A 144.

Germany Lineup
22
ter Stegen, Marc-André
25
194 days
30 April 1992
G
FC Barcelona, Spain
18
0
4
Ginter, Matthias L.
23
295 days
19 January 1994
RD
Borussia VfL 1900 Mönchengladbach
17
0
5
Hummels, Mats J.
30
329 days
16 December 1988
CD
FC Bayern München
61
5
16
Rüdiger, Antonio
24
252 days
3 March 1993
LD
Chelsea FC, England
21
1
18
Kimmich, Joshua W.
22
275 days
8 February 1995
RWB
FC Bayern München
25
3
25
Halstenberg, Marcel
26
44 days
27 September 1991
LWB
RB Leipzig
1
0
21
Gündoğan, İlkay

, off 86th min.

24
17 days
24 October 1990
RM
Manchester City FC, England
21
4
10
Özil, Mesut
29
26 days
15 October 1988
LM
Arsenal FC, England
87
22
7
Draxler, Julian, off 67th min
24
51 days
20 September 1993
RF
Paris Saint-Germain, France
39
6
11
Werner, Timo, off 73rd min.
21
249 days
6 March 1996
CF
RB Leipzig
9
6
24
Sané, Leroy A., off 87th min.
21
303 days
11 January 1996
LF
Manchester City FC, England
9
0
Germany Substitutes
14
Can, Emre, on 67th min

. (66:43)

, for Draxler
23
302 days
12 January 1994
RF
Liverpool FC, England
19
1
9
Wagner, Sandro, on 73rd min.

(72:57)

for Werner
30
12 days
29 October 1987
CF
TSG 1899 Hoffenheim
6
5
23
Rudy, Sebastian, on 86th min.

(85:52)

for Gündoğan
27
255 days
28 February 1990
RB
FC Bayern München
23
1
20
Brandt, Julian, on 87th min.

(86:10)

for Sané
21
192 days
2 May 1996
M
Bayer 04 Leverkusen
13
1

result:

England 0 Germany 0

unused substitutes:
1-Kevin Trapp, 2-Niklas Süle, 3-Marvin Plattenhardt, 6-Sam Khedira, 12-Bernd Leno, 13-Lars Stindl, 17-Jérôme Boateng (injured), 19-Mario Götze.
3-4-3
ter Stegen -
Ginter, Hummels, Rüdiger -
Kimmich, Gündogan (Rudy), Özil, Halstenberg -
Draxler (Can), Werner (Wagner), Sané (Brandt)

Averages

(Starting XI)

:

Age
25 years 20 days
Appearances/Goals

28.0

4.3

youngest opposing XI in 2017-18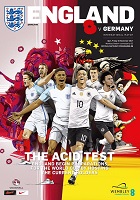 The arrangement of a fixture with the World Champions, Germany, was eagerly anticipated by the England fans, but it was supposed to give the manager and his team a guide to see how far Gareth Southgate's side had progressed. Unfortunately, as with several previous matches labelled 'Friendly', it prompted a mass withdrawal of all England's top players. It was the same for Germany too, apparently, but what resulted from all this was an exciting and intriguing match where both sides had chances and some excellent football was played.

The absentees gave Southgate the chance to try some of his younger players and no fewer than five of them on the night, won their first caps, three from the start. It was a very inexperienced team that took the field led by Eric Dier, England's second youngest ever captain at Wembley, after Bobby Moore. In the first two minutes there were chances at either end. An under-hit backpass by Harry Maguire had Jordan Pickford racing from his goal sharply to beat a German attacker to the ball and scramble it away from danger. Then, a minute later, a lovely long ball from Dier sent Jamie Vardy scampering down the left. His pass to the near post was crying out for a touch from Harry Kane, but he wasn't playing and his replacement Tammy Abraham failed to get a touch. The ball ran past the far post where Kieran Trippier went for goal but could only succeed in hitting the side-netting.

Another long ball saw England get behind the German defence but fail to capitalise, and then yet another long ball caused problems. This time though it was at the other end and when Leroy Sane robbed Phil Jones he had a clear shot, but he too hit the side-netting. All this came in the first ten minutes and play was very open as England came to terms with the quality of the opposition. Eric Dier said afterwards that it was difficult playing against a well-oiled German machine, and that is exactly right. However, England gradually grew into the match and the youngsters settled down to play some good football. Reuben Loftus-Cheek was a typical example as he suddenly, after about ten minutes, realised that he had the ability to match the players he faced and he began to blossom. The Germans were dominating possession, as expected, with Mesut Ozil pulling the strings. One lovely chipped pass in the 13th minute, so nearly picked out Sane but the Manchester City player's control let him down for once.

On 20 minutes Germany almost took the lead. Sane was given far too much room just outside the box and his curling shot looked goalbound. Pickford was beaten but the ball struck the bar, bounced down and was then cleared. A few seconds later and there was another amazing escape for the home side. Ozil sent Timo Werner away clear of the defence, but Pickford was down well to block the shot. The ball ran to Sane and the German picked his spot only for Jones to make a magnificent headed clearance off the line. The second follow-up shot was blazed over the bar by Julian Draxler. Phew! That was a close one. It turned out to be Jones's last contribution as he limped off to be replaced by another debutant Joe Gomez of Liverpool.

John Stones was organising the defence well, and Maguire gradually grew more assured as the game progressed. Gomez slotted in nicely at the back and England pushed forward at every opportunity. One of Pickford's strengths is to ping a long raking ball for his forwards to run onto and one such pass so nearly reached Vardy. That is a tactic that England will reap some rewards from, mark my words. One of England's failings in recent internationals is their inability to take a decent corner, and once again several were wasted in this match, most notably by Trippier. With 30 minutes gone Germany were dominating the possession and at times it seemed as though they had 15 players on the field such was their dominance. But England manfully stuck to their task and both Vardy and Danny Rose had efforts at goal. Abraham held the ball well but his touch showed signs of nervousness, although, like everyone else, he worked really hard.

On 39 minutes Werner had another glorious chance to give Germany the lead. He ran clear of the defence and homed in on Pickford, but the young keeper, having an outstanding debut, once again got down well to stop the shot. Two minutes later and it was England's turn to come close with Abraham's best moment. His turn and shot in the area just clipped the shoulder of Mats Hummels and the ball looped agonisingly inches wide of the post with the goalkeeper helpless.

Loftus-Cheek produced a lovely turn, and then just failed to control a through ball when in a great position, before Jake Livermore also went close. Loftus-Cheek was at the centre of the action again as England ended the half strongly. A lovely chipped pass saw Vardy beat the keeper to the ball but just failed to direct it on goal with his attempted lob. Abraham was beaten to the loose ball by a defender. England ended the half with a flurry of fruitless corners, from one of which Germany broke away quickly and Gomez was booked for bringing down Sane. There was no doubt that Germany, on the whole, had dominated the half, but England had had their moments and you could not fault the home team for their effort and determination.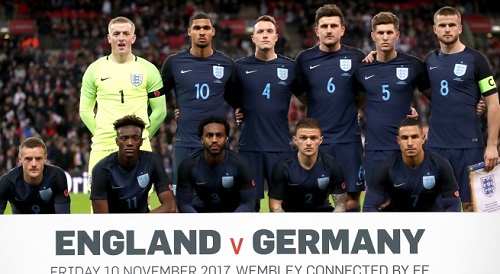 The second-half saw the Germans step up the possession to another level and England struggled to touch the ball for a few minutes, but funnily enough it was England who had the next clear chance, probably their best. England broke down the right and the ball reached Trippier. For once the cross was a good one, right on to Vardy's head. The Leicester striker did everything right, heading the ball downwards and firmly at goal. Unfortunately for him goalkeeper Andre ter Stegen made the save of the night with a wonderful parry with his left hand. It looked a goal all the way and it was definitely England's best moment.

After that it was pretty much nip and tuck, as Germany tried to keep possession, England defending stoutly, and with the aim to break quickly when possible. It has to be said that in this half, in spite of all their possession, the Germans never really tested Pickford again. That was testament to the hard work of the England players and a whole raft of substitutions did not affect the rhythm of the side either, which must have pleased Southgate. Maguire showed increased confidence and he sent a fabulous pass down the left for substitute Marcus Rashford to latch onto. Unfortunately nothing came from that, but England's passing throughout had been good. The pattern of the game continued, with England looking to counter-attack, and to be honest the Germany team, surprisingly, ran out of ideas when trying to find ways round the well organised England defence. John Stones had a fine game at the back and Gomez, too, enjoyed his debut. Maguire sent another delightful pass to Bertrand down the left and the final chance of the match again fell to England.

A free-kick was awarded to England on the left, and Rashford hit a long ball to the far post where Maguire leapt to head across goal. The ball ran for Jesse Lindgard to fire in from close range. Much to everyone's dismay, his shot flew over the bar when it seemed easier for him to score. Everyone in the stadium had their head in their hands at that last kick of the game miss, we were that close to inflicting a first defeat on the Germans for some considerable time.

On reflection, there was an awful lot of positives for Southgate to ponder, and some excellent performances from England, both individually and as a team. He must have been delighted at his team's showing, but oh how I bet he wishes Jesse had kept his head down!