Match Summary
Officials

from France

England Squad

Type

Lithuania Squad

Referee (pink) - Ruddy Buquet


40 (29 January 1977), Amiens, FIFA-listed 2011.

Assistant Referees - Frédéric Cano, 43 (23 July 1973) and Guillaume Debart, 38 (17 May 1978)
Fourth official - Amaury Delerue, 39 (6 June 1977), Luzy.


Bradley Lowry and Jermain Defoe led out the England team. A period of silence was then observed, black armbands worn and wreath's were laid, in memory of those affected by the Westminster Attacks on Wednesday, 22 March.

21
Goal Attempts
4
9
Attempts on Target
2
0
Hit Bar/Post
0
3
Corner Kicks Won
2
1
Offside Calls Against
0
9
Fouls Conceded
14
72%
Possession
28%

England Team
Rank:

FIFA (9 March 2017) 14th
EFO ranking Group 4
ELO rating 11th
Colours:
The Nike 2016 home uniform

-

White v-necked jerseys with light blue sleeves and ice blue collared tri

m/side stripe and white cuffs, white shorts with ice blue side trim, red socks.
Capt:
Joe Hart
(second & final captaincy)
Manager:
Gareth Southgate, 46 (3 September 1970), appointed caretaker manager on 27 September 2016, appointed as permanent manager on 30 November 2016.
sixth match, W 3 - D 2 - L 1 - F 9 - A 3.
England Lineup
1

Hart,

C.

Joseph

J.

29
341 days
19 April 1987
G
Torino FC, Italy,
on loan from Manchester City FC
70
45ᵍᵃ
the 26th player to reach this milestone
2
Walker, Kyle A.
26
302 days
28 May 1990
RB
Tottenham Hotspur FC
25
0
3
Bertrand, Ryan D.
26
233 days
5 August 1989
LB
Southampton FC
12
0
4
Dier, Eric J.E.
23
70 days
15 January 1994
DM
Tottenham Hotspur FC
17
2
5
Keane, Michael V.
24
74 days
11 January 1993
RCD
Burnley FC
2
0
6
Stones, John
22
302 days
28 May 1994
LCD
Manchester City FC
17
0
7
Sterling, Raheem S., off 60th min.
22
108 days
8 December 1994
in Kingston, Jamaica
RAM
Manchester City FC
30
2

the 114th player to reach the 30-app milestone

8

Oxlade-Chamberlain, Alexander M.D.
23
223 days
15 August 1993
CM
Arsenal FC
25
5
9

Defoe, Jermain C., off 59th min.
34
170 days
7 October 1982


CF



Sunderland AFC
56

20

the 29th Sunderland player to represent England

the 22nd player to score 20 gls, the oldest & the longest

(12yrs 199days)

10
Alli, Bamidele J.
20
349 days
11 April 1996
AM
Tottenham Hotspur FC
17
2
11
Lallana, Adam D.
28
320 days
10 May 1988
LAM
Liverpool FC
31
3

England

Substitutes

scoreline:

England 1 Lithuania 0
19
Vardy, Jamie R., on 59th min.

(58:55)

for Defoe
30
74 days

11 January 1987

CF

Leicester City FC
16
8
6
8
the 88th goal to be scored by a substitute
the tenth player to score three goals as a substitute
20
Rashford, Marcus, on 60th min.

(59:21)

for Sterling
19
146 days
31 October 1997
RAM
Manchester United FC

8

1
1

7
73rd min. for palming the ball over the bar in frustration at his shirt being pulled

result:

England 2 Lithuania 0
unused substitutes:
12-Nathanial Clyne, 13-Fraser Forster, 14-Luke Shaw, 15-Ben Gibson, 16-Jake Livermore, 17-James Ward-Prowse, 18-Ross Barkley, 21-Jesse Lingard, 22-Nathan Redmond, 23-Tom Heaton.

team notes:

Alex Oxlade-Chamberlain's father, Mark Chamberlain, also played for England (1982-84).

stadium records:

This is a record seventh consecutive World Cup victory at the Stadium, starting back in October 2012.

records:

England have now gone 34 qualification matches unbeaten (W26 D8).
They are also unbeaten in a record 22 competitive home matches (beginning October 2008).
The eighteenth goal by a substitute at the new National Stadium. The thirtieth goal scored by a substitute in qualification history.
4-2-4(3-1)
Hart -
Walker, Keane, Stones, Bertrand -
Dier, Oxlade-Chamberlain -
Sterling (Rashford), Alli, Lallana -
Defoe (Vardy)

Averages

(Starting XI)

:

Age
25 years 328 days
Appearances/Goals

27.5

3.0

Lithuania Team
Rank:

FIFA (9 March 2017) 105th
EFO ranking n/a
ELO rating 93rd
Colours:
Made by Hummel - Yellow v-necked jerseys with black shoulder panels/collar, black/white Hummel zip tim down side, pale green shorts with white/black Hummel zip trim, yellow socks with green trim/double Hummel trim.
Capt:
Fiodor Černych
Manager:
Edgaras Jankauskas, 42 (12 March 1975), appointed 12 January 2016.
eleventh match, W 2 - D 3 - L 5 - F 8 - A 16.
Lithuania Lineup
16
Šetkus, Ernestas
31
305 days
25 May 1985
G
Haagsche FC Alles Door Oefening Den Haag

, Netherlands

13
0
8
Vaitkūnas, Egidijus
28
230 days
8 August 1988
RB
VMFD Žalgiris

33

0

47th min. for a foul on Alex Oxlade-Chamberlain in the centre-circle
4
Kijanskas, Tadas
31
201 days
6 September 1985
CD
FC Zbrojovka Brno as, Czech Republic
47
1
2
Klimavičius, Linas
27
350 days
10 April 1989
CD
VMFD Žalgiris
11
0
3
Slavićkas, Vaidas
31
43 days
26 February 1986
LB
FK Suduva Marijampole
14
0
17
Kuklys, Mantas
29
289 days
10 June 1987
RDM
VMFD Žalgiris
22
0
10
Žulpa, Artūras, injured off 91st min.

(90:49)

, not replaced
26
289 days
10 June 1990
LDM
FC Tobol, Kazakhstan

23

0

59th min. for a foul on Adam Lallana, dragging him back as England break.
11
Novikovas, Arvydas, off 54th min.
26
98 days
18 December 1990
RM
Jagiellonia Białystok SSA, Poland
39
3
14
Slivka, Vykintas
21
331 days
29 April 1995
CM
Ascoli Picchio FC 1898, Italy, on loan from Juventus FC, Italy
18
1
22
Černych, Fedor I.
25
309 days
21 May 1991
in Moscow, USSR
LM
Jagiellonia Białystok SSA, Poland
36
9
19
Valskis, Nerijus, on 73rd min.
29
234 days
4 August 1987
CF
Bnei Yehuda Tel Aviv FC, Israel
15
2
Lithuania Substitutes

scoreline:

England 1 Lithuania 0
6
Grigaravičius, Mindaugas, on 54th min.

(53:45)

for Novikovas
24
254 days
15 July 1992
M
FK Jelgava, Latvia
5
0

scoreline:

England 2 Lithuania 0
9
Matulevičius, Deivydas, on 73rd min.

(

72:45)

for Valskis
26
352 days
8 April 1989
F
Royal Excel Mouscron, Belgium
33
5
13
Paulius, Simonas, on 87th min.

(86:15)

for Slivka
25
318 days
12 May 1991
M
FK Ventspils, Latvia
5
0

result:

England 2 Lithuania 0
unused substitutes:
1-

Emilijus Zubas

, 5-

Tomas Mikuckis,

7-Ovidijus Verbickas, 12-Edvinas Gertmonas, 15-

Arūnas Klimavičius,

18-

Tautvydas Elio�ius,

20-

Valdemar Borovskij,

21-

Vytautas Lukša

, 23-

Rolandas Baravykas.

4-5(2-3)-1
Šetkus -
Vaitkūnas, Kijanskas, L.Klimavičius, Slavićkas -
Kuklys, Žulpa -
Novikovas (Grigaravičius), Slivka (Paulius), Černych -
Valskis (

Matulevičius)

Averages

(Starting XI)

:

Age
28 years 112 days
Appearances/Goals

24.6

1.5

least experienced opposing XI in 2016-17
Match Report by Mike Payne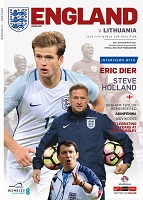 England remain well in control of their World Cup Group with this comfortable win over Lithuania. The visitors came with a game plan to try and frustrate England and maybe catch them on a breakaway, but England were too good for them and, if truth be told, the home side should have won by a wider margin.





It took England nearly 15 minutes to create an opening, but all the possession was with them as Lithuania brought everyone behind the ball. The probing had to be patient as England sought gaps, but it all looked a little 'Arsenal like', as there was no end product and the ball was rarely played into the visitors penalty area. The main attacking threat for England was coming from Kyle Walker and on a couple of occasions he burst through only for the final pass to let him down. Adam Lallana was also prominent, and he so nearly found Walker with one pass before having a go himself, the deflected shot being easily saved. On 17 minutes Walker produced a fine cross but nobody could get on the end of it.

Although it was one-way traffic the ball was not being put into the box quickly enough, and sometimes, because it was so easy for England, some lackadaisical play annoyed the crowd. Misplaced and careless passes were not finding their targets and that made it easy for Lithuania to defend. On 21 minutes though, England fashioned a proper chance at last. Walker was again the provider as he found the recalled Jermaine Defoe, and the striker, with almost his first touch, was able to get a shot away. Credit the goalkeeper though as Ernestas Setkus was down quickly to block the shot with his feet. The crowd were lifted by that and a minute later England finally took the lead.





This time Raheem Sterling broke down the left before cutting the ball back from the bye-line to the ever-ready Defoe, who shot home with aplomb from six yards out. What a comeback for the Sunderland striker, making his first start for four years, but showing just how deadly he is in front of goal when given a sniff of a chance. It was his 20th goal for his country.





The game now opened up a little and Lithuania had their first attack of note when Fedor Cernych scuffed a shot wide from a promising position. A minute later and Eric Dier found Defoe again and the striker had only one thing on his mind as he fired yet another shot at goal. This time though his fierce shot was dragged wide of the left-hand post. The Lithuanians had certainly done their homework on England as they posted a man on Dele Alli throughout the game and the Spurs man was not as effective as he usually is, being closed down atery opportunity. Although only a half-hour had elapsed the visitors were making a meal of the 'injuries' they received, dragging the time out in an effort to slow the game down.





The rest of the half was more of the same, with England's play going forward not nearly quick enough to ruffle the disciplined defending they faced, and few other chances were created. In fact, the nearest we came to another goal came after Joe Hart's poor clearance was lobbed back and Nerijus Valskis headed over the keeper, only for John Stones to race back and clear off the goalline. Valskis was blatantly offside, but there was no flag, so it could have been a gift for the visitors. As it was the half ended at 1-0 to England and they were well worth their lead.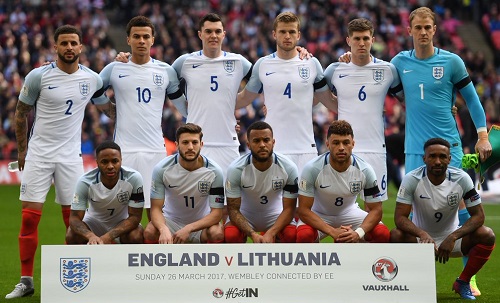 Within two minutes of the restart Egidijus Vaitkunas had been booked for Lithuania after he took out Alex Oxlade-Chamberlain, and Sterling missed a sitter for England. Ryan Bertrand's fine cross from the left found Sterling a yard from goal, but somehow the Manchester City winger got his feet in a tangle and completely fluffed his attempt at goal. Over the next ten minutes, Alli headed wide from another Walker cross, Hart had to make his first save, from a shot by Vykintas Slivka, and Oxlade-Chamberlain forced a flying full-length save from Setkus.





The substitutions began on 53 minutes and Lithuania were playing well at times, although it must be said England were still totally in control. Just before the hour manager Gareth Southgate brought on Jamie Vardy for Defoe, and Marcus Rashford for Sterling in an effort to inject a little more pace going forward. It almost worked immediately as Rashford burst forward and so nearly set up Lallana. Finally, in the 66th minute the result was settled by a second England goal.





Brilliant one-touch play from Walker and Lallana set up Vardy and the substitute showed all his recent sharpness by coolly tucking the ball past Setkus. It was a well worked and well taken goal and no more than England deserved. The rest of the match was played out in the same manner, with England pushing forward at every opportunity and Lithuania defending stoutly.





Not much happened in that last quarter, but England had completed the task and it was very much job done. Several of the players can be pleased with their own performances with Michael Keane again looking the part at the back, and sharing a good partnership with Stones. Both full-backs attacked willingly but the midfield was a little too casual at times and needed to show a bit more urgency. But these games are difficult, when you know you should win, and unfortunately the days of eight and nine goal victories are long gone. Up front Defoe did his job brilliantly and the two subs who came on certainly livened up the proceedings. The important thing was that England safely bagged the three points and now we move on to the next instalment of our World Cup campaign in June.

Bring on the Scots!




Source Notes
TheFA.com
BBC Sport
LFF.com


Mike Payne - football historian and contributor
cg