Rank:
FIFA (6th October 2022)

5th


EFO ranking Group One (4th)
ELO rating 13th to 11th
Colours:
The Nike 2022 home uniform

-

White crew-necked jerseys

with dark to light blue

fury gradient sleeves, fury/void cuffs, blue void shorts, white socks with fury/void thin hoop.
Capt:
Harry Kane ⁴³


51st, W 30 - D 11 - L 10 - F 117 - A 45.


Kieran Trippier 74:54
Manager:
Gareth Southgate, 52 (3 September 1970), appointed caretaker manager on 27 September 2016, appointed as permanent manager on 30 November 2016.


77th match, W 47 - D 17 - L 13 - F 167 - A 55.

England Lineup

1
Pickford, Jordan L.
28
259 days
7 March 1994

G

Everton FC

46

36ᵍᵃ

the 3rd goalkeeper to concede 7 penalties
12
Trippier, Kieran J.
32
63 days
19 September 1990
RB
Newcastle United FC
38
1
5
Stones, John
28
177 days
28 May 1994
RCD
Manchester City FC
60
3

45th player to reach the 60-app milestone

6

Maguire, J. Harry, unwell off 68th min. (67:34).
29
261 days
5 March 1993
LCD
Manchester United FC
49
7
3

Shaw, Luke P.H.
27
132 days
12 July 1995
LB
Manchester United FC
24
3
22

Bellingham, Jude V.W.
19
145 days
29 June 2003
RDM
Bsv Borussia 09 Dortmund, Germany
18
1
4
Rice, Declan
23
311 days
14 January 1999
LDM
West Ham United FC
35
2
17

Saka, Bukayo A.T., off 71st min.
21
77 days
5 September 2001
RAM
Arsenal FC
21
6
19
Mount, Mason T., off 71st min.
23
315 days
10 January 1999
AM
Chelsea FC
33
5
10

Sterling, Raheem S., off 71st min.
27
348 days
8 December 1994
in Kingston, Jamaica
LAM

Chelsea FC
80
20

seventeenth player to reach the 80-app milestone




23rd player to score twenty goals

9

Kane, Harry E., off 75th min.
29
116 days
28 July 1993
CF
Tottenham Hotspur FC
76
51
England Substitutes

scoreline:

England 4 Iran 1

15
Dier, Eric J.E., on 70th min.

(69:20)

for Maguire
28
310 days
15 January 1994
LCD
Tottenham Hotspur FC
48
37
3
11
11
Rashford, Marcus, on 71st min.

(70:01)

for Saka
25
22 days
31 October 1997
RAM
Manchester United FC
47
21
13
26

102nd goal by a substitute

7
Grealish, Jack P., on 71st min.

(70:09)

for Sterling
27
73 days
10 September 1995
LAM
Manchester City FC
25
12
2
13

103rd goal by a substitute

20
Foden, Philip W., on 71st min.

(70:15)

for Mount
22
177 days
28 May 2000
AM
Manchester City FC
19
13
2
6

scoreline:

England 5 Iran 1

24

Wilson, Callum E.G., on 75th min.

(74:57)

for Kane
30
267 days
27 February 1992
CF
Newcastle United FC
5

1
1

4

the 39th United player to represent England

result: England 6 Iran 2
unused substitutes:
2-Kyle Walker (unavailable), 8-Jordan Henderson, 13-Nick Pope, 14-Kalvin Phillips, 16-Conor Coady, 18-Trent Alexander-Arnold, 21-Ben White, 23-Aaron Ramsdale, 26-Conor Gallagher.
team notes:
Raheem Sterling has now been at three different World Cup Final tournaments with three different clubs, Liverpool, Manchester City and now Chelsea.
Tottenham Hotspur have now provided the team captain for 97 matches, two more than Wolverhampton Wanderers, but still one less than Liverpool and 41 less than Manchester United.
Jack Grealish's great great grandfather,

Billy

Garraty, also played for England in 1903.
Callum Wilson was originally readied as a substitute for the 64th minute, but following the illness to Harry Maguire when Iran scored their first goal, Wilson's place went to Dier, who was then not allowed to immediately replace Maguire. leaving England playing with ten men for almost two minutes.
goal records:
Jude Bellingham becomes the second teenager to score for England at the World Cup Finals and the eighteenth teenager to score for England overall, but the latest (in appes) to score his first (18th).
Bukayo Saka becomes the youngest England player to score two goals in World Cup Finals.
manager records:
Gareth Southgate has now gone one better than Sir Alf Ramsey victories in Major Tournament Finals (WC/EC). His nine to Ramsey's eight.
records:
England ended a run of six competitive matches without victory with this emphatic win.
No other captain has led England into more Major Tournament Final matches than Harry Kane, his fifteenth is one more than David Beckham.
World Cup records:
This is England's thirtieth victory in their seventieth World Cup Finals match.
England scored six again in a World Cup Finals tournament having first achieving the feat in 2018 against Panama.
This is the best opening-Tournament result England have achieved, beating the previous best in 1982 when they beat France 3-1.
All five of England's goalscorers were scoring their first England goal in a World Cup Final tournament.
Iran's second goal was the tenth conceded by Jordan Pickford at WCF, equal with Peter Shilton.
Jude Bellingham is the 120th different goalscorer for England in World Cup (preliminary & Finals) play.
Not since Steven Gerrard against Sweden in June 2006 has a substitute scored at a WCF.
4-2-3-1
Pickford -
Trippier, Stones, Maguire (Dier), Shaw -
Bellingham, Rice -
Saka (Rashford), Mount (Foden), Sterling (Grealish)-
Kane (Wilson)

Averages

(Starting XI)

:

Age
26 years 202 days
Appearances/Goals

43.6

8.6
Rank:
FIFA (6th October 2022) 20th


EFO ranking

n/a




ELO rating

24th to 30th
Colours:
Made by Majid - red crew-necked jerseys with darker red sleeves and white/green collar trim, red shorts and red socks
Capt:
Eshan Hajsafi


28th captaincy

Head Coach

:
Carlos Manuel Brito Leal de Queiroz, 69 (1 March 1953 in Nampula, Portuguese Mozambique), re-appointed 7 September 2022 for second time (previously 4 April 2011-28 January 2019).
this tenure - third match, W 1 - D 1 - L 1 - F 4 - A 7.
total - 103rd, W 61 - D 28 - L 14 - F 185 - A 67.

Iran

Lineup
1
Beiranvand, Alireza S., injured (7:14), off 19th min. (18:56)
30
61 days
21 September 1992
G
Persepolis FC
54
0
2
Moharrami, Sadegh G.
26
242 days
24 March 1996
RB
Gnk Dinamo Zagreb, Croatia
23
0
8
Pouraliganji, Morteza
30
216 days
19 April 1992
RCD

Persepolis FC

48

3

48th min. for trying to tackle a sprinting Harry Kane, bringing him down.
15
Cheshmi, Rouzbeh, off half-time
29
120 days
24 July 1993
CD
Esteghial FC
21
1
19
Hosseini, S. Majid
26
154 days
20 June 1996
LCD
Kayseri Sk, Turkey
20
0
5
Mohammadi Keshmarzi, Milad, off 63rd min.
29
53 days
29 September 1993
LB
Athlitikí Énosis Konstantinoupóleos, Greece
47
1
7
Jahanbakhsh Jirandeh, Alireza, off half-time
29
102 days
11 August 1993
RM

Feyenoord Rotterdam, Netherlands

66

13

25th min. for going in late on Luke Shaw and standing on his boot.
21
Nourollahi, Ahmad, off 76th min.
29
323 days
2 January 1993
RCM
Shabab Al-Ahli Club, UAE
28
3
18
Karimi, Ali N., off half-time
28
283 days
11 February 1994
LCM
Kayseri Sk, Turkey
15
0
3
Hajsafi, Ehsan
32
269 days
25 February 1990
LM
Athlitikí Énosis Konstantinoupóleos, Greece
123
7
9
Taremi, Mehdi
30
126 days
18 July 1992
CF
FC do Porto, Portugal
62
30
63rd pen against scored

(92nd overall)

Iran Substitutes

Concussion Substitution

30
175 days
30 May 1992
G
Esteghial FC
8
0
24
Hosseini, S.Hossein, on 20th min.

(19:01)

for Beiranvand

scoreline:

England 3 Iran 0

6
Ezatolahi Afagh, Saeid, on half-time for Karimi
26
51 days
1 October 1996
CM
Vejle Bk, Denmark
49
1
17

Gholizadeh Nojedeh, Ali, on half-time for Jahanbakhsh
26
256 days
10 March 1996
RM
Royal Charleroi SC, Belgium
28
6
13
Kanaani Zadegan Keshmarzi, M. Hossein, on half-time for Cheshmi
28
243 days
23 March 1994
CB
Al-Ahli SC, Qatar
37
1

scoreline:

England 4 Iran 0

16
Torabi, Mehdi, on 63rd min.

(62:35)

for Mohammadi
28
72 days
10 September 1994
AM
Persepolis FC
38
7

scoreline:

England 5 Iran 1

20
Azmoun, Sardar, on 76th min. for

(75:45)

Nourollahi
27
324 days
1 January 1995
F
Bayer 04 Leverkusen, Germany
66
41

result:

England 6 Iran 2

unused substitutes:
4-Shojae Khalilzadeh, 10-Karim Ansarifard, 11-Vahid Amiri, 12-Seyedpayam Niazmand, 14-Saman Ghoddos, 22-Amir Abedzadeh, 23-Ramin Rezaeian, 25-Abolfazi Jalali.
team notes:
Goalkeeper Alireza Beiranvand, in reaching for a Harry Kane cross, received a collision in the head by his own player Majid Hosseini

(7:14)

on the six yard-line and went down for treatment, which he received almost immediately, three minutes later, reserve goalkeeper Hossein Hosseini began his warm-up routine, and was soon ordered to prepare to replace the keeper

(12:25),

however, the only thing that was replaced was Beiranvand's jersey

(13:30)

with Hosseini waiting on the touchline. Play resumed with Beiranvand wearily taking a goalkick

(15:38).

When the ball next went out of play for an England throw-in

(16:10),

Beiranvand signalled for himself to finally be replaced, afterwhich he laid himself down

(16:19)

and waited for the stretcher to take him off

(17:30)

.
records:
This is Iran's worst defeat in a World Cup Finals match, beating the previous record of 1-4 against Peru in 1978.
manager Carlos Quieroz has been in charge of six countries in his time as a coach, Portugal, United Arab Emirates, South Africa, Iran, Colombia and Egypt... but this is his first match against England.
5-4-1
Beiranvand (H.Hosseini)-
Moharrami, Pouraliganji, Cheshmi (Kanaani Zadegan), Hosseini, Mohammadi (Torebi) -
Jahanbakhsh (Gholizadeh), Noorollahi (Azmoun), Karimi (Ezatolahi), Hajisafi -
Taremi

Averages

(Starting XI)

:

Age
29 years 147 days
Appearances/Goals

46.1

5.1
As someone who remembers the turgid goalless draw against Uruguay in the first group match of the 1966 World Cup, the opener of the 2022 tournament was an altogether different kettle of fish! "Surely we should beat Iran?" was the consensus of opinion, but in football, anything can happen, and us regular England watchers have seen it all. This time, however, it was almost all good news.

Right from the start England dominated possession with Jude Bellingham, Declan Rice and Mason Mount in command of the midfield, and feeding the ball forward at every opportunity. There was also fine support from Luke Shaw and Kieran Trippier down the flanks, and that stretched Iran's defence to the limits. On three minutes the first of many Trippier crosses so nearly found Raheem Sterling until it was intercepted by a defender at the last moment. A few seconds later, how England were not awarded a penalty will remain a mystery for years to come.

Harry Maguire, up for a corner, was grappled to the ground by 5, using both hands in a grip that Jackie Pallo (who?) would have been proud of. It was so blatant that everyone saw it. A penalty? No, as the referee didn't give it and no-one felt the need to call in VAR. Nobody could understand the decision, but no matter, on with the game. England continued to press and Maguire was almost on the end of a fine cross by Harry Kane, alas his shot hit the side-netting. A few seconds later the Iran goalkeeper, Alireza Beiranvand, punched clear, only for him to collide with a defender in a nasty collision. The keeper was obviously in real trouble and the game's protocol and common sense should have seen him substituted there and then. Instead we had a very prolonged stoppage, heightened by him going down again a few moments later, this time he finally had to go off. In the first 15 minutes of the game, only about six minutes were actual game time.

Not surprisingly both sides were unsettled by the injury and play was scrappy for a while. A shot by Bukayo Saka relieved the tension but it was an easy save for the new keeper, Hossein Hosseini. Then. on 30 minutes Saka centred to the near post and Mount so nearly scored, just steering his shot wide of the post. Two minutes later, Maguire, in attack again at a corner, and this time his header struck the corner of post and crossbar before being hacked clear. Was it going to be one of those days perhaps? We didn't have to wait long for the answer to that question.

On 35 minutes a fine cross from the left by Shaw, was met by a marauding Bellingham, and his looping header dropped into the net in the top corner. The Borussia Dortmund player thus joined Michael Owen as the second youngest World Cup goalscorer for England. The goal was also the trigger for better things from England. With two minutes of the 45 remaining, Saka scored another as Maguire, always in the action, headed down for Saka to rifle the ball home. The look of delight on the youngster's face said it all. Two minutes later, England were in dreamland. A fabulous cross from Kane from the right was met brilliantly by Sterling who volleyed the ball home with the outside of his foot. Good move, good cross and a great finish. The first half was up, or so we thought until the referee added on 14 minutes of time, mainly due to the goalkeeper's unfortunate injury.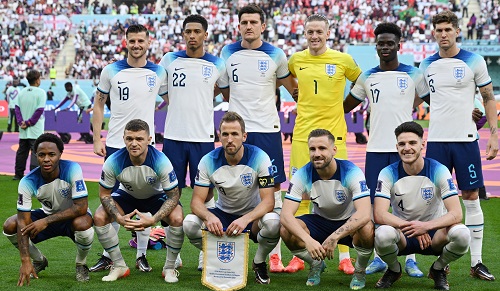 The second-half started slowly and the first incident of any note was when Shaw had a shot blocked. Meanwhile, Bellingham was still the dominant figure in the match, however, on 62 minutes it was Saka again who showed his class. Sterling passed to him and Saka just glided past defenders before calmly slotting home a sublime finish.

You know England well though, don't you, and it was never going to be totally straight forward. On 65 minutes Iran pulled a goal back. Gholizadeh gained possession just outside the box, and fed a delightful pass into the path of their top striker, Medhi Taremi, and his first time shot gave Jordan Pickford no chance. The goal was taken with some aplomb, but Pickford was furious at losing his clean sheet. Just a lapse of concentration by England, and a message for the future perhaps.

With 20 minutes to go England made some substitutions. Maguire came off, after apparently feeling unwell, it was revealed later, whilst Saka, Sterling and Mount made way for Marcus Rashford, Phil Foden and Jack Grealish to grab a taste of World Cup action. Just a few moments later, manager Gareth Southgate was congratulating himself as Rashford scored with his first touch. Well, actually it was his third touch. Pickford's long clearance found Kane, who cleverly held off a defender before passing to Rashford. The striker controlled the ball with his first touch, cut inside a defender with his second touch, and calmly shot his goal with his third. A fine goal, which will do the youngster a power of good.

Southgate then rested Kane, replacing the skipper with Callum Wilson, and with a minute of normal time to go, a powerful tackle by Bellingham saw the ball fly into the path of Wilson, galloping at speed down the right. He ran hard to the byeline before pulling the ball back to Grealish, who had a simple task to score. What a delight that was, especially as the Manchester City player made a young lad from Manchester very happy by remembering to do the 'wiggly worm' celebration especially for the ecstatic 12-year-old Finlay Fisher back home. A lovely touch.

Another 12 minutes were added on, making a mockery of the 90 minutes the game is supposed to last, making 26 minutes of added time all told! What is that all about, although in the early games being played all have had long added extras.

On 90+8 minutes, Pickford made a fine save from Sardar Azmoun, tipping the shot onto the bar and away, but there was still time for one last piece of action, and a rather controversial decision, remembering the Maguire penalty incident earlier. A cross came into the England box, and the usual jostling was going on, but suddenly and inexplicably, VAR was called in by the referee. An innocuous shirt pull by John Stones was spotted and a penalty was awarded. Taremi scored his second from the spot, and it was virtually the last kick of the match. An annoying end, but nothing could take away the overall satisfaction of the England performance and win.

Man of the Match? Bellingham or Saka, I'll let you decide.