"BISH RASH BOSH!" Mirror Sport
Officials

from Slovenia

Wales Squad

Type
England Squad
Referee (black)
Slavko Vinčić


43 (25 November 1979), Maribor, FIFA listed 2010.

7
Goal Attempts
17
1
Attempts on Target
7
Assistant Referees
0
Hit Bar/Post
0
Tomaž Klančnik


39 (30 November 1982)

Andraž Kovaćič


37 (24 October 1985)

1
Corner Kicks Won
6
Fourth official
Yoshima Yamashita, 36 (20 February 1986), Tokyo, Japan
Reserve Assistant Referee
Karen Díaz Medina, 38 (10 November 1984),

Aguascalientes,

Mexico


1
Offside Calls Against
1
16
Fouls Conceded
9
36%
Possession
64%
Video Assistant Officials

Marco Fritz


45 (3 October 1977), Korb, Germany



Assistant - Paolo Valeri, I

taly

; Offside - Pawel Sokolnicki, Poland; Support - Bastian Dankert, Ge

rmany

; Standby - Vasile Marinescu, Romania

Wales Team
Rank:
FIFA (6th October 2022) 19th


EFO ranking

n/a




ELO rating

36th to 39th
Colours:
Made by Adidas - red crew-necked jerseys with tonal zig-zag stripes, wh

ite adidas shoulder

trim, white shorts with red adidas side trim, red socks with white adidas trim
Capt:
Gareth Bale


Aaron Ramsey

second half

Manager:
Robert John Page, 48 (3 September 1974), appointed caretaker 3 November 2020, appointed as permanent manager 20 June 2022.
31st match, W 10 - D 10 - L 11 - F ? - A ?.

Wales

Lineup
12
Ward, Daniel
29
160 days
22 June 1993
GK
Leicester City FC

, England

28
0
3
Williams, Neco S., injured off 36th min.
21
230 days
13 April 2001
RB
Nottingham Forest FC

, England

26
2
5
Mepham, Christopher J.
25
24 days
5 November 1997
in Hammersmith, England
RCD
AFC Bournemouth

, England

36
0
6
Rodon, Joseph P.
25
38 days
22 October 1997
LCD
Stade Rennais

, France, on loan from Tottenham Hotspur FC, England

33
0
4
Davies, Benjamin T., injured off 59th min.
29
219 days
24 April 1993
LB
Tottenham Hotspur FC

, England

77
1
10
Ramsey, Aaron J.
31
338 days
26 December 1990
RM

Nice FC, France

78

20

61st min. for a late tackle on Jordan Henderson at the near touchline
15
Ampadu, Ethan K.C.R.
22
76 days
14 September 2000
in Exeter, England
AM
Spezia Calcio, Italy, on loan from Chelsea FC, England
40
0
7
Allen, Joseph M., injured off 81st min.
32
260 days
14 March 1990
LM
Swansea City FC
74
2
11
Bale, Gareth F., injured off half-time
33
136 days
16 July 1989
RF
Los Angeles FC

, United States

111
41
13
Moore, Kieffer R.F.
30
113 days
8 August 1992
in Torquay, England
CF
AFC Bournemouth

, England

31
9
20
James, Daniel O., off 77th min.
25
19 days
10 November 1997
in Kingston upon Hull, England
LF

Fulham FC, England, on loan from Leeds United AFC, England

41

5

29th min. for kicking

John Stones in the shin on the far touchline
Wales Substitutes

Concussion Substitution

27
67 days
23 September 1995
RB
Burnley FC

, England

44
3
14
Roberts, Connor R.J., on 36th min.

(35:52)

for Williams
9
Johnson, Brennan P., on half-time for Bale
21
190 days
23 May 2001
in Nottingham, England
RF
Nottingham Forest FC, England
18
2

scoreline:

Wales 0 England 2

16
Morrell, Joseff J., on 59th min.

(58:35)

for Davies
25
330 days
3 January 1997
in Ipswich, England
LB
Portsmouth FC

, England

32
0

scoreline:

Wales 0 England 3

8
Wilson, Harry, on 77th min.

(76:13)

for James
25
252 days
22 March 1997
LF
Fulham FC

, England

42
5
25
Colwill, Rubin J., on 81st min.

(80:18)

for Allen
20
216 days
27 April 2002
LM
Cardiff City FC
8
1

result:

Wales 0 England 3

unused substitutes:
2-Chris Gunter, 17-Tom Lockyer, 18-Jon Williams, 19-Mark Harris, 21-Adam Davies, 22-Sorba Thomas, 23-Dylan Levitt, 24-Ben Cabango, 26-Matthew Smith.
team notes:
Neco Williams received treatment and was eventually replaced after heading back a Marcus Rashford shot

(23:02)

. He received treatment

(23:15 - 24:43)

before carrying on. He collapsed again

(33:02)

after the ball went out out of play, which led to his replacement.
manager Robert Page won his made his fortieth Welsh appearance against England on his 31st birthday

in September 2005

.
4-3-3
Ward -
Williams (Roberts), Mepham, Rodon, Davies (Morrell) -
Ramsey, Ampadu, Allen (Colwill) -
Bale (Brennan), Moore, James (Wilson)

Averages

(Starting XI)

:

Age
27 years 314 days
Appearances/Goals

52.3

7.3

England
Team
Rank:
FIFA (6th October 2022)

5th


EFO ranking Group One (4th)
ELO rating 10th to 8th
Colours:
The Nike 2022 home uniform

-

White crew-necked jerseys

with dark to light blue

fury gradient sleeves, fury/void cuffs, blue void shorts, white socks with fury/void thin hoop.
Capt:
Harry Kane ⁴³


53rd, W 31 - D 12 - L 10 - F 120 - A 45.




Jordan Henderson

58th min

Manager:
Gareth Southgate, 52 (3 September 1970), appointed caretaker manager on 27 September 2016, appointed as permanent manager on 30 November 2016.


79th match, W 48 - D 18 - L 13 - F 170 - A 55.

England Lineup

1
Pickford, Jordan L.
28
267 days
7 March 1994
G
Everton FC
48
36ᵍᵃ
2
Walker, Kyle A., off 57th min.
32
185 days
28 May 1990
RB
Manchester City FC
71
0
5
Stones, John
28
185 days
28 May 1994
RCD
Manchester City FC
62
3
6
Maguire, J. Harry
29
269 days
5 March 1993
LCD
Manchester United FC
51
7
3
Shaw, Luke P.H., off 65th min.
27
140 days
12 July 1995
LB
Manchester United FC
26
3
8
Henderson, Jordan B.
32
165 days
17 June 1990
RDM
Liverpool FC
72
2
4
Rice, Declan, off 58th min.
23
319 days
14 January 1999
LDM
West Ham United FC
37
2
22
Bellingham, Jude V.W.
19
153 days
29 June 2003
CM
Bsv Borussia 09 Dortmund, Germany
20
1

the 194/195th player to reach the 20-app milestone

20
Foden, Philip W.
22
185 days
28 May 2000
RF/LF
Manchester City FC
20
3

the 194/195th player to reach the 20-app milestone

9

Kane, Harry E., off 58th min.
29
124 days
28 July 1993
CF
Tottenham Hotspur FC
78
51
11
Rashford, Marcus, off 76th min.
25
29 days

31 October 1997

LF/RF

Manchester United FC

49

15

31st direct free-kick scored by England
England Substitutes

scoreline:

Wales 0 England 2

18
Alexander-Arnold, Trent

J.

, on 57th min.

(56:49)

for Walker
24
53 days
7 October 1998
RB
Liverpool FC
18
14
1
4
final app 2018-22
24
Wilson, Callum E.G., on 58th min.

(57:06)

for Kane
30
275 days
27 February 1992
CF
Newcastle United FC
6
1
1
5
final app 2018-22
14

Phillips, Kalvin M., on 58th min.

(57:11)

for Rice
26
362 days
2 December 1995

LDM

Manchester City FC
24

20
0

4

the 52nd City player to represent England

12

Trippier, Kieran J., on 65th min.

(64:49)

for Shaw
32
71 days
19 September 1990

LB

Newcastle United FC
40
33
1

7

the 91st player to reach the 40-app milestone

scoreline:

Wales 0 England 3

7
Grealish, Jack P., on 76th min.

(75:01)

for Rashford
27
80 days
10 September 1995
RF
Manchester City FC
27
12
2
15

result:

Wales 0 England 3

unused substitutes:
10-Raheem Sterling, 13-Nick Pope, 15-Eric Dier, 16-Conor Coady, 17-Bukayo Saka, 19-Mason Mount, 23-Aaron Ramsdale, 25-James Maddison, 26-Conor Gallagher.
team notes:
104th meeting between the two countries, only the second time at a neutral venue and first time at World Cup Finals tournament.
Marcus Rashford's direct free-kick is the first such goal since Trippier's in the 2018 World Cup Finals semi-final. First direct free-kick at the 2022 WCF.
Jack Grealish's great great grandfather,

Billy

Garraty, also played for England in 1903.
Jude Bellingham is the second teenager to reach twenty appearances. The second youngest after Wayne Rooney (19 years 24 days), the youngest BME player to reach twenty appearances.
Phil Foden is the 125th different England player to score against Wales.
World Cup records:
Equals the record victory for a WCF final group match - 3-0 vs. Poland 1986.
Harry Kane has assisted three goals during this WCF, the first since David Beckham in 2002.
This is the twelfth time England have qualified for the knock-out phase, and the first time they have topped the group since 2006.
The nine goals they have scored in the group stages is the best England have done in any WCF,
Major Tournament records:
Gareth Southgate has now won a tenth Major Tournament match, two more than Alf Ramsey. He continues to be the manager with the most Finals matches, now at seventeen.
Captain records:
England have now been led by players from Tottenham Hotspur FC in 99 different matches, one more than Liverp

ool FC

, but st

ill behind Manchester United FC's 136

.
4-3-3
Pickford -
Walker (Alexander-Arnold), Stones, Maguire, Shaw (Trippier) -
Henderson, Bellingham, Rice (Phillips) -
Foden, Kane (Wilson), Rashford (Grealish)


notes: Foden and Rashford swapped wings for the second half

Averages

(Starting XI)

:

Age
27 years 86 days
Appearances/Goals

48.5

7.5

most experienced starting XI under Southgate
Match Report
by Mike Payne
The big match of the tournament, well, it was for the Wales team, and they needed to win to have any chance of going through to the knockout stage of the competition. As it turned out, that was never an option as, eventually, England totally dominated proceedings, although not without a turgid opening half. It certainly turned into a game of two distinct halves.

The first ten minutes were devoid of meaningful football, but then, suddenly Harry Kane gained possession and fed a delightful through ball into the path of Marcus Rashford. Goalkeeper Daniel Ward was quickly off his line though and did well to make a save. Four minutes later a free-kick to England was cleared to Phil Foden but his shot flew over the crossbar. After 20 minutes the game settled into that usual monotonous pattern of both sides passing square and back on too many occasions. Is it me, or does anyone else get so frustrated by that brand of football? There was also an increasing number of times when as soon as and England player touched a Welsh jersey, the player went down like a sack of coal.

Dan James was booked for a foul on John Stones, and then a long run by Harry Maguire was ended by a shot that went out for a throw-in on the far side! Says it all. And why do the BBC want to keep showing a caption of 'total receptions?' I think they must be confusing the football with Escape to the Country! Neco Williams, who had been injured when Rashford's powerful shot hit him on the head, then had to go off after a long break. 30 minutes of added time promised (only joking), but I had to find something to write about.

On 38 minutes a proper chance was created by England with some fine play. Kane, Jude Bellingham and Foden combined with some great one touch play, but Foden's final shot flew just over the bar. That would have been a terrific goal. And that was quickly followed by an overhead kick from the lively Rashford, again just wide. There still seemed to be a lack of rhythm in England's play, despite their dominance. As for Wales, only a late shot from Joe Allen threaten the England goal, although in the end his shot was well wide. Only 5 minutes were added, sorry about that, and the half ended goalless.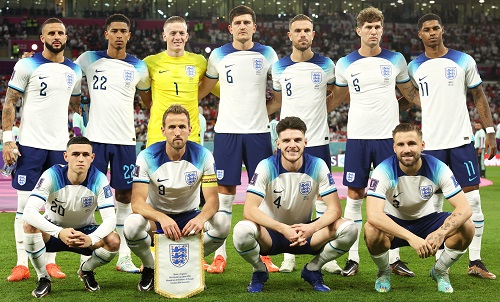 There was a surprise straight after the interval as Gareth Bale, who had been anonymous did not come out for the second half, with Brennan Johnson replacing him. When England were awarded a free-kick on the edge of the box on 50 minutes, it was worrying to see six England players around the ball, seemingly perplexed as to what to do and who should take the kick. As it turned out the mood of depression suddenly lifted as Rashford fired in a brilliant shot into the far top corner giving Ward no chance. That was the first goal in this tournament direct from a free-kick.

The England fans uncontrolled joy was then given yet another boost, just a minute later. Kane gained possession down the right and wasted no time to put in a cross that he himself would love to receive. Running in on the end of it was Foden, who tucked the ball away with the minimum of fuss. What a pass from Kane, and people do tend to forget the other parts of his game. Wales tried to hit back quickly as first James curled a shot wide and then Jordan Pickford made his only save of the night, and it was a good one too. In the 56th minute Keiffer Moore fired in a shot at goal, which​ took a wicked deflection off the head of Maguire. Pickford had to change direction in mid-air to push the ball away to safety.

Gareth Southgate then decided to give some of his subs a game with Trent Alexander Arnold replacing Kyle Walker, Callum Wilson on for Kane and Kalvin Phillips replacing the battling Declan Rice. The Welsh fans watching must have been envious of England's embarrassment of riches on their bench. It all culminated in a third goal for England on 68 minutes. A long ball forward found Rashford clear on the right, he cut inside, side-stepped a couple of defenders and drilled a shot goalwards. Perhaps Ward should have done better but the ball squirmed under his body for 3-0. 14 minutes later Rashford was close to a hat-trick as he and Wilson combined, but this time Ward blocked Rashford's shot with his foot.

Wales were a spent force by now and on 77 minutes Bellingham saw his shot blocked with Foden deflecting the follow-up wide. As the game drew to a close the Welsh, who never gave up, had a few half chances but it was England who came closest to adding to their total with Stones missing a sitter from close range after Maguire's header back across goal found him unmarked. It seemed easier for Stones to score than put the ball over the crossbar. Even then, there was still time for another scramble in the Welsh goalmouth, and how the ball stayed out one is not entirely sure.

So, in the end a comfortable win for England and they topped their group by a clear margin. Now we move on to a tricky match against Senegal in the first knockout game.


Source Notes
TheFA.com
BBC Sport
FIFA.com
Mike Payne - football historian and contributor
cg