"SOUTHGATE'S AS HAPPY AS HARRY" Daily Mirror
Officials

from Germany

England

Squad
Type

Albania Squad

Referee

(salmon pink)


Ruddy Buquet


44 (29 January 1977)

, Amiens, France, FIFA listed 2011.


replaced Felix Zwayer

15
Goal Attempts
5
6
Attempts on Target
4
Assistant Referees
0
Hit Bar/Post
0
Marco Achmüller


42 (17 October 1979), Bad Füssing

Jan Seidel


37 (10 October 1984), Oberkrämer

4
Corner Kicks Won
0
Fourth official
Sven Jablonski
3

1 (13 April 1990)

, Bremen.

FIFA Referee Assessor - Nicola Rizzoli, Italy
FIFA Match Commissioner - Feliz Grigore, Romania
1
Offside Calls Against
3
3
Fouls Conceded
14
63.7%
Possession
36.3%
Video Assistant Officials

from Germany

Bastian Dankert
4

1 (9 June 1980)

, Schwerin, FIFA listed 2014.
Assistant VAR official - Mike Pickel, 46, Mendig

England
Team
Rank:
FIFA (21st Oct 2021)

5th


EFO ranking Group One (3rd)
ELO rating 5th to 6th
Colours:
The Nike 2020 away uniform

-

Mega blue and royal blue collared jersey and shorts. Abstract three-lions pattern throughout with challenge red sidestripes. Mega blue socks with a thin challenge red/sport royal blue hoop.
Capt:
Harry Kane ³⁶


43rd, W 27 - D 9 - L 7 - F 95 - A 32




Jordan Henderson

62:19

Manager:
Gareth Southgate, 51 (3 September 1970), appointed caretaker manager on 27 September 2016, appointed as permanent manager on 30 November 2016.


67th match, W 43 - D 14 - L 10 - F 142 - A 42

record 18th

ͨ

at National Stadium

England

Lineup

1
Pickford, Jordan L.
27
280 days
7 March 1994
G
Everton FC
42
31ᵍᵃ
2
Walker, Kyle A.
31
168 days
28 May 1990
RD
Manchester City FC
65
0
3
Chilwell, Benjamin J.
24
326 days
21 December 1996
LWB
Chelsea FC
16
1
4

James, Reece T., off 77th min.
21
339 days
8 December 1999
RWB
Chelsea FC
9
0
5
Stones, John
27
168 days
28 May 1994
CD
Manchester City FC
54
3
6

Maguire, J. Harry
28
252 days
5 March 1993
LD
Manchester United FC
40
6

the 90th player to reach the 40-app milestone

7
Phillips, Kalvin M., off 63rd min.
25
345 days
2 December 1995
LDM
Leeds United AFC
18
0
8

Henderson, Jordan B.
31
148 days
17 June 1990
RDM
Liverpool FC
68
2
9
Kane, Harry E., off 63rd min.
28
107 days
28 July 1993
CF
Tottenham Hotspur FC
66
44
the 89th (52nd post-war) hattrick scored

new record of 37-39th competitive goals

(WC19 EC19 NL1)

10

Sterling, Raheem S., off 77th min.
26
339 days
8 December 1994
in Kingston, Jamaica
LF/RF
Manchester City FC
72
18
11

Foden, Philip W., off 64th min.
21
168 days
28 May 2000
RF
Manchester City FC
12
2
England Substitutes

scoreline:

England 5 Albania 0
17
Bakumo-Abraham, K.O. Tamaraebi, on 63rd min.

(62:39)

for Kane
24
41 days
2 October 1997
CF
AS Roma, Italy
9
2
2
7
14
Grealish, Jack P., on 63rd min.

(62:45)

for Foden
26
63 days
10 September 1995
LF
Manchester City FC
18
10
1
8
18
Bellingham, Jude V.W., on 64th min.

(63:04)

for Phillips
18
136 days
29 June 2003
LDM
Bsv Borussia 09 Dortmund, Germany
9
2
0
7
12
Alexander-Arnold, Trent

J.

, on 77th min.

(76:18)

for James
23
36 days
7 October 1998
RWB
Liverpool FC
15
12
1
3

1264

19
Smith Rowe, Emile, on 77th min.

(76:24)

for Sterling
21
107 days
28 July 2000
LF
Arsenal FC
1
0

66th Arsenal player to represent England

result: England 5 Albania 0
unused substitutes:
13-Sam Johnstone, 15-Tyrone Mings, 16-Conor Coady, 20-Bukayo Saka, 22-Aaron Ramsdale.
team notes:
Jack Grealish's great great grandfather,

Billy

Garraty, also played for England in 1903.
500th match since Viv Anderson, the first BME player, debuted for England
stadium notes:
This is Gareth Southgate's tenth World Cup match at Wembley, two more than Alf Ramsey, and three more than Bobby Robson.
Jack Grealish is the fiftieth England player to have played at the National Stadium ten times, whereas Emile Smith Rowe is the 140th England player to 'grace the hallowed turf.'
Kane's hattrick means he has now scored nineteen goals at the Stadium, equal with Wayne Rooney.
Jordan Henderson is the 53rd different England player to have scored at the National Stadium.
records:
300th victory on home soil from the 462 matches played.
England have won all six of their meetings with Albania, scoring nineteen, conceding one.
Unbeaten in th

irty

World Cup qualification matches, having not lost since October 2009

(W22 D8).


Unbeaten in nineteen matches, best since 10 November 1965 and 16 November 1966

(W16 D3).


This is England's 18th match in 2021, a new calendar record. As is the 42 goals they have scored.
Harry Kane has now scored a record four goals against Albania.
With his first goal, Kane equalled Wayne Rooney as record WC goalscorer, by the end, he was heading the list.
Sixth match on this date is also a sixth victory. 250th clean sheet under a Conservative government.
goalkeeper records:
Jordan Pickford has kept goal for England for over four years, he becomes the 27th keeper to do so.
He has kept 21 clean sheets, equal with David James, and only seven other keepers have kept more.
His 42 appearances makes him eighth in the charts of most appearances.

the hattrick:

The first England hattrick in almost exactly two years (14 November 2019).
Harry Kane's fourth hattrick puts him =third in the all time hattricks list & =fourth in the goalscoring charts.
In all his four hattricks, he has been replaced shortly after, making him the most replaced hatrician, it is tenth overall. It is also the fourteenth time the captain has scored a hattrick.
The fifth hattrick under the Wembley arch, but the 22nd at Wembley overall.

substitute notes:

Tammy Abraham is the 75th England player to have been a substitute seven times or more.
Manager Gareth Southgate was an unused substitute when England met

Albania in September 2001

.
3-4-3
Pickford -
Walker, Stones, Maguire -
James (Alexander-Arnold), Henderson, Phillips (Bellingham), Chilwell -
Foden (Grealish), Kane (Abraham), Sterling (Smith Rowe)


notes: When Grealish came on, he took up the right side, with Sterling going left.

Averages

(Starting XI)

:

Age

26

years 339 days
Appearances/Goals
42.0
6.5

oldest team since vs. Germany in 2017

most experienced starting XI under Southgate




most experienced since against Ukraine in 2013

Albania Team
Rank:
FIFA (21st Oct 2021) 63rd


EFO ranking

n/a




ELO rating

64th to 65th

Colours:
Made by Macron - White jerseys with red

trim

with varying shades of red depicting an embossed eagle on front of shirt, white shorts, with red trim, white socks with single red hoop.
Capt:
Elseid Hysaj
Manager:
Edoardo Reja, 76 (10 October 1945 in Luvinico, Italy), appointed 17 April 2019.

Albania

Lineup
23
Strakhosa, Thomas F.
26
238 days
19 March 1995
in Athens, Greece
G
SS Lazio, Italy
17
0
18
Ismajli, Ardian I.
25
43 days
30 September 1996
RD
Empoli FC, Italy
23
1
25th min. for grabbing, holding and then bringing down Raheem Sterling.
15
Kumbulla, Marash N., injured off 17th min.

(16:01)

21
277 days
8 February 2000
in Peschiera del Garda, Italy
CD
AS Roma, Italy, on loan from Hellas Verona FC, Italy
12
0
5
Veseli, Frédéric S.
28
2 days
10 November 1992
in Renens, Switzerland
LD
US Salernitana 1919, Italy
39
0
4
Hysaj, Elseid G.
27
265 days
20 February 1994
RWB
SS Lazio, Italy
64
2
7
Bare, Keidi, injured off 12th min.
24
76 days
28 August 1997
RM
RCD Espanyol de Barcelona, Spain
20
2
8
Gjasula, Klaus F.
31
333 days
14 December 1989
DM
SV Darmstadt 1898, Germany
15
0
8th min. for colliding into the back of Harry Kane

. S

USPENDED

11
Bajrami, Nedim, off half time
22
257 days
28 February 1999
in Zürich, Switzerland
LM
FC Empoli, Italy
5
0
10
Trashi, Lorenc, off half time
29
180 days
16 May 1992
LWB
Qadsia SC, Kuwait
15
1
16
Çikalleshi, Sokol
31
108 days
27 July 1990
RF
Konyaspor Kulübü, Turkey
45
12

21st min. for diving, handball, and then dissent

. S

USPENDED

20
Uzuni, Myrto, off 86th min.
26
165 days
31 May 1995
LF
Ferencvárosi TC, Hungary
21
3
Albania Substitutes

scoreline:

England

1 Albania 0
14
Laçi, Qazim, on 12th min.

(11:18)

for Bare
25
297 days
19 January 1996
RM
AC Ajaccio, France
13
1
66th min. after his high foot resulted in Stones and James clashing heads
6
Dermaku, Kastriot L., on 17th min.

(16:07)

for Kumbulla
29
301 days
15 January 1992
in Scandiano, Italy
CD
US Lecce, Italy
12
1

scoreline:

England

5 Albania 0
13
Mihaj, Enea, on half time for Trashi
23
130 days
5 July 1998
in Rhodes, Greece
LWB
Panthessaloníkios Athlitikós Ómilos Konstadinoupolitón, Greece
7
0
17
Ramadani, YIber L, on half time for Bajrami
25
214 days
12 April 1996
in Starnberg, Germany
CF
MTK Budapest FC, Hungary
14
1
21
Roshi, Odise, on 86th min.

(85:57)

for Unzini
22
174 days
22 May 1991
M
Boluspor Kulübü, Turkey
66
5

result:

England 5 Albania 0
unused substitutes:
1.Etrit Berisha, 2-Erion Hoxhallari, 3-Ermir Lenjani, 9-Endri Çekiçi, 12-Gentian Selmani, 19-Bekim Balaj, 22-Albi Doka.
team notes:
Goalkeeper Thomas Strakhosa's father Fotaq, was in goal for Albania the last time these two teams met in England, and also the previous match to that in Tiranë.
Keidi Bare was initially injured when colliding with Raheem Sterling in the penalty area (3:43). He limped around for the next England attack, eventually going down (5:45) to receive treatment. Albania were down to ten men when England scored their first goal. Returned to the field of play to kick-off (9.35), and as he was unable to keep up with Phil Foden, he

s

ignaled his intention (10:14) for his replacement, went down again (10.45), to eventually be replaced (11.18).
It is unclear where Marash Kumbulla picked up his hamstring injury, he appeared to start limping (13:26) before going down for treatment (14.35) and off the pitch (16:01) and replaced six seconds later.
records:
Albania have never scored in England, their own goal coming in Tiranë by Rraklli.
Albania are the 43rd different nation to visit the the National Stadium.
3-5-2
Strakosha -
Ismajli, Kumbulla (Dermaku), Veseli -
Hysaj, Bare (Laçi), Gjasula, Bajrami (Mihaj), Trashi (Ramadani) -
Çikalleshi, Uzuni (Roshi)

Averages

(Starting XI)

:

Age
24 years 60 days
Appearances/Goals

25.1

1.9

youngest opposing XI in Southgate era




youngest since Netherlands in 2016
Match Report
by Mike Payne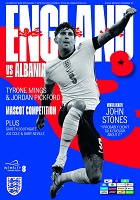 This match was won and lost in a blistering first-half by an England team determined to get the job of qualification for the World Cup Finals done and dusted. After the disappointment of the home draw against Hungary in their previous match, England came out of the blocks quickly.

After just four minutes Raheem Sterling wiggled his way through the Albanian defence and appeared to be brought down in the box. The referee waved away England's protests, but it was not to be the last reckless challenge by the visiting defenders. When Klaus Gjasula clattered over Harry Kane, he deservedly earned himself a booking, the first of four Albania received on the night. And also deservedly, from the free-kick England opened the scoring. The assist came from Reece James, outstanding all through. His pinpoint cross to the far post gave Harry Maguire the easiest of headers as he firmly headed home, much to his delight after recent criticism of his club form.

On ten minutes Phil Foden was clean through, but his shot was high and wide as a challenge came in. Albania made an early substitution with Keidi Bare going off and Qasim Laci coming on. Four minutes later a disastrous backpass from Kyle Walker almost produced a shock equaliser. Luckily for Walker, Jordan Pickford stood tall to make a fine save from Nedim Bajrami. A let-off for England with Walker full of apologies to his teammates.

With still only 15 minutes into the match, Albania had to make another change as Marash Kumballa went off to be replaced by Kastriot Dermaku. Three minutes later though and England scored another fine goal. Lovely inter-play between Foden and Jordan Henderson ended with the most sublime cross where Kane delightfully headed past the goalkeeper. Joy all round, and England were now rampant. Ben Chilwell's cross was just too high for Foden, Sterling had defenders in all sorts of bother before finally being crowded out, and then Ardian Ismajli, was booked for another horrible foul on Sterling. The Albanians were not taking any prisoners on this night, that's for sure. On 27 minutes another poor England pass almost led to a goal for the visitors, but Pickford again saved, this time from Sokol Cikalleshi. Careless errors by England, but that did not detract from their dominance and almost immediately they added a third goal, and another cracker it was too.

Henderson doesn't score very often for England but he will forever remember this one. He stormed into the box, played a superb one-two with Kane, sidestepped defenders and slotted home with his left foot. A brilliant goal.

Two minutes later, on the half-hour, Kane so nearly made it four after he combined with Sterling, and two minutes after that he came even closer as he typically fired in a curling effort that had goal written all over before Thomas Strakhosa just managed to get a hand on it to push it wide for a corner. The save of the game. From the corner John Stones headed over. However, England only had to wait for another minute before it was 4-0. This time Sterling fed Kane on the left and he jinked past a defender before firing a left-foot shot into the far corner giving the keeper no chance to save.

England continued to put the visitors under immense pressure and Kane came within a whisker of a hat-trick when he fired in from another Sterling pass, but just pulled his shot inches wide. Then on 42 minutes it was another James cross that Kane met with a diving header. It just missed but that was also a good effort and the striker had a threesome in his eyes! Just before the break the England skipper sorted it.

Maguire was beaten to a Sterling cross by a defender. The defender's header almost went into his own net, but out for a corner. From the kick though Kane scored another beauty to complete that much cherished hat-trick. As the cross came in Kane met it with a superb scissors-kick volley that flew past Strakhosa. Almost immediately the half-time whistle blew and what a half it had been for England and for their "out of form" skipper! He was lethal in this match and produced a masterclass of finishing, left-foot, header, and right-foot, the perfect hat-trick.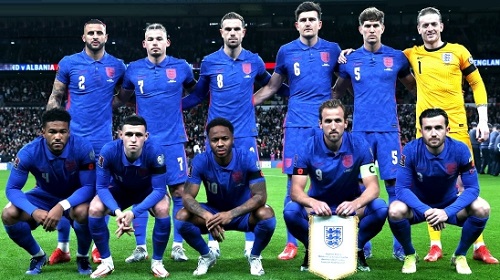 Now in these sort of games, the second-halves can be more of the same, or it can fall very flat! Sadly for the fans, this was of the latter variety. Another bad pass gave Cikalleshi a chance but again Pickford saved, and all three of his saves had come from careless errors by his teammates. To be fair to Albania they put up a much better showing in this half, keeping possession well but without giving England too much to worry about. The game was a procession of substitutions for both sides after this, with nothing much worth reporting. I don't know about you, but if I was a substitute coming on for England I would be full of energy and intent. Sadly, that wasn't the case with most of the subs that did come on. So the match petered out with all the damage done in that brilliant first-half. As for Harry Kane, James Peter Greaves will be looking down on him and delighted by the fact that another Spurs striker has equalled his 44 goals for England.

Still, it is not over until it's over and there is another vital game coming up, and nothing in football is certain, but San Marino? Come on.


Source Notes
TheFA.com
BBC Sport
FSHF.org
UEFA.com
Mike Payne - football historian and contributor
cg