Match Summary
Officials

from Spain

England Squad

Type

Netherlands Squad

Referee (dark pink) - Antonio Miguel Mateu Lahoz
39 (12 March 1977), FIFA-listed 2011.

Assistant Referees - Pau Cebrián Devís, 36 (15 May 1979), Valencia, and Roberto Diaz Perez del Palomar, 39 (29 April 1976)
Fourth official - Carlos Clos Gómez, 43 (30 June 1972), Zaragoza, FIFA-listed 2009.


A minutes silence was held for those that died in the Belgium terror attacks last week, and also in the fourteenth minute, a minutes applause by the crowd for Dutch legend, Johan Cruijff.

15
Goal Attempts
8
3
Attempts on Target
6
0
Hit Bar/Post
0
7
Corner Kicks Won
3
1
Offside Calls Against
0
9
Fouls Conceded
10
67%
Possession
33%

England Team
Rank:

FIFA (3 March 2016) 9th
EFO ranking Group 4
ELO rating 5th to 9th
Colours:
The Nike 2016 home uniform

-

White v-necked jerseys with light blue sleeves and ice blue collared tri

m/side stripe and white cuffs, white shorts with ice blue side trim, red socks.
Capt:
James Milner
(

only

captaincy)
Phil Jagielka, 82nd min.
Manager:
Roy Hodgson, 68 (9 August 1947), appointed 1 May 2012,
49th match, W 29 - D 13 - L 7 - F 100 - A 38.
England Lineup
1
Forster, Fraser

G.

28
12 days
17 March 1988
G
Southampton FC
5
6ᵍᵃ
2
Walker, Kyle A.
25
306 days
28 May 1990
RB
Tottenham Hotspur FC
14
0
3
Rose, Daniel L., off 58th min.
25
271 days
2 July 1990
LB
Tottenham Hotspur FC
2
0

1214

4
Drinkwater, Daniel N., off 85th min.
26
24 days
5 March 1990
DM
Leicester City FC
1
0
the 17th Leicester player to represent England
5
Smalling, Christopher

L.

, off 70th min.
26
128 days
22 November 1989
RCD
Manchester United FC
23
0
6
Stones, John
21
306 days
28 May 1994
LCD
Everton FC
8
0
first defeat

(W6 D1)

7
Milner, James P., off 82nd min.
30
85 days
4 January 1986
RM
Liverpool FC
58
1
8
Barkley, Ross
22
128 days
5 December 1993
AM
Everton FC
21
2
9
Sturridge, Daniel A., off 58th min.
26
210 days
1 September 1989
LF
Liverpool FC
17
5

10

Vardy, Jamie R.
29
78 days
11 January 1987
RF
Leicester City FC
6
2

the 100th goal scored in the Hodgson tenure

first defeat

(W4 D1)

11

Lallana, Adam D., off 70th min.
27
324 days
10 May 1988
LM
Liverpool FC
21
0
England Substitutes
scoreline: England 1 Netherlands 1
14
Walcott, Theo J., on 58th min.

(57:47)

for Sturridge
27
13 days
16 March 1989
RF
Arsenal FC
43
28
8
15
12

Clyne, Nathaniel E., on 58th min.

(57:54)

for Rose
24
359 days
5 April 1991

RB

Liverpool FC

11
9
0
2

first defeat

(W9 D1)

19
Kane, Harry E., on 70th min.

(69.49)

for Lallana
22
245 days
28 July 1993
CF
Tottenham Hotspur FC
10
6
4
4
16
Jagielka, Philip N., on 70th min

(69:51)

for Smalling
33
225 days
17 August 1982
CD
Everton FC
39
30
3
9
scoreline: England 1 Netherlands 2
20
Alli, Bamidele J., on 82nd min. (81:36) for Milner
19
353 days
11 April 1996
AM
Tottenham Hotspur FC
6
2
1
4
18
Dier, Eric J.E., on 85th min.

(84:06)

for Drinkwater
22
74 days
15 January 1994
RM
Tottenham Hotspur FC
4
2
1
2
result: England 1 Netherlands 2
unused substitutes:
13-Tom Heaton, 15-Gary Cahill, 17-Jordan Henderson, 21-Danny Welbeck.
records:
England have conceded twice at Wembley Stadium for the first time since November 2013.
They have failed to beat Netherlands in their last seven meetings.
James Milner is the tenth different captain used at the National Stadium.
Danny Drinkwater is the tenth player to start his debut at the National Stadium.
4-4-2
(4-3-3)
Forster -
Walker, Smalling (Jagielka), Stones, Rose (Clyne) -
Drinkwater (Dier) -
Milner (Alli), Barkley, Lallana (Kane) -
Vardy, Sturridge (Walcott)


notes: reverted to 4-3-3 when Walcott appeared, Walcott becoming RF

Averages

(Starting XI)

:

Age
26 years 137 days
Appearances/Goals

16.0

0.8

Netherlands Team
Rank:

FIFA (3 March 2016) 9th
EFO ranking Group 2
ELO rating 14th to 13th
Colours:
Made by Nike - Nassau Blue v-necked jerseys with light blue sleeves, Nassau blue shorts, light blue socks.
(No.14 worn above the jersey Nike swoosh)
Capt:
Daley Blind
(third captaincy)
Manager:
Dirk Franciscus Blind vijk, 44 (1 August 1961), appointed 1 July 2015,
seventh match, W 3 - D 0 - L 4 - F 11 - A 14.
Netherlands Lineup
1
Zoet, Jeroen
25
83 days
6 January 1991
G
Philips Sport Vereniging
3
5ᵍᵃ
2
Veltman, Joel
24
74 days
15 January 1992
RB
Amsterdamsche FC Ajax
10
0
3

Bruma, Jeffrey

K.H.

24
137 days
13 November 1991
CD
Philips Sport Vereniging
16
1

57th minute

for a foul after challenging and bringing down a sprinting Jamie Vardy.

4
Blind, Daley
26
20 days
9 March 1990
CD
Manchester United FC

, England

36
2
5
Willems, Jetro
21
365 days
30 March 1994
LB
Philips Sport Vereniging
18
0
6
Bazoer, Riechedly, off 78th min.
19
169 days
12 October 1996
CM
Amsterdamsche FC Ajax
3
0
7
Depay, Memphis
22
45 days
13 February 1994
LF
Manchester United FC

, England

23
3
8
Afellay, Ibrahim
29
362 days
2 April 1986
LM
Stoke City FC, England
53
7
9
Janssen, Vincent, off 93rd min.
21
288 days
15 June 1994
CF
Alkmaar Zaanstreek
2

1

54th penalty against scored

(82nd overall)

-

first penalty against England in eight years

-

the first successful kick against England at the new Stadium

25


139 days
11 November 1990
RM
Newcastle United FC

, England

10
Wijnaldum, Georgino

G.E.

27
4
11
Promes, Quincy

A., injured off 37th min

24
85 days
4 January 1992
RF
FC Spartak Moskva

, Russia

9
0
Netherlands Substitutes
17
Narsingh, Luciano, on 37th min.

(36:24)

for Promes
25
198 days
13 September 1990
F
Philips Sport Vereniging
16
4
scoreline: England 1 Netherlands 2
18
Van Ginkel, Wulfert Cornelius, on 78th min.

(77:33) for Bazoer

23
119 days
1 December 1992
M
Philips Sport Vereniging, on loan from Chelsea FC, England
3
0
15
van Aanholt, Patrick J.M., on 82nd min.

(81:54)

for Willems
25
182 days
29 August 1990
LB
Sunderland AFC, England
4
0
16
Clasie, Jordy, on 90th+3 min.

(92:09)

for Janssen
24
276 days
27 June 1991
M
Southampton FC

, England

15
0
result: England 1 Netherlands 2
unused substitutes:
12-Rick Karsdorp, 13-Virgil van Dijk, 19-Klaas Jan Huntelaar, 20-Luke de Jong, 21-Timo Letschert, 22-Kenneth Vermeer, 23-Micehl Vorm.
Coach Danny Blind played for Netherlands twice against England, first in the World Cup qualification draw in April 1993, then he was their Captain in the Euro '96 defeat. He is the father of Daley Blind.
4-3-3
Zoet -
Veltman, Bruma, Blind, Willems -
Wijnaldum, Bazoer (van Ginkel), Afellay -
Promes (Narsingh), Janssen, Memphis.

Averages

(Starting XI)

:

Age
24 years 29 days
Appearances/Goals

18.2

1.5

youngest opposing XI in 2015-16

least experienced opposing XI in 2015-16
Match Report by Mike Payne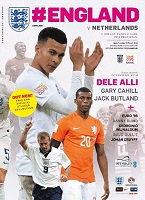 What a disappointment for a superb crowd of 82,000, who came to Wembley on the back of watching England's magnificent win in Berlin. They probably expected more of the same from their favourites but alas, on this night England didn't play well and suffered a rare home defeat to what was a fairly ordinary Netherlands side.

Right from the first whistle it was a very different England performance to that which we saw in Germany. There was none of the intensity and no real pressure put on the Dutch back line. The game itself was a poor one. The England line-up never gelled properly, and there were probably, but understandably, too many changes to the team. Manager Roy Hodgson obviously wanted to see other members of the squad perform, but at the start, especially at the back, everyone looked shaky and nervous. Early on, Danny Rose was a little lucky when a late challenge brought down a Dutch forward in the box, you have seen them given before! England's build up play went back to being slow and laborious, as opposed to the quick, slick passing seen in Germany. And too many passes went backwards, keeping possession, but also making it easy for the Dutch to defend from deep in their own half.





Half chances came at both ends in the first ten minutes with Jamie Vardy almost bursting through, and Memphis Depay shooting over for the visitors. England's defence was at sixes and sevens more than once in that opening spell and the passing was very poor. Fraser Forster had to make one save early on and then Georginio Wijnaldum fired in a good curling shot that Forster had to get down smartly to push around the post. Overall the match was a scrappy one with a few meaty challenges thrown in by the Dutch. England's midfield was nowhere near as energetic in this game, but new cap Danny Drinkwater slotted in very well.





Then, on 28 minutes, Vardy almost broke the deadlock after fine play by Adam Lallana and Rose had set him up. Unfortunately Vardy hit his shot too high, but at least it was better from England. At the other end Quincy Promes also shot over as the Netherlands looked in control, playing well, quick in the tackle and easily containing an England side who were slow in all they did, as well as constantly giving the ball away cheaply.





To be fair England were trying to play themselves out of the doldrums and both Daniel Sturridge and John Stones saw shots blocked. Then on 37 minutes Ross Barkley hit an excellent shot just wide for England's best effort so far. Four minutes later and England took the lead, slightly against the run of play. It was a goal completely out of character with the first 40 minutes, as superb passing by Lallana and Kyle Walker, after a good dummy by Sturridge, saw Walker's cross rifled home from close range by the ever-alert Vardy. The Leicester star was delighted and he was easily England's most lively attacker, but it was a goal out of the blue really, a good one nonetheless, and England safely negotiated the final minutes to lead at the break.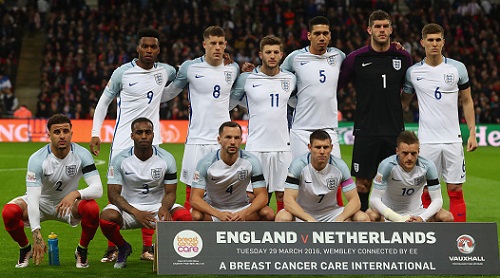 A bright start after the interval by England saw Sturridge come close with a good turn and shot which was saved by Jeroen Zoet. But then on 50 minutes a catalogue of errors gifted the Netherlands an equaliser. First Stones slipped when trying to turn instead of simply laying the ball back to Forster, allowing Vincent Janssen a clear run at goal. To his credit, Forster stood tall and managed to get a huge hand on Janssen's shot to turn it away to the right of goal. But the Dutch came again and when a cross was made it struck a jumping Rose on the arm and the referee awarded a penalty. If Rose was lucky earlier, he was certainly unlucky this time. Janssen gleefully slammed home the spot-kick and England felt harshly treated.





England tried to come back but the Netherlands were growing in confidence, buoyed by the goal. James Milner and Sturridge combined to almost set up a chance but there seemed to be none of the urgency seen in Germany. In fact Forster had to make another good save before Jeffrey Bruma brought down Vardy as he threatened to break clear. Bruma rightly booked for that challenge. A raft of England substitutions began after that but England's fluency did not improve. On 61 minutes Vardy again distinguished himself by making space and firing in a goalbound shot. Only a superb tip-over save by Zoet saved the day for the Dutch. Then as England pushed forward a brilliant pass by Stones sent Theo Walcott in on goal but Daley Blind made a terrific block tackle to stop the Arsenal winger. Harry Kane was sent on for the hard-working Lallana and was soon winning a corner.





Just as it seemed England were finally getting their game together the Netherlands took the lead with another very controversial goal. It was the 77th minute and substitute Phil Jagielka was about to shepherd the ball away from danger when Janssen came into his back like a train and flattened the Everton defender. It was a blatant foul and a definite free-kick, but the Spanish referee, who was close to the incident, played on. The ball was laid across goal and Luciano Narsingh fired the ball into the empty net. It was a dreadful decision and something that England didn't deserve at that point.





That goal proved the winner as the Dutch closed ranks and easily held on to what they had. England could find no way through the determined defence although they never really worked up a head of steam in those closing ten minutes.





In many ways it was a deserved win for the Dutch and a wake-up call for England after the euphoria of the previous win. Maybe in the long run it might do them no harm. Some players, especially Drinkwater, Vardy and, but for his slip in the first-half, Stones, did their chances of making the squad for the Euros no harm, and now we wait for May to see who is in and who is out of Hodgson's thinking for the summer tournament.


Source Notes
TheFA.com
BBC Sport
RateTheRef.com

Onsoranje
Mike Payne - football historian and contributor
cg