Rank:

FIFA (5 May 2016)

10th


EFO ranking Group 4
ELO rating 9th
Colours:
The Nike 2016 home uniform

-

White v-necked jerseys with light blue sleeves and ice blue collared tri

m/side stripe and white cuffs, white shorts with ice blue side trim, red socks.
Capt:
Gary Cahill
(third (5) captaincy)
Manager:
Roy Hodgson, 68 (9 August 1947), appointed 1 May 2012,
50th match, W 30 - D 13 - L 7 - F 102 - A 39.
Hodgson is the sixth England manager to be in charge for fifty matches
England Lineup
1

Hart,

C.

Joseph

J.

29
33 days
19 April 1987
G
Manchester City FC
58
40ᵍᵃ
2
Walker, Kyle A.
25
360 days
28 May 1990
RB
Tottenham Hotspur FC
15
0
3
Rose, Daniel L.
25
325 days
2 July 1990
LB
Tottenham Hotspur FC
3
0
4
Dier, Eric J.E.
22
128 days
15 January 1994
CM
Tottenham Hotspur FC
5
1
5
Cahill, Gary J.
30
155 days
19 December 1985
RCD
Chelsea FC
42
3
6
Stones, John
21
360 days
28 May 1994
LCD
Everton FC
9
0
7
Sterling, Raheem S., off 73rd min.
21
166 days
8 December 1994
in Kingston, Jamaica
RF
Manchester City FC
21
2
8
Wilshere, Jack A.G., off 65th min.
24
142 days
1 January 1992
LM
Arsenal FC

29

2

57th minute after tripping Şen after Danny Rose himself had been fouled.
9
Vardy, Jamie R.
29
132 days
11 January 1987
LF
Leicester City FC
7
3
10
Kane, Harry E.
22
299 days
28 July 1993
CF
Tottenham Hotspur FC
11
5 ¹

England's 33rd penalty miss, first since 2010

11

Alli, Bamidele J.
20
41 days
11 April 1996
RM
Tottenham Hotspur FC
7
1
England Substitutes
scoreline: England 1 Turkey 1
14
Henderson, Jordan B., on 66th min.

(65:46)

for Wilshere
25
340 days
17 June 1990
M
Liverpool FC
24
16
1
8
15
Drinkwater, Daniel N., on 73rd min.

(72:55)

for Sterling
26
78 days
5 March 1990
DM
Leicester City FC
2
1
0
1
result: England 2 Turkey 1
unused substitutes:
12-Ryan Bertrand, 13-Fraser Forster, 16-Ross Barkley, 17-Andros Townsend, 18-Fabian Delph, 19-Tom Heaton.
records:
Harry Kane's missed penalty ends a run of eleven successful converted kicks. If he had scored, it would have broken the record set in 2003. He is the youngest to miss since Alan Ball in 1966, who was 255 days younger than Kane.
Coach Roy Hodgson was in charge of Switzerland against Fatih Terim's Turkey team in the 1994-95 European Championship qualification campaign (2-1 & 1-2).
4-3-3
(4-4-2)
Hart -
Walker, Cahill, Stones, Rose -
Alli, Dier, Wilshere (Henderson) -
Kane, Sterling (Drinkwater), Vardy


notes: switched to 4-4-2 in 55th min. Sterling going into midfield to form the midfield diamond.

Averages

(Starting XI)

:

Age
24 years 328 days
Appearances/Goals

18.8

1.4
Rank:

FIFA (5 May 2016)

13th


EFO ranking Group 6
ELO rating =16th to 18th
Colours:
Made by Nike - Red v-necked jerseys with black ribbed trim/side stripe, black shorts, black socks.
Capt:
Mehmet Topal
Manager:
Fatih Terim, 62 (4 September 1953), appointed 22 August 2013 for a third time (1993-96 & 2005-09)
122nd match, W 63 - D 30 - L 29 - F x - A x.
Turkey Lineup
1
Babacan, Volkan
27
284 days
12 August 1988
G
İstanbul Başakşehir FK
15
0
7
Gönül, Gökhan
31
139 days
4 January 1985
RB
Fenerbahçe SK
56
1
15
Topal, Mehmet
30
80 days
3 March 1986
CD
Fenerbahçe SK

57

0

71st minute for a foul on a sprinting Jamie Vardy in the box (70:33).

P

ENALTY

3
Balta, Hakan Kadir
33
60 days
23 March 1983


in West Berlin, West Germany

CD
Galatasaray SK
45
2
18
Erkin, Caner, off 70th min.
27
231 days
4 October 1988
LB
Fenerbahçe SK
45
2

16

Tufan, Ozan, off 87th min.
21
60 days
23 March 1995
DM
Fenerbahçe SK
22
1
8
Inan, Selҫuk
31
102 days
10 February 1985
DM
Galatasaray SK
51
8
5
Ҫalhanoğlu, Hakan, off 78th min.
22
104 days
8 February 1994


in Mannheim, Germany

RM
Bayer 04 Leverkusen

, Germany

17
6
14
Özyakup, Oğuzhan, off 70th min.
23
242 days

23 September 1992




in Zaandam, Netherlands

CM
Beşiktaş JK

18

1

32nd minute for a foul after a badly timed sliding tackle brought down Sterling.
20
Şen, Volkan, off 83rd min.
28
320 days
7 July 1987
LM
Fenerbahçe SK
15
0
9

Tosun, Cenk
24
350 days
7 June 1991


in Wetzlar, Germany

CF
Beşiktaş JK
8
3
Turkey Substitutes
scoreline: England 1 Turkey 1
13
Köybaşı, İsmail, on 70th min

(69:18)

for Erkin
26
317 days
10 July 1989
LB
Beşiktaş JK
17
0
21
Tekdemir, Mahmut, on 70th min.

(69:25)

for Özyakup
28
114 days
29 January 1988
CD
İstanbul Başakşehir FK
3
0
10
Şahan, Olcay, on 78th min.

(77:43)

for Ҫalhanoğlu
28
362 days

26 May 1987


in

D�sseldorf,

West Germany
AM
Beşiktaş JK
23
2
22
Oztekin, Yasan, on 83rd min. for Sen
29
64 days

19 March 1987




in Dortmund, West Germany

M
Galatasaray SK
5
0
scoreline: England 2 Turkey 1
19
Erdinҫ, Mevlüt, on 87th min.

(86:13)

for Tufan
29
87 days

25 February 1987




in Saint Claude, France

F
En Avant de Guingamp Cotes-d'Armor, France, on loan from Hannoverscher SV von 1896, Germany
34
8
result: England 2 Turkey 1
unused substitutes:
2-Şener Özbayraklı, 4-Ahmet Yılmaz Ҫalik, 6-Alper Potuk, 11-Gökhan Töre, 12-Onur Kıvrak, 17-Yunus Mallı, 23-Harun Tekin, 24-Ҫağlar Söyüncü, 25-Emre Mor.
team notes:
Hakan Ҫalhanoğlu's goal is the first goal scored by Turkey against England at the eleventh attempt.
Coach Fatih Terim was in charge of Turkey against Roy Hodgson's Switzerland team in the 1994-95 European Championship qualification campaign (1-2 & 2-1).
4-2-3-1
Babacan -
Gönül, Topal, Balta, Erkin (Köybaşı) -
Tufan (Erdinҫ), Inan -
Ҫalhanoğlu (Sahan), Özyakup (Tekdemir), Şen (Oztekin) -
Tosun

Averages

(Starting XI)

:

Age
27 years 181 days
Appearances/Goals

31.7

2.1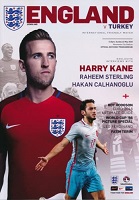 England made a lively start to this game and within seconds of the first whistle Harry Kane so nearly put Jamie Vardy in for a chance on goal, Vardy not quite reaching the pass. In the third minute though England did score, although there was an element of luck involved. Good close work by Raheem Sterling saw him find Deli Alli, and the midfielder's flick set up Kane who confidently side-footed the ball past the goalkeeper. It was a well taken goal, but replays showed that Kane was offside. Those things usually go against England but not this time and the goal was given.

Rarely has an International been so open, so early in the match, and on five minutes only a wonderful block tackle by Kyle Walker saved England, with their defence at sixes and sevens. The action continued and Cenk Tosun, a thorn throughout, forced Joe Hart into his first save, low down at his near post. Those warnings were not heeded by England and following another spirited attack by the Turks, the visitors finally scored their first ever goal against England. A pass inside Danny Rose sent Volkan Sen away and, as Hart came out to try to block at his feet, the ball went across goal and eventually found Hakan Calhanoglu who was left with an easy tap-in. It was a well taken, and deserved equaliser for Turkey, but it has to be said that leading up to the goal England's defence made several mistakes between them, exposing the frailties that we all worry about.





In the 17th minute Kane, who seemed to be the nominated free-kick taker for England on the night, made a mess of his first effort, and not for the last time either. And it took 22 minutes before we had the first real sighting of Jack Wilshere, who picked up possession on the right, cut inside, and hit a low shot which the goalkeeper Volkan Babacan easily saved at his near post.





By now the game had become scrappy as Turkey gave away a number of free-kicks and England struggled to make their passing count. It was slow and ponderous from the home players and the game looked more and more like a practice match for a while. Having said that, some of the Turkish challenges were rather meaty and the England players were in danger of injury at times.





On 29 minutes Eric Dier headed wide from a Wilshere corner, Kane forced the keeper into another save a minute later and then Oguzhan Oyzakup was booked for a foul, not his first and certainly not his last firm tackle of the night.





With 35 minutes gone Turkey began to sit back and protect their draw and it gave England the chance to play the ball around, gaining confidence through having more possession, but whereas Turkey's midfield had been nippy and mobile, England's was rather static and sedate. A good break by the ever-willing Rose found Vardy in space, but his shot was blocked, and that ended a disappointing half for England, who did look a little disjointed at times. The half-time chat with the manager was needed at that point.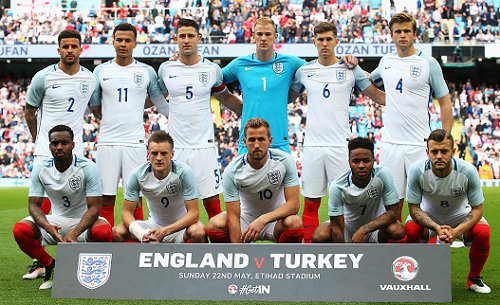 England came out of the blocks well after the restart, immediately going on to the front foot. Alli teed up Vardy, but his shot was blocked and then some good play by England was only ended when Kane was caught offside. On 53 minutes though Tosun was again left unmarked as he headed wide, and then a turn and shot a minute later by the same player was just a little too close for comfort as far as England were concerned. In this spell Turkey seemed to be winning all the second balls and England could not clear their lines. Calhanoglu's glancing header caused England all sorts of problems until Rose cleared the ball for a corner. Sterling then made a good break down the right to relieve the pressure, but his cross was poor and there was nobody to meet it.





On 66 minutes Wilshere's quiet match was over, valuable game time for the Arsenal man following his injury riddled season, but his ineffectiveness is something Roy Hodgson will have to look at. On came Jordan Henderson, another recovering from injury, and then Turkey made several changes too. Four minutes later and there was a golden chance for England. A mistake by a Turkey defender gave Vardy a typical run at goal, something he has done successfully for Leicester all season. As he reached the penalty area he turned across Mehmet Topal and the Turkish captain clumsily bundled him over. It was reminiscent of the incident against West Ham when Vardy was sent off for diving, but there was a definite arm across Vardy, and at that pace any contact was going to bring him down. As it turned out, it didn't matter as Kane's spot-kick was hit well enough, but not accurately enough, and the ball went wide, off the outside of the left-hand post.





Three minutes later Danny Drinkwater came on for Sterling and soon afterwards, more good work by the hard running Walker set up Kane again, but this time the Spurs forward fouled a defender before heading for goal. On 83 minutes England won a corner on the right. Over came the cross and Gary Cahill rose well to head down towards the corner. Babacan dived to parry the ball but in so doing collided with his defender on the line. The ball ran free and there was Vardy to smash a shot at goal and the ball went in off the keeper's head!





This was now a good test for England ahead of the forthcoming European Championship tournament, with just seven minutes to go, could they hold on to their lead? Turkey upped the pace and pushed forward, but in the main England stood up to the challenge well, showing determination and some good skill, with Cahill and John Stones battling for everything. In fact England came close again when Vardy fed Kane and the striker shot just over. The one final scare came in the third minute of stoppage time. For once the defence was exposed and in came Topal to fire in a shot that was brilliantly saved by Hart as he deflected the shot with a strong right hand and Stones completed the clearance. It was a narrow squeak, but overall England deserved their bit of luck, and they finally saw it through to end Turkey's long unbeaten run.





Although there were plenty of plus signs there was also plenty to work on for Roy Hodgson and his staff. Hart needs to improve his distribution, the defenders need to make the right decisions at the right times, the midfield needs to show more energy and the strikers need to keep scoring! Other than that it was fine! Onwards and upwards.