Match Summary
Officials

from Netherlands

England Squad

Type

Australia Squad
Referee (sky blue) - Danny Desmond Makkelie
33 (28 January 1983),

Willemstad, Curaçao,

FIFA-listed 2011.

Assistant Referees - Bas van Dongen, 40 (16 November 1975), Zeltbommel, and Hessel Steegstra, 38 (27 March 1978).
Fourth official - Bernie Raymond Blom, 42 (21 February 1974), Gouda.

12
Goal Attempts
14
4
Attempts on Target
2
0
Hit Bar/Post
0
5
Corner Kicks Won
7
2
Offside Calls Against
3
12
Fouls Conceded
11
45%
Possession
55%

England Team
Rank:

FIFA (5 May 2016)

10th


EFO ranking Group 4
ELO rating 9th
Colours:
The Nike 2016 away uniform

-

Red v-necked jerseys with crimson sleeves with royal blue collared trim/

side stripe, red shorts with royal blue side trim, blue socks.
Capt:
Chris Smalling


(only

captaincy)
Wayne Rooney, 73rd min.
Manager:
Roy Hodgson, 68 (9 August 1947), appointed 1 May 2012,
51st match, W 31 - D 13 - L 7 - F 104 - A 40.
England Lineup
1
Forster, Fraser

G.

, off 87th min.
28
71 days
17 March 1988
G
Southampton FC
6
7ᵍᵃ
final app 2013-16
2
Clyne, Nathaniel E.
25
52 days
5 April 1991
RB
Liverpool FC
12

0
3
Bertrand, Ryan D.
26
296 days
5 August 1989
LB
Southampton FC
8

0
4
Henderson, Jordan B.
25
345 days
17 June 1990
RM
Liverpool FC
25

0
5
Smalling, Christopher

L.

, off 73rd min.
26
187 days
22 November 1989
RCD
Manchester United FC
24

0
6
Stones, John
21
365 days
28 May 1994
LCD
Everton FC
10

0
7
Wilshere, Jack A.G., off 46th min.
24
147 days
1 January 1992
DM
Arsenal FC
30

2

the 110th player to reach the 30-app milestone

8
Drinkwater, Daniel N.
26
83 days
5 March 1990
LM
Leicester City FC
3
0
final app 2016

79

9
Rashford, Marcus, off 63rd min.
18
209 days
31 October 1997

RF

Manchester United FC
1


1


1215

the youngest player to score on his England debut

the 65th United player to represent England
10

Sterling, Raheem S., off 76th min.
21
171 days
8 December 1994
in Kingston, Jamaica
LF
Manchester City FC
22

2
11
Lallana, Adam D., off 46th min.
28
17 days
10 May 1988
AM
Liverpool FC
22

0
England Substitutes

scoreline:

England 1 Australia 0

14
Milner, James P., on 46th min. for Wilshere
30
143 days
4 January 1986
RM
Liverpool FC
59
36

1
23
19
Rooney, Wayne M., on 46th min. for Lallana
30
216 days

24 October 1985

AM


Manchester United FC
110
102
51
8
mst gls
the 85th goal to be scored by a substitute

is now the most experienced player to score a goal as a substitute

scoreline:

England 2 Australia 0

22
Barkley, Ross, on 63rd min.

(62:23)

for Rashford
22
174 days
5 December 1993
AM
Everton FC
22
8

2
14
15
Dier, Eric J.E., on 73rd min.

(72:10)

for Smalling
22
132 days

15 January 1994

CD

Tottenham Hotspur FC


6


3
1


¹



3
29th own goal scored by England

(first sub)

scoreline:

England 2 Australia 1

17
Townsend, Andros D., on 76th min.

(75.30)

for Sterling
24
316 days
16 July 1991

LF

Newcastle United FC
11
4
3
7
the 36th United player to represent England

1216

13
Heaton, Thomas D., on 87th min.

(86:52)

for Forster
30
42 days
15 April 1986

G


Burnley FC
1
0ᵍᵃ


will be

the last new player from Hodgson

the 25th Burnley player to represent England (first for 41 years)

result:

England 2 Australia 1

unused substitutes:
12-Kyle Walker, 18-Harry Kane, 20-Delle Alli, 21-Danny Rose, 23-Joe Hart.
team notes:
Wayne Rooney extends his record tally of goals, with his only goal as a substitute.

record

s:
As well as his goalscoring debut, Marcus Rashford had made just eighteen first team appearances before appearing for the National side, the beating the previous record of 22.
Chris Smalling became the sixth different captain used in 2015-16, a new record. He is also the ninth used by Hodgson, equalling the record set by Ron Greenwood.
The six goals from a substitute during this season equals the record set in 2008-09, 2009-10 and 2010-11.
4-4(1-2-1)-2
then 4-3-3
Forster (Heaton) -
Clyne, Smalling (Dier), Stones, Bertrand -
Wilshere (Milner) -
Henderson, Drinkwater -
Lallana (Rooney) -
Rashford (Barkley), Sterling (Townsend).


notes: reverted to a 4-3-3 formation for the second half.

Averages

(Starting XI)

:

Age
24 years 310 days
Appearances/Goals

14.8

0.4

Australia Team
Rank:

FIFA (5 May 2016)

50th


EFO ranking n/a
ELO rating 37th
Colours:
Made by Nike - Yellow v-necked jerseys with Wave Rock-inspired shadow diagonal stripes and green collared trim/side stripe, yellow shorts, dark green socks.
Capt:
Mile Jedinak
Manager:
Angelos Postecoglou, 50 (27 August 1965 in Athens), appointed 23 October 2013.
30th match, W 15 - D 4 - L 11 - F x - A x.
Australia Lineup
1
Ryan, Mathew

D.

24
49 days
8 April 1992
G
Valencia CF , Spain
24
0
6
Risdon, Joshua, off 73rd min.
23
305 days
27 July 1992
RB
Perth Glory FC
3
0
8
Wright, Bailey

C.

23
304 days
28 July 1992
RCD
Preston North End FC

, England

11
1
5
Milligan, Mark

D.

30
297 days
4 August 1985
LCD
Baniyas SC

, United Arab Emirates

47
5
14
Smith, Bradley

S.

22
48 days
9 April 1994
LB
Liverpool FC

, England

7
0
15
Jedinak, Michael J.
31
298 days
3 August 1984
DM
Crystal Palace FC

, England

63
12
13
Mooy Aaron F., off 84th min.
25
255 days
15 September 1990
RM

Melbourne City FC

14

5

38th min. for a foul on the sprinting Ryan Bertrand near the halfway line.

23

Rogic, Tomas P., off 73rd min.
23
163 days
16 December 1992
AM
The Celtic FC

, Scotland

16
5
21
Luongo, Massimo

C., off 57th min.

23
245 days
25 September 1992
LM
Queen's Park Rangers FC

, England

20
4
24
Maclaren, Jamie, off 58th min.
22
303 days
29 July 1993
RF
Brisbane Roar FC
1
0

10

Kruse, Robbie T., off 84th min.
27
235 days
5 October 1988
LF
Bayer 04 Leverkusen

, Germany

41
4
Australia Substitutes

scoreline:

England 2 Australia 0

11
Ikonomidis, Christopher, on 57th min.

(56:54)

for Luongo
21
23 days
4 May 1995
AM
US Salernitana 1919

, Italy, on loan from SS Lazio, Italy

4
0
17
McKay, Matthew

G., on 58th min.

(57:03)

for Maclaren
33
137 days
11 January 1983
CM
Brisbane Roar FC
59
2
9
Juric, Tomislav, on 73rd min.

(72:45)

for Rogic
24
310 days
22 July 1991
CF
SV Roda Juliana Combinatie Kerkrade

, Netherlands

16
2
20
Degenek, Miloš, on 73rd min.

(72:56)

for Risdon
22
29 days
28 April 1994
in Knin, Croatia
RB
TSv München von 1860, Germany
1
0

scoreline:

England 2 Australia 1

19
Goodwin, Craig A., on 84th min.

(83.00)

for Kruse
24
303 days
16 December 1991
LF
Sparta Rotterdam

, Netherlands

3
0
25
Irvine, Jackson A., on 84th min.

(83.13)

for Mooy
23
303 days
7 March 1993
RM
Ross County FC

, Scotland

3
0

result:

England 2 Australia 1

unused substitutes:
2-Aziz Behich, 7-Stefan Mauk, 12-Mark Birighitti, 18-Adam Federici, 22-Alexander Wilkinson.
4-4(1-2-1)-2
then 4-3-3
Ryan -
Risdon (Degenek), Wright, Milligan, Smith -
Jedinak -
Mooy (Irvine), Luongo (Ikonomidis) -
Rogic (Juric) -
Maclaren (McKay), Kruse (Goodwin).


notes: reverted to 4-3-3 formation after 57 minutes

Averages

(Starting XI)

:

Age
25 years 162 days
Appearances/Goals

22.5

3.3
Match Report by Mike Payne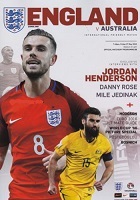 After just two minutes of this match it was almost a disaster for Fraser Forster in the England goal. His clearance was charged down by an Australian forward and the ball could easily have ended up in the back of the net. Luckily for the keeper the ball fell kindly for him to pick it up. Then, ironically, from Forster's eventual clearance, England scored.

Raheem Sterling received possession on the left from 18-year-old debutant Marcus Rashford, and his centre flipped up off the back of Bailey Wright and dropped invitingly for the new boy to lash the ball past Matthew Ryan, in goal for the Aussies. Rashford unbelievable last few months took yet another remarkable turn as he became the youngest England player to score on his debut. The lively start continued and two minutes later Ryan Bertrand made a terrific block to deny Robbie Kruse an equaliser. England then struggled to clear the corner and it had been a mixed up, nervous sort of start to the match.





On seven minutes Kruse shot over after more good play by Australia and England were taking a while to settle into the match. On 14 minutes though a swift breakaway gave them a chance of a second goal. Sterling was sent away with a long pass and his pass found Rashford again. This time though the Manchester United youngster's control let him down and the ball ran through for a goal-kick. Australia looked a strong and accomplished side, well-organised and very determined in what was a big match for them. Tomas Rogic shot wide after a swift break and at the back Australia's defenders had recovered from their difficult start. Bertrand made another good interception as Australia threatened again and the visitors were certainly seeing plenty of the ball. Having said all that, despite their large chunks of possession Australia rarely threatened Forster's goal.





Just on the half hour mark some clever passing saw Rashford set up Lallana but the keeper was quickly down to make the save. Two England corners in quick succession were cleared but then Bertrand did well to set up Jordan Henderson from another corner and the Liverpool player's excellent effort brought the best out of Ryan as he managed to tip the shot over the bar. In the last five minutes of the half there were signs that England were gaining momentum and they ended the half on top.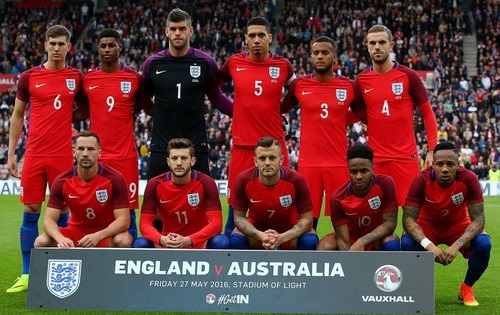 After the break Roy Hodgson brought on Wayne Rooney and played him as an out and out centre-forward. The skipper was soon scampering on to a long ball over the top, but this time his control let him down. England made a bright start to the half and put pressure on the Australian back line, but with Preston North End's Wright having a very steady game, the defence coped well. Then, at the other end, Kruse was caught just offside as he threatened to break clear of the England defenders. Aaron Mooy was doing some excellent work for the Australians in midfield, and in one attack Rogic again shot over from a good position. But a minute later, a fine break by England gave them a second goal.





Ten minutes of the second half had elapsed when from deep inside their own half the ball was cleared towards Rashford. His clever dummy allowed the ball to run through to Sterling who sprinted away down the left. The winger looked up and spotted the unmarked Rooney in the inside-right position. The pass was perfect, Rooney's first touch was perfect, and the finishing shot gave Ryan no chance as it flew into the right hand top corner. It was a very well taken goal for Rooney's 52nd [ed: 51st] international strike, and his first after coming on as a substitute.





Two minutes later and Sterling was sprinting clear down the left again but this time he ran the ball out under challenge from a defender. At the back for England the welcome sight of John Stones looking much more assured after his recent stuttering form was very good news for Hodgson. Stones played well alongside the ever-reliable Chris Smalling, and Nathaniel Clyne, too, was in fine form at right-back. On the hour England so nearly scored again as a good move ended with Rashford driving the ball across goal. Unfortunately Rooney couldn't quite make the decisive touch as he was challenged by a defender. That was almost Rashford's last contribution as he left the field to a huge round of applause to be replaced by Ross Barkley.





A number of substitutions, by both sides, were carried out by the managers but chances continued to fall at both ends. Rooney pulled the ball back and eventually Clyne hit a screamer just over the crossbar, whilst at the other end substitute Christopher Ikonomidis headed wide. That was Australia's problem as, although their approach play was good, their finishing was poor. Forster hardly had a save to make, but then on 75 minutes, came a lifeline for the Australians. After a good England attack, some intricate close passing gave James Milner a chance but his low shot just curled wide. Immediately, Hodgson replaced Smalling with Eric Dier and with his first touch the Tottenham defender opened up the game. Mooy fed Milas Degenek out wide on the right, and he put in a tantalising cross. Instead of using his feet Dier decided to stoop low to head the ball clear. Unfortunately he actually only succeeded in glancing a header past his own goalkeeper. It was a 'fine' goal, but at the wrong end!





Australia sensed a chance to gain an unlikely draw, but to be fair to England, and to Dier, they quickly regained their composure and they saw the game out quite comfortably. In fact, it was England who looked the more likely to score. A lively cameo by substitute Andros Townsend set up a couple of chances and Rooney was almost in for another goal. A late debut for substitute Tom Heaton in goal for England just managed to give him a short feel of international football, but he was untroubled in those remaining minutes and England won the match with no further alarms.





It was a good game though, and all credit to a spirited Australia team, but now England move on to their final warm-up match before the real action starts for them on June 11th in Marseille.


Source Notes
TheFA.com
BBC Sport
RateTheRef.com


Mike Payne - football historian and contributor
cg