Match Summary
Officials

from Spain

Netherlands Squad
Type
England Squad
Referee (black)
Jesús Gil Manzano
32 (4 February 1984) Don Benito, FIFA-listed 2014.
13
Goal Attempts
11
6
Attempts on Target
3
Assistant Referees
0
Hit Bar/Post
0
Ángel Nevado Rodríguez
36 (17 November 1981), Badajoz
Juan Carlos Yuste Jiménez


42 (25 September 1975), Madrid

3
Corner Kicks Won
4
Fourth official
Carlos del Cerro Grande


42 (13 March 1976), Alcala de Henares, FIFA-listed 2013.

3
Offside Calls Against
0
10
Fouls Conceded
9
48%
Possession
52%

Netherlands Team
Rank:

FIFA (15 March 2018) 21st
EFO ranking Group 3
ELO rating 11th to 12th
Colours:
Made by Nike - Orange v-necked jerseys with darker orange sleeves with blue trim on collar and side stripe, orange shorts with blue side trim, royal blue socks.
Capt:
Virgil van Dijk
first, W 0 - D 0 - L 1 - F 0 - A 1.
Manager:
Ronald Koeman, 55 (21 March 1963), appointed 6 February 2018.
first match, W 0 - D 0 - L 1 - F 0 - A 1.
Netherlands Lineup
1
Zoet, Jeroen
27
76 days
6 January 1991
G
Philips Sport Vereniging
10
14ᵍᵃ
2
Hateboer, Hans
24
73 days
9 January 1994
RWB
Atalanta BC, Italy
1
0
3
de Ligt, Matthijs
18
223 days
12 August 1999
RD
Amsterdamsche FC Ajax
4
0
4
van Dijk, Virgil
26
258 days
8 July 1991
LD
Liverpool FC

, England

17
0
5
Wijnaldum, Georgino

G.E.

27
132 days
11 November 1990
RM
Liverpool FC

, England

46
8
6
de Vrij, Stefan, off 89th min.
26
46 days
5 February 1992
CD
SS Lazio

, Italy

34
3
7
Promes, Quincy A., off 66th min.
26
78 days
4 January 1992
RF
FC Spartak Moskva

, Russia

26
4
8
Strootman, Kevin, off 89th min.
28
38 days
13 February 1990
LM
AS Roma, Italy
40
3
9
Dost, Bas, off 66th min.
28
296 days
31 May 1989
CF
Sporting Clube de Portugal, Portugal
18
1
10
Depay, Memphis
24
38 days
13 February 1994
LF
Olympique Lyonnaise

, France

35
8
11
van Aanholt, Patrick J.M.
27
206 days
29 August 1990
LWB
Crystal Palace FC, England
7
0

Netherlands

Substitutes

scoreline:

Netherlands 0 England 1
18
Pröpper, David P,W.H., on 66th min.

(65:08)

for Promes
26
202 days
2 September 1991
CF
Brighton & Hove Albion FC, England
9
3
20
Babel, Ryan G., on 66th min.

(65:35)

for Dost
31
94 days
19 December 1986
RF
Beşiktaş JK

, Turkey

47
6
19
Weghorst, Wout, on 89th min.

(88:25)

for de Vrij
25
228 days
7 August 1992
CF
Alkmaar Zaanstreek
1
0
15
van de Beek, Donny, on 89th min.

(88:30)

for Strootman
20
339 days
18 April 1997
M
Amsterdamsche FC Ajax
2
0

result:

Netherlands 0 England 1
unused substitutes:
12-Guus Til, 13-Jasper Cillessen, 14-Nathan

Aké

, 16-Marten de Roon, 17-Steven Berghuis, 21-Tonny de Vilhena, 22-Timothy Fosu-Mensah, 23-Justin Kluivert.
team notes:
unused substitute Justine Kluivert is the son of Patrick, who also played for Netherlands against England.
Coach Ronald Koeman first played for the Netherlands against England in the 1988 European Championship Finals victory, and again in the 1990 World Cup Finals draw. His third and final appearance was the qualification match for the 1994 World Cup Finals, and significant because of his successful free-kick and yellow card.
3-4-3
Zoet -
de Ligt, de Vrij (Weghorst), van Dijk -
Hateboer, Wijnaldum, Strootman (van de Beek), van Aanholt -
Promes (Pröpper), Dost (Babel), Depay

Averages

(Starting XI)

:

Age
25 years 334 days
Appearances/Goals

21.6

2.5

least experienced opposing XI in 2017-18

England Team
Rank:

FIFA (15 March 2018) 16th
EFO ranking Group 4 to 3
ELO rating 7th
Colours:
The Nike 2018 home uniform

-

White v-necked jerseys

with red tri

m on collar, dark blue shorts, white socks.
Capt:
Jordan Henderson
fifth, W 3 - D 2 - L 0 - F 9 - A 3.

⁸

Manager:
Gareth Southgate, 47 (3 September 1970), appointed caretaker manager on 27 September 2016, appointed as permanent manager on 30 November 2016.


fifteenth match, W 8 - D 5 - L 2 - F 22 - A 9.

England Lineup
1
Pickford, Jordan L.
24
19 days
7 March 1994
G
Everton FC
2
0ᵍᵃ
2
Trippier, Kieran J.
27
185 days
19 September 1990
RWB
Tottenham Hotspur FC
4
0
3
Rose, Daniel L., off 71st min.
27
264 days
2 July 1990
LWB
Tottenham Hotspur FC
15
0
4
Walker, Kyle A.
27
299 days
28 May 1990
RD
Manchester City FC
33
0
5
Stones, John
23
299 days
28 May 1994
CD
Manchester City FC
23
0
6
Gomez, Joseph D., injured off 7th min.

(6:44)

20


304 days
23 May 1997
LD
Liverpool FC
3
0
7
Oxlade-Chamberlain, Alexander M.D.
24
220 days
15 August 1993
CM
Liverpool FC
31
6
8
Henderson, Jordan B.
27
279 days
17 June 1990
RAM
Liverpool FC
37
0
9
Rashford, Marcus, off 68th min.
20
143 days
31 October 1997
RF
Manchester United FC
16
2
10
Sterling, Raheem S., off 68th min.
23
105 days
8 December 1994
in Kingston, Jamaica
LF
Manchester City FC
36
2
11

Lingard, Jesse E., off 68th min.
25
98 days
15 December 1992
LAM
Manchester United FC
9
1
England Substitutes
15
Maguire, J. Harry, on 10th min.

(9:25)

for Gomez, off 89th min.
25
19 days
5 March 1993
LD
Leicester City FC
4
3
0
1

scoreline:

Netherlands 0 England 1
21
Vardy, Jamie R., on 68th min.

(67:19)

for Rashford
31
71 days
11 January 1987
RF
Leicester City FC
20
10
6
10
the 179th player to reach the 20-app milestone
20
Alli, Bamidele J., on 68th min.

(67:28)

for Sterling
21
346 days
11 April 1996
LF
Tottenham Hotspur FC
23
16
2
7
24
Welbeck, Daniel

N.T.M., on 68th min.

(67:37)

for Lingard
27
117 days
26 November 1990
LAM
Arsenal FC
37
25
15
12
18
Young, Ashley

S.

, on

71st

min.

(70:50)

for Rose
32
277 days
9 July 1985
LWB
Manchester United FC
32
17
7
15
12
Dier, Eric J.E., on 89th min.

(88:52)

for Maguire
24
67 days
15 January 1994
LD
Tottenham Hotspur FC
24
20
3
4

result:

Netherlands 0 England 1
unused substitutes:
13-Joe Hart, 14-Alfie Mawson, 16-James Tarkowski, 17-Jake Livermore, 19-Lewis Cook, 22-Jack Butland, 23-Nick Pope, 25-Adam Lallana.
team notes:
Alex Oxlade-Chamberlain's father, Mark Chamberlain, also played for England (1982-84).
Joe Gomez was initially injured in the fifth minute

(4:17)

when leaping for a ball with Bas Dost on the halfway line, twisting his ankle on the land. He went down when the ball next went out of play

(5:20).

records:
This is England's first victory over Netherlands since Euro 1996, extending their unbeaten run to seven matches, the best since 2014-15. Also first win in Amsterdam since 1969.
Fifth clean sheet in a row, best since October 2014.
Manager Gareth Southgate first played against Netherlands in the 1996 European Championship Finals, in which he received a last-minute yellow card. He next played as a second-half substitutes in friendly matches in August 2001, and again in February 2002.
3-5-2
Pickford -
Walker, Stones, Gomez (Maguire (Dier)) -
Trippier, Henderson, Oxlade-Chamberlain, Lingard (Welbeck), Rose (Young) -
Rashford (Vardy), Sterling (Alli)

Averages

(Starting XI)

:

Age
25 years 269 days
Appearances/Goals

19.0

0.9
Match Report by Mike Payne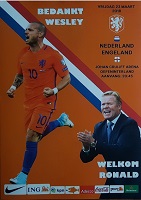 In their first match of 2018, England travelled to Holland and came home after a good, composed performance gave them a single goal victory. There were a few eyebrows raised when manager Gareth Southgate named his team and indicated his formation strategy. To play with a three man back line is something Southgate prefers and on this night, it all worked perfectly.

However, the match did not have the planned start that the manager would have liked as an injury to Liverpool's Joe Gomez after just six minutes meant a reshuffle after Harry Maguire was sent on as a replacement. The formation stayed the same though and Maguire gave an assured performance throughout. With Kieron Trippier and Danny Rose encouraged to push forward when possible England played the first half well. The surprise choice as a central defender, Kyle Walker, slotted in well to his new role, and England looked well balanced. Jordan Henderson captained the team with a good deal of thought and Southgate's plans were executed very efficiently. Goal chances were few and far between though as both sets of forwards struggled to find a way through. England were definitely the more lively team, and the interchange between Raheem Sterling, Jesse Lingard and Marcus Rashford was impressive at times. The first shot in anger came from Alex Oxlade-Chamberlain, but it was straight at Jeroen Zoet and the goalkeeper gathered safely.

On 17 minutes, good work from Sterling set up Lingard, but his cross-shot went out for a goalkick. Holland, meanwhile, almost made Henderson pay for a misplaced pass but Matthijs de Ligt's shot was mishit and Jordan Pickford gathered cleanly. When the England goalkeeper came to my club Preston North End on loan at the start of the 2015/16 season, I soon made the prediction that he would be an England goalkeeper soon. I was glad to see my forecast come true and the player did really well on this, his second appearance in the team. I think there will be many more to come.

The game was being played at a good pace but England's crossing was not as effective as it could be, especially from Rose. Trippier was an exception though, and just after the half-hour his excellent cross was only just missed by the alert Rashford's lunge. Zoet then had to be smartly off his line after Lingard's pass almost found Sterling and the disciplined way that England held their 3-5-2 formation was impressive. John Stones showed that he played for Manchester City with some cool, controlled play on the ball, so typical of Pep Guardiola's influence.

Holland enjoyed their best spell of the match in the last five minutes of the first-half and Memphis Depay forced a save from Pickford after a bad throw-in by Rose had put Maguire in trouble. Overall, England had definitely had the better of the half, but their play in the final third was still lacking those final killer touches.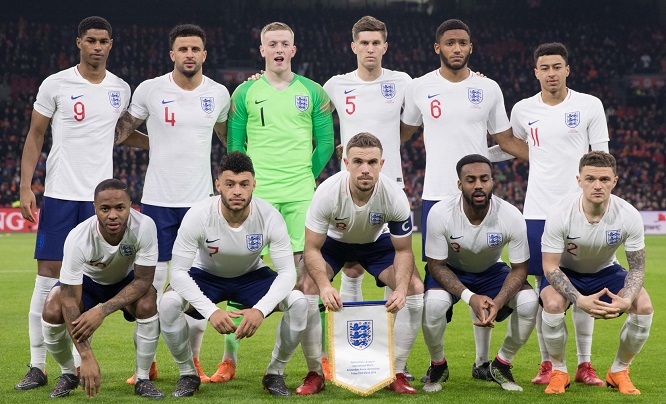 England began brightly after the restart and were on the front foot immediately. Lingard saw a shot blocked and then Rose chose the wrong option when another good break saw Rashford and Oxlade-Chamberlain go to the near post only for Rose to cross to the far post. On 52 minutes though, it was the referee's turn to make a huge mistake. Rashford made a fine run onto a through ball and as he tapped the ball around the goalkeeper he was clattered to the ground by a combined effort from de Ligt and Zoet. It was a 'stonewaller', as they say, but not in the referee's eyes unfortunately. Not to worry though as England's bright start to the half was finally rewarded with an excellent and deserved goal just after the hour mark. A move began with Pickford, that then saw a surge forward by Oxlade-Chamberlain, which ended with a pass to Lingard, the Manchester United player swivelled and found Rose overlapping down the left. For once Rose hit his cross low to try and find Sterling, and the ball bounced away, right into the path of Lingard who hit a first time right-foot shot from the edge of the area wide of the keeper's despairing dive. The goal was no less than England deserved and the players were visibly lifted by ending their goal drought of recent games.

Holland did hit back for a while, understandably, Bas Dost tried to divert Depay's shot with a cheeky back-heel, and the slowness of the deflection almost deceived Pickford, but the goalkeeper was down to save. Quincy Promes saw a shot charged down by Maguire and Depay, Holland's best player, stretched England on a couple of occasions. In the 67th minute, after several substitutions by the home side, de Ligt fired in a 25 yard shot which flew just wide. It was then England's turn to ring the changes. Rashford, Lingard and Sterling went off and Jamie Vardy, Danny Wellbeck and Deli Alli were brought on. Shortly afterwards Ashley Young came on for Rose.

Stones was organising his back line well at this stage and there were no real alarms for Pickford in the next phase of the match. In fact neither goalkeeper was tested again until the 82nd minute when Stones brought down substitute Ryan Babel on the edge of the area. Depay's free-kick cleared the wall but the shot was central and easily saved by Pickford. And that was about it as regards the action. Holland made more pointless substitutions and Pickford had to cut out one cross aimed at the 6'6" striker Wout Weghorst in the last meaningful attack. The final whistle then blew and England could celebrate victory over the Dutch for the first time in eight attempts.

It was a good performance from England, not one to go overboard about, but with lots of positives for the manager and his squad to enthuse over. Holland were not a very good side, and probably it was their worst team for a number of years, but you can only beat what is put in front of you and England did that very effectively.


Source Notes
TheFA.com
BBC Sport

KNVB.nl
Voetbalstats.nl
Mike Payne - football historian and contributor
cg