"COOL 4 QATS" Daily Mirror
Officials

from Slovenia

San Marino

Squad

Type
England Squad
Referee

(black)


Rade Obrenović


31 (28 July 1990)

, FIFA listed 2017.
2
Goal Attempts
22
1
Attempts on Target
13
Assistant Referees
0
Hit Bar/Post
2
Grega Kordež


(1982), Ljubljana

Aleksandar Kasapovič
1
Corner Kicks Won
4
Fourth official
Asmir Sagrković


FIFA Referee Assessor - Haim Jakov, Israel
FIFA Match Commissioner - Arturs Gaidels, Latvia
0
Offside Calls Against
0
11
Fouls Conceded
8
15.3%
Possession
84.7%
Video Assistant Officials
Slavko Vinčić


41 (25 November 1979)

, Maribor, FIFA listed 2010.
Assistant VAR official - Jure Prapotnik

San Marino Team
Rank:
FIFA (21st Oct 2021) 210th


EFO ranking

n/a




ELO rating

209th
Colours:
Limited edition 90th anniversary uniform made by Macron - Orange wing-collared jerseys with white collar/cuffs/sidetrim, and raspberry red lower half, separated by a white diagonal band, raspberry shorts with orange side trim, raspberry socks with two white hoops on top.
Capt:
Manuel Battistini
Manager:
Franco Varrella, 68 (25 January 1953 in Italy), appointed 15 January 2018.
34th match, W 0 - D 2 - L 32 - F - A

San Marino

Lineup
1
Benedettini, Elia
26
146 days
22 June 1995
G
Cesena FC, Italy
30
0
22
Battistini, Manuel
27
116 days
22 July 1994
RD
SS Virtus, on loan from AC Juvenes/Dogana

43
0
54th min. for lunging in on Emile Smith Rowe near the touchline.
16
Fabbri, Filippo
19
312 days
7 January 2002
CD
Forli FC

, Italy, on loan from Cesena FC, Italy

11
0

58th own goal scored for England

- youngest

6
Rossi, Dante C.
34
126 days
12 July 1987
in Pergamino Partido, Argentina
LD




ASD Città di Foligno 1928, Italy




15




0




24th expulsion vs. England
26th min. for handball when appealing Foden's volley.

P

ENALTY

S

USPENDED

68th min. for bringing down a sprinting Conor Gallagher outside the box
7
Tomassini, Fabio R., off half time
25
283 days
5 February 1996
RM

SS Pennarossa

27

0

16th min. for pulling on the shirt of Phil Foden on the touchline.

S

USPENDED

5
Lunadei, Lorenzo
24
126 days
12 July 1997
RDM
AS San Giovanni
26
0
8
Golinucci, Enrico
30
122 days
16 July 1991
DM
SS Folgore Falciano Calcio
35
0
11
Mularoni, Marcello
23
68 days
8 September 1998
LDM
SP La Fiorita
26
0
2
D'Addario, Alessandro, off half time
24
67 days
9 September 1997
LM

SP Tre Fiori

14

0


37th min. for handball for stopping Harry Kane's header.

P

ENALTY

19
Nanni, Nicola
21
197 days
2 May 2000
RF
Lucchese 1905, Italy
24
1
20
Hirsch, Adolfo J., off half time
35
288 days
31 January 1986
in Pergamino Partido, Argentina
LF
SS Pennarossa
48
0

San Marino

Substitutes

scoreline:

San Mari

no 0 England 6
5
Censoni, Luca, on half time for D'Addario
25
120 days
18 July 1996
M
SP Tre Fiori
7
0
10
Vitaioli, Matteo, on half time for Tomassini
32
19 days
27 October 1989
F
SS Pennarossa
71
1
17
Golinucci, Alessandro, on half time for Hirsch
27
36 days
10 October 1994
M
SS Virtus
28
0

scoreline:

San Mari

no 0 England 8
13
Grandoni, Andrea, on 74th min.

(73:38)

for Lunadei
24
237 days
23 March 1997
D
SP La Fiorita
28
0

scoreline:

San Mari

no 0 England 10
15
Conti, Giacomo, on 81st min.

(80:01)

for Fabbri
22
117 days
21 July 1999
CD
AS San Giovanni
5
0

result:

San Marino 0 England 10
unused substitutes:
4-David Tomassini, 9-Kevin Zonzini, 12-Simone Benedettini, 14-Tommaso Zafferani, 18-Luca Ceccaroli, 22-Michael Battistini, 23-Eugenio Marconi.
team notes:
Enrico and Alessandro Golinucci are brothers, as are Manuel and Michael Battistini

.

Elia and Simone Benedettini are cousins.
records:
San Marino have lost their previous 36 WCP/ECP matches, scoring five goals, conceding 173.
They have also lost 37 of their 38 home World Cup qualifiers, losing the last 36, scoring seven, conceding 156. They last avoided defeat at home in March 1993 in a 0-0 draw with Turkey in Serravalle.
Of the 56 own goals scored in favour of England, Filippo Fabbri is the first teenager and, therefore, the youngest to score an own goal.
3-5-2
Benedettini -
Battistini, Fabbri (Conti),

Rossi

-
Tomassini (Vitaioli), Lunadei (Grandoni), E.Golinucci, Mularoni, D'Addario (Censoni)-
Nanni, Hirsh (A.Golinucci)

Averages

(Starting XI)

:

Age

26

years 220 days
Appearances/Goals

27.2

0.1

England
Team
Rank:
FIFA (21st Oct 2021)

5th


EFO ranking Group One (3rd)
ELO rating 7th to 6th
Colours:
The Nike 2020 home shirt

-

White crew-necked jerseys with

navy blue

collar and side trim, white shorts with dark blue side stripe, white socks.
Capt:
Harry Kane ⁴⁰


44th, W 27 - D 9 - L 7 - F 105 - A 32


Conor Coady 61:30
Manager:
Gareth Southgate, 51 (3 September 1970), appointed caretaker manager on 27 September 2016, appointed as permanent manager on 30 November 2016.


68th match, W 43 - D 14 - L 10 - F 152 - A 42

- fortieth clean sheet

England

Lineup

116
1
Ramsdale, Aaron C.
23
185 days
14 May 1998
GK
Arsenal FC
1
0ᵍᵃ

1265

67th Arsenal player to represent England

2

Alexander-Arnold, Trent

J.

23
39 days
7 October 1998
RWB
/RB
Liverpool FC
16
1
3

Saka, Bukayo A.T.
20
71 days
5 September 2001
LWB
/RM
Arsenal FC
14
3
4

Maguire, J. Harry, off half time
28
255 days
5 March 1993
RD
Manchester United FC
41
7
5
Coady, Conor D.
28
265 days
23 February 1993
CD
Wolverhampton Wanderers FC
8
1
6

Mings, Tyrone

D.

28
247 days
13 March 1993
LD/CD
Aston Villa FC
16
1
7
Phillips, Kalvin M., off half time
25
348 days
2 December 1995
LDM
Leeds United AFC
19
0
8
Bellingham, Jude V.W.
18
139 days
29 June 2003
RDM
/CM/RM
Bsv Borussia 09 Dortmund, Germany
10
0
W 10 - D 0 - L 0

second youngest to ten appearances

9
Kane, Harry E.

, off 62nd min.

28
110 days

28 July 1993

CF/RF

Tottenham Hotspur FC

67

48
¹³



98th-99th penalty-kick scored

(135-136)


the 90th (53rd post-war) hattrick scored
10

Foden, Philip W., off half time
21
171 days
28 May 2000
RF
Manchester City FC
13
2
11

Smith Rowe, Emile, off 73rd min.
21
110 days
28 July 2000
LF/LM
Arsenal FC
2
1
England Substitutes

scoreline:

San Marino 0 England 6
12
Chilwell, Benjamin J., on half time for Maguire
24
329 days
21 December 1996
LB/
LWB
Chelsea FC
17
15
1
2
17

Bakumo-Abraham, K.O. Tamaraebi, on half time for Foden
24
44 days
2 October 1997
LF


AS Roma, Italy


10
2
3



8
73rd min. after VAR judged that he had fouled Lorenzo Lunadei in the area

100th goal by a substitute

1266

18
Gallagher, Conor J., on half time for Phillips
21
282 days
6 February 2000
RCM
/LM
Crystal Palace FC, on loan from Chelsea FC
1
0

fifteenth Palace player to represent England

scoreline:

San Marino 0 England 7
14
James, Reece T., on 62nd min.

(61:59)

for Kane
21
342 days
8 December 1999
CM
Chelsea FC
10
6
0
4

scoreline:

San Marino 0 England 8
16
Stones, John, on 73rd min.

(72:54)

for Smith Rowe
27
171 days
28 May 1994
RD
Manchester City FC
55
49
3
6
result: San Marino 0 England 10
unused substitutes:
13-Sam Johnstone, 15-Kyle Walker, 22-Jordan Pickford.
team notes:
Conor Gallagher is the fiftieth different player to have earned an England debut under Gareth Southgate.
Wayne Rooney was 18 years 117 days when he made his tenth England appearance.
hat-trick records:
Harry Kane's fifth hattrick puts him =2nd in the all time hattricks list & =3rd in the goalscoring charts.
In all his five hattricks, he has been replaced shortly after, making him the most replaced hatrician, it is eleventh overall. It is also the fifteenth time the captain has scored a hattrick.
Harry Kane is the fourth player to score a hat-trick in consecutive appearances, first since Tommy Taylor did so in 1957. The first to score in consecutive appearances since Bill Dean in May 1927.
First player since 1993 to score four goals when Ian Wright scored four against San Marino.
manager records:
Southgate is statistically the best manager after 68 matches in charge.
Only Walter Winterbottom, Sir Alf Ramsey and Bobby Robson have managed England more.
record victory:
This is England's record World Cup victory (beating the 9-2 victory of Ireland in November 1949 and 9-0 vs. Luxembourg in October 1960), and unbeaten in 31 World Cup qualification matches, having not lost since October 2009

(W21 D8)

, and have scored more World Cup goals (41) against San Marino than any other nation. Also the 100th competitive victory at home

(WC52 EC45 NL3)

.
Now unbeaten in twenty matches, best since 15 March 1890-16 March 1896. They have never gone 21 matches without defeat.
This is England's 100th competitive victory at home

(WC52 EC45 NL3)

.
England last scored six goals in the first half against Netherlands in November 1946, and last scored ten goals against United States in May 1964.
records:
England have won all eight matches against San Marino, scoring 52 goals in the process. Only the nine victories out of nine matches against Luxembourg is better.
Now unbeaten in twenty matches, best since 15 March 1890-16 March 1896

(W16 D4).

They have never gone 21 matches without defeat.
England last scored six goals in the first half when they did so against Netherlands in November 1946, and last scored ten goals when they thrashed United States in May 1964.
1
3-4-3
Ramsdale -
Maguire, Coady, Mings -
Alexander-Arnold, Bellingham, Phillips, Saka -
Foden, Kane, Smith Rowe
2
4-4-2


3-4-3 after 73 mins

Ramsdale -
Alexander-Arnold, Coady, Mings, Chilwell -
Saka, Gallagher, Bellingham, Smith Rowe (Stones) -
Abraham, Kane (James).


After 62 mins, James went central midfield, with Bellingham going right, Gallagher left.




After 73 mins, Saka joined Abraham upfront, Alexander-Arnold and Chilwell the wing-backs.

Averages

(Starting XI)

:

Age

24

years 144 days
Appearances/Goals
18.8
5.2
youngest team in 2021-22 so far
Match Report
by Mike Payne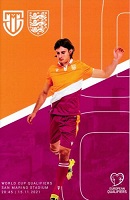 We knew it was going to be important, we knew that it would be an easy game, as Internationals go, but I don't think anyone quite envisaged England scoring TEN goals! What a thrashing for a poor San Marino side, one almost felt sorry for them……almost!

Right from the start there was no messing from the 'up for it' England team and they pushed forward relentlessly. After just four minutes Bukayo Saka skated round a defender but just overhit his cross. England then quickly won a corner and from Phil Foden's kick, in steamed Harry Maguire to crash home a header to start the ball rolling, as he had done against Albania the previous Friday. It was just what the doctor ordered.

The lively Saka's pace was causing the home defence problems and another cross went across goal without anyone attacking the ball. Emile Smith Rowe then saw his header blocked and cleared, and then with 15 minutes gone England made it 2-0. Saka was again the instigator as he cut inside, fired in a cross and Fillipo Fabbri stuck out a foot and deflected the ball into his own net. Fabio Tomassini was then booked for pulling back Foden, one of five bookings San Marino received, more of that later. Jude Bellingham combined with Saka to fire in another shot, but he slipped as he shot and the ball was easily saved. It was noticeable that big divots were appearing and several players were struggling to keep their feet. England were playing the ball around and tiring the San Marino players and on 23 minutes the visitors extended their lead.

Saka's cross was met by a flying scissors kick from Foden, but the ball flew wide. Unfortunately for the home side VAR was called upon because the ball struck the hand of Dante Rossi on the way to it going wide. His hand was high and although he tried to pull his hand away, a penalty and a booking resulted. A little bit harsh to say the least, but Harry Kane was never going to look a gift horse in the mouth, and his spot-kick was emphatic.

What was good about England on this night was their ruthlessness, and a wonderful trademark pass by Foden found Saka, but although the Arsenal man stretched for it, he could not quite get any power behind his effort. That came on the half-hour and two minutes later it was 4-0. Smith Rowe crossed from the left and Kane was there again, to score with his left-foot. His shot was somewhat scuffed, but who cares, it went in! A minute later and San Marino had their first shot on target. Nicola Nanni fired in a good shot and Aaron Ramsdale had to dive full length to turn the ball around the post. The goalkeeper also did well to punch away a good corner that followed.

On 37 minutes a Kane header strikes the hand of Alessandro D'Addario and once again the referee gives England another penalty. The players queued up to take the kick, even I was in the queue, but Harry wasn't having any of that, what, with him on the verge of yet another hat-trick? Up he stepped with a spot-kick even more emphatic than the other one, right in the top corner. Kane was breaking records almost by the minute, and they are all recorded elsewhere on this page.

Before we all had time to draw breath, that man was there again, with his own fourth and England's sixth goal before the half-time whistle sounded. Kane picked up the ball in the area, surrounded by defenders, he jinked, he swayed, and then put the ball into the corner of the net. The look of bewilderment on the San Marino faces said it all. Even then, Saka nearly scored another, as his close range shot flew over the bar, and as the whistle went the home players were not exactly sprinting to the safety of the dressing room, but it seemed like it. An unbelievable half by England.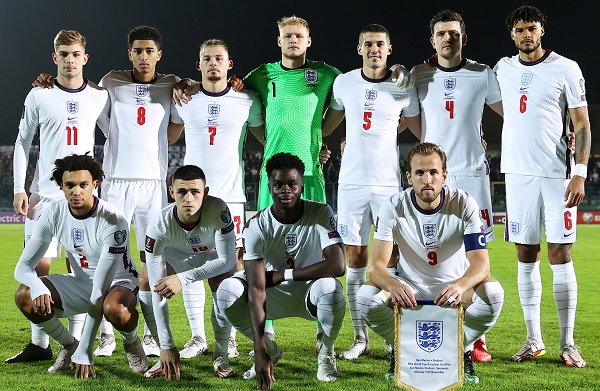 Several substitutes were made by both teams at the restart with England bringing on Ben Chilwell, Tammy Abraham and debutant Conor Gallagher for Kalvin Phillips, Foden and Maguire. Thankfully Kane was still on and he had "five, six, seven, eight" lighting up in his eyes! England were quickly back on to the front foot with Smith Rowe's weak chip saved and then Abraham missing a sitter as Kane put him through clear on goal. His chip went over and he really should have made it seven. But we didn't have to wait long for that number to be reached as a terrific move saw Chilwell's fabulous long pass out to Saka end with a cross into the middle where Abraham's backheeled pass fell into the path of Smith Rowe and he scored a fine first goal for his country.

Gareth Southgate, what are you doing? 62 minutes gone and he is taking off Kane, the same Harry Kane who is just a few goals away from Wayne's record, how dare he!

Meanwhile, Gallagher is enjoying himself as he comes close from a Chilwell pass, and then turns brilliantly away from Rossi, only for the latter to cynically bring him down. It was a costly error for the already booked San Marino player as his second yellow card also brings a red with it. Then, from the free-kick by Trent Alexander-Arnold, Tyrone Mings scores with a header to open his England account. On 71 minutes Gallagher hit the post and then Bellingham scored again, only for VAR to rule it out following an innocuous challenge by Abraham. So, still only 8-0 but that soon changed as Abraham scored another fine goal after a superb Alexander-Arnold pass is controlled and swivelled on by Abraham, firing his shot into the corner.

The England fans were chanting for ten, and a minute later they got their wish as once again an Alexander-Arnold beautiful cross found its mark. There was Saka scoring with a close range header, to complete an excellent night's work from the Arsenal youngster.

The match ended with an Abraham goal ruled out for a foul, several more chances created, but missed, and a referee's whistle that finally put an end to San Marino's misery. England are at the World Cup next year, and it was a job done and finished in some style. It has been a fabulous year for the England team, with an incredible run of results, and who knows, maybe Harry Kane's next hat-trick will win us the final next year? Let's hope so.


Source Notes
TheFA.com
BBC Sport
FSGC
UEFA.com
Mike Payne - football historian and contributor
cg