Rank:

FIFA (18th February 2021) 4th
EFO ranking Group One (3rd)
ELO rating 8th
Colours:
The Nike 2020 away uniform

-

Mega blue and royal blue collared jersey and shorts. Abstract three-lions pattern throughout with challenge red sidestripes. Mega blue socks with a thin challenge red/sport royal blue hoop.
Capt:
Raheem Sterling ¹


2nd, W 1 - D 0 - L 1 - F 6 - A 3


Conor Coady, 46th min
Manager:
Gareth Southgate, 50 (3 September 1970), appointed caretaker manager on 27 September 2016, appointed as permanent manager on 30 November 2016.


50th match, W 30 - D 10 - L 10 - F 105 - A 37

England

Lineup

1
Pope, Nicholas

D.

28
345 days
14 April 1992
G
Burnley FC
5
0ᵍᵃ
2

James, Reece T., off half time
21
107 days
8 December 1999
RB
Chelsea FC
5
0
3

Chilwell, Benjamin J.
24
94 days
21 December 1996
LB
Chelsea FC
13
0
4

Ward-Prowse, James M.E.
26
144 days
1 November 1994
RM
Southampton FC
5
1
5
Stones, John, off half time
26
301 days
28 May 1994
RCD
Manchester City FC
40
2


the 88th player to reach the 40-app milestone

6
Coady, Conor D.
28
28 days
23 February 1993
LCD
Wolverhampton Wanderers FC
4
1
7

Lingard, Jesse E.
28
28 days
15 December 1996
RF
West Ham United FC, on loan from Manchester United FC
25
4
the 44th Hammer to represent England
8
Phillips, Kalvin M.
25
113 days
2 December 1995
CM
Leeds United AFC
5
0
9

Calvert-Lewin, Dominic N., off 63rd min.
24
9 days
16 March 1997
CF
Everton FC
6
4
10

Sterling, Raheem S., off half time
26
107 days
8 December 1994
in Kingston, Jamaica
LF
Manchester City FC
59
14
11

Mount, Mason T., off half time
22
74 days
10 January 1999
LM
Chelsea FC
14
3

England Substitutes

scoreline:

England 3 San Marino 0
15
Mings, Tyrone

D.

, on half time

for Stones
28
12 days
13 March 1993
LD
Aston Villa FC


8
4
0
4
92nd min. after he toppled Nicola Nanni in the Marino half of the centre-circle
17
Trippier, Kieran J., on half time for James
30
187 days
19 September 1990
RB
Club Atlético de Madrid, Spain
26
23
1
3
19

Foden, Philip W., on half time for Sterling
20
301 days
28 May 2000
RF
Manchester City FC
4
2
2
2
23
Bellingham, Jude V.W., on half time for Mount
17
269 days
29 June 2003
LM
Bsv Borussia 09 Dortmund, Germany
2
0
0
2

scoreline:

England 4 San Marino 0

99

21

Watkins, Oliver G.A., on 63rd min. for Calvert-Lewin
25
85 days
30 December 1995

CF

Aston Villa FC
1

1

1259

96th goal scored by an England sub

the 76th Villa player to represent England

result:

England 5 San Marino 0

unused substitutes:

12-Harry Kane, 13-Dean Henderson, 14-Eric Dier, 16-Luke Shaw, 18-Declan Rice, 20-Harry Maguire, 22-Sam Johnstone.

team notes:

This is England's fiftieth match played on a Thursday (W 31 - D 8 - L 11 - F 138 - A 53)

manager notes:

Only Walter Winterbottom and Alf Ramsey have won more matches in their first fifty games (33). Southgate is equal with Roy Hodgson's and Ron Greenwood's record.
Ollie Watkins is the 75th different player used by Southgate and the twentieth BME debutant.
This is Southgate's 22nd match at the National Stadium, equal with Roy Hodgson, one more than Capello.

goalkeeper records:

In the 68th minute, Nick Pope broke the goalkeeping record of how long before conceding their first England goal. The previous record of 318 minutes was set by John Sutcliffe in March 1901.

stadium records:

This is Southgate's 22nd match at the National Stadium, equal with Roy Hodgson, one more than Capello.
England's fiftieth World Cup match at Wembley, both old and new.
Ollie Watkins is the fortieth player to make his England debut at the National Stadium.
This is a record tenth consecutive World Cup victory at the Stadium, starting back in October 2012.

records:

England have won all seven matches against San Marino, scoring 42 goals in the process.
England have scored more World Cup goals (31) against San Marino than any other nation.
England have won the last eig

h

teen home WCP & ECP matches.
4-3-3
Pope -
James (Trippier), Stones, Coady (Mings), Chilwell -
Ward-Prowse, Phillips, Mount (Bellingham) -
Lingard, Calvert-Lewin (Watkins), Sterling (Foden)

Averages (Starting XI):

Age
25 years 230 days
Appearances/Goals

16.5

2.2
Rank:

FIFA (18th Feb 2021)

210th


EFO ranking n/a


ELO rating

209th

Colours:
Made by Macron - White crew-necked jerseys with dar

k

blue collars and

shoulder trim

, white shorts, white socks.
Capt:
Mirko Palazzi
Manager:
Franco Varrella, 68 (25 January 1953 in Italy), appointed 15 January 2018.
23rd match, W 0 - D 2 - L 21 - F - A.
San Marino Lineup
1
Benedettini, Elia
25
276 days
22 June 1995
G
Cesena FC, Italy
24
0
11
Battistini, Manuel
26
246 days
22 July 1994
RB
SS Virtus, on loan from AC Juvenes/Dogana
31
0
5
Brolli, Cristian
29
25 days
28 February 1992
RCD
SS Folgore Falciano Calcio
35
0
6
Rossi, Dante C.
33
256 days
12 July 1987
in Pergamino Partido, Argentina
CD
ASD Chions, Italy
6
0
13
Grandoni, Andrea, off 55th min.
23
2 days
23 March 1997
LCD
SP La Fiorita
20
0
3
Palazzi, Mirko
34
4 days
21 March 1987
in Rimini, Italy
LB
AS San Giovanni Marignanese, Italy
54
1
20
Hirsch, Adolfo J., off 55th min.
35
53 days
31 January 1986
in Pergamino Partido, Argentina
RM
SS Pennarossa
44
0
8
Golinucci, Enrico, off 71st min.
29
252 days
16 July 1991
CM
AC Libertas
24
0
21
Lunadei, Lorenzo, off 79th min.
23
258 days
12 July 1997
LM
FYR Riccione, Italy
18
0
9
Berardi, Filippo, off 79th min.
23
311 days
18 May 1997
RF
US Vibonese Calcio
19
1
19
Nanni, Nicola
20
327 days
2 May 2000
LF
Cesena FC, Italy, on loan from FC Crotone SrL, Italy
16
0
San Marino Substitutes

scoreline:

England 4 San Marino 0
18
Ceccaroli, Luca, on 55th min.

(54:06)

for Grandoni
25
263 days
5 July 1995
M
SP Tre Penne
7
0
22
Mularoni, Marcello, on 55th min.

(54:10)

for Hirsch
22
198 days
8 September 1998
M
SP La Fiorita
16
0
4
Battistini, Michael, on 71st min. (70:03) for Golinucci
24
168 days
8 October 1996
M
SP Tre Penne
8
0
7
Giardi, Mattia, on 79th min.

(78:14)

for Lunadei
29
100 days
15 December 1991
M
SS Folgore Falciano Calcio
13
0
2
D'Addario, Alessandro, on 79th min

. (78:37)

for Berardi
23
197 days
9 September 1997
RB
SP Tre Fiori
8
0

result:

England 5 San Marino 0

unused substitutes:

10-Alex Stimac, 12-Simone Benedettini, 14-Tommaso Zaffareni, 15-Giacomo Conti, 16-Filippo Fabbri, 17-Luca Nanni, 23-Kevin Zonzini.

team notes:

Substitute goalkeeper Simone Benedettini is the son of goalkeeper, Pierluigi, who conceded thirteen goals at the hands of England in the two matches against San Marino in 1993.

records:

San Marino have lost 140 of their 143 qualification matches (WC & EC), drawing the other three.
5-3-2
Benedettini -
Ml.Battistini, Brolli, Rossi, Grandoni (Ceccaroli), Palazzi -
Hirsch (Mularoni), Golinucci (Mc.Battistini), Lunadei (Giardi) -
Berardi (D'Addario), Nanni

Averages (Starting XI):

Age

27

years 318 days
Appearances/Goals

26.5

0.2
When England play against the minnows of World football, the task ahead is in not treating the opposition too lightly and taking the expected win too much for granted. Thankfully, that was not the case with this latest visit of San Marino to our shores as England's attitude and desire was first rate, and they deservedly earned their reward.

The match opened quietly with the visitors dashing here, there and everywhere with gusto. England, meanwhile, kept possession well and made their opponents run and run as the play attacked San Marino from all angles. Mason Mount was prominent with his excellent probing and running off the ball, whilst captain Raheem Sterling was a real livewire in the penalty area. After six minutes England fashioned their first real chance. Reece James whipped in a great cross, one of several he made, but unfortunately Dominic Calvert-Lewin couldn't adjust his feet and the ball missed his right foot and hit the other of his tangled legs. He should have scored, but no matter.

The returning, rejuvenated, Jesse Lingard was next to send in a dangerous cross, but this time it was Sterling who missed, heading wide. After ten minutes, as the pressure grew on the overworked San Marino men, Mount again teed up Sterling, but the Manchester City winger once more missed the target, shooting wide.

Elia Benedettini was already a very busy goalkeeper for the visitors and he made the first of many fine saves when he pushed a Lingard shot away for a corner. Then, soon afterwards, it was John Stones turn, missing a sitter by shooting over from close range. By now it really was one-way traffic.

The inevitable breakthrough finally arrived in the 14th minute. Ben Chilwell made a fine run down the left, interchanging passes, before his pull-back from the bye-line was swept home from ten yards in confident manner by the impressive James Ward-Prowse. It was double delight for the Southampton man as it was his first goal for England.

Three minutes later, Sterling and Mount combined well before Sterling's cross was cut out by desperate defending. England were totally dominant in their possession of the ball, and with Mount, Ward-Prowse and Kalvin Phillips playing very well, the chances kept coming. On 18 minutes Sterling broke down the left, cut inside, only to hit the side-netting as he aimed his shot for the near post. A minute later and 'forgotten man' Nick Pope, in the England goal, had to collect a weak right-wing cross. I think that was his first touch, or maybe second?

England were quickly back at the other end, however, and on 21 minutes they scored a second goal. James again broke down the right and sent over a terrific cross, which was headed home by Calvert-Lewin. It was perfect for the big man and he took his chance with glee. It was obvious at this point that it was going to be a long night for the San Marino defenders.

Two minutes after the goal, a fabulous shot by Chilwell was destined for the top corner until Benedettini pulled off a marvellous flying save to tip the ball over the bar. The goalie would have enjoyed that one and probably hoped the cameras picked it up okay! Another two minutes elapsed and Calvert-Lewin's back-header beat the keeper but just looped wide of the far post. England's play was very impressive at times and the pressure was unrelenting on San Marino. To be fair, the visitors worked their socks off, they had to, but the quality they needed to stem the tide just wasn't there.

We were still only 26 minutes into the match when Mount fired in a shot which the keeper saved with his feet, and then immediately after that, Sterling shot wide from a good position. The third goal came right on the half-hour mark. Sterling curled a shot around the wrong side of a post, but from the goalkick, a poor clearance by a defender was intercepted and the ball was passed to Sterling. This time he cut inside and his final shot took a slight deflection as it flew past Benedettini. Two minutes later and Chilwell combined with Mount to give Lingard another chance. He headed the ball back across goal but it was put wide by the stretching Calvert-Lewin.

Sometimes in these games it can be so easy for England that their play tends to slacken off somewhat, but here, the intensity increased if anything, forcing San Marino to continually defend. Another break by the impressive Mount set up Lingard for yet another shot at goal, but this time it went wide. Lingard then shot wide again shortly afterwards and on another day the West Ham loanee would have had a hat-trick.

That last chance had stemmed from a very rare San Marino attack that gave them a corner. This was quickly cleared and with three minutes of the half left, Sterling teed up Lingard, but Benedettini was equal to the task again with a fine save. Sterling missed again after a mazy dribble, shooting wide, and if all the chances of the first-half had been taken England could have declared as the whistle blew. It was difficult to believe it was just 3-0, and even more difficult to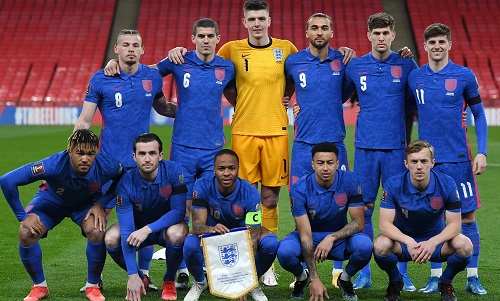 understand how Lingard hadn't scored.

England made four substitutions at the restart, with Jude Bellingham, the 17-year-old making a debut, Phil Foden, Kieran Trippier and Tyrone Mings coming on for Mount, Sterling, James and Stones. Three minutes into the half, there was a hold-up as Mings accidentally hit Conor Coady in the face as the pair went up for a cross. Nice to know who your friends are!! Coady soon recovered and on 53 minutes England increased their lead.

A superb pass from Chilwell to Lingard, sent the forward scampering to the bye-line. When he crossed to the middle there was Calvert-Lewin with the simplest of tap-ins.

The half sort of faded a little as the substitutes found their way into the game, and England's intensity dropped a little, understandable with the job done. That didn't mean that chances were not forthcoming, far from it. A quickly taken free-kick gave Lingard another go, but his shot was saved, Foden saw his shot also saved at the near post, whilst England passes went back and sideways a little more in this half.

Just after the hour Calvert-Lewin's two goal night was over as Gareth Southgate brought on Ollie Watkins for his debut. And England again upped the tempo. Lingard, who else, had another shot saved, and Bellingham also saw a good effort saved by the goalkeeper. Dante Rossi, an impressive no-nonsense defender, blocked another England effort, before Bellingham was fouled on the edge of the penalty area. It didn't look as though it was in Ward-Prowse's range, but he proved everyone wrong with a corker of a free-kick, again destined for the top corner, until the spring-heeled goalkeeper leapt across to make a wonderful tip-over save.

Bellingham was really growing into the game now, and twice more he almost marked his debut with a goal. One of his chances was a spectacular scissors-kick that flew over. Then after 83 minutes came a moment a young man from Devon will remember for the rest of his life. Watkins gained possession just inside the box, and calmly and precisely planted the ball into the far corner of the net with a crisp right-foot shot. The joy on his face, and the excitement from his teammates congratulations, said it all. What a moment. And his lovely after match interview showed what a smashing lad he is and what the moment meant to him.

A fine all-round performance to open our World Cup qualifying campaign, but tempered by the poor quality of the beleaguered San Marino team. There will be tougher days ahead, but at least we have made a positive and impressive start.