"ENGLAND COULD NEVER BE LUCKIER"
Daily Mirror
Officials

England
FIFA ruling on substitutes
Rest of the World

Referee

(black)


Benjamin Mervyn Giffiths
42 (17 January 1909), Abertillery, Monmouthshire, Wales
The FIFA ruling of allowing a substitute to replace an injured player prior to the 44th minute, and a goalkeeper at any time, is in place.

Teams presented to Guest of Honour, Field Marshal Viscount Montgomery.

Also guests of the Football Association are the Australian cricket team, who arrived in England on 13 April, for their tour and Ashes series.

flame flag

Linesmen

orange flag

Henricus Ludovicus Augustus Bauwens


43 (2 June 1910), Ghent, Belgium

Vincenzo Angelo Giovanni Orlandini


43 (30 August 1910) Roma, Italy

England Team
Rank:

No official ranking system established;
ELO record no rating
Colours:
The 1949 home uniform - White collared jerseys, blue shorts, red socks.


34th, W 19 - D 9 - L 6 - F 91 - A 49.

⁴³
Capt:
Billy Wright³
38th W 23 - D 8 - L 7 - F 98 - A 51.⁹⁰
Manager:
Walter Winterbottom, 40 (31 March 1913), appointed as FA national director of coaching/

team

manager on 8 July 1946;


56th match, W 36 - D 12 - L 8 - F 168 - A 70

, inc. one abandoned.

¹³⁹

Trainer: Jimmy Trotter (Charlton Athletic FC)

Team chosen by Selection Committee headed by Harold Shentall on Wednesday, 14 October.

England Lineup
four changes to the previous match (Garrett, Johnston, Finney, Wilshaw out)

league position

(14 October)

Merrick, Gilbert H.
31
268 days

26 January 1922

G
Birmingham City FC

(FL2 6th)

15

20ᵍᵃ

3rd keeper to face three penalty kicks

2
Ramsey, Alfred E.
33
272 days
22 January 1920
RB
Tottenham Hotspur FC

(FL 10th)

31
2


²

15th successful penalty kick

(26th overall)

oldest to take & score a penalty

16 July 1925
3
Eckersley, William
28
97 days
LB
Blackburn Rovers FC

(FL2 12th)

15
0
4
Wright, William A.
29
257 days
6 February 1924
RHB
Wolverhampton Wanderers FC

(FL 2nd)

53
3
most apps 1952-53
723
5
Ufton, Derek G.
25
143 days
31 May 1928
CHB
Charlton Athletic FC

(FL 3rd)

1
0
the sixth Athletic player to represent England
only app 1953
6
Dickinson, James

W.

28
180 days
24 April 1925
LHB
Portsmouth FC

(FL 18th)

30
0

seventh, and quickest so far to the 30-app milestone

7
Matthews, Stanley
38
262 days
1 February 1915
OR
Blackpool FC

(FL 9th)

34
9
8

Mortensen, Stanley H.
32
148 days
26 May 1921
IR
Blackpool FC

(FL 9th)

24
22
9

Lofthouse, Nathaniel
28
49 days
27 August 1925
CF
Bolton Wanderers FC

(FL 6th)

18
19

10

Quixall, Albert
20
67 days
9 August 1933
IL
Sheffield Wednesday FC

(FL 11th)

2
0
11

Mullen, James
30
288 days
6 January 1923
OL
Wolverhampton Wanderers FC

(FL 2nd)

8
4
unused substitutes:
Ted Ditchburn (Tottenham Hotspur FC

(FL 10th)

), Ray Barlow and Ronnie Allen (both West Bromwich Albion FC

(FL TOP)

)
team notes:
Derek Ufton becomes the first England player to appear against a representative side only, also, he becomes Winterbottom's 100th player chosen to his parties (72nd to make it to the field).
penalty notes:
Alf Ramsey becomes the third player to score from the penalty spot twice, and the most experienced, in terms of appearances, penalty-kick scorer.
records:
This is a record sixth match unbeaten at Wembley by England. It is the third time England have recorded three draws in a single calendar year (1923 & 1951 the other years).
The team trained on Chelsea FC's Stamford Bridge ground before the match.
2-3-5
Merrick -
Ramsey, Eckersley -
WWright, Ufton, Dickinson -
Matthews, Morthensen, Lofthouse, Quixall, Mullen

Averages:

Age
29 years 288 days
Appearances/Goals

21.0

5.0

most-experienced post-war side so far.

Rest of the World Team
Not regarded as an official FIFA match.
Colours:
Light blue buttoned-up collared jerseys, white shorts, blue socks with blue and white vertical striped tops.
Capt:
Ernst Ocwirk

Selecto

r:
Party chosen by FIFA Selection Committee headed by Karel Johannes Julianus Lotsij, 60 (Netherlands, 3 March 1893) on Thursday, 1 October 1953 in Amsterdam, following a trial match against FC Barcelona. Team chosen Tuesday, 20 October.
Trainer: Walter Nausch
Masseur: Walter Max
Rest of the World Lineup
1
Zeman, Walter, tactical off 46th min.
26
173 days
1 May 1927
in Vienna
G
Sk Rapid

, Austria

also has 38 appearances for Austria
2
Navarro Perona, Joaquín
33
80 days
2 August 1921
in Barcelona
RB
Real Madrid CF

, Spain

also has five appearances for Spain
3
Hanappi, Gerhard
24
247 days
16 February 1929
in Vienna
LB
Sk Rapid

, Austria

also has 34 appearances, and three goals, for Austria
4
Čajkovski, Zlatko
29
331 days
24 November 1923
in Zagreb
RHB
Fk Partizan

, Yugoslavia

also has fifty appearances, and seven goals, for Yugoslavia
5
Posipal, Joséf
26
123 days
20 June 1927
in Lugoj
CHB
Hamburger SV eV

, Germany

also has fourteen appearances, and one goal, for Germany
6
Ocwirk, Ernst
27
228 days
7 March 1926
in Vienna
LHB
Fk Austria Wien

, Austria

also has 42 appearances, and three goals, for Austria
7

Boniperti, Giampiero
25
109 days
4 July 1928
in Lugoj
OR
Juventus FC

, Italy

also has twenty appearances, and two goals, for Italy
8
Kubala Stecz, László
26
133 days
10 June 1927
in Buda-pest
IR
FC Barcelona

, Spain

13th penalty against scored

(23rd overall)

also has six appearances and four goals for Czechoslovakia, three apps for Hungary, and three apps and one goal for Spain
9

Nordahl, Nils Gunnar
32
2 days
19 October 1921
in Hörnefors
CF
AC Milan

, Italy

also has 33 appearances, and 43 goals, for Sweden

10

Vukas, Bernard
26
173 days
1 May 1927
in Zagreb
IL
HNK Hajduk Split SDD

, Yugoslavia

also has 32 appearances, and fifteen goals, for Yugoslavia
11

Zebec, Branislav
24
158 days
17 May 1929
in Zagreb
OL
Fk Partizan, Yugoslavia
also has nineteen appearances, and eleven goals, for Yugoslavia
Rest of the World Substitute

scoreline:

Rest of the World 2 England 3
Beara, Vladimir, on 46th min. for Zeman
24
353 days
2 November 1928
in Zelovo
G
HNK Hajduk Split SDD

, Yugoslavia

also has 23 appearances for Yugoslavia

result:

Rest of the World 4 England 4
unused substitutes:
Ernst Happel (Sk Rapid), Karl Stotz (Fk Austria Wien),

Andrés Bosch

and Estanislau Basora (both FC Barcelona)
team notes:
Alfredo de Stefano, originally named to the Party, was not permitted to play because of a dispute between the Spanish FA and Colombian FA over the players' transfer.
the substitution:
"Just before halftime, the team tried to bring on Beara as substitute goalkeeper for Zeman. Mr. Griffiths forbade the change and was embroiled in an argument with players and coach Walter Nausch. 'A substitute is permitted only for injury, and from the way Zeman was dancing about, I did not think he could be seriously hurt,' said Mr. Griffiths. 'During the interval a doctor reported that Zeman had a swollen ankle and could not continue.'"
the penalty against:
"It was not a penalty. Mortensen jumped at me and fell over." - Jupp Posipal
The Rest of the World team had the use of Fulham FC's Craven Cottage ground to train on.
2-3-5
Zeman (Beara) -
Navarro, Hanappi -
Čajkovski, Posipal, Ocwirk -
Boniperti, Kubala, Nordahl, Vukas, Zebec.

Averages:

(starting)




(finishing)

Age

27

years 162 days


27

years 112 days
Match Report

by Mike Payne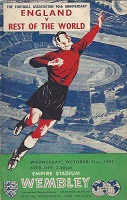 This superb match was arranged to celebrate the 90th anniversary of the Football Association and although the Rest of Europe side was somewhat of a makeshift eleven, the two teams produced a suitably memorable occasion. In fact the visitors almost ended England's proud record of never losing to a continental side on home soil. It was magnificent entertainment and the 97,000 crowd thrilled to the superior skills of the Europe team.

They were also thrilled by the never-say-die spirit of the England lads. Three times they came back from being behind and it all culminated in one of the most exciting climaxes that this famous old stadium had ever seen.

From the start it was obvious that England were going to struggle. The silky skills of Kubala, Vukas and Zebec constantly exposed the home defenders. Alf Ramsey and Bill Eckersley looked particularly vulnerable and the FIFA team should have done more with their superiority. The different styles quickly gelled and the Europeans pushed the ball around in short sharp bursts, creating many openings and spreading panic through the England ranks.

England got off to a dreadful start by conceding a first-minute penalty. Hanappi sent a lovely through pass for Vukas who was clear of the defence. Eckersley, chased back but his despairing tackle succeeded only in giving Kubala the chance to score from the resultant spot-kick.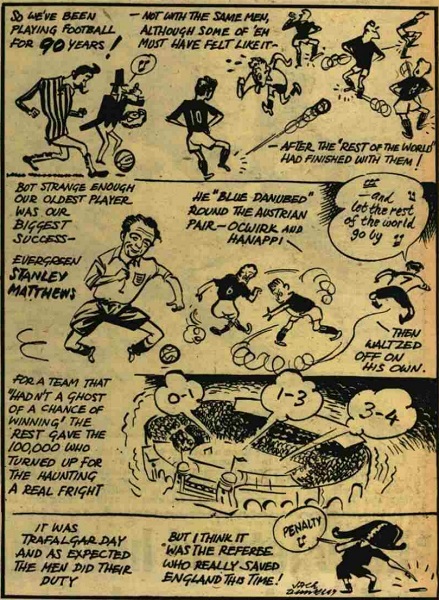 Three minutes later England hit back. Playing their usual long ball game they put together a fine move as a lovely reverse pass by Nat Lofthouse sent Stan Mortensen galloping clear through the middle. The Blackpool star moved forward confidently before hitting a great cross shot wide of Zeman to equalise. Although that goal levelled the scores, the Rest of Europe side were putting some tremendous play together and on 15 minutes deservedly regained the lead.

This time superb play between Ockwirk and Nordahl gave Zebec the chance to get past Ramsey and then centre for Boniperti to cut inside and crash home number two. The same player then repeated his strike in the 39th minute cutting in past Eckersley to fire home after another good pass from Vukas.

England, 3-1 down and fighting for their lives, were then given a gift two minutes before half-time. A terrible mix-up between Navarro and Zeman gave Jimmy Mullen the chance to pull a goal back. Zeman had struggled against the England crosses and was once saved by his crossbar after a Stan Matthews centre had beaten him.

After the break the goalkeeper was replaced by Beara of Yugoslavia, much to the annoyance of the England players. Matthews had been England's star of the half and although Hanappi contributed much to the visitor's attack, defensively he never lived with the Blackpool star.

The undoubted fighting spirit of the England players shone through brightly early in the second half when they forced another equaliser. A splendid dribble and centre by the irrepressible Matthews found Mullen running in at the far post to shoot home. Mortensen then hit a post as play swung from end to end and the Rest of Europe missed several good chances before both Mortensen and Lofthouse inexplicably missed with headers. The match was on a knife edge.

With 25 minutes to go Zebec popped up on the right wing. His centre was met by a tremendous Kubala left-foot shot which flew into the top corner with Gil Merrick groping helplessly. It looked all over with only Matthews and occasionally Mortensen looking likely to pull the game out of the fire. Only a desperate dive by Merrick prevented Kubala adding another goal with the 'keeper just managing to get a touch on to the post after a fierce cross shot.

But then, just as it seemed that the record had gone, England summoned up one last determined effort. With only seconds remaining, a burst by Mortensen was ended by Cajkovski's clumsy challenge and the referee awarded a penalty. Imagine what must have been going through Ramsey's mind as he stepped up to take the kick. He showed no nerves though and he confidently crashed the ball into the net to end a tremendous afternoon's football.

Match Report

by Norman Giller
An Alf Ramsey penalty in the last minute gave England a draw in a showpiece match to mark the Football Association's 90th birthday. England trailed three times against the European all-stars in a Wednesday afternoon match that provided a feast of football for the 97,000 spectators. Some forty-six years later FIFA saw fit to downgrade the game to non-international status, but the Football Association awarded Billy Wright a cap and it stays in English records as a full international. That is good news for talented Charlton defender Derek Ufton, a solid batsman and understudy at Kent to wicket-keeper Godfrey Evans, who won his only cap in the game. England took the game very seriously because there was a lot of pride and prestige at stake. Considering they had only been together for a couple of days, the Rest of Europe side played some magnificent football. The pick of the players was Ladislav Kubala, who had been the first of the outstanding Hungarians to switch his football allegiance to Spain. Ask anybody from Barcelona or Budapest and they will tell you that he was in the class of Puskas. He had wonderful ball control and the ability to make space for himself with clever changes of pace. A naturally gifted genius, Kubala left Hungary just before the rise of their greatest of all teams. Just imagine how good they would have been had he still been available for selection! Kubala AND Puskas to mark. The mind boggles!

Match Report

by Glen Isherwood
England were still unbeaten at home against continental opposition. They had met a Europe side only once before, beating them 3-0 at Highbury in 1938 on the FA's 75th anniversary.
The FIFA select took the lead when Hanappi sent Vukas away down the middle. Eckersley brought him down and Ladislao Kubala scored from the spot. Within three minutes, though, England had equalised. Stan Mortensen took a pass from Lofthouse and ran on to shoot low past Zeman.
But they went behind again when a cross from Zebec was slammed in by Gianpiero Boniperti. Six minutes before half-time Boniperti scored again from a pass by Vukas to leave England's proud record in grave danger. But just four minutes later, a mix-up between Zeman and Navarro gave Jimmy Mullen an open goal from which to reduce the arrears. FIFA swapped goalkeepers at half-time but the new man Beara could do little about England's second equaliser. From a Matthews cross Mullen scored his second off the post. With 25 minutes remaining FIFA took the lead for the third time. Zebec crossed and Kubala struck a great shot into the corner. England seemed to have met their match but with seconds remaining Cajkovski brought down Mortensen and Alf Ramsey rescued England at the death from a penalty.
England's record was to finally fall in their very next appearance.

Match Report
as appears in the F.A. Yearbook 1954-55, page 27
Although the team assembled by F.I.F.A. for the match to celebrate the F.A's ninetieth anniversary was given the grandiose title of 'Rest of the World', its members in fact all hailed from Western Europe. They came from Austria, Spain, Yugoslavia, Germany, Italy and Sweden, and never previously played together as a team, yet they quickly knit themselves together to give a display of individual brilliance combined with superb teamwork.
The game provided a fascinating contrast in styles, England fighting back doggedly against the swift, artistic F.I.F.A. attacks backed by a purposeful half-back line.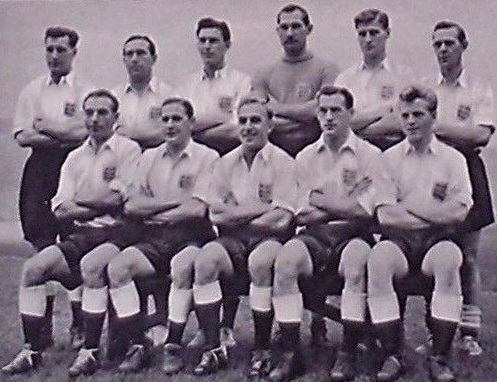 The English defence at times seemed mesmerised by the lightning footwork and close passing of the Continentals; in the fifth minute a desperate tackle brought Vukas down and the penalty that followed was converted by Kubala to make the initial score. It should not be thought that the English forwards never had their moments, and indeed three minutes later Mortensen was rushing through the middle to score the equaliser with a low cross-shot. There followed two dazzling moves by F.I.F.A, both of which ended with Boniperti scoring unstoppable shots. With the score already 3-1 things looked bad for England, but shortly before half-time a misunderstanding between goalkeeper Zeman and full-back Navarro offered Mullen an open net which he was not slow to take advantage of.
With Beara substituted for Zeman in goal the second half scoring opened with a swift shot by Mullen off the far post following a dribble and centre by Matthews. With the scores level there were several missed chances at both ends and then F.I.F.A. again took the lead when Zebec sent the ball across the English defence and Kubala sent a powerful shot into the top corner of the net. In the dying minutes the game seemed lost, when Mortensen, hurling himself at the ball, collided with Cajkovski and the referee awarded a penalty. Ramsey's careful shot kept England's unbeaten home record untarnished for a few weeks longer.

Source Notes
TheFA.com
Original newspaper reports
Official matchday programme
The Complete Book of the British Charts

Rothman's Yearbooks


Mike Payne's England: The Complete Post-War Record


Norman Giller, Football Author


Glen Isherwood's Wembley: The Complete Record
British Pathé
cg