"ENGLAND IN THE FINALS—BUT WHAT A HOPE!"
Daily Mirror
Officials

from Wales

England
UK ruling on substitutes
Ireland

Referee

(black)


Robert Edward Smith
36 (23 June 1917), Newport

yellow flag

Linesmen

red flag

L. Higgins


Gwersyllt

T. Williams


Dyserth

England Team
Rank:

No official ranking system established;
ELO rating 3rd
Colours:
The 1949 home uniform - White collared jerseys, blue shorts, red socks.


35th, W 20 - D 9 - L 6 - F 94 - A 50.

⁴³
Capt:
Billy Wright³
39th W 24 - D 8 - L 7 - F 101 - A 52.⁹⁰
Manager:
Walter Winterbottom, 40 (31 March 1913), appointed as FA national director of coaching/team manager on 8 July 1946;


57th match, W 37 - D 12 - L 8 - F 171 - A 71

,

inc. one abandoned.

¹³⁹

Team chosen by Selection Committee headed by Harold Shentall on Monday, 2 November.

England Lineup
three changes to the previous match (Rickaby, Johnston & Hassall>Ramsey, Ufton & Mortensen)

league position

(2 November)

Merrick, Gilbert H.

31


289 days
26 January 1922
G
Birmingham City FC

(FL2 6th)

16
21ᵍᵃ
¹

the tenth own goal conceded by England

724
2
Rickaby, Stanley
29
244 days
12 March 1924
RB
West Bromwich Albion FC

(FL TOP)

1
0
the 28th Albion player to represent England
only app 1953
3
Eckersley, William
28
118 days
16 July 1925
LB
Blackburn Rovers FC

(FL2 9th)

16
0
4

Wright, William A.
29
278 days
6 February 1924
RHB
Wolverhampton Wanderers FC

(FL 2nd)

54
3
most apps 1952-53
5
Johnston, Harry
34
46 days
26 September 1919
CHB
Blackpool FC

(FL 8th)

9
0
6
Dickinson, James

W.

28
201 days
24 April 1925
LHB
Portsmouth FC

(FL 15th)

31
0
7
Matthews, Stanley
38
283 days
1 February 1915
OR
Blackpool FC

(FL 8th)

35
9
8
Quixall, Albert
20
88 days
9 August 1933
IR
Sheffield Wednesday FC

(FL 9th)

3
0
9

Lofthouse, Nathaniel, injured off 75th min.
28
70 days
27 August 1925
CF
Bolton Wanderers FC

(FL 5th)

19
20
the sixth & quickest player to reach the 20-goal milestone (2yrs 354dys)
10

Hassall, Harold W.
24
252 days
4 March 1929
IL
Bolton Wanderers FC

(FL 5th)

5
4
the nineteenth Wanderer to represent England
final app 1951-53
11

Mullen, James
30
309 days

6 January 1923

OL
Wolverhampton Wanderers FC

(FL 2nd)

9
4
reserve:
Len Quested (Huddersfield Town AFC

(FL 3rd)

)
team notes:
Nat Lofthouse collided with Ireland's Billy Dickson as he scored the final goal. A cut over his right eye resulted in two stitches!
Further treatment was necessary the following day, with the wound being reopened and a further six stitches inserted. He returned to football a fortnight later.
records:
This is England's record-equaling ninth match of 1953, including the abandoned match.
The England team were set up in Southport, training at the Haig Avenue ground.
2-3-5
Merrick -
Rickaby, Eckersley -
Wright, Johnston, Dickinson -
Matthews, Quixall, Lofthouse, Hassall, Mullen.

Averages:

Age
29 years 202 days
Appearances/Goals

18.0

3.4

Ireland Team
Rank:

No official ranking system established;
ELO rating 53rd
Colours:
Green jerseys with white collars, white shorts, blue socks with white tops.
Capt:
Alf McMichael
Manager:
Peter Dermot Doherty, 40 (5 June 1913), appointed October 1951, also manager at Doncaster Rovers FC since June 1949.


ninth match, W 0 - D - 2 - L 7 - F 8 - A 26.




Team chosen on Monday, 2 November 1953.

Ireland Lineup
Smyth, William T., injured off 76th min
27/28
1925
G
Distillery FC
4

15ᵍᵃ

final app 1948-53
2
Graham, W.G. Leonard
28
25 days
17 October 1925
RB
Doncaster Rovers FC

, England

8
0
3
McMichael, Alfred
26
41 days
1 October 1927
LB
Newcastle United FC

, England

14
0
4
Blanchflower, R. Dennis
27
274 days
10 February 1926
RHB
/CHB
Aston Villa FC

, England

12
0
5
Dickson, William
30
241 days
15 March 1923
CHB
/

GK

Arsenal FC

, England

10
0
6
Cush, Wilbur
25
154 days
10 June 1928
LHB
Glenavon FC
4
0
7
Bingham, William L.
22
98 days
5 August 1931
OR
Sunderland AFC

, England

10
0
8
McIlroy, James
22
17 days
25 October 1931
IR
Burnley FC, England
8
0

9

Simpson, William J.
23
334 days
12 December 1929
CF
Rangers FC

, Scotland

4
2
10

McMorran, Edward

J.

30
70 days
2 September 1923
IL
Doncaster Rovers FC, England
12
4
11
Lockhart, Norman

H.

29
252 days
4 March 1924
OL
Aston Villa FC

, England

6
3
reserve:
Jim McCabe (Leeds United AFC)
team notes:
Charlie Tully (The Celtic) was the original named outside-left He tore his leg ligaments, and carried off after 35 minutes in his team's League match against Hibernians, his place going to Lockhart on Monday, 9 November.
Billy Smyth, in diving at the feet of Jimmy Mullen, broke his nose, he was replaced in goal after 76 minutes by Billy Dickson.
The Ireland team were also set-up in Southport prior to the match.
Manager Peter Doherty played for Ireland against England on seven separate occasions from 1935 until 1947, scoring one in 1947.
2-3-5
Smyth (Dickson) -
Graham, McMichael -
Blanchflower, Dickson (Blanchflower), Cush -
Bingham, McIlroy, Simpson, McMorran, Lockhart.


notes: following the Smyth injury, Dickson took over in goal and Blanchflower went to the centre.

Averages

:

Age
27 years 225 days

¹⁰

Appearances/Goals

8.4

0.7
Match Report

by Mike Payne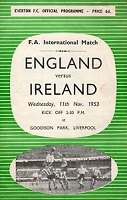 By winning this match England duly qualified for the World Cup finals to be held in June of the following year in Switzerland, but their performance on the day would not send too many fears to the other competing nations.

It was a poor game with the Irish showing up better than England for long spells. With their wing-halves, Blanchflower and Cush, dominating the midfield battle, they should have capitalised on their superiority. As it was, they were given a lesson in finishing.

Even a gift goal for England after only 30 seconds could not inspire the home side. A cross shot by Harold Hassall seemed easy for Smyth but the goalkeeper unaccountably allowed the ball to squirm under his body and into the net. Having been given a terrific start, it was disappointing to see England fail to build on it. Their team was non-existent and there was no cohesion in their performance. Not so Northern Ireland!

With Blanchflower outstanding and McIlroy, Cush and Bingham working tirelessly, they came back strongly. Alas, their finishing was poor although credit must go to the excellent defensive play of Harry Johnston, Jimmy Dickinson and Gil Merrick. At the other end, Smyth made up for his earlier blunder by pulling off a thrilling point-blank save from Hassall. But that was an isolated raid by England and they were somewhat fortunate to see their lead still intact at the half-time whistle.

Nine minutes after the interval, though, Northern Ireland deservedly equalised. Bingham sent over a right-wing cross and McMorran headed past Merrick. The goalkeeper was a little unlucky as the ball rebounded off his body and into the net but it was no more than the Irish deserved.

From that moment, England had to turn to the one saving grace of their day. Once again it was the incomparable Stanley Matthews who shone like a beacon on the dull afternoon's proceedings. His footwork was superb and he wandered into the middle to test all the Irish defenders.

It was Matthews who began the move on the hour that gave England the lead again. A lovely piece of trickery ended with a pass to Billy Wright. The captain moved down the right wing before crossing for Hassall to lead a fine goal from 15 yards into the top corner.

A quarter of an hour later England made the game safe with a third goal. This time Jimmy Mullen was the provider as his long centre was crashed into the net by the head of Nat Lofthouse. After the goal, both Lofthouse and Smyth left the field injured. Lofthouse, already limping, had hurt his head and Smyth left the action with a broken nose.

Dickson took over in goal for the Irish but was not seriously troubled in the remaining minutes. It was a case for Ireland to reflect on their missed chances on the first half especially, whilst for England only Matthews, Johnston, Dickinson and Merrick could be satisfied with their display.

Match Report

by Norman Giller
Harold Hassall, playing alongside his Bolton team-mate Nat Lofthouse, scored the first of his two goals in just thirty seconds to mark his international recall after two years. It was Hassall's fifth and last cap. Eddie McMorran equalised for the Irish nine minutes after half-time, and they were the superior side for long periods. Stanley Matthews turned the game England's way with a typical mazy run on the hour before passing to Billy Wright, who set up a simple second goal for Hassall. It was Nat Lofthouse who wrapped up victory for England fifteen minutes later when he headed in a Jimmy Mullen cross, colliding with goalkeeper Smyth as he powered the ball into the net. Lofthouse limped off and Smyth was carried off with a broken nose. West Bromwich right-back Stan Rickaby played in his one and only England match in place of the injured Alf Ramsey.

Match Report
as appears in the F.A. Yearbook 1954-55, pages 27-28
Once again a winning score disguised an unimpressive showing by the England team. Though often individually skilful the forwards failed to achieve any substantial degree of combination. The defence too was hard pressed by a virile and speedy Irish side which though effective in midfield failed to take their chances near goal.
England started with the advantage of a lucky goal in the first half minute: Hassall sent in a fairly gentle shot from an acute angle with Smyth for some reason failed to collect. This lead seemed to inspire the Irish rather than the English, and the former nearly got an equaliser. This did not come until 9 minutes after the interval when McMorran headed home a centre from Bingham. Five minutes later Hassall headed another for England off a centre by Wright and in the 77th minute he was followed by Lofthouse who headed England's third. In doing so, Lofthouse cut his head and had to leave the field; shortly afterwards Smyth, too, was carried off with a broken nose and a disappointing match petered out with each side a man short and without further score.

Source Notes
TheFA.com
Original newspaper reports
Official matchday programme
The Complete Book of the British Charts


Northern Ireland's Footballing Greats

Rothman's Yearbooks


Mike Payne's England: The Complete Post-War Record
Norman Giller, Football Author
John Treleven
British Pathé
cg