"ENGLAND CAN NEVER BE SO BAD AGAIN"
Daily Mirror
Officials

from Scotand

Ireland
UK ruling on substitutes
England

Referee

(black)


Douglas Gerrard
39 (10 March 1913),

Aberdeen

Linesmen
Arthur Crossan


Edinburgh

James S. McIntosh


Ardrossan

Ireland Team
Rank:

No official ranking system established;
ELO rating 51st to 48th
Colours:
Green jerseys with white collars, white shorts, blue socks with green tops.
Capt:

Alf McMichael

Manager:
Peter Dermot Doherty, 39 (5 June 1913), appointed October 1951, also player-manager at Doncaster Rovers FC since June 1949.


fourth match, W 0 - D - 1 - L 3 - F 2 - A 10.




Team chosen on Tuesday, 23 September 1952.

Attendance: G. Morgan (Linfield FAC)
Ireland Lineup
Uprichard, W. Norman M.
24
167 days
20 April 1928
G
Swindon Town FC

, England

4

10ᵍᵃ

2
Cunningham, William E.
22
227 days
20 February 1930
RB
St Mirren FC, Scotland
2
0
3
McMichael, Alfred
25
3 days
1 October 1927
LB
Newcastle United FC

, England

9
0
4

Blanchflower, R. Dennis
26
237 days
10 February 1926
RHB
Aston Villa FC, England
7
0
5
Dickson, William
29
203 days
15 March 1923
CHB
Chelsea FC, England
6
0
6
McCourt, Francis J.
26
300 days
9 December 1925
LHB
Manchester City FC

, England

3
0
7
Bingham, William L.
21
60 days
5 August 1931
OR
Sunderland AFC

, England

5
0
8
D'Arcy, Seamus D.
30
295 days
14 December 1921
IR
Chelsea FC, England
2
0
9
McMorran, Edward J., injured off first half, returned second half
29
32days
2 September 1923
CF
Barnsley FC, England
8
1

10

McIlroy, James
20
345 days
25 October 1931
IL

/CF

Burnley FC, England
4
0
11

Tully, Charles P.
28
85 days
11 July 1924
OL
The Celtic FC, Scotland
4
2
reserve:
Billy Neill (Glentoran FC)
team notes:
Eddie McMorran was off the field for twenty minutes when Ireland took the lead. He had eight stitches for a head wound following a 'violent collision' with Jimmy Dickinson. Norman Uprichard was also debilitated by a shoulder injury suffered in the first half.
Tully's two goals were the first goals scored under the Doherty era.
Manager Peter Doherty played for Ireland against England on seven separate occasions from 1935 until 1947, scoring one in 1947.
The Ireland team were set up in Bangor using the Ards ground to train on.
2-3-5
Uprichard -
Cunningham, McMichael -
Blanchflower, Dickson, McCourt -
Bingham, D'Arcy, McMorran, McIlroy, Tully


notes: Jimmy McIllroy played in the centre whilst McMorran was receiving attention for his injury

Averages:

Age
25 years 345 days
Appearances/Goals

4.9

0.1

England Team
Rank:

No official ranking system established;
ELO rating 4th to 5th
Colours:
The 1949 home uniform - White collared short-sleeved jerseys, blue shorts, red socks.


26th, W 15 - D 6 - L 5 - F 68 - A 37.

⁴³
Capt:

Billy Wright³
29th, W 18 - D 5 - L 6 - F 70 - A 36.⁹⁰

Manager:
Walter Winterbottom, 39 (31 March 1913), appointed as FA national director of coaching/team manager on 8 July 1946;


47th match, W 31 - D 9 - L 7 - F 139 - A 55.

¹³⁹
Trainer: Jimmy Trotter (Charlton Athletic FC)
Team chosen by Selection Committee headed by Arthur Oakley, on Wednesday, 24 September, before the inter-league match in Wolverhampton.

England Lineup
one change to the previous match (Elliott>Allen)

league positions

(24 September)

Merrick, Gilbert H.
30
252 days
26 January 1922
G
Birmingham City FC

(FL2 5th)

7

8ᵍᵃ

2
Ramsey, Alfred E.
32
256 days
22 January 1920
RB
Tottenham Hotspur FC

(FL 14th)

23
1
3
Eckersley, William
27
80 days
16 July 1925
LB
Blackburn Rovers FC

(FL2 14th)

9
0
4

Wright, William A.
28
241 days
6 February 1924
RHB
Wolverhampton Wanderers FC

(FL 5th)

44
3
most apps 1952
5

Froggatt, Jack
29
322 days
17 November 1922
CHB
Portsmouth FC

(FL 11th)

9
1
6
Dickinson, James

W.

, injured off between 30th-40th minutes
27
163 days
24 April 1925
LHB
Portsmouth FC

(FL 11th)

21
0
7
Finney, Thomas
30
182 days
5 April 1922
OR
Preston North End FC

(FL 10th)

40
20

the third player to reach this 40-app milestone

8
Sewell, John
25
254 days
24 January 1927
IR
Sheffield Wednesday FC

(FL 18th)

4
2
9

Lofthouse, Nathaniel
27
38 days
27 August 1925
CF
Bolton Wanderers FC

(FL 20th)

9
10

10

Baily, Edward F.
27
59 days
6 August 1925
IL
Tottenham Hotspur FC

(FL 14th)

9
5
final app 1950-52
11

Elliott, William H.
27
198 days
20 March 1925
OL/
LHB
Burnley FC

(FL 3rd)

3
1
reserves:
Tommy Garrett (Blackpool FC

(FL 2nd)

) and Willie Watson (Sunderland AFC

(FL 8th)

). Joe Kennedy (West Bromwich Albion FC

(FL 4th)

) replaced Garrett on Monday, 29 September. Garrett was hurt in his club's league match against Charlton Athletic FC the previous Saturday.
team notes:
Jimmy Dickinson leaves the field after a collision with Eddie McMorran.
records:
This draw equals the post-war unbeaten record. England have gone eleven games without loss, a record also set between 1947-48.
The English team were set up in Bangor prior to the match.
2-3-5
Merrick -
Ramsey, Eckersley -
Wright, Froggatt, Dickinson -
Finney, Sewell, Lofthouse, Baily, Elliott


notes: Billy Elliott dropped back into the left-half position whilst Dickinson was receiving treatment

Averages:

Age
28 years 221 days
Appearances/Goals

16.2

3.7
Match Report

by Mike Payne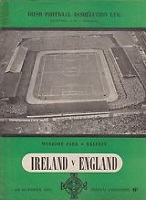 After England had done so well on their summer tour, the match in Northern Ireland seemed to be only a formality for their experienced players. But, if that was what they were thinking, they were in for a rude awakening.

Indeed, Ireland came so desperately close to pulling off a famous victory and only a very late goal saved England.

There had been no hint of the impending drama when the record crowd of 60,000 saw England snatch the lead after only ninety seconds. Billy Wright split the Irish defence with a superb long through ball which found Nat Lofthouse, the current 'Golden Boy' of English football. He hit a firm shot wide of the advancing Uprichard to open the scoring.

It set the match up for its seemingly inevitable defeat for the Irish. After all, they had not beaten England since 1927 and results between the countries had taken on a somewhat monotonous similarity.

But this day was somehow different. Soon the powerful Blanchflower and McCourt began to impose their superiority on to the likes of Jackie Sewell and Eddie Baily and suddenly England found the going somewhat tricky.

Bingham and Tully were giving the England full-backs a torrid time with their speed and trickery and it was no more than Ireland deserved when they gained an equaliser on 15 minutes.

Tully, whose footwork kept causing England problems, forced a corner on the left. He took the kick and it curled wickedly in towards Alf Ramsey, who was stood at the near post. The Spurs full back ducked under the ball, fully expecting Gil Merrick to gather safely. Unfortunately, by the time the goalkeeper reacted, the ball was in the net. It was Ireland's first goal for 18 months and, although bizarre, it was none the less very welcome.

Three nasty injuries added to the list of incidents gradually building up. First Uprichard was injured following a collision with Billy Elliott but he bravely carried on after treatment. Then a nasty clash of heads between McMorran and Jimmy Dickinson ended with both players going off for stitches.

Dickinson was back ten minutes afterwards but McMorran was off until well into the second half. But Ireland were undaunted and a minute after half-time they took the lead amidst unparalleled excitement.

A free-kick by McMichael was flicked on by Blanchflower's head straight to Tully, again, who made no mistake shooting past the partially unsighted Merrick. The crowd sensed that a victory was really possible. McMorran bravely came back on, typifying the Irish spirit and he very nearly wrapped the game up, only to be foiled by a fine save from Merrick.



To England's credit they refused to go completely under and, with Wright and Dickinson once again worked tirelessly, they clawed their way back as the game reached its climax. Sewell, Lofthouse and Elliott all went close before, with only three minutes left, they found an equaliser.

Jack decided to push his weight forward to help his attack. His pass found Tom Finney, a flick on to Wright and back to Froggatt. The Portsmouth player powerfully beat McCourt before putting over a perfect centre which Elliott headed home firmly.

The drama had been incredible and although the match was never a classic, it certainly had plenty of incident.

Match Report

by Norman Giller
Nat Lofthouse scored in the first minute and Billy Elliott in the last minute of a dramatic match. Sandwiched in between was the magic of Celtic ball artist Charlie Tully, who scored twice for Ireland. He beat Merrick from 25 yards and then with his specialist inswinging corner-kick after the Irish team had been reduced by injury to ten men (In a game for Celtic against Falkirk Tully netted direct from a corner and was ordered to re-take it because the referee was not ready. He immediately repeated the trick and put the ball in the exact same spot in the net!). Northern Ireland, urged on by a record 60,000 Windsor Park crowd, had two young midfield partners called Danny Blanchflower and Jimmy McIlroy dictating the pace and the pattern of the match. They were on the verge of their first victory over England since 1927 when Elliott silenced the celebrating fans with an equalising header in the desperate closing moments. Billy Wright and Jimmy Dickinson were the match stars for England, steadying the ship with their cool defensive work when the Irish threatened to take a stranglehold on the game. Team manager Walter Winterbottom was furious over the goal that Charlie Tully scored direct from a corner-kick. Charlie was famous for his in-swinging corners, and England had worked at cutting them out in training by placing Alf Ramsey on the near post and then centre-half Jack Froggatt directly behind goalkeeper Gil Merrick. The corner from which he scored was curling towards Ramsey, who suddenly ducked under the ball. Gil reached out but only caught thin air as the ball swung into the net. Alf said later that he thought Gil had shouted "mine", but it had apparently been one of the Irish forwards. The crowd went berserk when the ball hit the net. And no wonder - it was Northern Ireland's first international goal for eighteen months!

Match Report
as appears in the F.A. Yearbook 1953-54, page 20
After England's successful visits to Italy and Austria in the summer of 1952 it may have seemed that she had few problems when the 1952-53 international season began with the match against Ireland in Belfast. The team that defeated Austria 3-2 in Vienna in May was picked without change. Ireland made only two changes from the side that lost to Wales in March. Cunningham was brought in for Graham and Tulley for Lockhart.
England had the narrowest of escape in years. Only a goal by Elliott from Froggatt's centre, after the centre-half had made a great run down the right wing, denied the Irishmen victory over England they have awaited since 1927.
No-one would have begrudged them their victory. The England side was faced by the opponents who were quicker on the ball, fiercer in the tackle, and driven on by a great team spirit. Weaknesses showed themselves in the England forward line, the ball rarely coming across for Lofthouse to use his great gifts in front of goal.
It was he who put England ahead after only 90 seconds, but Ireland soon fought level. Tully, who had a great game on the left wing, scored direct from a corner-kick after 15 minutes. It was Ireland's first goal for eighteen months.
For 20 minutes after this they were without their centre-forward, McMorran, off with a bad cut over his right eye. And it was with only 10 men that Ireland took the lead a minute after the interval. A free-kick by McMichael, a header by Blanchflower, and Tully again did the trick. They were in sight of a well-deserved victory when Froggatt made his sortie and Elliott headed the ball home clean as a whistle.

Source Notes
TheFA.com
Original newspaper reports
Northern Ireland's Footballing Greats


Drew Herbertson, Scottish FA historian

Rothman's Yearbooks


Mike Payne's England: The Complete Post-War Record
Norman Giller, Football Author
British Pathé
cg