"The second half followed a similar pattern as the first, with the Austrians first of all trying to dazzle us with science—and then when that failed attempting to knock us off balance with tactics which would have been better suited to the rugby field...None of our lads shirked a tackle. But when it came to ankle-tapping, shirt pulling, and other Continental 'tricks of the trade', we were quite content to leave that to our Austrian opponents."
- Billy Wright


"ENGLAND BLAZE WAY TO HEROIC VICTORY"
News Chronicle
Officials

from Italy

Austria
FIFA ruling on substitutes

England Party

Referee

(black blazer)


Guiseppe Carpani
45 (24 February 1907), Milano
The FIFA ruling of allowing a substitute to replace an injured player prior to the 44th minute, and a goalkeeper at any time, is in place.

The teams were presented to the Guest of Honour, Dr. Schalrf, the Austrian vice-Chancellor.
This match followed directly on from a Bundesländer Cup match between Steiermark and Wien.


Austria won 8 corners to England's 0, England committed 25 fouls to Austria's 19

Linesmen
Gemini
Ermanno Silvano

Austria Team
Rank:

No official ranking system established;
ELO rating 9th to 11th
Colours:
White lace-up collared jerseys, black shorts, black socks with red/white/red hoop.
Capt:
Ernst Ocwirk
Manager:
Walter Nausch, 45 (5 February 1907).
Team chosen on Monday, 19 May 1952
Trainer: Eduard Fruehwirt
Austria Lineup
1
Musil, Joséf
31
292 days
7 August 1920
G
SK Rapid Wien
5

10ᵍᵃ

final app 1947-52
2
Röckl, Rudolf
25
134 days
12 January 1927
RB
First Vienna FC
14
0
3
Happel, Ernst F.H.
26
178 days
29 November 1925
LB
SK Rapid Wien
24
3
4
Schleger, Dr. Walter
22
249 days
19 September 1929
in Praha, Czechoslovakia
RHB
FK Austria Wien
4
0
5
Ocwirk, Ernst
26
79 days
7 March 1926
CHB

/IR

FK Austria Wien
34
2
6
Brinek, Theodor
31
16 days
9 May 1921
LHB
SC Wacker Wien
11
2
7
Melchior, Ernst
31
334 days
26 June 1920
OR
FK Austria Wien
33
16
8
Hanappi, Gerhard
23
99 days
16 February 1929
IR

/CHB

SK Rapid Wien
31
0
9

Dienst, Robert
24
85 days
1 March 1928
CF
SK Rapid Wien
6
5

10

Huber, Adolf
29
81 days
5 March 1923
IL
FK Austria Wien
9
10
11th penalty against scored

(21st overall)

11
Haummer, Walter
23
185 days
22 November 1928
OL
SC Wacker Wien
2
1
unused substitutes:
Franz Pelikan (SC Wacker), Karl Stotz (FK Austria), Karl Koller (SK Rapid), Karl Decker (SK Rapid).
Selector and trainer, Walter Nausch, played for Austria against England on three occasions, in 1930, 1932 and 1936. He was also the captain in their 1936 victory.
"When the Austrian Football Association's president, Dr. Josef Geroe, knew the result he fainted, had to be helped to his car and taken home. He did not recover in time to attend a banquet later for both teams." - Daily Herald, Monday, 26 May 1952
2-3-5
Musil -
Röckl, Happel -
Schleger, Ocwirk, Brinek -
Melchior, Hanappi, Dienst, Huber, Haummer.


notes: Ocwirk and Hanappi swapped places during the second half in an effort to break down the stubborn English defence.

Averages:

Age
26 years 325 days
Appearances/Goals

15.7

3.4

England Team
Rank:

No official ranking system established;
ELO rating 4th to 3rd
Colours:
The 1952 away uniform - Red collared jerseys, white shorts, red socks.


first, W 1 - D 0 - L 0 - F 3 - A 2.

²
Capt:

Billy Wright³
27th, W 17 - D 4 - L 6 - F 65 - A 34.⁹⁰

Manager:
Walter Winterbottom, 39 (31 March 1913), appointed as FA national director of coaching/team manager on 8 July 1946;


45th match, W 30 - D 8 - L 7 - F 134 - A 53.

¹³⁹
Trainer: Jimmy Trotter (Charlton Athletic FC)
Team chosen by Selection Committee headed by Arthur Oakley, on Wednesday, 21 May, in Siena.
England Lineup
three changes to the previous match (Eckersley, Sewell & Baily>Garrett, Broadis & Pearson)

FINAL league positions

(3 May)

Merrick, Gilbert H.
30
120 days

26 January 1922

G
Birmingham City FC

(FL2 3rd)

5

6ᵍᵃ

3rd keeper to face two penalty kicks

2
Ramsey, Alfred E.
32
124 days
22 January 1920
RB
Tottenham Hotspur FC

(FL RU)

21
1
3
Eckersley, William
26
314 days
16 July 1925
LB
Blackburn Rovers FC

(FL2 14th)

7
0
4
Wright, William A.
28
109 days
6 February 1924
RHB
Wolverhampton Wanderers FC

(FL 16th)

42
3
most apps 1952
5
Froggatt, Jack
29
190 days
17 November 1922
CHB
Portsmouth FC

(FL 4th)

7
1
6
Dickinson, James

W.

27
31 days
24 April 1925
LHB
Portsmouth FC

(FL 4th)

19
0
7
Finney, Thomas
30
50 days
5 April 1922
OR
Preston North End FC

(FL 7th)

38
20
8

Sewell, John
25
122 days
24 January 1927
IR
Sheffield Wednesday FC

(FL2 Winners)

2
1

9



Lofthouse, Nathaniel
26
265 days
27 August 1925
CF
Bolton Wanderers FC

(FL 5th)

7
7

10

Baily, Edward F.
26
293 days
6 August 1925
IL
Tottenham Hotspur FC

(FL RU)

7
5
11
Elliott, William H.
27
66 days
20 March 1925
OL
Burnley FC

(FL 14th)

2
0
unused substitutes:
Ronnie Allen (West Bromwich Albion FC

(FL 13th)

), Ivor Broadis (Manchester City FC

(FL 15th)

), Tom Garrett (Blackpool FC

(FL 9th)

), Bill Nicholson (Tottenham Hotspur FC

(FL RU)

), Stan Pearson (Manchester United FC

(FL CHAMPIONS)

) and Bert Williams (Wolverhampton Wanderers FC

(FL 16th)

).
team notes:
For the first time in thirteen matches (USA July 1950), England have not started with a debutant.
2-3-5
Merrick -
Ramsey, Eckersley -
Wright, Froggatt, Dickinson -
Finney, Sewell, Lofthouse, Baily, Elliott.

Averages

:

Age
28

years

89

days

Appearances/Goals

14.3

3.2
Match Report

by Mike Payne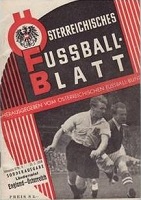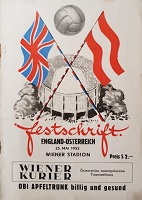 This match against probably the best of the current European sides, gave England a famous victory. The game was a personal triumph for their centre-forward Nat Lofthouse. He was outstanding and his performance earned him the nickname 'The Lion of Vienna'.

A crowd of over 65,000, considerably boosted by the presence of many British soldiers stationed in Austria, saw a thrilling match that often became very rough, especially in the latter stages.

England decided on a tactical plan that allowed the Austrians to attack them continually. They defended in numbers and relied on a positive breakaway or two. From the first such breakaway England scored a fine goal. In a flowing move the ball sped from Eddie Baily to Billy Elliott, on to Jackie Sewell whose centre was met by Nat Lofthouse who thumped it past Musil.

England's joy lasted barely a minute as Austria were then awarded a rather fortunate penalty after Jack Froggatt's shoulder charge on Dienst was seen as a foul by the referee. Huber made no mistake with the spot-kick. This sent the crowd wild with delight and the home attacks grew even more fierce.

But the England players held their nerve and on 31 minutes another excellent break gave them a second goal. This time it was Froggatt who set the move going, slipping the ball to Billy Wright. Wright moved forward and released a fine pass through to Sewell who sold a marvellous dummy to the whole Austrian defence before cracking in a fine right-foot shot which left Musil helpless.

Austria were stunned but came back strongly and with only three minutes of the first-half left they scored a superb equaliser. It came from Dienst and was the result of a glorious run and shot giving Gil Merrick no chance.

What followed after the break was probably one of the toughest halves England have ever faced. The Austrians tried to power their way through and the visitors needed all their experience to keep them out.

Then on 82 minutes came a wonderful moment for the English fans present. Once again a swift break paid off as Merrick's kick was flicked on by Tom Finney's head to send Lofthouse scampering away from the half-way line. With the entire Austrian defence bearing down on him from behind the Bolton star kept his nerved and slipped the ball past Musil as the goalkeeper came out of his goal.

Lofthouse never saw the goal as the defenders had clattered into him as he shot and he had to go off for treatment. But the great-hearted player was soon back and in the last few seconds he came desperately close to a hat-trick when another shot crashed against the bar.

The British soldiers went beserk at the end of the match and chaired the brilliant Lofthouse from the field in their delight. For Lofthouse it was a game he will never forget.

Match Report

by Norman Giller
The match that earned Nat Lofthouse the nickname 'The Lion of Vienna.' Eight minutes from the end, with the game deadlocked at 2-2, Tom Finney collected a long throw from Gil Merrick and released a pass that sent Lofty clear just inside the Austrian half. He galloped forty-five yards with a pack of defenders snapping at his heels, and collided with oncoming goalkeeper Musil as he released a shot. He was flat out unconscious and did not see the ball roll over the goal-line for the winning goal. The Bolton hero was carried off on a stretcher, but, still dazed, returned for the final five minutes. He struck a shot against a post in the closing moments. England's counter-attacking tactics had worked to perfection. They took the lead in the twenty-first minute after soaking up non-stop pressure from the Austrians, who were rated the number one team in Europe. A penetrating pass by Eddie Baily opened the heart of the Austrian defence and Lofthouse finished off the move with a left-foot volley deep into the net. The cheers of the Partys of British soldiers in the 65,500 crowd were still filling the Prater Stadium when Jack Froggatt conceded a penalty from which Huber side-footed an equaliser. The Portsmouth centre-half quickly made amends with a pass that put Jackie Sewell through to score after he had wrong-footed the Austrian defenders with two exaggerated dummies. Austria pulled level again just before half-time through centre-forward Diego, who shrugged off Billy Wright's challenge before powering the ball past goalkeeper Gil Merrick. Then came the storybook climax from Lofthouse. The triumphant England players were carried back to their dressing-room on the shoulders of cheering Tommies, who had come from their posts in Germany in their thousands.

Match Report
as appears in the F.A. Yearbook 1952-53, pages 27-28
The decision to visit Siena before going to Vienna for the return match against the Austrians on May 25th led to much adverse criticism. But the detour afforded the team a rest in delightful surroundings, and there were opportunities or some hard spells of training, so that the team arrived at the Prater ground fit and confident.
Against a tough and perhaps the most scientific opposition in Europe, England played a gallant match, and at the end gave a display of British football at its best. The early stages produced little of notice, except for some fine midfield play by the Austrians. Then in the 21st minute came a snap goal by Lofthouse from a neat pass by Sewell. The next four minutes produced a further two goals: first Huber scored for Austria from a penalty; then came a brilliant solo effort by Sewell. Just before half-time Dienst collected a rebound from Froggatt's tackle and scored a clever equaliser.
In the second half the game became very ragged and rough, but England lasted the pace better than the Austrians. Then came Lofthouse's magnificent run from the half-way line to make the score 3-2 — the first occasion on which England has won in Austria for over 40 years.

Source Notes
TheFA.com
Original newspaper reports
Official Matchday Programme
Drew Herbertson, Scottish FA Historian

Rothman's Yearbooks


Mike Payne's England: The Complete Post-War Record
Norman Giller, Football Author
British Pathé
cg