"My memory of that match is of being frightened out of my life. Somebody threw a firework onto the pitch in the second half, and it sounded like a gunshot. It was the sort of thing you expect when playing in South America, but this was pretty near unheard of in an English ground. Like the rest of the players, I jumped out of my skin. There was the hilarious sight of all the photographers behind the goal throwing themselves to the ground."
- Billy Wright


"ENGLAND WIN—BUT STOCK STILL SLUMPS"
Birmingham Gazette
Officials

from Wales

England
UK ruling on substitutes
Ireland

Referee

(black)


Benjamin Mervyn Griffiths
42 (17 January 1909), Abertillery, Monmouthshire

red flag

Linesmen

yellow flag

F. Owen


Llay

F. Roberts


Bangor

England Team
Rank:

No official ranking system established;
ELO rating 5th to 4th
Colours:
The 1949 home uniform - White collared jerseys, blue shorts, red socks.


21st, W 13 - D 3 - L 5 - F 58 - A 31.

⁴³
Capt:
Billy Wright³
23rd, W 15 - D 2 - L 6 - F 57 - A 28.⁹⁰
Manager:
Walter Winterbottom, 38 (31 March 1913), appointed as FA national director of coaching/team manager on 8 July 1946;


41st match, W 28 - D 6 - L 7 - F 126 - A 47.

¹³⁹
Trainer: Hubert Bourne (Aston Villa FC)

overtakes Bob Compton's record

Team chosen by Selection Committee headed by Arthur Drewry, on Monday, 5 November.

England Lineup
three changes to the previous match (Merrick, Sewell & Phillips>Williams, Thompson & Baily)

league position

(5 November)

73

Merrick, Gilbert H.
29
292 days
26 January 1922
G
Birmingham City FC

(FL2 13th)

1

0ᵍᵃ

710

the ninth City player to represent England
2
Ramsey, Alfred E.
31
296 days
22 January 1920
RB
Tottenham Hotspur FC

(FL 3rd)

17
0
3
Smith, Lionel
31
83 days
23 August 1920
LB
Arsenal FC

(FL TOP)

3
0
4
Wright, William A.
27
281 days
6 February 1924
RHB
Wolverhampton Wanderers FC

(FL 12th)

38
3
5
Barrass, Malcolm W.
26
336 days
13 December 1924
CHB
Bolton Wanderers FC

(FL 4th)

2
0
6
Dickinson, James

W.

26
204 days
24 April 1925
LHB
Portsmouth FC

(FL 5th)

15
0
7

Finney, Thomas
29
223 days
5 April 1922
OR
Preston North End FC

(FL 6th)

35
20

711

8
Sewell, John
24
294 days
24 January 1927
IR
Sheffield Wednesday FC

(FL2 5th)

1
0
the 31st Wednesday player to represent England
9

Lofthouse, Nathaniel
26
79 days
27 August 1925
CF
Bolton Wanderers FC

(FL 4th)

3
4

712

10
Phillips, Leonard H.
29
64 days
11 September 1922
IL
Portsmouth FC

(FL 5th)

1
0
the tenth Portsmouth player to represent England
11
Medley, Leslie D.
31
72 days
3 September 1920
OL
Tottenham Hotspur FC

(FL 3rd)

5
1
reserves:
Bill Nicholson (Tottenham Hotspur FC

(FL 3rd)

) and Stan Pearson (Manchester United FC

(FL 2nd)

)
team notes:
Merrick becomes the fourth goalkeeper from Birmingham City, following Chris Charsley (1893), Dan Tremelling (1928) and Harry Hibbs (1930-36).
The three debutants took the total of players used by Walter Winterbottom, under ISC's jurisdiction, to 61.
The team set up in Leamington Spa prior to the match, using the Leamington Lockheed FC ground to train on.
2-3-5
Merrick -
Ramsey, Smith -
Wright, Barass, Dickinson -
Finney, Sewell, Lofthouse, Phillips, Medley

Averages:

Age
28 years 237 days
Appearances/Goals

11.0

2.4

Ireland Team
Rank:

No official ranking system established;
ELO rating 49th
Colours:
Green jerseys, white shorts, blue socks.
Capt:
Jack Vernon
Manager:
Peter Dermot Doherty, 38 (5 June 1913), appointed October 1951, also player-manager at Doncaster Rovers FC since June 1949.
Team chosen on Monday, 5 November 1951.


second match, W 0 - D - 0 - L 2 - F 0 - A 5

Ireland Lineup
Uprichard, W. Norman M.
23
208 days
20 April 1928
G
Swindon Town FC

, England

2

5ᵍᵃ

2
Graham, W.G. Leonard
26
28 days
17 October 1925
RB
Doncaster Rovers FC

, England

4
0
3
McMichael, Alfred
24
44 days
1 October 1927
LB
Newcastle United FC

, England

7
0
4
Dickson, William
28
244 days
15 March 1923
RHB
Chelsea FC, England
4
0
5
Vernon, John

J.

33
49 days
26 September 1918
CHB
West Bromwich Albion FC, England
17
0
also has two appearances for Éire
final app 1946-51
6
McCourt, Francis J.
25
340 days
9 December 1925
LHB
Manchester City FC

, England

1
0
7
Bingham, William L.
20
101 days
5 August 1931
OR
Sunderland AFC

, England

3
0
8
Smyth, Samuel
26
262 days
25 February 1925
IR
Stoke City FC

, England

9
5
final app 1947-51
9
McMorran, Edward

J.

28
73 days
2 September 1923
CF
Barnsley FC, England
6
1

10

McIlroy, James
20
20 days
25 October 1931
IL
Burnley FC, England
2
0
11
McKenna, John
25
161 days
6 June 1926
OL
Huddersfield Town AFC

, England

7
0
final app 1949-51
reserve:
Danny Blanchflower (Aston Villa FC)
team notes:
Bertie Peacock (Rangers FC) was the original chosen inside-left, his place going to McIlroy on 9 November after Peacock twisted his knee.
Manager Peter Doherty played for Ireland against England on seven separate occasions from 1935 until 1947, scoring one in 1947.
The Ireland team were also set up in Leamington Spa before this match.
2-3-5
Uprichard -
Graham, McMichael -
DIckson, Vernon, McCourt -
Bingham, Smyth, McMorran, McIlroy, McKenna

Averages

:

Age
25 years 240 days
Appearances/Goals

5.6

0.5
Match Report

by Mike Payne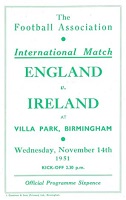 With Scotland surprisingly losing at home to Wales this win proved very important in the race for the Home International Championship. Once again, though, it was a poor performance by England and indeed, a poor game overall.

With both defences well-organised all the fowards found it hard to make headway. Nat Lofthouse was the most dangerous of the England players and in one of the rare first-half attacking moves he almost scored. A fine crossfield pass by Len Phillips sent Tom Finney away and split the Irish defence wide open. Finney's pass found Lofthouse and only a desperate dive by Uprichard at the big centre-forward's feet saved the day. England's only other worthwhile attack of the half brought them a goal.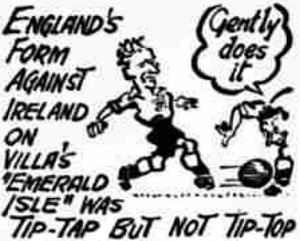 A fine move from Phillips to Lofthouse, square to Jackie Sewell, back to Lofthouse, on to Finney, and a centre into the middle met by a crashing header from Lofthouse again.

The goal brought hope for a better second half but, alas, the game never got any better, Both Sewell and Phillips were a little predictable in their play and only three moments in the second half warranted a mention. McMorran was unlucky with Northern Ireland's best effort of the match when his tremendous 25-yard shot crashed against the angle of the post and the crossbar after he beat Malcolm Barass, not for the first time.

The second moment was when a firework went off surprising a touch-line photographer, much to the crowd's amusement. The final highlight gave England their second and decisive goal. It came thanks to a bad mistake by Uprichard seven minutes from the end. A harmless looking centre from Sewell was dropped by the goalkeeper straight to the feet of the lurking Lofthouse and before you could say his name the ball was in the back of the net to make it 2-0.

Match Report

by Norman Giller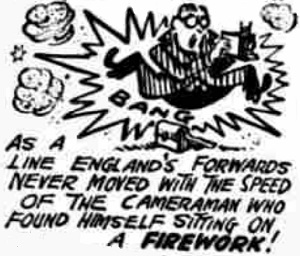 The selectors experimented by giving inside-forwards Jackie Sewell and Len Phillips their first caps either side of Nat Lofthouse, who scored a goal in each half. Birmingham City goalkeeper Gil Merrick made the short journey to Villa Park for his first of twenty-three caps. He kept a clean sheet, but was lucky in the second half when a screaming twenty-five yard shot from Barnsley forward Eddie McMorran crashed against the crossbar. Billy Wright gave a vintage performance. He was the boss both of the defence and the midfield. His tackles were panther-like in their speed, and then he always found a team-mate with a well judged pass.

Match Report
as appears in the F.A. Yearbook 1952-53, pages 25 & 26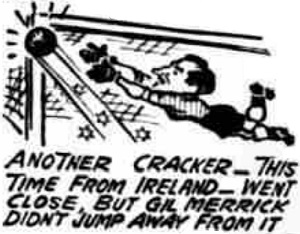 When England met Ireland at Villa Park on November 14th three changes were made from the team that met Wales, Sewell and Phillips taking the inside-forward positions, whilst Merrick replaced Williams in goal. Although it looked well enough on paper, and was the same side that effectively against the Scottish League, the England attack was scrappy and disappointing. Ireland fielded a better team than she had for a number of years, and as the only two goals of the match were the result of mistakes by the Irish defence, it might have been anyone's match.
In the first half Medley looked dangerous, but the ball tended to be pushed down the middle. Finney, too, on the other wing received very useful passes. The first goal came just before half-time, when, following a spasm of brilliant inter-passing with Sewell and Finney, Lofthouse headed the ball into an undefended goal. The English goal was left for the most part unmolested, though a fine shot from McMorran, Ireland's centre-forward, struck the post from 25 yards. Lofthouse also scored England's second goal when Uprichard, the Irish goalkeeper, dropped a centre from Sewell right at his feet.

Source Notes
TheFA.com
Original newspaper reports


Northern Ireland's Football Greats

Rothman's Yearbooks


Mike Payne's England: The Complete Post-War Record
Norman Giller, Football Author
British Pathé
cg