"THEY CHANGE THEIR JERSEY'S—AND LOSE THEIR FIRE"
Daily Mirror
Officials

Ireland
UK ruling on substitutes
England

Referee


George Mitchell
38 (22 February 1912), Falkirk, Scotland


Linesmen
tbc
tbc

Ireland Team
Rank
No official ranking system established;
ELO rating 41st to 42nd
Colours
Made by Athletic Stores - Green collared jerseys with white collars, white shorts, blue socks.
Captain
Jackie Vernon
Selection
Selection Committee
on Tuesday, 26 September 1950
Ireland Lineup
Kelly, Hugh R.
31
51 days
17 August 1919
G
Southampton FC, England
3

13ᵍᵃ

2
Gallogly, Charles
31
113 days
16 June 1919
RB
Huddersfield Town AFC, England
1
0
also has one unofficial appearance with the US
3
McMichael, Alfred
23
6 days
1 October 1927
LB
Newcastle United FC

, England

3
0
4
Blanchflower, R. Dennis
24
239 days
10 February 1926
RHB
Barnsley FC, England
3
0
5
Vernon, John

J.

32
11 days
26 September 1918
CHB
West Bromwich Albion FC, England
12
0
also has two appearances for Éire
6
Cush, Wilbur
22
119 days
10 June 1928
LHB
Glenavon FC
1
0
7
Campbell, John P.
27
101 days
28 June 1923
OR
Fulham FC

, England

1
0
8
Crossan, Edward
24
324 days
17 November 1925
IR
Blackburn Rovers FC

, England

2
0
9

McMorran, Edward

J.

27
35 days
2 September 1923
CF
Barnsley FC, England
2
1

10

Brennan, Robert A.
25
207 days
14 March 1925
IL
Fulham FC

, England

5
1
final app 1949-50
11
McKenna, John
24
123 days
6 June 1926
OL
Huddersfield Town AFC

, England

4
0
reserves:
George McKnight (Blackpool FC, England)
team notes:
The Celtic FC's Fallon, the only Eire-born player in the team, was the original right-back, his place going to Gallogly on 29 September.
2-3-5
Kelly -
Gallogly, McMichael -
Blanchflower, Vernon, Cush -
Campbell, Crossan, McMorrian, Brennan, McKenna.

Averages:

Age
26 years 255 days
Appearances/Goals

3.4

0.1

England Team
Rank
No official ranking system established;
ELO rating 4th

Colours

The 1949 home uniform - White collared short-sleeved jerseys, blue shorts, red socks.


P 14th of 43, W 10 - D 0 - L 4 - F 40 - A 19.


Captain
Billy Wright
Manager
Walter Winterbottom, 37 (31 March 1913), appointed as FA national director of coaching/team manager on 8 July 1946;
18th, W 13 - D 0 - L 5 - F 48 - A 21.
Trainer: Bert Shelley (Liverpool FC)

P 33rd of 139, W 24 - D 3 - L 6 - F 106 - A 34

.
³
Team chosen by Selection Committee headed by Arthur Drewry on Thursday, 21 September.
England Lineup
five changes

to the previous match

(Eckersley, Hughes, Mortensen, Milburn & Finney out)

league position

(21 September)

Williams, Bert F.
30
249 days
31 January 1920
G
Wolverhampton Wanderers FC

(FL 5th)

11

11ᵍᵃ

2
Ramsey, Alfred E.
30
258 days
22 January 1920
RB
Tottenham Hotspur FC

(FL 12th)

9
0
3
Aston, John
29
34 days
3 September 1921
LB
Manchester United FC

(FL 4th)

17
0
final app 1948-50
4

Wright, William A.
26
243 days
6 February 1924
RHB
Wolverhampton Wanderers FC

(FL 5th)

33
3

697

5
Chilton, Allenby
32
21 days
16 September 1918
CHB
Manchester United FC

(FL 4th)

1
0
the eleventh United player to represent England
6
Dickinson, James

W.

25
166 days
24 April 1925
LHB
Portsmouth FC

(FL 15th)

11
0
7
Matthews, Stanley
35
248 days
1 February 1915
OR
Blackpool FC

(FL 8th)

32
9
8
Mannion, Wilfred J.
32
144 days
16 May 1918
IR
Middlesbrough FC

(FL 3rd)

22
10
698
9

Lee, John
29
337 days
4 November 1920
CF
Derby County FC

(FL 11th)

1
1
the 31st County player to represent England
only app 1950
10

Baily, Edward F.
25
62 days
6 August 1925
IL
Tottenham Hotspur FC

(FL 12th)

2
2
the 153rd (20th post-war) brace scored
11

Langton, Robert
32
29 days
8 September 1918
OL
Bolton Wanderers FC

(FL 18th)

11
1
final app 1946-50
reserves:
Jackie Milburn (Newcastle United FC

(FL TOP)

) and Tommy Cummings (Burnley FC

(FL 9th)

)
team changes:
Aston replaced original choice left-back Bill Eckersley (Blackburn Rovers FC

(FL2 2nd)

) on 2 October. Then Tom Finney (Preston North End

(FL2 15th)

) withdrew from the team on 4 October because of an ankle injury. Langton was invited to take up the vacant position.
team notes:
This is Billy Wright's record 33rd consecutive appearance.
2-3-5
Williams -
Ramsey, Aston -
Wright, Chilton, Dickinson -
Matthews, Mannion, Lee, Baily, Langton

Averages:

Age
29 years 362 days
Appearances/Goals

13.6

2.1

oldest post-war team so far
Match Report

by Mike Payne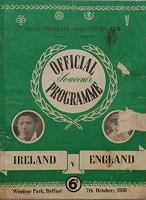 Four missed chances in the first 30 minutes cost Northern Ireland dearly in a game that was never as clear cut as the score suggests. If the Irish had not squandered those chances the story might have been different.

In that first half-hour, Ireland, urged on by their traditional passion and dedicated followers, put the England defence under extreme pressure. The visitors made a very tentative opening and McMorran twice missed with the simplest of headers from point-blank range. Soon afterwards Campbell and Crossan also failed to hit the target from clear positions.

The crisis passed as England gradually clawed themselves into the game. They started to search for openings in the Irish defence. Vernon, Cush and McMichael were outstanding for them and although the balance of attacks were now swinging England's way the Irish battled for everything.

The conditions were a little bit different from England's previous match, against Spain in the World Cup, and the cold October wind blowing down from Mount Colin brought some drizzle with it. The half seemed destined to end goalless but just before half-time the sun came out and with it England broke the deadlock by conjuring up a goal.

Not surprisingly the move developed down the left wing where Bobby Langton was giving Galloghy a torrid time. A swift inter-change with Eddie Baily set up the chance which the inside-left took gratefully, shooting past Kelly's left hand. The lead gave England time to rethink during the interval and they came out with a new strategy and a new determination. Suddenly Wilf Mannion became the focal point of their improvement.

The 63rd minute saw a decisive moment at both ends. First the referee refused an appeal for hands against Alf Ramsey, and then, 60 seconds later, following a swift counter-attack, Kelly failed to clear Baily's lob into the goalmouth and Jack Lee pounced to head the loose ball into the net.

Everyone thought that that was the end, but Ireland refused to lie down. Within six minutes the issue was wide open again as they pulled a goal back.

McMorran, an eager beaver all afternoon, chased a long clearance down wind and beat Allenby Chilton to the ball and shot on the turn to flick it over the advancing Bert Williams. Urged on by their crowd, the Irish threw everything at England and McMorran was unlucky with a shot that skimmed the bar.

England, however, met the challenge bravely. Inspired by the powerful Jimmy Dickinson, Billy Wright and Ramsey they weathered the storm and began to mount positive raids. Stanley Matthews came into the game at last and gradually the Irish began to wilt.

In the last five minutes, England scored two more goals. First Wright shot home through a crowd of players following a corner by Langton, and within a minute of that goal, Baily scored the best goal of the match with a clever hooked shot.

The match, although full of incident, has never reached the high standards of most internationals but England's performance was nonetheless satisfactory.

Match Report

by Norman Giller
Eddie Baily, more noted for his skilful scheming, scored two goals and big Jackie Lee, a Leicestershire cricketer, marked his only international with a goal. Northern Ireland were chasing an equaliser with the score at 2-1 when England scored twice in the last five minutes. Billy Wright netted his third and final goal for England with a shot that went into the net through a forest of legs, and Baily finished the Irish off with a superbly executed hook shot. Manchester United centre-half Allenby Chilton had to wait until he was thirty-two for this first cap as the selectors continued to hunt for a successor to Neil Franklin.

Match Report
as appears in the F.A. Yearbook 1951-52, pages 22-23
The previous season's overriding problem — that of building an assured, consistent team, and in particular, of finding an effective forward line and a reliable defence, continued to occupy the attention of the selectors in the 1950-51 season. But in spite of many experiments, it cannot be said that the problem was solved. England's performances, though often brilliant as in the match against Wales, were somewhat erratic, and the loss of the International Championship to Scotland was not altogether unexpected.

The International season opened on October 7th, when England beat Ireland by 4 goals to one. The result was by no means a fair reflection of the play, for Ireland took most of the honours in a fast-moving game. The England team, which included two new caps, Lee and Chilton, put up a disappointing performance; the forwards were apt to be thrown of their game by the spirited Irish tackling; and mistakes by the English defence made several openings for Ireland.
Ireland attacked determinedly from the kick-off and but for missed chances might have scored in the first half-hour. England were fortunate to be a goal ahead at half-time after Baily had scored with a simple shot in the 43rd minute.
Ireland were again on the offensive at the re-start, but England's superior team work now began to show, and 19 minutes after the interval Lee headed a second goal for England. Twenty minutes from the end the Irish centre-forward McMorran, who in spite of early mistakes, was playing a fine aggressive game, gave Ireland their only goal. In the last five minutes, the Irish defence crumbled, and Wright and Baily each scored for England.

Source Notes
TheFA.com
Original newspaper reports
NIFG

Rothman's Yearbooks


Mike Payne's England: The Complete Post-War Record
Norman Giller, Football Author
British Pathé
cg