Match Summary
Officials from Scotland

Wales

Type

England

Referee (black) - Douglas Gerrard
x (-), Aberdeen.

Linesmen - Frank Scott, Paisley, and William Morrison, Clydebank.

No substitutes permitted, as per UK ruling.

Before the match, a demonstration was given by Alsatian Dogs, owned by members of The Cardiff Branch of the British Alsatian Association.

Goal Attempts
Attempts on Target
Hit Bar/Post
Corner Kicks Won
Offside Calls Against
Fouls Conceded
Possession

Wales Team
Rank:

No official ranking system established;
ELO rating 23rd to 21st
Colours:
Made by Umbro - Red jerseys with white collars, white shorts with red side strip, red socks with white tops.
Capt:
Wally Barnes
Manager:
Team chosen by Selection Commitee on Monday, 8 October 1951
Wales Lineup
Shortt, William W.
31
13 October 1920
G
Plymouth Argyle FC

, England

4
4

GA

2
Barnes, Wallace
31
16 January 1920
RB
Arsenal FC

, England

15
0
3
Sherwood, Alfred T.
27
13 November 1923
LB
Cardiff City FC
19
0
4
Paul, Roy
31
18 April 1920
RHB
Manchester City FC

, England

15
1
5
Daniel, W. Raymond
22
2 November 1928
CHB
Arsenal FC

, England

4
0
6
Burgess, W.A. Ronald
34
9 April 1917
LHB
Tottenham Hotspur FC

, England

20
1
7
Foulkes, William I.
25
29 May 1926
OR
Newcastle United FC

, England

1
1
8
Kinsey, Noel
25
24 December 1925
IR
Norwich City FC

, England

4
0
9
Ford, Trevor
28
1 October 1923
CF
Sunderland AFC

, England

20
15

10

Allchurch, Ivor J.
21
16 December 1929
IL
Swansea Town FC
5
0
11
Clarke, Royston J.
26
1 June 1925
OL
Manchester City FC

, England

10
3

reserve:

Billy Lucas (Swansea Town FC)

team notes:

When the team was chosen on 8 October, it was done so without an outside-right. Foulkes was added on Monday, 15 October.
Trevor Ford holds the record of most goals for the Wales national team.
2-3-5
Short -
Barnes, Sherwood -
Paul, Daniel, Burgess -
Foulkes. Kinsey, Ford, Allchurch, Clarke

Averages:

Age
27.4
Appearances/Goals
10.6
1.8

England Team
Rank:

No official ranking system established;
ELO rating 4th to 5th
Colours:
The 1949 home uniform - White collared jerseys, blue shorts, black socks with white tops.
Capt:
Billy Wright, 22nd captaincy
Manager:
Walter Winterbottom, 38 (31 March 1913), appointed as FA national director of coaching/team manager on 8 July 1946;
40th match, W 27 - D 6 - L 7 - F 124 - A 47.


Team chosen by Selection Committee headed by Arthur Drewry, on Sunday, 14 October 1951.

England Lineup
Williams, Bert F.
31
31 January 1920
G
Wolverhampton Wanderers FC
18

24ᵍᵃ

2
Ramsey, Alfred E.
31
22 January 1920
RB
Tottenham Hotspur FC
16
0
3
Smith, Lionel
31
23 August 1920
LB
Arsenal FC
2
0
4
Wright, William A.
27
6 February 1924
RHB
37
3
5
Barrass, Malcolm W.
26
13 December 1924
CHB
Bolton Wanderers FC
1
0
6
Dickinson, James

W.

26
24 April 1925
LHB
14
0
7
Finney, Thomas
29
5 April 1922
OR
34
20
8
Thompson, Thomas
22
10 November 1928
IR
Aston Villa FC
1
0
9
Lofthouse, Nathaniel
26
27 August 1925
CF
Bolton Wanderers FC
2
2
10
Baily, Edward F.
26
6 August 1925
IL
Tottenham Hotspur FC
5
5
11
Medley, Leslie D.
31

3 September 1920

OL
Tottenham Hotspur FC
4
1

reserves:

Charlie Vaughan (Charlton Athletic FC) and Henry Cockburn (Manchester United FC)
2-3-5
Williams -
Ramsey, Smith -
Wright, Barass, Dickinson -
Finney, Thompson, Lofthouse, Baily, Medley.

Averages:

Age
27.8
Appearances/Goals
12.2
2.7
Match Report by Mike Payne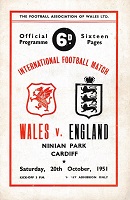 Wales managed to avoid defeat against England for the first time since the war when the sides met in Cardiff in this 1951 clash. What is more, if they had taken more care in front of goal, they may have celebrated a win.

The home side scored after only three minutes. A foul by Malcolm Barass gave Wales a free-kick on the right hand corner of the penalty box. Paul took the kick and his low cross was met by Foulkes with his first touch in international football. He left Lionel Smith flat-footed before going on to shoot past Bert Williams.

England quickly pulled themselves together and were soon back on level terms. Tom Finney, taking a pass from Billy Wright, moved through the inside-right channel before laying the ball square to Les Medley. He quickly lobbed the ball into the middle where Eddie Baily was on hand for an easy headed goal.

The game then gradually drifted into a scrappy affair with Wales relying on their strong midfield players creating their most dangerous moves. Daniel, Paul and Burgess always had control and their tigerish tackling was causing England to struggle. Barass at centre-half, although near in distribution, always came off second best in his battle with the powerful Ford. Some good play by Jimmy Dickinson, Medley and Baily promised something for England before half-time but they were no really clear chances created.

England never functioned on all cylinders and their weakness at inside-forward was very obvious. Tommy Thompson, on his debut, never got into the match at all and Baily only flitted in and out of the proceedings. The tough-tackling Burgess was prominent for Wales and with Ford a constant threat they came very close to forcing a win. Foulkes and Clarke sent in a stream of crosses towards the big centre-forward and from one Ford missed a sitter. Paul sent Foulkes away on attack and he left the ponderous Smith in a fine run to centre from the left. Once again, though, Ford contrived to miss a golden chance to take the match.

England were somewhat fortunate to come away from Cardiff with a draw.

Match Report by Norman Giller
Eddie Baily saved England from defeat against a Welsh team in which Ivor Allchurch and Trevor Ford were constantly putting England's defence under pressure. Newcastle right winger Billy Foulkes scored in the third minute with his first shot for Wales in international football. Baily, noted more for his scheming than his scoring, equalised with a rare header following a counter attack generated by a perfect pass from Billy Wright. Ford, the idol of Sunderland, missed two easy chances late in the game to give Wales their first victory over England since the war. Malcolm Barrass was the seventh centre-half tried by the selectors since the defection of Neil Franklin. Tommy Thompson, Aston Villa's diminutive ball-playing inside-right, won the first of two caps.


Source Notes
TheFA.com
Original newspaper reports
Rothman's Yearbooks
Mike Payne's England: The Complete Post-War Record (Breedon Books Publishing Company, Derby, U.K., 1993)
Norman Giller, Football Author
Wales' Complete Who's Who since 1946 (Sutton Publishing Ltd, Stroud, U.K., 2004)
Drew Herbertson, Scottish FA historian
____________________

CG