264 vs. Portugal
265
266 vs. Wales

Wednesday, 3 October 1951
Festival of Britain Celebration Match

England 2 France 2 [2-2]


Match Summary
England Party
France Party

Arsenal Stadium, Highbury, Islington, County of London


Attendance: 57,603;

Kick-off: 3.00pm

BST


Second half live on BBC (UK) -

Commentators: Jimmy Jewell and Kenneth Wolstenholme

England - Kader Firoud (put through his own goal 4)

, Les Medley

(beat Vignal with a terrific drive from a Mannion pass 32)
France - Andre Doye (beat Williams from short range 18), René Alpsteg (fierce shot from a few yards 19)
Results 1950-1955

? kicked-off. ? minutes (? & ?).
Match Summary
Officials from Scotland

England

Type

France

Referee (-) - John A. Mowat
x (-), Rutherglen.

Linesmen - A. Murdoch, England (flame flag) and L. Boes, France (yellow flag).

Two substitutes are permitted prior to the 44th minute. Injured goalkeepers are allowed to be replaced at any time.
Goal Attempts
Attempts on Target
Hit Bar/Post
Corner Kicks Won
Offside Calls Against
Fouls Conceded
Possession

England Team
Rank:

No official ranking system established;
ELO rating 4th
Colours:
The 1949 home uniform - White collared jerseys, blue shorts, black socks with white tops.
Capt:
Billy Wright, 21st captaincy
Manager:
Walter Winterbottom, 38 (31 March 1913), appointed director of coaching on 8 July 1946, and team manager in May 1947;
39th match, W 27 - D 5 - L 7 - F 123 - A 46.


Team chosen by Selection Committee headed by Arthur Drewry, on Monday, 22 September 1951.

England Lineup
Williams, Bert F.
31
31 January 1920
G
Wolverhampton Wanderers FC
17

23

GA

2
Ramsey, Alfred E.
31
22 January 1920
RB
Tottenham Hotspur FC
15
0
3
Willis, Arthur
31
2 February 1920
LB
Tottenham Hotspur FC
1
0
4
Wright, William A.
27
6 February 1924
RHB
Wolverhampton Wanderers FC
36
3
5
Chilton, Allenby
33
16 September 1918
CHB
Manchester United FC
2
0
6
Cockburn, Henry
30
14 September 1921
LHB
13
0
7
Finney, Thomas
29
5 April 1922
OR
33
20
8
Mannion, Wilfred J.
33
16 May 1918
IR
Middlesbrough FC
26
11
9
Milburn, John E.T.
27
11 May 1924
CF
Newcastle United FC
12
10

10

Hassall, Harold W.
22
4 March 1929
IL
Huddersfield Town AFC
4
2
11
Medley, Leslie D.
31

3 September 1920

OL
Tottenham Hotspur FC
3
1

reserves:

Ted Ditchburn (Tottenham Hotspur FC), Jimmy Dickinson (Portsmouth FC) and Doug Lishman (Arsenal FC).
2-3-5
Williams -
Ramsey, Willis -
Wright, Chilton, Cockburn -
Finney, Mannion, Milburn, Hassall, Medley.

Averages:

Age
29.5
Appearances/Goals
14.7
5.1
France Team
Rank:

No official ranking system established;
ELO rating 25th
Colours:
Blue collared jerseys, white shorts, red socks.
Capt:
Jean Baratte
Manager:


Trainer: Pierre Pibarot

Team chosen by the Selection Committee on Monday, 22 September 1951.
France Lineup
Vignal, René
24
12 August 1926
G
RC de Paris
7

20

GA

2
Grillon, André
29
1 November 1921
RB
Olympique lyonnais
13
0
3
Salva, Marcel
26
1 October 1922
born in Algeria
LB
RC de Paris
10
0
4
Firoud, Abdelkader
31
11 October 1919
born in Algeria
RHB
Nîmes Olympique
1
0
5
Jonquet, Robert
26
3 May 1925
CHB
Stade de Reims
9
0
6
Bonifaci, Antoine
20
4 September 1931
LHB
OGC Nice Côte d'Azur
4
1
7
Alpsteg, René
30
3 December 1920
OR
AS de Saint-Étienne Loire
8
3
8
Baratte, Jean
28
7 June 1923
IR
Lille Olympique SC
25
18
9
Grumellon, Jean
28
1 January 1923
CF
Stade rennais UC
7
2

10

Flamion, Pierre
26
13 December 1924
IL
Olympique lyonnais
11
6
11
Doye, André
27
15 September 1924
OL
FC des Girondins de Bordeaux
4
3

reserves:

Marcel Domingo (OGC Nice Côte d'Azur), Guy Huguet (AS de Saint-Étienne Loire) and Roger Boury (CO Roubaix-Tourcoing).

team notes:

Firoud and Bonifaci exchanged wings and Grumellon replaced Andre Strappe (Lille).
2-3-5
Vignal -
Grillon, Salva -
Firoud, Jonquet, Bonifaci -
Alpsteg, Baratte, Grumellon, Flamion, Doye.

Averages:

Age
26.8
Appearances/Goals
9.0
2.8
Match Report by Mike Payne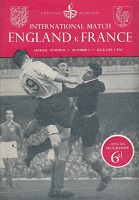 This results defied all the odds as France gained a draw that they deserved but never expected. England gave a very indifferent display and would quickly want to forget this match. At least they managed to retain their proud unbeaten record against continental teams but they were lucky to come away with a draw and could easily have lost.

The success France obtained was built largely on a defensive display and they won few friends amongst the crowd with their tactics.

England had an excellent start, scoring in the fourth minute. A firm cross pass by Tom Finney was unfortunately diverted beyond his own goalkeeper by Firoud. Then they should have had a second when Harold Hassall was put clear by Henry Cockburn's throw-in. Vignal did well to save Hassall's shot but a square pass to the unmarked Jackie Milburn would probably have brought a more positive result.

In the next 20 minutes, France hit back hard, Inspired by Doye, their best player, they hit the crossbar with a cracker from Baratte. The warning was there for England and shortly afterwards France turned the game around with two goals in two minutes.

First Allenby Chilton, who struggled throughout, failed to clear a corner taken by Alpsteg and Doye was on hand to shoot home from close range. Almost at once Doye, with some clever footwork and a quick pass, sent Arthur Willis and Cockburn the wrong way and left Alpsteg with a clear chance. He shot from an acute angle and the ball flew into the England net with the aid of a deflection. England were stunned and watched as Grumellon and Alpsteg tested Bert Williams. But gradually they began to fight back. Billy Wright's long pass sent Milburn away only for the centre-forward's shot to go just wide.

Just before half-time England equalized. A fine move involving Alf Ramsey and Wilf Mannion ended with Les Medley cutting through at inside-right to score.

That was the end of the scoring and the second half was one of England battling against a well organised and uncompromising French defence without any success. There was one other dramatic moment in the half and it almost brought that record to an end. Sloppy work by Willis and Cockburn gave Grumellon the chance to gain possession and speed off towards goal unchallenged. Williams came out and, although he went to his left, he somehow managed to reach back to his right and parry his shot.

Match Report by Norman Giller
Les Medley's first goal for England and an own goal saved a mediocre England team from a first home defeat by a foreign side. France were robbed of a deserved victory when Bert Williams made a desperate late save from French centre-forward Jacques Grumellon, who gave centre-half Allenby Chilton a nightmare afternoon. Arthur Willis, partnering his Spurs team-mate Alf Ramsey, was one of four players - along with Chilton, Henry Cockburn and Wilf Mannion - who never played for England again. It was a scrappy team performance and England's problems continued in the middle of the defence. France could count themselves unlucky not to have won by a convincing margin, and it was Wolves goalkeeper Bert Williams who saved England from defeat with a succession of Swift-standard saves.

Source Notes
TheFA.com
FFF.fr
Allezlesbleus.free.fr
Original newspaper reports
Rothman's Yearbooks
Mike Payne's England: The Complete Post-War Record (Breedon Books Publishing Company, Derby, U.K., 1993)
Norman Giller, Football Author
____________________

CG