Match Summary
Officials from Belgium

England

Type

Portugal

Referee (-) - Louis Baert
x (-).

Linesmen - C. Gibson, England (red flag) and P. de Oliveira, Portugal (yellow flag)

The FIFA ruling of allowing a substitute to replace an injured player prior to the 44th minute, and a goalkeeper at any time, is in place.

Goal Attempts
Attempts on Target
Hit Bar/Post
Corner Kicks Won
Offside Calls Against
Fouls Conceded
Possession

England Team
Rank:

No official ranking system established;
ELO rating 4th
Colours:
The 1949 home uniform - White collared jerseys, blue shorts, black socks with white tops.
Capt:
Alf Ramsey, third captaincy
Manager:
Walter Winterbottom, 38 (31 March 1913), appointed director of coaching on 8 July 1946, and team manager in May 1947;
38th match, W 27 - D 4 - L 7 - F 121 - A 44.


Team chosen by Selection Committee headed by Arthur Drewry, on 9 May 1951 following the Argentina match.

England Lineup
Williams, Bert F.
31
31 January 1920
G
Wolverhampton Wanderers FC
16

21

GA

2
Ramsey, Alfred E.
31
22 January 1920
RB
Tottenham Hotspur FC
14
0
3
Eckersley, William
25
16 July 1925
LB
Blackburn Rovers FC
5
0
4
Nicholson, William E.
32
26 January 1919
RHB
Tottenham Hotspur FC
1
1
5
Taylor, James G.
33
5 November 1917
CHB
Fulham FC
2
0
6
Cockburn, Henry
29
14 September 1921
LHB
12
0
7
Finney, Thomas
29
5 April 1922
OR
32
20
8
Pearson, Stanley C.
32
11 January 1919
IR
Manchester United FC
6
3
9
Milburn, John E.T.
27
11 May 1924
CF
Newcastle United FC
11
10
10
Hassall, Harold W.
22
4 March 1929
IL
Huddersfield Town AFC
3
2
11
Metcalfe, Victor
29
3 February 1922
OL
Huddersfield Town AFC
2
0

unused substitutes:

Gil Merrick (Birmingham City FC), Ernie Taylor (Newcastle United FC) and Ray Barlow (West Bromwich Albion FC)

team notes:

Again, Finney replaced original choice Blackpool FC's Stan Matthews' right-sided position, Metcalfe was drafted in from Netherlands, where he was on a club tour, into the vacant outside-left slot on Thursday, 17 May. Matthews was still suffering with the foot injury.
Prior to the match, England were set-up in Southport, making full use of the Haig Avenure ground for training purposes.
2-3-5
Williams -
Ramsey, Eckersley -
Nicholson, Taylor, Cockburn -
Finney, Pearson, Milburn, Hassall, Metcalfe.

Averages:

Age
29.1
Appearances/Goals
9.5
2.8

Portugal Team
Rank:

No official ranking system established;
ELO rating 28th to 30th
Colours:
Maroon jerseys, white shorts, black socks
Capt:
Francisco Ferreira
Manager:
João Joaquim Tavares da Silva, 47 (29 November 1903), team chosen on Thursday, 17 May 1951
Portugal Lineup
do Oliveira, Ernesto Nogueira
29
28 July 1921
G
Atlético Clube de Portugal
5

16

GA

2
Marques Mendes, Virgílio
23
17 November 1927
RB
FC do Porto
9
0
3
das Neves, Serafim
30
29 August 1920
LB
CF Os Belenenses
15
0
4
Ribeiro Canário, Carlos Augusto
33
10 February 1918
RHB
Sporting Club de Portugal
10
0
5
Assunção Antunes, Félix
28
14 December 1922
CHB
Sport Lisboa e Benfica
10
0
6
Ferreira, Francisco
31
23 August 1919
LHB
Sport Lisboa e Benfica
24
0
7
Patalinho

, injured off 40th min.


Demétrio, Domingos Carrilho
28
29 June 1922
OR
CF O Elvas
3
2
8
Barreto Travassos, José António
25
22 February 1926
IR
Sporting Club de Portugal
19
4
9
Ben David, Henrique de Sena
24
5 December 1926
in Cape Verde
CF
Atlético Clube de Portugal
4
3

10

do Amaral Caiado, Fernando Augusto
26
2 March 1925
IL
Boavista FC
4
0
11
Narciso Pereira, Albano
28
21 December 1922
OL
Sporting Club de Portugal
11
3
Portugal Substitutes

scoreline:

England 2 Portugal 1

Gomes, Carlos Martinho, on 40th min. for Patalino
24
18 October 1926
OR
Atlético Clube de Portugal
2
0

result:

England 5 Portugal 2

unused substitutes:

not known

team notes:

Patalino replaced Carlos Martinho at outside-right.
Prior to this match, the Portuguese team were staying in New Brighton, and using the Goodison Park ground to train on.
2-3-5
Oliviero -
Virgílio, Serafim -
Canário, Félix, Ferreira -
Patalino (Carlos Martinho), Travassos, Ben David, Caiado, Albano.

Averages:

Age
27.7
Appearances/Goals
10.4
0.9
Match Report by Mike Payne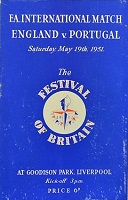 England brought the Festival of Britain football programme to a close with a spectacular finish to a game evenly contested for 75 minutes.

Nearly 53,000 people packed into Goodison Park and they were soon on their feet cheering a first-minute goal for England. Only 19 seconds had gone on the stop-watch when a close passing movement straight from the kick-off enabled Henry Cockburn, Vic Metcalf and Stan Pearson to give Billy Nicholson a dream debut when he scored with a magnificent 18-yard shot with his first touch.

This would have knocked the stuffing out of most sides but within a minute Portugal drew level. A counter-thrust by Caiado, Travaços and David set up the chance for Patalino to shoot past Williams. It had been a remarkable opening and ten minutes later the dashing Jackie Milburn, who had a fine game, put England back in the lead with a swift low shot after receibing a pass from Pearson.

That lead lasted until just after half-time. Hesitancy between Alf Ramsey and Jim Taylor allowed Albano slip the ball past Bert Williams to once again level the scores. This really set the game alight and with the Portuguese tails well and truly up they began to ask severe questions of the English defence.

Then suddenly with 15 minutes left the England side changed completely. Gone was the tired and lethargic look. It was replaced by the much more normal look of the England team. They then proceeded to produce an appropriate festival of goals to end the match.

Tom Finney, in one of his most devastating moods, scored the decisive and killer goal in the 76th minute. It came with a superb swerving left-foot shot from the touch-line. It really was a match-winning goal and it finally broke the stubborn resistance of the brave Portuguese. The goals that followed from Milburn and Hassall were mere formalities and simply entertained the crowd still further. In the end the extra power of the English team finally saw off another continental challenge.

Match Report by Norman Giller
For the only time in his career, Billy Wright was dropped because of loss of form. Bill Nicholson took over in the No 4 shirt, and had the distinction of scoring with his first kick in international football in what was to prove his only match for England. Portugal were a goal down in twenty seconds and level a minute later in a blistering start to the match. Jackie Milburn restored England's lead in the eleventh minute. Alf Ramsey, skippering the side for a third time, mishit a back pass that let Portugal in for a second equaliser soon after half-time. Tom Finney then took over and ran the Portuguese into such dizzy array that at the after-match banquet their entire team stood and toasted "Mr. Finney, the Master." He scored a magnificent solo goal, and then laid on goals for Milburn and Harold Hassall.


Source Notes
TheFA.com
FPF.pt
ZeroZero.pt
Original newspaper reports
Rothman's Yearbooks
Mike Payne's England: The Complete Post-War Record (Breedon Books Publishing Company, Derby, U.K., 1993)
Norman Giller, Football Author
____________________

CG