Match Summary
Officials

France

Type

England

Referee (black) - Karel Louis van der Meer
43 (29 July 1905), Den Haag, Netherlands.

Linesmen - tbc



Attended by the British Foreign Minister, Ernest Bevin.




The FIFA ruling of allowing a substitute to replace an injured player prior to the 44th minute, and a goalkeeper at any time, is in place.

Goal Attempts
Attempts on Target
Hit Bar/Post
Corner Kicks Won
Offside Calls Against
Fouls Conceded
Possession
France Team
Rank:

No official ranking system established;
ELO rating 22nd
Colours:
Blue jerseys with buttoned-up collars, white shorts, red socks.
Capt:
Albert Batteux
Manager:


Trainer: Paul Baron

Team chosen by the Selection Committee.
France Lineup
Vignal, Ren�
22
12 August 1926
G
RC de Paris
3

9 ᵍᵃ

2
Grillon, Andr�
27
1 November 1921
RB
Stade fran�ais-Red Star
10
0
3
Salva, Marcel
26
1 October 1922
in Algeria
LB
RC de Paris
9
0
4
Jonquet, Robert
24
3 May 1925
RHB
Stade de Reims
4
0
5
Hon, Louis
24
11 September 1924
CHB
Stade fran�ais-Red Star
6
0
6
Mindonnet, Roger
24
24 December 1924
LHB
OGC Nice Côte d'Azur
2
0
7
Gabet, Roger
25
12 December 1923
OR
RC de Paris
3
0
8
Cuissard, Antoine
24
19 July 1924
IR
AS de Saint-Étienne Loire
17
1
9
Quenolle, Roger
23
19 July 1925
CF
RC de Paris
1
0

10

Batteux, Albert
29
2 July 1919
IL
Stade de Reims
6
1
11
Moreel, Georges
24
22 July 1924
OL
RC de Paris
1
1

unused substitutes:

Paul Sinibaldi (Stade de Reims), Pierre Sinibaldi (Stade de Reims) and Jean Lechantre (Lille OSC)
2-3-5
Vignal -
Grillom, Salva -
Jouquet, Hon, Mindonnet -
Gabet, Guissard, Quenelle, Batteux, Moreel.

Averages:

Age
24.7
Appearances/Goals
5.6
0.1

England Team
Rank:

No official ranking system established;
ELO rating 5th to 3rd
Colours:
The 1949 home uniform - White collared jerseys, blue shorts, black socks with white tops.
Capt:
Billy Wright, seventh captaincy
Manager:
Walter Winterbottom, 36 (31 March 1913), appointed as FA national director of coaching/team manager on 8 July 1946;
22nd match, W 16 - D 3 - L 3 - F 75 - A 22.


Party chosen by Selection Committee headed by Arthur Drewry, team chosen on Friday, 20 May.

England Lineup
Williams, Bert F.
29
31 January 1920
G
1

1ᵍᵃ

2
Ellerington, William
25
30 June 1923
RB
Southampton FC
2
0
3
Aston, John
27
3 September 1921
LB
Manchester United FC
7
0
4
Wright, William A.
25
6 February 1924
RHB
22
1
5
Franklin, Cornelius
27
24 January 1922
CHB
22
0
6
Dickinson, James W.
24
24 April 1925
LHB
Portsmouth FC
2
0
7
Finney, Thomas
27
5 April 1922
OR
18
14
8
Morris, John
25
27 September 1923
IR
Derby County FC
2
3
9
Rowley, John F.
30
7 October 1918
CF
Manchester United FC
3
1

10

Mannion, Wilfred

J.

31
16 May 1918
IL
Middlesbrough FC
15
8
11
Mullen, James
26

6 January 1923

OL
3
1

unused substitutes:

Bill Jones (Liverpool FC), Stan Mortensen (Blackpool FC), Dennis Wilshaw (Wolverhampton Wanderers FC)

team notes:

Billy Wright is the first captain to score since David Jack did so on 10 May 1930 against Germany. He also becomes the first non-forward to score post-war.
2-3-5
Williams -
Ellerington, Aston -
Wright, Franklin, Dickinson -
Finney, Morris, Rowley, Mannion, Mullen.

Averages:

Age
26.9
Appearances/Goals
8.8
2.3
Match Report by Mike Payne
England completed their summer tour with a spendid win in Paris, recovering from a disastrous start. On a very hot, sunnay afternoon and on a pitch like concrete, the visitors made a terrible start. Within 30 seconds France were ahead. A couple of mistakes by Bert Williams and Neil Franklin let moreel in to score. It was a real danger-thrust to the heart for England and it inspired the passionate crowd of over 61,000 people.

A lesser team would have crumbled under such pressure but as it was the England players knuckled down and fought back magnificently. Overcoming some fierce 'continental tackling' they gradually got to grips with the midfield battle.

It took only eight minutes for them to find an equalizer. Johnny Morris found Jimmy Dickinson with a neat flick. Dickinson then sent Jack Rowley clear down the left with a lovely through-ball. When the cross came over fast and low into the box, there was Morris, up with the attack, to finish off the move he had started back in his own half.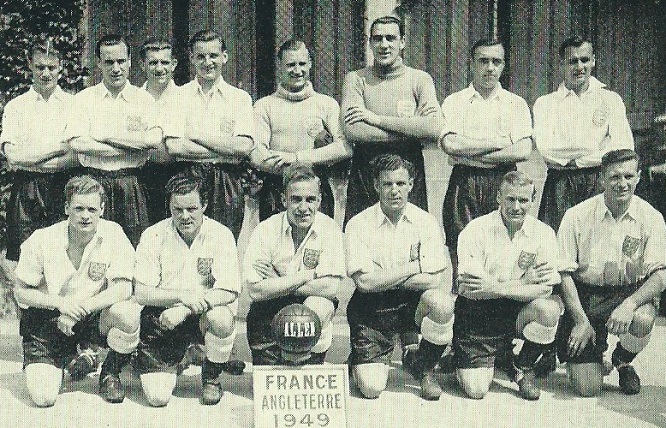 It was a memorable goal and for the next 15 minutes fast counter-attacking by both sides, a feature of the match, tested the defences as each team strove for the upper hand. Dickinson was an inspiration with a powerful display and Williams also did well, especially considering his shaky start. After 26 minutes England snatched the lead.

Morris, Jimmy Mullen, Wilf Mannion and Rowley all took part in a fine move down the left flank. At the end of it, Rowley placed a pass diagonally into space some 12 yards from goal. Suddenly, from nowhere, came Billy Wright speeding in to shoot past Vignal. Shortly afterwards the goalkeeper made a superb save from Morris as England ended the half in a much better frame of mind than they had started it.

France fought hard for a 20-minute spell at the start of the second half. They strung together some excellent moves and Moreel missed one particular good chance. But by now England were looking much more solid with Franklin in complete command. With Morris and, especially, Mannion dominating the midfield England always looked capable of scoring again and this they did with four minutes to go, when Morris put the result beyond doubt.

Tom Finney, who had been the best forward on view with his play doing as much as anyone to open up the French defence, was in great form and Rowley, too was impressive and he added life to the centre of the attack. Altogether it was a very satisfying result for England.

Match Report by Norman Giller
Making his debut in the England goal, Wolves custodian Bert 'The Cat' Williams was beaten after just 28 seconds by an instant goal from French debutant Georges Moreel. The match was played under a boiling sun and on a Colombes Stadium pitch as hard as concrete. Billy Wright made it a match to remember in the twenty-sixth minute by scoring his first international goal. It was the first goal scored for England by a non-forward since the war. Johnny Morris netted twice, including a late victory-clinching goal in the eighty-sixth minute that silenced the 61,500 shirt-sleeved Parisian spectators.


Source Notes
TheFA.com
FFF.fr
Allezlesbleus.free.fr
Original newspaper reports
Rothman's Yearbooks
Mike Payne's England: The Complete Post-War Record (Breedon Books Publishing Company, Derby, U.K., 1993)
Norman Giller, Football Author
____________________

CG