Match Summary
Officials

Norway

Type

England

Referee (-) - J.E. Andersson
x (-), Sweden.

Linesmen - tbc

Teams presented to King Haakon and Crown Prince Olaf

The FIFA ruling of allowing a substitute to replace an injured player prior to the 44th minute, and a goalkeeper at any time, is in place.

Goal Attempts
Attempts on Target
Hit Bar/Post
Corner Kicks Won
Offside Calls Against
Fouls Conceded
Possession

Norway Team
Rank:

No official ranking system established;
ELO rating 31st to 34th
Colours:
Capt:
Manager:
Team chosen by the Uttakskomit�
Norway Lineup
Torgensen, Torgeir
26
10 March 1923
G
IL Viking

GA

2
Spydevold, BjÖrn A.
30
8 September 1918
RB
Fredrikstad FK
3
Karlsen, Harry Boye A.
29
14 March 1920
LB
Örn Horten
4
Svenssen, O. ThorbjÖrn
25
22 April 1924
RHB
Sandefjord BK
5
Andersen, Knut
22
20 July 1927
CHB
Skeid Fotball
6
Andersen, Odd
28
30 May 1920
LHB
Fredrikstad FK
1
0
7
Arnesen, Trygve
33
11 December 1915
OR
V�lerengens IF
8
Thoresen, Gunnar N.
28
21 July 1920
IR
Larvik T
9
Andresen, Willy
24
29 January 1925
CF
Sarpsborg FK

10

Nordahl, Hans
31
29 April 1918
IL
Skeid Fotball
11
Dahlen, Gunnar M.
31
28 April 1918
OL
Freidig
3

unused substitutes:

not known
2-3-5
Torgensen -
Spydevold, Karlsen -
K.Andersen, Svenssen, O.Anderssen -
Arnesen, Thorsen, Andersen, Nordahl, Dahlen.

Averages:

Age
27.9
Appearances/Goals
-
-

England Team
Rank:

No official ranking system established;
ELO rating 5th
Colours:
Probably the 1949 home uniform - White collared jerseys, blue shorts, black socks with white tops.
Capt:
Billy Wright, sixth captaincy
Manager:
Walter Winterbottom, 36 (31 March 1913), appointed as FA national director of coaching/team manager on 8 July 1946;
21st match, W 15 - D 3 - L 3 - F 72 - A 21.


Party chosen by Selection Committee headed by Arthur Drewry, on Monday, 2 May 1949, team chosen on Monday, 16 May.

England Lineup
Swift, Frank V.
35
26 December 1913
G
Manchester City FC
19

18ᵍᵃ

2
Ellerington, William
25
30 June 1923
RB
Southampton FC
1
0
3
Aston, John
27
3 September 1921
LB
Manchester United FC
6
0
4
Wright, William A.
25
6 February 1924
RHB
21
0
5
Franklin, Cornelius
27
24 January 1922
CHB
21
0
6
Dickinson, James W.
24
24 April 1925
LHB
Portsmouth FC
1
0
7
Finney, Thomas
27
5 April 1922
OR
17
14
8
Morris, John
25
27 September 1923
IR
Derby County FC
1
1
9
Mortensen, Stanley H.
27
26 May 1921
CF
Blackpool FC
12
14

10

Mannion, Wilfred

J.

31
16 May 1918
IL
Middlesbrough FC
14
8
11
Mullen, James
26

6 January 1923

OL
2
1

unused substitute:

Dennis Wilshaw (Wolverhampton Wanderers FC)
2-3-5
Swift -
Ellerington, Aston -
Wright, Franklin, Dickinson -
Finney, Morris, Mortensen, Mannion, Mullen.

Averages:

Age
27.2
Appearances/Goals
10.5
3.2
Match Report by Mike Payne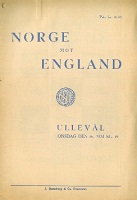 Under overcast skies and with one or two sharp downpours of rain, England continued their tour by beating Norway easily. However, although it was a clear win, it was far from convincing.

It only took six minutes for England to take the lead. Billy Wright sent a crossfield pass towards Johnny Morris, who guided it on to Jimmy Mullen for the winger to score with a crisp left-foot shot.

After taking command so early it seemed only a question of how many goals England would score. Unfortunately, for most of the rest of the first half all the visiting players tended to overdo the ball skills and as a result showed little finishing power. Morris was making an enterprising debut, though, and quickly struck up a good partnership with Wilf Mannion. Tom Finney and Mullen however were not at their best and they were both guilty of dallying too long before shooting.

Norway worked hard and after 30 minutes produced their best move of the match. It gave the England defence a few awkward moments before they eventually cleared the danger. With seven minutes of the half remaining. England produced a thrilling goal.

A superb move involving Wright, Morris, Mannion, Stan Mortensen and Finney ended with the latter shooting home to score a beauty. From then on it was largely an exhibition game for England, although there were still a few question-marks over certain positions. Both Frank Swift and Bill Ellerington looked uncomfortable and some felt that they had seen the last of 'Big Swifty', who had graced the goalkeeping position for so long.

Wright, Neil Franklin and Jimmy Dickinson looked powerful enough, though, and Dickinson certainly seemed the perfect foil for Wright in the midfield.

With eight minutes of the second half gone, W.Andresen headed a centre from Arnesen on to the bar but quickly latched on to the rebound to shoot past Swift. This opened the game up considerably for a few minutes and England were forced back as Norway pressed for an equalizer.Twice Thorsen caused Swift to fumble the ball but England escaped and the fight-back was short-lived. In fact the visitors soon increased their lead when Spydevold had the misfortune to divert a long job by Mannion wide of his own goalkeeper.

With 20 minutes of the game remaining, man of the match Morris gained his reward for a fine display with a piece of high speed thinking as he shot home over a crowd of players into the unguarded net.

Match Report by Norman Giller
Frank Swift, one of the all-time great goalkeepers, made his farewell appearance in a comfortable canter against the amateurs of Norway. Derby inside-right Johnny Morris scored on his England debut. Much of England's play was of the exhibition variety, with Finney and Mannion parading their skill. Southampton right-back Billy Ellerington won the first of his two caps, and Jimmy Dickinson, Pompey's Mr. Consistent, started his run of 48 England appearances. Wright, Franklin and Dickinson constituted as solid a looking half-back line as has appeared in England jerseys since the days of Britton, Cullis and Mercer. They had an iron grip on the Norwegian forwards, and Wright found time to prompt the attack with penetrating passes.


Source Notes
TheFA.com
Original newspaper reports
Rothman's Yearbooks
Mike Payne's England: The Complete Post-War Record (Breedon Books Publishing Company, Derby, U.K., 1993)
Norman Giller, Football Author
____________________

CG