"ENGLAND MISSES LET BLUE DEVILS GO SCOT-FREE"
The People
Officials

from Ireland

England
UK ruling on substitutes
Scotland

Referee

(green)


Thomas James Mitchell
41 (28 January 1912), Lurgan, Ulster

Teams presented to Field-Marshal Lord Alexander of Tunis, the Minister of Defence.

Also guests of the Football Association are the Australian cricket team, who arrived in England on 13 April, for their tour and Ashes series.

flame flag

Linesmen

orange flag

John Davidson


Newtownards

Robert

James

Quail


(1915) Belfas

t

England Team
Rank
No official ranking system established;
ELO rating 4th to 5th

Colours

The 1949 home uniform - White collared jerseys, blue shorts, red socks.

P 29th of 43, W 17 - D 7 - L 5 - F 80 - A 41.

Captain
Billy Wright

Manager
Walter Winterbottom, 40 (31 March 1913), appointed as FA national director of coaching/team manager on 8 July 1946;
record 32nd of 90, W 20 - D 6 - L 6 - F 81 - A 40.

P fiftieth of 139, W 33 - D 10 - L 7 - F 151 - A 59

.
³

Team chosen by Selection Committee headed by Harold Shentall, on Friday, 10 April, in Sheffield.

England Lineup
two changes to the previous match (Barrass & Broadis>Elliott & Bentley)

league positions

(10 April)

Merrick, Gilbert H.
31
82 days
26 January 1922
G
Birmingham City FC

(FL2 8th)

10

12ᵍᵃ

2
Ramsey, Alfred E.
33
86 days
22 January 1920
RB
Tottenham Hotspur FC

(FL 11th)

26
1
3
Smith, Lionel
32
238 days
23 August 1920
LB
Arsenal FC

(FL 3rd)

6
0
final app 1950-53
4
Wright, William A.
29
71 days
6 February 1924
RHB
Wolverhampton Wanderers FC

(FL TOP)

47
3

most apps

1952-53

5
Barrass, Malcolm W.
28
126 days
13 December 1924
CHB
Bolton Wanderers FC

(FL 12th)

3
0
final app 1951-53
6
Dickinson, James

W.

27
359 days
24 April 1925
LHB
Portsmouth FC

(FL 15th)

24
0
7

Finney, Thomas
31
13 days
5 April 1922
OR
Preston North End FC

(FL 2nd)

43
21
8

Broadis, Ivan A.
30
121 days
18 December 1922
IR
Manchester City FC

(FL 16th)

4
3
the 164th (31st post-war) brace scored
9
Lofthouse, Nathaniel
27
234 days
27 August 1925
CF
Bolton Wanderers FC

(FL 12th)

12
14

10

Froggatt, Redfern
28
238 days
23 August 1924
IL
Sheffield Wednesday FC

(FL 18th)

3
1
11
Froggatt, Jack
30
152 days
17 November 1922
CHB
Portsmouth FC

(FL 15th)

12
2
reserves:
Johnny Berry (Manchester United FC

(FL 8th)

) and Jimmy Adamson (Burnley FC

(FL 7h)

)
team notes:
The Froggatt's are cousins.
records:
This is the fifth match unbeaten at Wembley by England, beating a pre-war record.
This draw extends the post-war unbeaten record to f

ou

rteen games without loss.

The England team trained at Stamford Bridge prior to this match, under the direction of Winterbottom, Trotter and an Australian F.A. coach, Vivian Chalmin.



2-3-5
Merrick -
Ramsey, Smith -
Wright, Barrass, Dickinson -
Finney, Broadis, Lofthouse, R.Froggatt, J.Froggatt.

Averages:

Age
30 years 29 days
Appearances/Goals

17.3

3.9

oldest post war team so far

most experienced post-war team

so far

Winterbottoms XI after fifty matches
Swift (18) -
Ramsey (26), Aston (17) -
Wright (47), Franklin (27), Dickinson (24) -
Matthews (16), Mortensen (23), Lawton (16), Mannion (26), Finney (43)
After fifty matches, Winterbottom has used 67 players, 84 on to teamsheets and 97 into his various parties.

Scotland Team
Rank
No official ranking system established;
ELO rating 10th
Colours
blue jerseys with white collars, white shorts, blue socks with white/blue tops.
Captain
George Young
Selection
The Scottish Football Association Selection Committee
on Wednesday, 8 April 1953
Trainer: Alec Dowdells (The Celtic FC)
Scotland Lineup
Farm, George N.
28
279 days
13 July 1924
G
Blackpool FC

, England

3

4ᵍᵃ

2
Young, George L.
30
173 days
27 October 1922
RB
Rangers FC
37
0

most apps

1952-53

3
Cox, Samuel R., injured off 69th min.
29
5 days
13 April 1924
LB
Rangers FC
22
0
4
Docherty, Thomas H.
24
359 days
24 April 1928
RHB/
LHB
Preston North End FC

, England

2
0
5
Brennan, Frank
28
360 days
23 April 1924
CHB
Newcastle United FC

, England

6
0
684
6
Cowie, Douglas
26
352 days
1 May 1926
LHB
/LB
Dundee FC
1
0
7
Wright, Thomas
25
88 days
20 January 1928
OR
/RHB
Sunderland AFC

, England

3
0
final app 1952-53
8

Johnstone, Robert
23
223 days
7 September 1929
IR
Hibernian FC
6
3
9

Reilly, Lawrance
24
172 days
28 October 1928
CF
Hibernian FC
22
15

10

Steel, William
29
352 days
1 May 1923
IL
Dundee FC
29
12
11
Liddell, William B.
31
98 days
10 January 1922
OL
Liverpool FC, England
23
6
reserves:
Travelling reserve is Fernie (The Celtic FC).
Full team of reserves are Jimmy Cowan (Greenock Morton FC); Jock Aird (Burnley FC); Bobby Evans (The Celtic FC), Doug Cowie (Dundee FC) and Tommy Docherty (Preston North End FC); Jackie Henderson (Portsmouth FC) and Willie Fernie (The Celtic FC); Willie Bauld (Hearts of Midlothian FC); Jackie Mudie (Blackpool FC) and Tommy Ring (Clyde FC).
team notes:
Sammy Cox injured his ankle in the build-up to England's second goal, he was trying to tackle Tom Finney on the goalline. The Wembley turf is described as 'soft and springy', and to counter this, the players wear long studs. Cox's studs caught in the turf, 'wrenching' his ankle.
The Scottish team were set-up in Weybridge, Surrey, before this match.
2-3-5
Farm -
Young, Cox (Cowie) -
Docherty (Wright), Brennan, Cowie (Docherty) -
Wright, Johnstone, Reilly, Steel, Liddell


notes:- when Cox was stretchered off after 69 minutes, Cowie took up the left-back role, Docherty switched flanks, leaving Young and Wright to deal with Finney.

Averages:

Age
27 years 226 days
Appearances/Goals

14.0

3.1
News
"SCOTS MAY LEAVE OUT RANGERS
"Scotland may withdraw full backs George Young (captain) and Sam Cox from the team to play England at Wembley on Saturday. This is the possible outcome of a dispute between Glasgow Rangers and the Scottish F.A., who have refused the club permission to play Young and Cox in a League match with Airdrieonians tomorrow night. This would have meant the players travelling South a day late. Rangers, who are in line for the championship, say they will defy the ruling and play both men. The League also refuses to postpone the fixture. Aird (Burnley) and McNaught (Raith Rovers) are candidates for the two places if action is taken. A decision will be made today." - Tuesday, 14 April 1953, The Daily Herald.

"SCOTTISH FOOTBALL DISPUTE SETTLED
"The dispute between the Scottish F.A. and Glasgow Rangers was settled last night by the announcement that the Scottish F.A. have given permission to both George Young and Sam Cox, the Rangers players, to travel south immediately after the League match with Airdrieonians at Ibrox Park, Glasgow, today." - Wednesday, 15 April 1953, The Birmingham Gazette.

Match Report

by Mike Payne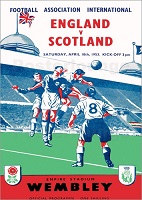 The run of Scottish success at Wembley has now stretched for 19 years continuing with this highly deserved draw. Ever since 1934, Scotland had been able to pride themselves at not being beaten at England's premier stadium. Certainly an England win would have been a travesty. For, although they always created the more clear-cut openings, Scotland's courage and spirit deserved nothing less than a draw. Let the story unfold.

The early exchanges had seen both sides push forward. Docherty and Cowie were setting a high standard with their industry in midfield and Billy Wright and Jimmy Dickinson were having to battle hard. Tom Finney was weaving some good runs on the right but the visitors were having slightly the better of things in this spell. It therefore came as a big surprise when England scored in the 19th minute.

Finney conjured up some wonderful magic as he twisted his way infield past Steel, Cowie and Cox before sending Ivor Broadis through the middle with an inch perfect pass. The number-eight switched the ball from right foot to left foot under pressure from Brennan before unleashing a thunderbolt wide of the diving Farm.

Although Redfern Froggatt could twice have increased England's lead, both times missing when in a one against one situation, Scotland, too, had their moments.

One amazing escape came when Malcolm Barass and Lionel Smith somehow kept Johnstone's shot out after Gil Merrick had dropped a free-kick from Young. It was in fact the long leg of Smith that retrieved the danger. Then, a minute before the interval, Steel's cross-shot hit the bar and bounced down for Barass to, once again, come to the rescue.

Barrass had held Reilly well in the first half but, with Steel's increasing influence beginning to stretch the home defence, the England centre-half began to struggle later on.

In the 55th minute, Scotland at last gained that elusive equaliser. The England defence was all at sea as Johnstone's powerful shot again hit the bar but this time Reilly was quickly on to the rebound to crash the ball home. The goal was no more than Scotland deserved and had come from a splendid move involving Cox, Cowie, Docherty and Steel.

Cowie was having a tremendous match and after the goal the tempo of the whole game began to rise. England still created chances though. Soon Jack Froggatt joined his cousin in missing a good chance, allowing Farm to save his shot after he raced clear on to a Nat Lofthouse pass. Broadis, too, missed a fine chance but made up for it in the 17th minute when he scored a superb goal.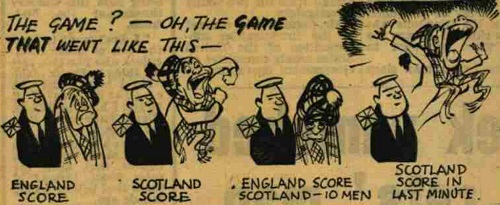 Wright sent Broadis away just inside his own half. A long dribble ended with a square pass to Finney. The Preston player suddenly moved into second gear and with a breathtaking piece of footwork, a slight feint and a change of pace, left Cox in his wake before finally pulling back a diagonal pass to Broadis again who hit home a low first-time shot. Cox was left writhing in agony after his attempted tackle on Finney and, sadly, his injury meant he had to leave the field.

Losing 2-1 and a man short, it seemed curtains for Scotland. But their national pride and passion would not allow them to give in. Docherty, Cowie and Steel and Young rolled up their sleeves and worked even harder to inspire their colleagues to greater heights. Steel and Liddell forced full-length saves from Merrick as England wavered under the onslaught.. But with only 30 seconds remaining, the tide of the blue shirts finally gained their reward.

Good passing between Johnstone and Reilly split the English defence wide open and it ended with the centre-forward hitting the roof of the home net with a fierce shot. It was no more than Scotland deserved.

Match Report

by Norman Giller
Lawrie 'Last Minute' Reilly equalised for Scotland with the final kick of the match. It was Reilly's second goal in reply to two from Ivor Broadis. The Scots, driven from midfield by Preston's Tommy Docherty and Dundee's Doug Cowie, dominated play for long spells and thoroughly deserved their late equaliser. They played for much of the second-half with only ten men after Rangers left-back Sammy Cox had been injured trying to stop a thrusting run by Tom Finney. Utility player Jack Froggatt, capped by England at centre-half and as an outside-left, partnered his cousin Redfern on the left wing. Each of the cousins missed simple chances to give England the lead before Broadis scored what looked like being a winning second goal. This draw meant that it was nineteen years since England had last beaten them on home ground. There were just thirty seconds left when Lawrie Reilly popped up with one of his typical late goals that so often saved Scotland.

Match Report

by Glen Isherwood
England had already beaten Wales and drawn with Northern Ireland. Scotland had done likewise. victory for either side would give them the Championship outright. A draw would mean they would share it. Scotland were still unbeaten at Wembley in the British Championship since 1934 and had won on their last two visits.
Scotland started the stronger but fell behind. The skilful Finney beat three men and passed to Ivor Broadis, who fought off a challenge from Brennan to blast the ball past Farm.
Scotland equalised after Johnstone hit the bar and Lawrie Reilly scored from the rebound, his third in consecutive visits to Wembley. Twenty minutes from the end Finney again provided Broadis with a shooting opportunity which he didn't squander. Cox twisted his ankle in trying to stop Finney and was carried off. With ten men the Scots looked to be beaten. But in the last minute their unbeaten record was saved when Reilly and Johnstone ripped open the England defence for Reilly to shoot home his second.
England won the British Championship outright the following year by beating Scotland at Hampden Park for the fifth successive time in the competition. In so doing England and runners-up Scotland qualified for the World Cup in Switzerland. Scotland's run at Wembley finally came to an end with a crushing defeat in 1955.

Match Report
as appears in the F.A. Yearbook 1953-54, pages 21-22
It was almost five months before England player together again as the national side, and in those five months some changes in form and, in particular, an unimpressive performance by a full-strength Football League eleven against the Scottish League showed only too clearly that a repetition of the encouraging showings against Wales and Belgium was not to be expected. England made some surprise changes; centre-half Froggatt (J.) was switched to outside-left to partner his cousin, Froggatt (R.). Barrass came in as centre-half, Smith replaced Eckersley at left-back, and Broadis, in brilliant form, came in for Bentley at inside-right.
For close on 20 years Scotland have not been beaten at Wembley in a full International match, and in 1953 a goal by Reilly in the last 30 seconds preserved that record with dramatic sharpness. Scotland earned their draw, snatched as it was against the odds. When England took the lead for the second time after a Broadis-Finney duet 20 minutes from the end and Cox, in trying to stop Finney, injured his ankle and was carried off, Scotland suddenly grew in stature, mounting attack upon attack and roaring to the equaliser. The England players produced cultured football, stroking the ball along the ground and creating most of the goal chances that came that afternoon, but they failed to turn their approach work to good account. Scotland gave as good as she got. Cowie, Docherty, Steel and Johnstone were overwhelming in mid-field, coaxing their colleagues into a fast, open game that contrasted - oddly, for the Scots - with England's tactical ability.
England went ahead after 19 minutes. Finney weaved his way past three men before sending Broadis away through the middle to make no mistake with a screaming drive. But 10 minutes after half-time, Johnstone hit the crossbar and Reilly was at hand to ram home the rebound. Then came Broadis's second goal 20 minutes from the end, the signal for a new and brave effort from Scotland before which England visibly sagged. Thirty seconds from the end Johnstone and Reilly tore towards goal in a flurry of swift cross-passing which ended with Reilly shooting hard into the roof of the net.

Source Notes
TheFA.com
Original newspaper reports
LondonHearts.com


The Complete Book of the British Charts

Rothman's Yearbooks


Mike Payne's England: The Complete Post-War Record
Norman Giller, Football Author


Glen Isherwood's Wembley: The Complete Record


British Pathé
cg