Match Summary
Officials from Netherlands

England

Type

Belgium

Referee (-) - Leonard Sylvain Horn
x (-).

Linesmen - Jon Bronkhorst (flame flag) and Charles Schipper (orange flag).

The teams were presented to the Guest of Honour, The Duke of Gloucester, prior to the match.

The FIFA ruling of allowing a substitute to replace an injured player prior to the 44th minute, and a goalkeeper at any time, is in place.

Goal Attempts
Attempts on Target
Hit Bar/Post
Corner Kicks Won
Offside Calls Against
Fouls Conceded
Possession

England Team
Rank:

No official ranking system established;
ELO rating 4th
Colours:
The 1949 home uniform - White collared jerseys, blue shorts, black socks with white tops.
Capt:
Billy Wright, 31st captaincy
Manager:
Trainer: Jimmy Trotter (Charlton Athletic FC)
Walter Winterbottom, 39 (31 March 1913), appointed as FA national director of coaching/team manager on 8 July 1946;
49th match, W 33 - D 9 - L 7 - F 149 - A 57.


Team chosen by Selection Committee headed by Harold Shentall, on Tuesday, 18 November 1952 in Sheffield.

England Lineup
Merrick, Gilbert H.
30

26 January 1922

G
Birmingham City FC
9

10ᵍᵃ

2
Ramsey, Alfred E.
32
22 January 1920
RB
Tottenham Hotspur FC
25
1
3
Smith, Lionel
32
23 August 1920
LB
Arsenal FC
5
0
4
Wright, William A.
28
6 February 1924
RHB
46
3
5
Froggatt, Jack
30
17 November 1922
CHB
Portsmouth FC
11
2
6
Dickinson, James

W.

27
24 April 1925
LHB
23
0
7
Finney, Thomas
30
5 April 1922
OR
42
21
8
Bentley,

T.F.

Roy
28
17 May 1924
IR
8
3
9
Lofthouse, Nathaniel
27
27 August 1925
CF
Bolton Wanderers FC
11
14
10
Froggatt, Redfern
28
23 August 1924
IL
Sheffield Wednesday FC
2
1
11

Elliott, William H.
27
20 March 1925
OL
Burnley FC
5
3

unused substitutes:

Ted Ditchburn (Tottenham Hotspur FC), Joe Kennedy (West Bromwich Albion FC) and Dennis Wilshaw (Wolverhampton Wanderers FC). Wilshaw damaged his ankle in his club's league match the previous Saturday, his place going to Ronnie Allen (West Bromwich Albion FC) on 24 November.

team notes:

Players once again trained on the ground of Chelsea FC, Stamford Bridge.
Billy Wright extends his record appearance tally, also making this the most experienced post-war team England have fielded.
Not since their second WCF match in 1950 against USA have England fielded an unchanged side.
It was after this match, at a banquet at a Park Lane Hotel in London, that Billy Wright received an award, an illuminated address, for becoming England's most capped player.

records:

This is the fourth match unbeaten at Wembley by England, equalling a pre-war record.
2-3-5
Merrick -
Ramsey, Smith -
Wright, J.Froggatt, Dickinson -
Finney, Bentley, Lofthouse, R.Froggatt, Elliott.

Averages:

Age
29.0
Appearances/Goals
17.0
3.9

Belgium Team
Rank:

No official ranking system established;
ELO rating 27th to 28th
Colours:
Red lace-up collared jerseys, black shorts, black socks with yellow tops.
Capt:
Jef Mermans
Manager:
William Joseph Gormlie (b.mid-1911 in Toxteth Park, England).
Team chosen on Monday, 17 November 1952.
Belgium Lineup
Boogaerts, Ferdinand P.
31
25 February 1921
G
Royal Standard de Liége
6

24ᵍᵃ

2
Diricx, Henri
25
7 July 1927
RB
Union St. Gilloise
5
0
3
Van Brandt, Alfons
25
24 June 1927
LB
Koninklijke Lierse Sk
5
0
4
Mees, victor
25
26 January 1927
RHB
Royal Antwerp FC
22
0
5
Carr�, Louis
27
7 January 1925
CHB
RFC Liégeois
27
0
6
Maertens, Robert
22
24 January 1930
LHB
Royale Antwerp FC
6
0
7
Lemberechts, victor
28
15 May 1924
OR
KV Mechelen
31
10
8
Van Der Auwera, Jan
28
9 January 1924
IR
RC Mechelen
19
0
9
Mermans, Joseph
30
16 February 1922
IL
RSC Anderlecht
36
23

10

Coppens, Henri F.L.
22
29 April 1930
CF
Royale Bierschot AC
12
3
11
Straetmans, Jean
21
26 September 1931
OL
Royale White Star AC
1
0

unused substitutes:

Armand Seghers, Willy Saeren, Pol Anoul, Michel Bensch.

team notes:

The Belgians made a forward switch, Mermans and Coppens swapping positions.
2-3-5
Boogaerts -
Diricx, Van Brandt -
Mees, Carr�, Maertens -
Lemberechts, Van Der Auwera, Coppens, Mermans, Straetmans

Averages:

Age
25.8
Appearances/Goals
15.5
3.3
Match Report by Mike Payne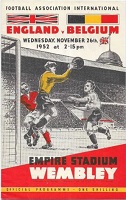 On a bitterly cold day and, with a pitch covered in icy patches, England produced another fine performance to continue their good run. Belgium became the latest vićtims of the unbeaten home record against continental sides and they ended the match well beaten.

England's recent good form has coincided with the excellent play of two players in particular. Redfern Froggatt and Nat Lofthouse have been superb with Lofthouse especially the outstanding star of the England side.

The Duke of Gloucester was the VIP guest and he, and the rest of the disappointing crowd of 65,000, enjoyed some sparkling football.

England took the lead early on, a familiar pattern, when Tom Finney fed a lovely pass to Lofthouse. He nodded it down to his right foot before crashing a drive against the Belgium crossbar. When the rebound came out, Billy Elliott was on hand to hit a firm shot wide of Boogaerts.

From that moment, England rarely lost control. Playing neat and constructive football they continually split the Belgium defence to set up many chances. Roy Bentley missed, so did Finney but, shortly before half-time, the deserved second goal duly arrived. It was a real beauty.

Redfern Froggatt made another good break, this time down the left. When his centre came over, Finney and Bentley combined well to set up Lofthouse. Again, he fired in a fierce shot, which this time went in off the crossbar.

Six minutes into the second half, England emphasised their dominance with a third goal. This time Finney sent Bentley away down the left. He carefully measured a lovely cross into the middle where Lofthouse's challenge forced Boogaerts to fumble, allowing Elliott the chance to shoot home from close range as the ball fell loose.

It was all England now and on the hour they scored again. Redfern Froggatt, who had already missed several good chances including a sitter just previously, this time made no mistake when he headed home Finney's free-kick perfectly.

Apart from the occasional break from the hard working Coppings and Mermans, Belgium had little to offer although it must be said that England's defence held together brilliantly to emphasise what a good team performance it had been.

With the second half being played in driving sleet, the conditions were awful but nonetheless the football certainly warmed the crowd. Belgium did make a spirited rally towards the end and at last gave Gil Merrick something to warm him up. But the final word had to come from the man Lofthouse.

He rose superbly to head in Bentley's precise cross to round off a fine performance and another excellent result.

Match Report by Norman Giller
Nat Lofthouse kept up his one-man bombardment with a double strike that took his haul to nine goals in five games. Redfern Froggatt scored his first goal for England, and Burnley winger Billy Elliott netted twice against the outplayed Belgians. The game was played in a driving sleet, and ice patches formed on the famous Wembley turf, making it difficult for defenders to keep their feet. England led 2-0 at the end of a first-half in which they might have had half a dozen goals against a completely outplayed Belgian team.

Match Report by Glen Isherwood
Belgium had appeared at Wembley twice before in unofficial internationals. England had never failed to beat them at home but had lost 3-2 in Brussels in 1936. Belgium had not competed in the 1950 World Cup. England took the lead in only the fourth minute. Lofthouse hit a thunderous shot against the bar and Billy Elliott scored from the rebound.

Just before the interval Finney and Bentley neatly prised open the Belgian defence and Nat Lofthouse unleashed another powerful shot which this time went in off the bar. Three minutes after the break, from a Bentley cross, Lofthouse challenged Boogaerts and Elliott slotted in his second. The fourth came after an hour with Redfern Froggatt heading in a Finney free kick. Lofthouse scored the fifth with a header from Bentley's cross.

The

Top Twelve UK Music Chart by New Musical Express
On Friday, 15 November 1952, The New Musical Express published the first ever singles chart in the UK. It comprised fifteen records occupying twelve positions. Al Martino's Here in My Heart was therefore the best selling single when England beat Belgium. The second week of the published chart on Friday, 21 November looked like this...
1.

(=)

Here In My Heart

-

Al Martino

(Capitol)

7.

(=)

High Noon (Do Not Forsake Me)

- Frankie Laine

(Colombia)

2

.

(5)

Feet Up (Pat Him On The Po-Po)

- Guy Mitchell

(Colombia)

8

.

(11)

Because You're Mine

-

Mario Lanza (HMV)

3.

(6)
Half As Much

- Rosemary Clooney

(Colombia)

9

.

Take My Heart

- Al Martino (Capitol)

4.
(=)
The Isle of Innisfree

-

Bing Crosby (Brunswick)

10

.

My Love and Devotion

- Doris Day (Colombia)

5.

(2)

You Belong To Me

-

Jo Stafford

(Colombia)

11

.

(9)

The Homing Waltz

-

Vera Lynn (Decca)

6

.
(3)

Somewhere Along The Way

- Nat 'King'Cole

(Capitol)

12.
(8)

Sugarbush

-

Doris Day & Frankie Laine

(Colombia)

♪Most weeks at number one when England played:

Al Martino..... one

Source Notes
TheFA.com
Belgianfootball.be
Original newspaper reports
Rothman's Yearbooks
Mike Payne's England: The Complete Post-War Record (Breedon Books Publishing Company, Derby, U.K., 1993)
Glen Isherwood's Wembley: The Complete Record (SportsBooks Limited, Cheltenham, U.K., 2006)
Norman Giller, Football Author
Neil Warwick, John Kutner & Tony Brown's The Complete Book of the British Charts (Omnibus Press, 2004)
Drew Herbertson, Scottish FA historian
____________________

CG