Match Summary
Officials from Ireland

Scotland

Type

England

Referee (-) - Patrick Morris
x (-), Belfast.

Linesmen - J. Davidson, Newtonards, and J.T. Mitchell, Lurgan;

This match marked the fiftieth anniversary of the Ibrox Disaster. Which is also the seventieth official meeting between the two countries.

The teams were introduced to Mr James Stuart, Secretary of State for Scotland. The English team were wearing jerkins, the Scottish team, tracksuits.

No substitues permitted, as per UK ruling.

Goal Attempts
Attempts on Target
Hit Bar/Post
Corner Kicks Won
Offside Calls Against
Fouls Conceded
Possession

Scotland Team
Rank:

No official ranking system established;
ELO rating 7th to 9th
Colours:
blue jerseys with white collars, white shorts, blue socks with white/blue tops.
Capt:
George Young
Manager:
The Scottish Football Association Selection Committee, on Wednesday, 26 March 1952
Scotland Lineup
Brown, Robert
29
19 March 1923
G
Rangers FC
5

7ᵍᵃ

2
Young, George L.
29
27 October 1922
RB
Rangers FC
31
0
3
McNaught, William
29
7 May 1922
LB
Raith Rovers FC
4
0
4
Scoular, James
27
11 January 1925
RHB
Portsmouth FC, England
4
0
5
Woodburn, William A.
32
8 August 1919
CHB
Rangers FC
23
0
6
Redpath, William Y.
28
8 August 1922
LHB
Motherwell FC
9
0
7
Smith, Gordon
27
25 May 1924
OR
Hibernian FC
8
0
8
Johnstone, Robert
22
7 September 1929
IR
Hibernian FC
5
3
9
Reilly, Lawrance
23
28 October 1928
CF
Hibernian FC
16
8

10

McMillan, John L.
21
18 March 1931
IL
Airdrieonians FC
1
0
11
Liddell, William B.
30
10 January 1922
OL
Liverpool FC, England
17
4

reserves:

Travelling reserves are Cox (Rangers FC) and Bauld (Hearts of Midlothian FC).
Full team of reserves are Cowan (Greenock Morton FC); Howie (Hibernian FC) and Cox (Rangers FC); Brennan (Newcastle United FC) and Redpath; Lawrie Reilly (Hibernian FC) and Logie (Arsenal FC); Bauld (Hearts of Midlothian FC); Wardhaugh (Hearts of Midlothian FC) and Mitchell (Newcastle United FC).

team notes:

For the second year running, Billy Redpath is a replacement, this time for Arsenal's Alec Forbes, on Saturday, 30 March, because his club needed him for their FA Cup semi-final.
2-3-5
Brown -
Young, McNaught -
Scoular, Woodburn, Redpath -
Smith, Johnstone, Reilly, McMillan, Liddell

Averages:

Age
27.0
Appearances/Goals
11.2
1.2

England Team
Rank:

No official ranking system established;
ELO rating 5th to 4th
Colours:
The 1949 home uniform - White collared jerseys, blue shorts, red socks.
Capt:
Billy Wright, 25th captaincy
Manager:
Trainer: Jimmy Trotter (Charlton Athletic FC)
Walter Winterbottom, 39 (31 March 1913), appointed as FA national director of coaching/team manager on 8 July 1946;
43rd match, W 29 - D 7 - L 7 - F 130 - A 50


Team chosen by Selection Committee

headed by Arthur Drewry,

on Sunday, 30 March 1952.
England Lineup
Merrick, Gilbert H.
30

26 January 1922

G
Birmingham City FC
3

3ᵍᵃ

2
Ramsey, Alfred E.
32
22 January 1920
RB
Tottenham Hotspur FC
19
1
3
Garrett, Thomas H.
25
28 February 1927
LB
Blackpool FC
1
0
4
Wright, William A.
28
6 February 1924
RHB
40
3
5
Froggatt, Jack
29
17 November 1922
CHB
Portsmouth FC
5
1
6
Dickinson, James

W.

26
24 April 1925
LHB
17
0
7
Finney, Thomas
30
5 April 1922
OR
36
20
8
Broadis, Ivan A.
29
18 December 1922
IR
Manchester City FC
2
0
9
Lofthouse, Nathaniel
26
27 August 1925
CF
Bolton Wanderers FC
5
5
10
Pearson, Stanley C.
33
11 January 1919
IL
Manchester United FC
7
5
11
Rowley, John F.
33
7 October 1918
OL
Manchester United FC
6
6

reserves:

Bill Nicholson and Les Bennett (Tottenham Hotspur FC)

team notes:

The team excluded players taking part in the FA Cup semi-final between Newcastle United FC and Blackburn Rovers FC, which would have included Jackie Milburn and Bill Eckersley.
It is Billy Wright's fortieth appearance under Winterbottom, four ahead of Tom Finney's 36.
2-3-5
Merrick -
Ramsey, Garrett -
Wright, Froggatt, Dickinson -
Finney, Broadis, Lofthouse, Pearson, Rowley

Averages:

Age
29.2
Appearances/Goals
12.8
3.5
Match Report by Mike Payne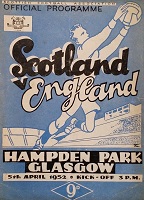 The pattern of England doing well at Hampden whilst Scotland do better at Wembley continued in this latest meeting leaving England unbeaten in Scotland since 1937. The new Press box was open for the game and the two teams took the field in very wet conditions.

England made a bright start and quickly forged their way in front with an eighth minute goal from Stan Pearson. Keeping the ball on the ground, good passes from Billy Wright to Nat Lofthouse and on to Jack Rowley down the left ended with the winger centering low into the middle. Redpath's deflection caused the ball to fly upwards and when it came down, Pearson met it on the full to crash home a superb rising shot with his left foot. It was a goal typical of the Manchester United player and one that will be long remembered, as well as giving him great confidence.

Despite the overall superiority of the England team Scotland were able to create three clear chances which should have been taken in the first half. On ten minutes Reilly missed Liddell's header after it landed at his feet, then ten minutes later the roles were reversed when Liddell missed a golden opportunity after Reilly had set him up with a backheeled pass. He could only shoot straight at Gil Merrick when it seemed he must score. Finally, Liddell again missed the target with a diving header from point-blank range after Scoular had lobbed the ball in from the left.

But don't get the impression that Scotland had it all their own way. Far from it as Tom Finney and Ivor Broadis combined magnificently to carve gaping holes in the home defence. Only the finishing let them down , although with a minute left of the first half Pearson confirmed his value to the side with his second goal. He pounced on a terrible mix-up between Redpath and Woodburn to shoot just inside Brown's left-hand post.

Scotland began to rue their missed chances as England turned on the style after the break. Broadis and Finney, twice, should have scored and Rowley was very unlucky to see his ferocious shot rebound from a post. Scoular worked overtime during this spell to repel the eager English raiders and towards the end he inspired more passion from his teammates. The improvement culminated in a goal after 75 minutes.

McMillan put pressure on a hesitant Alf Ramsey and was able to centre for Reilly to score Scotland's first home goal against the Auld Enemy since the war. The crowd then tried to lift Scotland for the last quarter of an hour but England held firm, survived two corners in the last minute and deservedly clinched victory.

Tom Garrett made an impressive debut whilst Wright, Dickinson, Broadis and Finney were outstanding for England.

Match Report by Norman Giller
Two neatly taken goals by Stan Pearson stretched England's unbeaten run in full internationals at Hampden Park to fifteen years. His first after eight minutes was a superb hooked shot, and his second just before half-time followed a mix-up in Scotland's defence. The Scots screamed that they were robbed of a penalty when Gil Merrick pulled down Lawrie Reilly, and the 134,504 crowd roared with rage when the referee waved play on. Reilly managed to score in the last minute, Scotland's first home goal against England since the war. But it was too late to stop an England victory that gave them a share of the Home Championship with Wales. Blackpool's Tom Garrett made a sound debut at left-back in place of injured Bill Eckersley.


Source Notes
TheFA.com
LondonHearts.com
Original newspaper reports
Rothman's Yearbooks
Mike Payne's England: The Complete Post-War Record (Breedon Books Publishing Company, Derby, U.K., 1993)
Norman Giller, Football Author
____________________

CG