Match Summary
Officials from Scotland

England

Type

Scotland

Referee (red) - George Mitchell
x (-), Falkirk.

Linesmen - Ian C. Inglis, Edinburgh, and William H. Quinn, Dumfries.

Teams presented to the HRH Duke of Gloucester.

No substitutes permitted, as per UK ruling.

Goal Attempts
Attempts on Target
Hit Bar/Post
Corner Kicks Won
Offside Calls Against
Fouls Conceded
Possession

England Team
Rank:

No official ranking system established;
ELO rating 4th
Colours:
The 1949 home uniform - White collared jerseys, blue shorts, red socks.
Capt:
Billy Wright, nineteenth captaincy
Manager:
Walter Winterbottom, 38 (31 March 1913), appointed as FA national director of coaching/team manager on 8 July 1946;
36th match, W 25 - D 4 - L 7 - F 114 - A 41;


Team chosen by Selection Committee headed by Arthur Drewry

on Friday, 6 April 1951.

England Lineup
Williams, Bert F.
31
31 January 1920
G
14

18ᵍᵃ

2
Ramsey, Alfred E.
31
22 January 1920
RB
Tottenham Hotspur FC
12
0
3
Eckersley, William
25
16 July 1925
LB
Blackburn Rovers FC
3
0
4
Johnston, Harry
31
26 September 1919
RHB
Blackpool FC
3
0
5
Froggatt, Jack
28
17 November 1922
CHB
Portsmouth FC
3
1
6
Wright, William A.
27
6 February 1924
RHB
34
3
7
Matthews, Stanley
36
1 February 1915
OR
Blackpool FC
33
10
8
Mannion, Wilfred J.

, injured off 11th min.

32
16 May 1918
IR
Middlesbrough FC
25
11
9
Mortensen, Stanley H.
29
26 May 1921
CF
Blackpool FC
22
20
10
Hassall, Harold W.
22
4 March 1929
IL

/CF

Huddersfield Town AFC
1
1
11
Finney, Thomas
29
5 April 1922
OL

/IR

30
19

reserves:

Henry Cockburn (Manchester United FC) and Jackie Milburn (Newcastle United FC)

team notes:

Wilf Mannion was stretchered off with a fractured cheekbone, sustained in an aerial challenge with Billy Liddell. He went straight to hospital, accompanied by the manager, leaving Billy Wright to make the team changes.
In choosing Jack Froggatt as centre-half, he becomes the first player since Jimmy Crabtree in 1900, to play for his country in two different areas of the pitch (distinct from positions).
This is England's most experienced post-war team so far.
2-3-5
Williams -
Ramsey, Eckersley -
Johnston, Froggatt, Wright -
Matthews, Mannion (Finney), Mortensen, Hassall, Finney

Averages:

Age
29.2
Appearances/Goals
16.4
5.7

Scotland Team
Rank:

No official ranking system established;
ELO rating 8th to 5th
Colours:
blue jerseys with white collars, white shorts, blue socks with white/blue tops.
Capt:
George Young
Manager:
The Scottish Football Association Selection Committee, chosen on Monday, 2 April 1951
Scotland Lineup
Cowan, James C.
24
16 June 1926
G
Greenock Morton FC
16

18ᵍᵃ

2
Young, George L.
28
27 October 1922
RB
Rangers FC
24
0
3
Cox, Samuel R.
27
13 April 1924
LB
Rangers FC
10
0
4
Evans, Robert
23
16 July 1927
RHB
The Celtic FC
10
0
5
Woodburn, William A.
31
8 August 1919
CHB
Rangers FC
16
0
6
Redpath, William Y.
28
8 August 1922
LHB
Motherwell FC
3
0
7
Waddell, William
30
7 March 1921
OR
Rangers FC
9
5
8
Johnstone, Robert
21
7 September 1929
IR
Hibernian FC
1
1
9
Reilly, Lawrance
22
28 October 1928
CF
Hibernian FC
9
5

10

Steel, William
27
1 May 1923
IL
Dundee FC
21
11
11
Liddell, William B.
29
10 January 1922
OL
Liverpool FC, England
14
4

reserves:

Travelling reserves are McNaught (Raith Rovers FC) and James Mason (Third Lanark FC).
Full team of reserves are George Farm (Blackpool FC); Lapsley (St.Mirren FC) and McNaught (Raith Rovers FC); Frank Brennan (Newcastle United FC) and Redpath; Billy Liddell (Liverpool FC) and James Mason (Third Lanark FC); Hamilton (Aberdeen FC); Allan Brown (Blackpool FC) and Bobby Mitchell (Newcastle United FC).

team notes:

Original choice left-half, Blackpool FC's Allan Brown was replaced by Redpath, on Saturday, 7 April. Brown was injured in his team's league match against Huddersfield Town AFC, suffering a knee injury.
2-3-5
Cowan -
Young, Cox -
Evans, Woodburn, Redpath -
Waddell, Johnstone, Reilly, Steel, Liddell

Averages:

Age
26.4
Appearances/Goals
12.1
2.1
Match Report by Mike Payne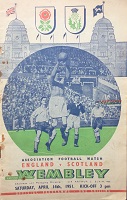 Scotland once again scored a famous victory on the hallowed turf of Wembley to win the Home International Championship but both sides came out of this magnificent match with a great deal of credit, especially since England spent 80 minutes playing with only ten men.

Unbeaten at Wembley in the Championship since 1934, Scotland began the game purposefully and were already imposing their skills before Wilf Mannion left the arena with a fractured cheekbone. He had been involved in an aerial duel with Liddell on 11 minutes and went off in agony. Bert Williams had already twice saved brilliantly from Johnstone and the limitations of the shaky England defence were soon showing up. After Mannion's loss England looked understandably disjointed as they struggled to reorganise.

Scotland began to play on Jack Froggatt who did not have the happiest of games at centre-half. The other defenders also struggled and for once even Billy Wright was not on his game. But England did have one quality in abundance and that was courage. Then ten men fought manfully and the and the marvellous skills of Tom Finney, Stanley Matthews, Stan Mortensen and Harold Hassall made sure that Scotland would not have things all their own way.

Scotland increased the pressure though and Williams had to save well from Liddell. Johnstone then missed two more clear chances before, on 26 minutes, and totally out of the blue, England took the lead. It was a gem of a goal too. Alf Ramsey and Harry Johnstone began the move by combining to find Finney out on the right. The winger showed controlled dribbling skills before passing to Mortensen. He, in turn, pulled the ball square to Hassall who conjured up some sheer inspiration to deceive Young and shoot a glorious angled drive into the roof of the Scottish net.

It seemed like 1949 in reverse, but with 33 minutes gone Johnstone gained a further chance for Scotland when good work by Reilly and Liddell opened up a gap for the inside-right to score.

For a short time after the interval England were down to nine men whilst Mortensen had treatment for a facial injury, but he soon returned to the action. Shortly though, it was Scotland who swept into a decisive lead. In the space of seven minutes they scored twice. First a glorious passing movement between Evans, Johnstone and Reilly ended with the centre-forward making it 2-1 by beating Froggatt and picking his spot. The Williams tragically dropped a long cross by Steel, and Liddell, with a low shot, fired the ball into the unguarded net.

All over? Not a bit of it! Driven on by the stylish Johnston, Finney, Matthews, Mortensen and Hassell, England captured the last half-hour with some superlative play. It brought the Wembley crowd to a crescendo of noise and passion and it almost brought the Scots to their knees.

On 80 minutes, a passing duet between Finney and Mortensen ended with Finney streaking clear to lob a superb goal over the advancing Cowan to make it 3-2. Matthews tormented Cox. Finney all but got through again and then Mortensen, taking a pass from Hassall, shot inches wide raising a puff of chalk as it went past the post. The desperate Scots almost conceded a penalty when Mortensen was bundled over unceremoniously, but then, amongst the excitement the referee blew the final whistle on an extraordinary afternoon.

Match Report by Norman Giller
Wilf Mannion was carried off with a fractured cheekbone in the eleventh minute. With Walter Winterbottom accompanying Mannion to hospital, skipper Billy Wright took the decision to switch Finney to the right to partner Matthews and the two wing wizards often made the Scottish defenders think they were seeing double. The ten men of England made the Scots battle all the way after debutant Harold Hassall had given them a twenty-fifth minute lead. Hibs partners Bobby Johnstone and Lawrie Reilly netted for Scotland and then the barnstorming Billy Liddell made it 3-1. England, who had briefly been down to nine men after Stan Mortensen had been knocked out, refused to give in and Tom Finney conjured a goal. But the Scots held on for a deserved victory against the Auld Enemy.

Match Report by Glen Isherwood
Once again, both England, the reigning British Champions, and Scotland had beaten both Northern Ireland and Wales and were set to decide the Championship between them. England were still suffering from their first round exit from their first World Cup in Brazil the previous year which included a humiliating defeat at the hands of the USA. Scotland had not been beaten at Wembley in the British Championship since 1934.

England were down to ten men from the 11th minute when Mannion went off injured but took the lead when Harold Hassall took a pass from Mortensen and shot past Cowan, the hero of 1949.

Bobby Johnstone put Scotland level from a pass by Reilly.

England were in deep trouble at the start of the second half as Mortensen was suffering from a first half collision nad did not re-appear after the interval. The Scots began to take advantage of the nine men and within two minutes Steel supplied Lawrie Reilly who turned and shot Scotland into the lead.

Mortensen then came back on and England found new inspiration to attack. Scotland soaked up the pressure, however, and increased their lead when Reilly robbed Williams of the ball from a Steel cross leaving Billy Liddell to score the third. England continued to battle and pulled one back when Tom Finney took a pass from Mortensen and lobbed Cowan. They could not muster another and Scotland were British Champions for the second time in three years.


Source Notes
TheFA.com
LondonHearts.com
Original newspaper reports
Rothman's Yearbooks
Mike Payne's England: The Complete Post-War Record (Breedon Books Publishing Company, Derby, U.K., 1993)
Glen Isherwood's Wembley: The Complete Record (SportsBooks Limited, Cheltenham, U.K., 2006)
Norman Giller, Football Author
Drew Herbertson, Scottish FA historian
____________________

CG