Rank:

No official ranking system established;

Colours:
Sky blue and white board striped v-necked jerseys, black shorts, pale blue socks
Capt:
Eliseo Mouriño
Manager:
Guillermo Antonio Stábile, 48 (17 January 1905)
Team chosen on Monday, 11 May 1953
Buenos Aires Lineup
Musimessa, Julio E.
28
309 days
9 July 1924
G
Club Atlético Boca Juniors
2
Dellacha, Pedro R.
26
309 days
9 July 1926
RB
Racing Club
3
García Pérez, José
31
162 days
3 December 1921
LB
Racing Club
4
Lombardo, Juan Francisco
27
307 days
11 July 1925
RHB
Club Atlético Boca Juniors
5
Mouriño Oyarbide, Eliseo V.
25
345 days
3 June 1927
CHB
Club Atlético Boca Juniors
6
Gutiárrez Bonomo, Ernesto
25
186 days
9 November 1927
LHB
Racing Club
7

Micheli, Rodolfo J.
23
20 days
24 April 1930
OR
Club Atlético Independiente
8
Cecconato, José Carlos

,

off 43rd min.

23
107 days
27 January 1930
IR
Club Atlético Independiente
9
Lacasa, Carlos
27
12 days
2 May 1926
CF
Club Atlético Independiente
10

Grillo, Ernesto J.
23
225 days
1 October 1929
IL
Club Atlético Independiente
11
Cruz, Osvaldo H.
21
351 days
29 May 1931
OL
Club Atlético Independiente
Buenos Aires XI Substitute

scoreline:

Buenos Aires XI 1 FA XI 1
Méndez, Norberto R., on 43rd min. for Cecconato
30
129 days
5 January 1923
IR
Racing Club

result:

Buenos Aires XI 3 FA XI 1
unused substitutes:
-
team notes:
In the 43rd min., Cecconato suddenly developed a limp, to be replaced by Mendez.
2-3-5
Musimessa -
Dellacha, García Pérez -
Lombardo, Mouriño, Gutiérrez -
Michelli, Cicconato (Mendez), Lacasia, Grillo, Cruz

Averages:

(starting)




(finishing)

Age
25 years 346 days
26 years 216 days
Rank:

No official ranking system established;
ELO rating 4th
Colours:
The 1949 home uniform - White collared short-sleeved jerseys, blue shorts, black socks with white tops.
Capt:

Billy Wright

Manager:
Walter Winterbottom, 40 (31 March 1913), appointed as FA national director of coaching/team manager on 8 July 1946;
Trainer: Jimmy Trotter (Charlton Athletic FC)

Party chosen by Selection Committee headed by Harold Shentall, on Monday, 13 April. Team chosen on Tuesday, 12 May.

FA XI Lineup
seven changes

to the previous senior match

league position (FINAL) (13 April>2 May)
Ditchburn, Edward

G.

31
202 days
24 October 1921
G
Tottenham Hotspur FC (FL 10th>=)
2
Garrett, Thomas H.
27
75 days
28 February 1926
RB
Blackpool FC (FL 7th>=)
3
Eckersley, William
27
302 days
16 July 1925
LB
Blackburn Rovers FC (FL2 8th>9th)
4
Wright, William A.
29
97 days
6 February 1924
RHB
Wolverhampton Wanderers FC (FL TOP>3rd)
5
Barrass, Malcolm W.
28
152 days
13 December 1924
CHB
Bolton Wanderers FC (FL 12th>14th)
6
Barlow, Raymond J.
26
270 days
17 August 1926
LHB
West Bromwich Albion FC (FL 5th>4th)
7
Berry,

R.

John
26
347 days
1 June 1926
OR
Manchester United FC (FL 8th>=)
8
Bentley,

T.F.

Roy
28
362 days
17 May 1924
IR
Chelsea FC (FL 21st>19th)
9

Taylor, Thomas
21
105 days
29 January 1932
CF
Manchester United FC (FL 8th>=)
10
Froggatt, Redfern
28
264 days
23 August 1924
IL
Sheffield Wednesday FC (FL 20th>18th)
11
Froggatt, Jack
30
178 days
17 November 1922
OL
Portsmouth FC (FL 13th>15th)
unused substitutes:
Gil Merrick (Birmingham City FC (FL2 9th>6th)), Alf Ramsey (Tottenham Hotspur FC (FL 10th>=)), Harry Johnston (Blackpool FC (FL 7th>=)) Jimmy Dickinson (Portsmouth FC (FL 13th>15th)), Tom Finney (Preston North End FC (FL 2nd>RU)), Ivor Broadis (Manchester City FC (FL 18th>20th)), Nat Lofthouse (Bolton Wanderers FC (FL 12th>14th)).
team notes:
Around the 27th minute, Jack Froggatt was injured in a tackle with Perez, and after attention, resumed playing with a limp.
The Froggatt's were cousins.
2-3-5
Ditchburn -
Garrett, Eckersley -
Wright, Barrass, Barlow -
Berry, Bentley, Taylor, R.Froggatt, J.Froggatt.

Averages

:

Age
27 years 349 days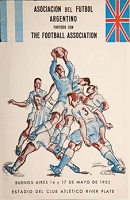 This England XI looked like A BUNCH OF PUNCH DRUNK OXEN....

You can call it an England B team, or an F.A. eleven, or anything you like, but when eighteen players travel 8,000 miles and eleven of them go out in white shirts to play an Argentine team—any Argentine team—and lose three goals to one, it is a defeat for England in the eyes of the world and nothing less.

That's what happened at the vast River Plate Stadium here yesterday. England were made to look like a bunch of punch-drunk oxen against these little brown men from the pampas who played like mountain lions from the Andes—smooth, rhythmic, fluent, a machine-like team which made space and moved the ball magnificently.
For those of us who had travelled all this distance with high hopes of initial success—the newspapermen, the officials and the odd players, all of whom suffered more than anyone on the field—it was a galling moment when, a few minutes from the end, we got the Old South American farewell.
It was a mass waving of white handkerchiefs by more than 90,000 people—just as they do at Wembley, but this time for a rather different reason. This was their way of saying adios to the vanquished.
For the English it was nothing more than a miserable match. For fifteen minutes our boys didn't know what it was all about.

The backward centre-forward, Lacasia, put his right wing through beautifully and Barlow had to clear off the line. Lacasia terrified Ditchburn by hitting a burning ball from thirty yards which scraped past a post. Then Eckersley had to zip across goal, to stop one from outside left Cruz. England were under desperate pressure and had an incredible escape when inside left Grillo stormed through and put behind off the bar, with Ditchburn quite helpless, from about ten yards. England were struggling as if with one of the local 5lb. beefsteaks, and it took us 24 minutes to deliver our first shot, and that from Barlow. Yet, after half an hour, we looked to be improving, winning some tackles, growing more accurate in midfield, and breaking through to goal.
Tommy Taylor, our only forward, got the first goal. Eckersley inspired it by going up to force a corner on the left, right on the line. Jack Froggatt swung the ball in, and there was young Taylor heading a simple but superb goal.
With the suddenness of a local bomb going off, the entire stadium was stunned. A few desultory handclaps were raised.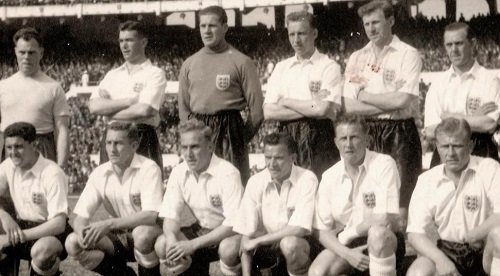 Yet within one minute the stadium was vibrating with Latin passion and fury as the Buenos Aires side equalised. Grillo, the inside left wonder man, a combination of Carter, Mannion, Billy Walker and all the great ones, made an incredible forty-yard run before beating Ditchburn from an astonishing angle on the by-line. All this in the forty-first minutes and two minutes from half-time. Then the "Paisanos" pulled the oldest trick in the book. Cecconato, inside right, took a dive and on came substitute Mendez, who played at Wembley in 1951.
Mendez is known locally as the second-half kid. He has not played first half for his club and wins games in the second.
Michelli, outside right, scored after fifty-seven minutes with a suspicion of offside. The England players checked their stride, expecting the whistle, when he cut through the middle to take the Mendez pass. Taylor was twice bundled by sandwiched tackles when on the point of shooting. Penalties would have been given at home.
But the extra goal by Grillo was no more than the locals deserved.

On the substitution of Mendez, Walter Winterbottom, England team manager, said: "It is allowed under international law and there is nothing you can do about it." He added: "Our players just didn't start to play. They were a poor side on the day. The opposition are first-class players."
The English tactics of shoulder charges and hard tackling and bustling the goalkeeper brought storms of boos but no incidents.
Hundreds of armed and sabred police were on duty. President Peron saw the match screened by a bodyguard. He left the stadium jubilant and was given a stupendous ovation from the crowd. The English colony here are absolutely downcast. England played without such international stars as Finney, Lofthouse, Ramsey, and there will be five or six changes for the full international match against Argentina on Sunday. Count only Dickinson, Eckersley, Wright and Taylor as without blame and be sure that such as Finney, Broadis, Ramsey, Dickinson will be in the team for Sunday.
Losing the opening match with a reserve team is bad enough, but if we lose the full international match we might as well just shut up shop and go home.

THE SOUTH AMERICAN TOUR.
For the exacting tour of South America the 11 that drew with Scotland were augmented by Ditchburn, Garrett, Johnston, Barlow, Bentley, Berry and Taylor. Smith later withdrew because of injury and was replaced by Eckersley, and after his brilliant display in the Cup-Final, Matthews was also asked to join the party but had to refuse through unfitness.

The tour began with something of a shock when an F.A. XI, including the players who were unlikely to be in the full England side against Argentina, was outplayed to the tune of 3 goals to 1 by a Buenos Aires XI - in actual fact, this was the same team that played as Argentina three days later. However, Eckersley, Taylor and Berry emerged with sufficient credit to gain promotion.