"England in Soccer wash-out"
Charlie Buchan, Daily News
Officials

A
rg
en
tin
a
FIFA ruling on substitutes
England Party

Referee

(black)


Arthur Edward Ellis
38 (8 July 1914), Halifax, Yorkshire
The FIFA ruling of allowing a substitute to replace an injured player prior to the 44th minute, and a goalkeeper at any time, is in place.

"The score was 0-0, and the game 22 minutes old when referee Arthur Ellis stopped play. Twelve minutes after the game had been suspended, referee Ellis and his two linesmen inspected the pitch. It took them only a minute to decide that the match was "off.""
Linesmen
Alwyn Bradley


30 (30 September 1922), Tupton

Ronald Lynch


33 (16 November 1919), Blackburn

Argentina Team
Rank:

No official ranking system established;
ELO rating 1st
Colours:
Sky blue and white broad striped v-necked jerseys, black shorts, pale blue socks
Capt:
Eliseo Mouriño
Manager:
Guillermo Antonio Stábile, 48 (17 January 1905)
Team announced 90 minutes before the match.
Argentina Lineup
Musimessa, Julio E.
28
312 days
9 July 1924
G
Club Atlético Boca Juniors
2
Dellacha, Pedro R.
26
312 days
9 July 1926
RB
Racing Club
3
García Pérez, José
31
165 days
3 December 1921
LB
Racing Club
4
Lombardo, Juan Francisco
27
310 days
11 July 1925
RHB
Club Atlético Boca Juniors
5
Mouriño Oyarbide, Eliseo V.
25
348 days
3 June 1927
CHB
Club Atlético Boca Juniors
6
Gutiárrez Bonomo, Ernesto
25
189 days
9 November 1927
LHB
Racing Club
7
Micheli, Rodolfo J.
23
23 days
24 April 1930
OR

Club Atlético Independiente

8
Cecconato, José Carlos
23
110 days
27 January 1930
IR

Club Atlético Independiente

9
Lacasa, Carlos
27
15 days
2 May 1926
CF
Club Atlético Independiente

10

Grillo, Ernesto J.
23
228 days
1 October 1929
IL

Club Atlético Independiente

11
Cruz, Osvaldo H.
21
354 days
29 May 1931
OL
Club Atlético Independiente

unused substitut

es:
Norberto Méndez (Racing Club)
2-3-5
Musimessa -
Dellacha, García Pérez -
Lombardo, Mouriño, Gutiárrez -
Micheli, Cicconato, Lacasia, Grillo, Cruz

Averages:

Age
25 years 349 days
Appearances/Goals
-
-

England Team
Rank:

No official ranking system established;
ELO rating 4th
Colours:
The 1949 home uniform - White collared short-sleeved jerseys, blue shorts, black socks with white tops.


thirtieth, W 17 - D 8 - L 5 - F 80 - A 41.

⁴³
Capt:

Billy Wright³
33rd W 20 - D 7 - L 6 - F 81 - A 40.⁹⁰
Manager:
Walter Winterbottom, 40 (31 March 1913), appointed as FA national director of coaching/team manager on 8 July 1946;


51st match, W 33 - D 11 - L 7 - F 151 - A 59

,

inc. one abandoned

.

¹³⁹
Trainer: Jimmy Trotter (Charlton Athletic FC)

Party chosen by Selection Committee headed by Harold Shentall, on Monday, 13 April. Team chosen on Saturday, 16 May.

England Lineup
four changes to the previous match (Eckersley, Barrass & Froggatt's out)
league position (FINAL) (13 April>2 May)
Merrick, Gilbert H.
31
111 days

26 January 1922

G
Birmingham City FC (FL2 9th>6th)
11

12ᵍᵃ

2
Ramsey, Alfred E.
33
115 days
22 January 1920
RB
Tottenham Hotspur FC (FL 10th>=)
27
1
3
Eckersley, William
27
305 days
16 July 1925
LB
Blackburn Rovers FC (FL2 8th>9th)
10
0
4
Wright, William A.
29
100 days
6 February 1924
RHB
Wolverhampton Wanderers FC (FL TOP>3rd)
48
3

most apps

1952-53

5
Johnston, Harry
33
230 days
26 September 1919
CHB
Blackpool FC (FL 7th>=)
4
0
6
Dickinson, James

W.

28
23 days
24 April 1925
LHB
Portsmouth FC (FL 13th>15th)
25
0
7
Finney, Thomas
31
42 days
5 April 1922
OR
Preston North End FC (FL 2nd>RU)
44
21
8
Broadis, Ivan A.
30
147 days
18 December 1922
IR
Manchester City FC (FL 18th>20th)
5
3
9
Lofthouse, Nathaniel
27
260 days
27 August 1925
CF
Bolton Wanderers FC (FL 12th>14th)
13
14
719

10

Taylor, Thomas
21
108 days
29 January 1932
IL
Manchester United FC (FL 8th>=)
1
0
the 12th/13th United players to represent England
720
11
Berry,

R.

John
26
350 days
1 June 1926
OL
Manchester United FC (FL 8th>=)
1
0
the 12th/13th United players to represent England

unused substitut

es:
Ted Ditchburn (Tottenham Hotspur FC (FL 10th>=)), Tommy Garrett (Blackpool FC (FL 7th>=)), Malcolm Barrass (Bolton Wanderers FC (FL 12th>14th)), Ray Barlow (West Bromwich Albion FC (FL 5th)>4th), Roy Bentley (Chelsea FC (FL 21st>19th)) and Redfern Froggatt (Sheffield Wednesday FC (FL 20th>18th)).
team notes:
Billy Wright also equals the UK appearance record, shared with Wales' Billy Meredith.
Tommy Taylor and Johnny Berry become the 68th and 69th players used by Winterbottom.
records:
As the game was suspended, then abandoned, and caps were awarded and appearances counted towards the players' tallies, then this match will be recorded as a scoreless draw. It means that this draw extends the post-war unbeaten record to fifteen games without loss.
2-3-5
Merrick -
Ramsey, Eckersley -
Wright, Johnston, Dickinson -
Finney, Broadis, Lofthouse, Taylor, Berry.

Averages

:

Age
29 years 63 days
Appearances/Goals

17.2

3.8
Match Report

by Mike Payne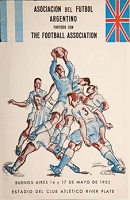 The summer tour of 1953 saw England venture to far off lands of South America but in their first match they experienced a monsoon! Torrential rain forced the referee to end proceedings in the 25th minute after the pitch became unplayable.

The England officials tried desperately to rearrange the game, asking if they could replay it in the next three days. Unfortunately, their Argentine counterparts would not agree, stating that the pitch 'would not be ready for at least five days'. So, England moved on to Chile.

For two England debutants, Tommy Taylor and Johnny Berry, it had certainly been a memorable first game but, for all the wrong reasons!

Match Report

by Charlie Buchan, Daily News
The soccer match between England and Argentina was abandoned after 22 minutes here today with the score 0—0. A heavy thunderstorm had flooded the pitch.

Officials are hoping to arrange a replay within two or three days, but I hope they will decide against it. Another match would be loaded with dynamite from the little we saw today.
Some of the Argentinian tackling was desperate in their determination to win, and England's players were indignant. Nat Lofthouse and Ivor Broadis, the England forwards, were punched and penalty-kicks might have been given when Tommy Taylor and Lofthouse were brought down. Our players had as much chance of showing ability as the police had of finding a bomb when they searched my typewriter on entering the ground.

The referee, Mr. Arthur Ellis, of Halifax, started the game before 80,000 people. Then down came the rain, driving president Peron from the presidential box near the touchline to a small enclosure at the back of the stand.
Mr. Ellis called the players off and abandoned the match.

Match Report

by Norman Giller
The pitch became waterlogged following a cloudburst and British referee Arthur Ellis, up to his ankles in water, had no alternative but to abandon the game. Three days earlier an Argentinean X1 had beaten an FA X1 3-1 in an unofficial international watched by a crowd of 120,000 including Juan Peron and his wife, Eva. The selectors had to wait to see if the new left wing partnership of Manchester United team-mates Tommy Taylor and Johnny Berry would work at international level. Referee Arthur Ellis, later to make a name for himself in television's 'It's A Knockout', was quite a joker. As he signalled for the teams to return to the dressing-rooms, he said to Billy Wright, "If we stay out any longer we'll need lifeboats!" The pitch just disappeared under a lake of water, and England's kit was so wet that the players needed help from the training staff to strip off.

Match Report
as appears in the F.A. Yearbook 1953-54, pages 22-23
THE SOUTH AMERICAN TOUR.
For the exacting tour of South America the 11 that drew with Scotland were augmented by Ditchburn, Garrett, Johnston, Barlow, Bentley, Berry and Taylor. Smith later withdrew because of injury and was replaced by Eckersley, and after his brilliant display in the Cup-Final, Matthews was also asked to join the party but had to refuse through unfitness.

Unfortunately a heavy thunderstorm broke over the 100,000 spectators 90 minutes before the start of the match. The pitch was waterlogged, and dribbling and accurate passing became impossible. And when referee Arthur Ellis abandoned the match the breeze was noticeably rippling the surface of the water.
Although, as would be expected, the England players had the best of it, the fantastic conditions produced too much tension for a satisfactory football match.

Source Notes
TheFA.com
Original newspaper reports
La Nación


The Complete Book of the British Charts

Rothman's Yearbooks


Mike Payne's England: The Complete Post-War Record


Norman Giller, Football Author
cg