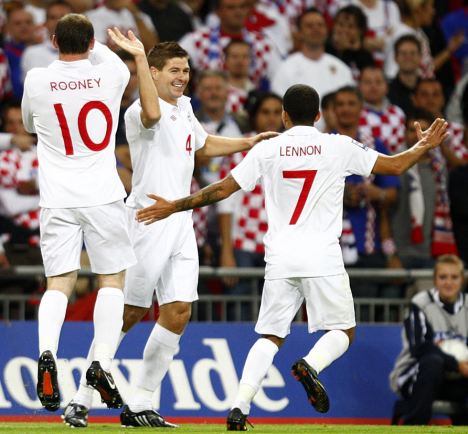 The first England uniform to be made by Nike, using its subsidiary company Umbro to issue and distribute. It was supposed to be kept under a cloak of darkness, well, under an 'anthem' top until the England team stripped off to reveal the new strip against Slovakia, in a friendly on 28th March 2009, together with white shorts. But an Umbro brochure was released too early, and a circular e-mail sent by Umbro beforehand ensured that the football supporter had seen the new England strip before the pantomime that was the revelation of the strip. Does any other country in the world go through such charades? Simple answer is 'no!' Why? Because we are England and we are proud of it.
It is the first uniform that consisted of a pure white kit. It was decided that England would wear navy shorts only when the opposition clashed with their first-choice white shorts.
The new crest was unveiled a little earlier, 2 March 2009. A lighter blue, and a more defining Tudor rose. Apart from that, exactly the same....
So there it was, a fantastically, gorgeous-looking strip, most definitely the best in years, because it's a copy of the classic, albeit updated to include the latest technology. And this time round, the same shirt will fit both Crouch and Wright-Phillips, instead of burrowing the likes of Finney and Matthews in a standard uniform...
'Honoring the past, looking forward to the future. The right shirt at the right time. Tailored by Umbro. Tailored by England.' ....made in Indonesia, and paid for by you.... Just one sour point with the advertising by Umbro. It's an honour to wear the English shirt, not an honor to Americanise it.
Umbro are also claiming to have supplied the England team since 1952. 'Tut-tut' Umbro.
The button on the collar tells us that this shirt will only be worn in 2009 to 2010.
For the World Cup matches, the SOUTH AFRICA 2010 FIFA WORLD CUP logo was worn on the right arm.