Match Summary
Officials

USA

Type

England

Referee (black) - Sam Galin
x (-), Glasgow, Scotland.

Linesmen - W. Rose and E. Mercantino

British Commonwealth ex-Serviceman took part in a Coronation pageant and march past before this match. vice-Admiral E. Rollo Mainguy, chief of the Canadian Naval Staff, was invited to take the salute.

This is the first International match at the Yankee Baseball Stadium, and the first England match to be played under floodlights. The pitch was only three-quarters covered with grass, the shale baseball infield occupying a large area near one goalpost.





The FIFA ruling of allowing a substitute to replace an injured player prior to the 44th minute, and a goalkeeper at any time, is in place.

Goal Attempts
Attempts on Target
Hit Bar/Post
Corner Kicks Won
Offside Calls Against
Fouls Conceded
Possession

USA Team
Rank:

No official ranking system established;
ELO rating 40th to 42nd
Colours:
"The Americans wore white shirts, blue shorts and red stockings."
Capt:
Walt Bahr
Manager:
USA Lineup
Moore, Cecil W.
27
2 January 1926
born in Belfast
G
New York Americans
1

6 ᵍᵃ

2
Milne, Robert
32
27 April 1921
born in Camelon, Falkirk
RB
New York Americans
1
0
3
Keough, Harry J.
25
15 November 1927
LB
St. Louis Kutis FC
8
0
4
Springthorpe, Terance A.
29
4 December 1923
born in Draycott, Derbyshire
RHB
New York Americans and Coventry City FC, England
1
0
5
Decker, Rolf
nk
nk
born in Germany
CHB
Brooklyn Hakoah
1
0
6
Bahr, Walter A.
26
1 April 1927
LHB
Philadelphia Nationals
12
1
7
Schultz, Tom, off 30th min.
nk
nk
OR
St. Louis Kutis FC
1
0
8
Connelly, William
nk
nk
IR
BrookHatton
1
0
9
Athineos, George


Αθηναίος

,

Γιώργος
29
16 December 1923
CF
Eintracht
1
2

10

McLauglin, Bernard J.
25
10 April 1928
IL
Philadelphia Nationals
8
1
11
Chachurian, Efrain
29
22 February 1924
C�rdoba, Argentina
OL
Swiss FC
1
0
USA Substitutes

scoreline:

USA 0 England 0

1?
Decker, Otto, on 30th min. for Schultz
22
19 September 1930
Brooklyn Hakoah
1
2

result:

USA 3 England 6

unused substitutes:

Malina, Baxter, Wolanin

team notes:

This was USA's first match in fourteen months.
Terry Springthorpe was still on the retained list by Coventry City. He left for New York in 1951 and had had requested naturalisation papers from the US Government. But City still held his contract.
Goalkeeper Moore played for Ireland against Wales in March 1949.
The Decker's were brothers. Otto becomes the first scoring substitute against England. And the first time since Sweden in May 1949 that two players have scored on their debuts against England.
Not since the immediate post-war era, when Scotland played six debutants, have so many debutants took to the field, thus making this the least experienced post-war team England have faced so far.
2-3-5
Moore -
Milne, Keogh -
Springthorpe, R.Dekker, Bahr -
Schultz (O.Dekker), Connelly, Athineos, McLaughlin, Chachurian

Averages:

Age
-
Appearances/Goals
3.3
0.2

England Team
Rank:

No official ranking system established;
ELO rating 4th
Colours:
The 1952 away uniform - Red jerseys, white shorts, red socks.
Capt:
Billy Wright, 36th captaincy
Manager:
Trainer: Jimmy Trotter (Charlton Athletic FC)
Walter Winterbottom, 40 (31 March 1913), appointed as FA national director of coaching/team manager on 8 July 1946;


54th match, W 35 - D 11 - L 8 - F 160 - A 65

, inc. one abandoned. Party chosen by Selection Committee headed by Harold Shentall, on Monday, 13 April 1953. Team chosen on Saturday, 6 June.
England Lineup
Ditchburn, Edwin G.
31
227 days
24 October 1921
G
Tottenham Hotspur FC
3

6ᵍᵃ

2
Ramsey, Alfred E.
33
137 days
22 January 1920
RB
Tottenham Hotspur FC
30
1
3
Eckersley, William
27
327 days
16 July 1925
LB
Blackburn Rovers FC
13
0
4
Wright, William A.
29
122 days
6 February 1924
RHB
51
3
5
Johnston, Harry
33
255 days
26 September 1919
CHB
Blackpool FC
7
0
6
Dickinson, James

W.

28
45 days
24 April 1925
LHB
28
0
7
Finney, Thomas
31
64 days
5 April 1922
OR
47
23
8
Broadis, Ivan A.
30
172 days
18 December 1922
IR
Manchester City FC
8
4
9
Lofthouse, Nathaniel
27
285 days
27 August 1925
CF
Bolton Wanderers FC
16
17
10
Froggatt, Redfern
28
289 days
23 August 1924
IL
Sheffield Wednesday FC
4
2
11
Froggatt, Jack
30
203 days
17 November 1922
CHB
Portsmouth FC
13
2

unused substitutes:

Gil Merrick (Birmingham City FC), Tommy Garrett (Blackpool FC), Malcolm Barrass (West Bromwich Albion FC), Ray Barlow (West Bromwich Albion FC), Roy Bentley (Chelsea FC), Tommy Taylor (Sheffield Wednesday FC) and Johnny Berry (Portsmouth FC).

team notes:

Billy Wright extends his record appearance tally. Alf Ramsey becomes the oldest player to reach thirty appearances and the quickest to do so, shaving ten days off Finney's record. However, he is only the sixth player to reach the milestone. It still makes this the oldest and most experienced post-war team so far.
The Froggatt's are cousins.
The crew of the RMS Queen Mary were in attendance, and carried the players from the pitch shoulder-high
2-3-5
Ditchburn -
Ramsey, Eckersley -
Wright, Johnston, Dickinson -
Finney, Broadis, Lofthouse, R.Froggatt, J.Froggatt.

Averages:

Age
29.7

(193 days)

Appearances/Goals
20.0
4.2
Match Report by Mike Payne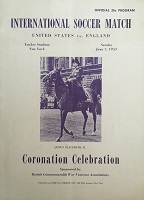 The last match of England's 1953 summer tour was scheduled to be played on Sunday the 7th of June but due to a spell of torrential rain, the game was postponed. It was rearranged for the following night and was played under the floodlights of the Yankee Stadium. This was a new experience for the England players and may have something to do with the fact that they took so long to break down a stubborn home defence.

There were shades of the infamous 1950 World Cup game between the two sides as England, always far superior in technique and skills, missed chance after chance. Goalkeeper Moore worlked overtime and the American goal led a charmed life. Finally though with two minutes of the first-half left Ivor Broadis broke the deadlock by hooking home a pass from Tom Finney.

The second half was a different story as England relaxed to play some controlled football. Within minutes of the restart Nat Lofthouse scored number two and Finney quickly added a third to build up a commanding lead. The Americans gamely fought on and their side, which included several players who had had English League experience, pulled a goal back when the lively substitute O.Decker, who came on for the injured Schultz, shot past Ted Ditchburn. That goal came in the 61st minute but a minute later Lofthouse scored again to quash the fightback, or at least, so England thought.

To everyone's astonishment the referee then gave the USA another chance by awarding them a penalty for a highly dubious handball against Harry Johnstone. Atheneos converted the gift and three minutes later O.Decker scored again to really set the game alight.

But England were in no mood to allow a repeat of that 1950 fiasco and they quickly regained control. Finney, who had been much more direct in this half, scored England's fifth goal and with ten minutes to go Redfern Froggatt sealed victory with number six.

The tour of the Americas had certainly been an eventful trip with many things learned. It was an experience that the players would never forget.

Match Report by Norman Giller
This first full soccer international staged in New York was arranged to mark the Queen's Coronation six days earlier. It was the first international match that England had ever played under floodlights The freak rain followed England from South America and a storm forced a 24-hour postponement. Then, under the floodlights at the Yankee Stadium, England - with Tom Finney running riot - avenged the 1-0 World Cup defeat with a comfortable victory in front of a 7,271 crowd. England missed a shoal of chances before Ivor Broadis gave them the lead two minutes before half-time. They quickly went 3-0 clear with goals early in the second half from Finney and Lofthouse. The Americans battled back with the help of a dubious penalty, but another goal each from Lofthouse and Finney followed by a sixth goal from Redfern Froggat underlined England's supremacy in a match in which they could and should have reached double figures. At last, Billy Wright exorcised the ghosts that had haunted him ever since England's humiliating 1-0 World Cup defeat by the USA in Brazil in 1950. He played like a man possessed, determined not to suffer the same embarrassment. This time England outshone the Yankee Stadium floodlights, and Billy's beam at the final whistle signalled his great satisfaction. The press described England as avenging their World Cup defeat by the United States, but it was empty revenge because it was a pretty meaningless match that attracted very little interest in New York. There was a ghostly atmosphere in the Yankee Stadium with the seven thousands fans 'lost' in that vast arena. Terry Springthorpe, who had played for Wolves under Billy Wright's captaincy when winning the 1949 FA Cup final, was in defence for the United States.

The

Top Twelve UK Music Chart by New Musical Express
On Friday, 15 November 1952, The New Musical Express published the first ever singles chart in the UK. However, when England beat the USA, Frankie Laine's I Believe was the best selling single for the fourth week in a row. When the chart of Friday, 5 June 1953 was published, there were twelve surviving songs from the last chart when England played:-
1.

(=)

I Believe

-

Frankie Laine (Philips)

7.

In A Golden Coach

(There's A Heart Of Gold)

- Dickie Valentine

(Decca)

2

.

(3)
Terry's Theme From 'Limelight'

-

Frank Chacksfield (Decca)

8

.

(10)
The Song From The Moulin Rouge

-

Mantovani (Decca)

3.

(4)
Downhearted - Eddie Fisher (HMV)
9

.

(5)
Pretty Little Black Eyed Susie - Guy Mitchell (Colombia)
(8)
In A Golden Coach

(There's A Heart Of Gold)

- Billy Cotton & His Band

(Decca)

10

.

(11)
Terry's Theme From 'Limelight'

-

Ron Goodwin (Parlophone)

4.

(6)

Hold Me Thrill Me Kiss Me

- Muriel Smith (Philips)

11

.

(9)

Tell Me A Story

- Jimmy Boyd & Frankie Laine (Philips)

(2)

Pretend

-

Nat 'King' Cole (Capitol)

12.
The Windsor Waltz

- Vera Lynn (Decca)

5.
(12)
Coronation Rag

-

Winifred Atwell

(Decca)

I'm Walking Behind You - Dorothy Squires (Polygon)
6.
(7)
I'm Walking Behind You

- Eddie Fisher with Sally Sweetland (HMV)

♪Most weeks at number one when England played:

Frankie Laine four, Guy Mitchell two, Al Martino and Lita Roza one each

Source Notes
"ENGLAND TO MEET U.S. TEAM
"The F.A. Council, meeting in London yesterday, announced that an international match will be played against U.S.A. in New York after the F.A. tour of South America next May. England will thus have an opportunity to gain revenge for their surprising World Cup defeat by America last season. During the F.A.'s tour England will meet Argentine, Uruguay and Chile in full internationals and a F.A. XI will also oppose an Argentine XI. Peru asked to be included in the tour agenda but it was not found possible to fit in a match with them." - Tuesday, 30 September 1952, Northern Daily Mail

TheFA.com
Original newspaper reports
Official match programme
Rothman's Yearbooks
Mike Payne's England: The Complete Post-War Record (Breedon Books Publishing Company, Derby, U.K., 1993)
Norman Giller, Football Author
Neil Warwick, John Kutner & Tony Brown's The Complete Book of the British Charts (Omnibus Press, 2004)
____________________

CG