England Football Online
Results 1955-1960
Page Last Updated 13 May 2022

Poblacht na hÉireann
249 vs. Republic of Ireland

previous match

(32 days)


311 vs. Scotland


312

'U23' 9 vs. Bulgaria

Wednesday

,

8 May 1957




VM Coupe Jules Rimet Fotboll UEFA Group One Qualification Match





England

5 Republic of Ireland 1

[4-0]




Empire Stadium, Empire Way, Wembley Park, Wembley, Middlesex
Kick-off (BST): 3.00pm
Attendance: '52,000'; Receipts:

'£18,208';

"The first international match between England and Russia has been provisionally fixed for Wednesday, May 8, 1957, probably at Wembley. This match was included in the international and representative programme for 1956-57, announced

[Wednesday, 7 March]

by the Football Association following Monday's meeting of the International Committee."
Tommy Taylor kicked off
[1-0] Tommy Taylor 10
'Ronnie Clayton pushed the ball down the wing to Taylor, who cut in and scored with a cross-shot'
[2-0] Tommy Taylor 17
'slammed the ball home right-footed from 20yds with pinpoint accuracy after picking up a Tom Finney pass in Ireland's half and dribbled past three men'
[3-0] John Atyeo header 38


'Kelly pushed Tom Finney's cross-shot on to Atyeo to head into the net.'


[4-0] Tommy Taylor header 40
'Kelly failed to reach Tom Finney's corner and was hurt as Taylor headed in.'

fiftieth goal scored in the 1954 Uniform

2.55 World Cup: England v. Ireland
4.45 Watch With Mother 5.0 Children 5.5 Question Marks 5.57 Weather 6.0 News 6.05 Tonight 6.30 The Glass Cage 6.45 World Cup: Scotland v. Spain (7.30 News). 8.30 Nathaniel Titlark....
11 Telerecording of England v. Ireland





[5-1] John Atyeo 89
'Tom Finney went through in another electric burst, saved on the dead line and chipped back into the middle for Atyeo to shoot powerfully'
[4-1] Dermot Curtis header 56
'Joe Haverty slipped past Edwards and made a quick centre. Curtis headed the ball and Byrne's head at the same time.'
[4-1] Bill Whelan's shot hit underside of crossbar 86
Commentator: Kenneth Wolstenholme and Walley Barnes


"ENGLAND PUNCHING ON TO WORLD CUP"
Daily Mirror
Officials

from

Scotland

England Party
FIFA ruling on substitutes
Republic of Ireland

Referee


Hugh Phillips


36 (4 April 1921), Wishaw, Lanarkshire

Teams presented to the Guest of Honour The Earl of Roseberry.

flame flag

Linesmen

orange flag

William R. Leggatt


Clydebank

Alexander Purves


Edinburgh

England Team
Rank:

No official ranking system established;
ELO rating 4th
Colours:
The 1954 Umbro home uniform - White v-necked short-sleeved continental jerseys, blue shorts, red socks with white tops.


19th, W 12 - D 4 - L 3 - F 54 - A 23.

⁴³
Capt:
Billy Wright³
68th W 41 - D 13 - L 14 - F 175 - A 99.⁹⁰
Manager:
Walter Winterbottom, 44 (31 March 1913), appointed as FA national director of coaching/team manager on 8 July 1946;


86th match,

W

54

- D 17 - L 15 - F 249 - A 120, one abandoned.

¹³⁹

Team chosen by Selection Committee, headed by Joe Mears, on Sunday, 28 April.
England Lineup

three changes

to the previous match

(Atyeo, Taylor & Haynes>Thompson, Kevan & Grainger)

league position

(28 April)

Hodgkinson, Alan
20
265 days
16 August 1936
G
Sheffield United FC

(FL2 7th)

2

2ᵍᵃ

2
Hall, Jeffrey

J.

27
243 days

7 September 1929

RB
Birmingham City FC

(FL 12th)

15
0
3
Byrne, Roger W.
27
242 days
8 September 1929
LB
Manchester United FC

(FL CHAMPIONS)

28
0
4

Clayton, Ronald
22
276 days
5 August 1934
RHB
Blackburn Rovers FC

(FL2 3rd)

12
0
5
Wright, William A.
33
91 days
6 February 1924
CHB
Wolverhampton Wanderers FC

(FL 6th)

83
3

most apps

1952-57

6
Edwards, Duncan
20
219 days
1 October 1936
LHB
Manchester United FC

(FL CHAMPIONS)

13
4
7
Matthews, Stanley
42
96 days
1 February 1915
OR
Blackpool FC

(FL 4th)

53
10
oldest England player
8

Atyeo,

P.

John

W.

25
90 days
7 February 1932
IR
Bristol City FC

(FL2 13th)

4
3
9

Taylor, Thomas
25
99 days
29 January 1932
CF
Manchester United FC

(FL CHAMPIONS)

14
12
fiftieth

(13th post-war)

hattrick scored

10

Haynes, John N.
22
203 days
17 October 1934
IL
Fulham FC

(FL2 11th)

11
5
11

Finney, Thomas
35
33 days
5 April 1922
OL
Preston North End FC

(FL 3rd)

65
27
reserves:
Reg Matthews (Chelsea FC

(FL 13th)

), Jim Langley (Brighton & Hove Albion FC

(FL3S 5th)

), Roy Gratrix (Blackpool FC

(FL 4th)

), Johnny Wheeler (Liverpool FC

(FL2 4th)

), Ray Barlow (West Bromwich Albion FC

(FL 11th)

), Tony Marchi (Tottenham Hotspur FC

(FL RU)

), Nat Lofthouse (Bolton Wanderers FC

(FL 9th)

), Albert Quixall (Sheffield Wednesday FC

(FL 14th)

), Dennis Stevens (Bolton Wanderers FC

(FL 9th)

), Arthur Kaye (Barnsley FC

(FL2 19th)

), David Pegg (Manchester United FC

(FL CHAMPIONS)

).
team notes:
Billy Wright extends his record appearance tally, in his record 48th consecutive match.
Ron Clayton was playing against his club manager, Johnny Carey.
hat-tricknotes:
Tommy Taylor's second hattrick is the third at this Stadium England have scored.
He is the first player since Bill Dean in May 1927 to score a hattrick in two consecutive matches, and fourt

h

goalscorer overall.
Stadium records:
England win a record tenth match in a row at Wembley, extending their tally. It also extends their record sequence of ten matches unbeaten at the stadium.
It is Walter Winterbottom's twentieth visit to the stadium as the manager of the England senior team.
2-3-5
Hodgkinson -
Hall, Byrne -
Clayton, Wright, Edwards -
Matthews, Atyeo, Taylor, Haynes, Finney.

Averages:

Age
27 years 204 days
Appearances/Goals

27.3

5.4

Republic of Ireland Team
Rank:

No official ranking system established;
ELO rating 24th
Colours:
Green jerseys with white collar, white shorts, white and green hooped socks.
Capt:
Peter Farrell
Team Manager:
John Joseph Carey, 38 (23 February 1919), appointed 1955 (also manager of Blackburn Rovers FC since 1954)
team chosen by the Selection Committee on Saturday evening, 27 April 1957
Trainer: W. Lord (Shamrock Rovers FC)
Republic of Ireland Lineup
Kelly, Alan J.A.
20
307 days
5 July 1936
G
Drumcondra FC
2
5ᵍᵃ
2
Donovan, Daniel C.
27
136 days
23 December 1929
RB
Everton FC, England
5
0
final app

1954-57

3
Cantwell, Noel E.C.
25
69 days
28 February 1932
LB
West Ham United FC, England
5
1
4
Farrell, Peter D.
34
265 days
16 August 1922
RHB
Everton FC

, England

27
3
final app

1946-57

5
Mackey, Gerald
25
69 days
10 January 1933
CHB
Shamrock Rovers FC
3
0
final app

1956-57

6
Saward, Patrick
28
264 days
17 August 1928
LHB
Aston Villa FC, England
2
0
7
Ringstead, Alfred
29
206 days
14 October 1927
OR
Sheffield United FC, England
13
5
8
Whelan, William A.
22
37 days
1 April 1935
IR
Manchester United FC, England
3
0
9

Curtis, Dermot P.
24
255 days
26 August 1932
CF
Bristol City FC, England
3
2

10

Fitzsimons, Arthur
27
143 days
16 December 1929
IL
Middlesbrough FC, England
20
5
11

Haverty, Joseph
21
80 days
17 February 1936
OL
Arsenal FC, England
4
2
reserves
Ronnie Nolan and Noel Peyton (both Shamrock Rovers FC)
team notes
Pat Saward

and Bill Whelan were later arrivals to the Party, having participated in the FA Cup Final the previous Saturday.

The Republic of Ireland were set-up and trained at Weybridge.
Manager Johnny Carey has played against England for three different countries. He was captain of the Republic of Ireland team the last time these

two countries met, in September 1949

and was also captain of the

Éire

team in the friendly defeat in September 1946

..He debuted for the

Ireland

team against England in September 1946

, playing

again in November 1947

.

and October 1948

.
2-3-5
Kelly -
Donovan, Cantwell -
Farrell, Mackey, Saward -
Ringstead, Whelan, Curtis, Fitzsimons, Haverty

Averages

:

Age
26 years 7 days
Appearances/Goals

7.9

1.5
Match Report
by Mike Payne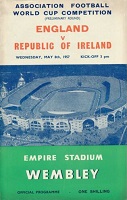 ENGLAND moved a step nearer to the 1958 World Cup finals in Sweden as they beat off the challenge of the Republic of Ireland. Although the scoreline looks convincing enough. the actual performance by the home side was not entirely inspiring. For long periods in the second half, Eire were on top, producing a clever brand of football that at times was reminiscent of Hungary or Austria at their best. Alas, for the Irish, they could find no finish to this attractive approach play.

England did all the damage in the first half and their start was undoubtedly Johnny Haynes. He really looked the part and his all around contribution was once again the key. With John Atyeo being used in a twin-pronged attack alongside Tommy Taylor, the home side took the lead in the ninth minute.

Stan Matthews showed some skilful footwork before laying the ball inside to Ronnie Clayton. The wing-half then produced a lovely through pass and Taylor raced in, sold a dummy to the defence, and hit a good shot past Kelly. Just after the quarter-hour, England made it 2-0 when Haynes fed Tom Finney. When the winger's pass came inside Taylor was there again to fire an 18-yard shot past a strangely flat-footed Kelly. England attacked at will and before the interval they added two more goals.

Many of their best attacks had involved the in-form Finney. His influence on the first half was enormous and it was the Preston player who set up number three. Receiving possession from Duncan Edwards, he cut inside and hit a fierce shot at goal. Kelly could only parry the ball upwards and before the goalkeeper could recover, Atyeo pounced to head home.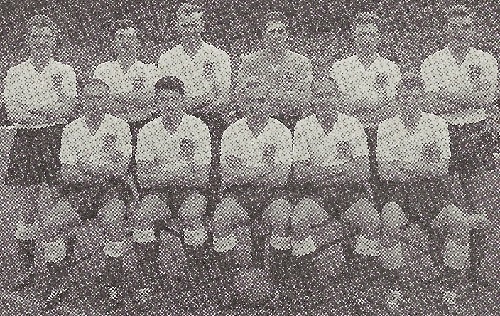 Almost immediately poor Kelly was again fishing the ball out of the back of his net, this time after Taylor had soared gloriously to head in Finney's corner. The scoreline was emphatic to say the least with Taylor having scored his eighth goal in only three and a half internationals. It is often difficult for a team to raise their game in the second half when they are so far in front and that is just how it proved as England gave a lethargic display after the break.

All credit to the Irish, though, as they refused to give up and, indeed, came back at them strongly.

England looked jaded with Edwards, particularly, looking very tired after his many games in the season just ended. The Irish put some excellent football together at this stage and scored a deserved goal when Curtis headed in a left-wing centre from little Joe Haverty. They continually pressed forward and Farrell shot high over when well placed. Shortly after that incident Alan Hodgkinson was relieved to see Whelan's close-range shot crash against the crossbar.

Those missed chances did not help Ireland's cause at all and just to rub salt into the wound, England snatched a fifth goal in the last minute. Haynes and Finney again combined and from Finney's pass Atyeo was again the man in the right position to beat Kelly.

Now England faced two different return games in Copenhagen and Dublin to see who goes to Sweden. It would not be easy for them.

Match Report
by Norman Giller
A second successive Tommy Taylor hat-trick - all his goals coming in the first-half - and two from John Atyeo crushed an outgunned Irish team in this second of England's four World Cup qualifying matches. This was, sadly, to be the last match in which Jeff Hall and Roger Byrne were to partner each other. Jeff contracted polio and died on April 4 1959. Born in Scunthorpe on September 7 1929, he started his career as an amateur with Bradford Park Avenue before becoming a regular in Birmingham City's defence. He would have had, statistically, the best individual England record of any player but for the 2-1 defeat by Wales in 1955. In 17 matches he was on the beaten side only once. England won twelve of the games and drew four. Roger Byrne was his partner in every game.

Match Report
by Glen Isherwood
Both teams had already beaten Denmark at home in Group One They had met each other only twice before, England had won 1-0 at Dalymount Park, Dublin, in 1946. Ireland surprisingly winning 2-0 at Goodison Park three years later. England's first home defeat by a foreign team. Ireland had yet to qualify for a World Cup.
In the ninth minute of Wembley's first World Cup match Tommy Taylor opened the scoring, taking a pass from Clayton to shoot England in front. Nine minutes later Finney's pass gave Taylor the chance to score again and once more Kelly was beaten. Then Kelly just saved from Finney but John Atyeo headed in the rebound.
Taylor completed a first half hat-trick with a header from a Finney corner. England relaxed a little in the second half and the Irish pulled one back when Dermot Curtis headed in a centre from Haverty but in the dying seconds England restored their four-goal advantage when Finney crossed and Atyeo came charging in to score again.
England won the group 11 days later with a 1-1 draw in the return at Dalymount Park. This was only achieved, however, by a last-minute equaliser from Atyeo. It was to be 19 years before Republic of Ireland appeared at Wembley again.
At the age of 42 Stan Matthews made his 27th and final appearance at Wembley. Strangely he never scored at the stadium.

Match Report
as appears in the F.A. Yearbook 1957-58 page 34
In the second of England's World Cup preliminary matches, 52,000 people saw the home team win at Wembley against the Irish Republic by 5 goals to 1. As a spectacle, the match was virtually over long before half-time, when England led by three goals from Taylor and one from Atyeo. This comfortable margin of goals undoubtedly removed much of the inspiration from the English attacking machine in the second half, and the Irish forwards, especially Haverty, played some good football before Curtis scored for them. Shortly before the final whistle, however, Atyeo scored again with a first time drive from Finney's centre and England finished easy winners against a side whose defence was far short of World Cup standards.

Source Notes
TheFA.com
soccerscene.ie
Original newspaper reports
Official matchday programme


Glen Isherwood's Wembley: The Complete Record

Rothman's Yearbooks




Mike Payne's England: The Complete Post-War Record


Norman Giller, Football Author
The Complete Book of the British Charts
Reuters
cg