"THIS SIDE WON'T BEAT WORLD"
Daily Mirror
Officials

from

Netherlands

England
UK ruling on substitutes
Scotland

Referee

(orange)


Pieter Paulus Roomer


37 (6 April 1920), Rotterdam

Teams presented to the Guest of Honour The Earl of Roseberry.

flame flag

Linesmen

orange flag

Willam Beltman


38 (17 August 1916), Den Haag

Klaas Schipper


46 (2 December 1910), Groningen

England Team
Rank:

No official ranking system established;
ELO rating 4th
Colours:
The 1954 Umbro home uniform - White v-necked short-sleeved continental jerseys, blue shorts, red socks with white tops.


18th, W 11 - D 4 - L 3 - F 49 - A 22.

⁴³

Capt:
Billy Wright³
67th W 40 - D 13 - L 14 - F 170 - A 98.⁹⁰
Manager:
Walter Winterbottom, 44 (31 March 1913), appointed as FA national director of coaching/team manager on 8 July 1946;


85th match, W 53

- D 17 - L 15 - F 244 - A 119, one abandoned.

¹³⁹

Trainer: J. Marshall (Sheffield Wednesday FC)
Team chosen by Selection Committee, headed by Joe Mears on Monday, 25 March, in Sheffield.
England Lineup

four changes

to the previous match

(

Ditchburn, Dickinson, Brooks & Taylor out)

league position

(25 March)

77

Hodgkinson, Alan
20
233 days
16 August 1936
G
Sheffield United FC

(FL2 5th)

1

1ᵍᵃ

758

the 29th United player to represent England

2
Hall, Jeffrey

J.

27
211 days

7 September 1929

RB
Birmingham City FC

(FL 12th)

14
0
3
Byrne, Roger W.
27
210 days
8 September 1929
LB
Manchester United FC

(FL TOP)

27
0
4
Clayton, Ronald
22
244 days
5 August 1934
RHB
Blackburn Rovers FC

(FL2 3rd)

11
0
5
Wright, William A.
33
59 days
6 February 1924
CHB
Wolverhampton Wanderers FC

(FL 6th)

82
3
most apps 1952-57
6

Edwards, Duncan
20
187 days
1 October 1936
LHB
Manchester United FC

(FL TOP)

12
4
7

Matthews, Stanley
42
64 days
1 February 1915
OR
Blackpool FC

(FL 4th)

52
10
oldest England player
8
Thompson, Thomas
28
147 days
10 November 1928
IR
Preston North End FC

(FL 2nd)

2
0

the 14th North End player to represent England

final app

1951-57

9
Finney, Thomas
35
1 day
5 April 1922
CF
Preston North End FC

(FL 2nd)

64
27

759

10

Kevan, Derek T.
22
31 days
6 March 1935
IL
West Bromwich Albion FC

(FL 10th)

1
1

the 31st Albion player to represent England

11

Grainger, Colin
23
300 days
10 June 1933
OL
Sunderland AFC

(FL 19th)

7
3

the 17th Sunderland player to represent England

final app

1956-57

reserve:
Ray Barlow (West Bromwich Albion FC

(FL 10th)

)
team notes:
Billy Wright extends his record appearance tally, in his record 47th consecutive match.
pre-match notes:

"ENGLISH TEAM practise




"Matthews will be fit to play for England against Scotland on Saturday at Wembley Stadium. He telephoned the news to the team manager, Mr. W. Winterbottom, from his Blackpool home, and joined his England team-mates at Hendon last night. The England team played a practise game against Tottenham Hotspur at White Hart Lane, but Edwards, the Manchester United left-half, did not take part. He had complained of slight soreness in his legs, because of the amount of football he has recently been playing. He received heat treatment and massage. The enthusiastic Edwards, however, could not refrain from kicking the ball when he went out for a run round the pitch and on one occasion he took a corner kick. It is expected that Matthews and Edwards will participate in the training session this morning at Highbury. Kevan and Grainger scored for England in their 2-0 win over Tottenham and Hodgkinson (Sheffield United) played well in goal."

- The Glasgow Herald, Wednesday, 3 April 1957.
"On the Friday, a match was arranged with a Bank of England team. It was nothing more than a kick-about for us England players, though I learned such a game always took place as a 'thank you' to the Bank for allowing England to use their facilities."- Between The Sticks, Alan Hodgkinson.
records:
England win a record

nin

th match in a row at Wembley, extending their tally. It also extends their record sequence of nine matches unbeaten at the stadium.
Derek Kevan is the 143rd player to score a goal on his England debut.
Winterbottom/ISC have now chosen 150 different players in England parties.
2-3-5
Hodgkinson -
Hall, Byrne -
Clayton, Wright, Edwards -
Matthews, Thompson, Finney, Kevan, Grainger.

Averages:

Age
27 years 222 days
Appearances/Goals

24.8

4.2

Scotland Team
Rank:

No official ranking system established;
ELO rating 17th
Colours:
Made by Umbro - Dark blue continental jerseys with white v-neck collars/cuffs, white shorts, blue socks with red tops.
Capt:
George Young

Selecto

r:
The Scottish Football Association Selection Committee
on Wednesday, 27 March 1957.
Trainer: Dawson Walker (Clyde FC)
Scotland Lineup
Younger, Thomas
26
361 days
10 April 1930
G
Hibernian FC
12

14ᵍᵃ

723
2
Caldow, Eric
22
327 days
14 May 1934
RB
Rangers FC
1
0
3

Hewie, John D.
27
115 days
12 December 1928
in Pretoria, South Africa
LB
Charlton Athletic FC, England
6
0
4
McColl, John Miller
29
303 days
7 June 1927
RHB
Rangers FC
9
0
5
Young, George L.
34
161 days
27 October 1922
CHB
Rangers FC
52
0

most apps

1952-57

6
Docherty, Thomas H.
28
347 days
24 April 1928
LHB
Preston North End FC

, England

14
1
7
Collins, Robert Y.
26
49 days
16 February 1931
OR
The Celtic FC
10
0
8
Fernie, William
28
135 days
22 November 1928
IR
The Celtic FC
9
1
9
Reilly, Lawrance
28
160 days
28 October 1928
CF
Hibernian FC
38
22
final app

1948-57

10

Mudie, John K.
26
361 days
10 April 1930
IL
Blackpool FC

, England

4
1
11

Ring, Thomas
26
241 days
8 August 1930
OL
Clyde FC
6
2
reserves:
Travelling reserve is William McNaught (Raith Rovers FC).
Full team of reserves are Bill Brown (Dundee FC); John Hewie and Ian Rae (Falkirk FC); Dave Mackay (Heart of Midlothian FC), McNaught and Mackay; Gordon Smith (Hibernian FC) and Bobby Collins (The Celtic FC); Willie Bauld (Heart of Midlothian FC), Ian Gardiner (Motherwell FC) and Ian Crawford (Heart of Midlothian FC).
2-3-5
Younger -
Caldow, Hewie -
McColl, Young, Docherty -
Collins, Fernie, Reilly, Mudie, Ring

Averages

:

Age
28 years 3 days
Appearances/Goals

14.6

2.5
Match Report
by Mike Payne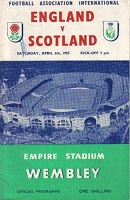 SCOTLAND had a dream start to this international match at Wembley. Within 60 seconds of the opening whistle they were a goal in front. Ring, intercepted a pass from Jeff Hall intended for Stan Matthews, burst past Billy Wright into a huge space before easily beating Alan Hodgkinson with a good shot — not the best of starts for England's new goalkeeper on his debut.

For the next 25 minutes Scotland had a good deal of the play and the pressure and could easily have wrapped up the result during that spell. That they didn't was due mainly to Wright, who drew on all his experience and skill to snuff out any attack that threatened the his goal. He was always there to help his fellow defenders when they were in trouble, especially Hall, who had a difficult time with the lively Ring.

Despite Wright's fine form, the Scots created several clear chances. Docherty a tigerish wing-half, and McColl, had a firm grip in the midfield and three times Hodgkinson, who lacks inches, was struggling with high crosses. However, the goalkeeper lacks nothing in bravery and dived at both Reilly and Ring's feet to avert dangerous situations.

As the half wore on , Wright's influence began to rub off on his teammates, Hall worked hard to subdue Ring, and Mudie and Fernie lost the impetus of their early play and allowed England to come more into the game, perhaps that was the crucial factor in the final outcome.

There was a dramatic moment straight after half-time when Scotland had a goal disallowed by the Dutch referee. Hodgkinson, challenged by Reilly, dropped a cross at the feet of Fernie, who promptly shot home, but the referee ordered a free-kick, adjudging Reilly's challenge unfair. That would have made it 2-0 but as it was England then took control for the rest of the match and gradually turned the result around.

Things did not flow that freely for them, though, and their disjointed forward line did not look a combined unit. Tommy Thompson was far too easily shackled by his Preston clubmate Docherty and Derek Kevan, too, looked a little below international class.

However, Kevan did not appear to be afraid to shoot and it was he who equalised in the 63rd minute. Indeed, it was Kevan who started the move as passes flowed between him, Thompson Kevan again, Tom Finney and Colin Grainger, who took it down the left to centre. Kevan, who was following up, met the cross as he dived headlong to finish off the move he had started.

Stanley Matthews, who had had a quiet game up to now, suddenly began to turn on the style. With six minutes left he set up Duncan Edwards to score one of the best goals ever seen at Wembley. A typical dribble by the Blackpool winger ended with a square pass inside. The ball was some 25 yards from goal when Edwards came streaming in. The youngster hit it with ferocious power and the ball was in the net before Younger could move. It was a goal fit to win a much better match than this one and will be remembered long after the game is forgotten.

Match Report
by Norman Giller
Duncan Edwards snatched victory for England six minutes from the end with a blistering twenty-five yard shot that thumped into the net off a post. The Scots had got off to a flying start when Sheffield United goalkeeper Alan Hodgkinson had to pick the ball out of his net just a minute into his debut. He was beaten by a snap shot from Clyde winger Tommy Ring after he had intercepted a pass meant for Stanley Matthews. Derek Kevan, making his debut in place of Johnny Haynes, equalised in the sixty-second minute with a diving header from a Colin Grainger cross. Scottish fans were convinced they were robbed when Willie Fernie bundled the ball into the net after it had been dropped by Hodgkinson following a jolting Lawrie Reilly shoulder-charge. The Dutch referee ruled that the goalkeeper had both feet off the ground when contact was made. Tommy Docherty was the pick of the Scottish players, giving a powerhouse performance in midfield and completely shutting out his Preston team-mate Tommy Thompson, who was winning his first cap for six years. The winning goal was set up by Matthews, who beat two defenders before squaring the ball into the path of Edwards. He hit a fierce first-time shot wide of goalkeeper Tommy Younger.

Match Report
by Glen Isherwood
England needed only a point for a record sixth successive British Championship, but a draw would mean they shared it with Scotland. Victory for the Scots would give them their first outright win since 1951, when they last beat England. Their previous visit had been a traumatic experience.
In the first minute, Tommy Ring intercepted a clearance from Hall, beat Wright and shot Scotland into the lead. They held it until the second half when Grainger crossed and Derek Kevan dived in to head the equaliser. With six minutes left, England snatched victory. From a pass by Matthews, Duncan Edwards hammered home the winner from fully 25 yards out.
The following year, England recorded their biggest ever victory at Hampden Park, Glasgow in the British Championship when they beat Scotland 4-0.

Match Report
as appears in the F.A. Yearbook 1957-58 pages 33-34
The match to decide the home championship was played at Wembley before the usual 100,000. In a sensational start Scotland were a goal up in the first minute. Ring dashed forward to intercept a pass from Hall to Matthews, cut inside and with his right foot cracked a low drive into the corner of England's goal. It was not until well into the second half that Kevan leapt high into the air to head the equaliser, and between those two goals there had been much drab football. Seven minutes from time Edwards gave England the victory with a powerful drive from more than 20 yards range. These three brilliantly taken goals were the redeeming features of an otherwise disappointing game.

Source Notes
TheFA.com
Original newspaper reports
The Complete Book of the British Charts
LondonHearts.com
Glen Isherwood's Wembley: The Complete Record

Rothman's Yearbooks




Mike Payne's England: The Complete Post-War Record


Norman Giller, Football Author
British Pathé
cg