310 vs. Denmark


313


'U23' 09 vs. Bulgaria



402 vs. Denmark

Wednesday

,

15 May 1957




VM Coupe Jules Rimet Fotboll UEFA Group One Qualification Match





Denmark 1 England 4

[1-1]




Originally due to take place on Sunday, 12 May

Idrætsparken, Øster Allé, Inder Østerbro, København, Hovedstaden


Kick-off (CET & BST): 6.30pm
Attendance:

'35,000'; 'forty thousand'; '40,000'; '45,000'; '50,000'

unknown kicked off
[1-0] John Jensen volley 26
'Åge Jensen beat Wright with a superb lob and Jensen volleyed the ball past Hodgkinson'.


250th Post-War goal scored,
as well as in the Winterbottom era>

[0-0] Tom Finney's shot skims the post 1

<100th goal conceded under Wright's captaincy

[1-1]

Johnny Haynes

28
'Duncan Edwards, down by the corner flag, crossed the ball to Haynes and his shot caught the keeper unsighted as it bobbed in beside the post'.

5.45 Arthur Sandford 6.0 Hullo Mum! 6.45 The Archers 7.0 News
7.30 World Cup: Denmark v. England
8.15 Take It From Here 8.45 Blue Dusk 9.15 Call Boy 10.0 News



Ove Hansen injured - ten men

71





returned to full compliment
[1-1] Tommy Taylor strike hits the crossbar
[1-2]

Tommy Taylor

71
'John Atyeo produced a neat pass which gave Taylor an easy goal'
[1-3] John Atyeo header 76
'headed home Tom Finney's precise centre from the left-wing'
[1-4] Tommy Taylor header 86
Johnny Haynes left-sided cross from a Finney lay-off found Taylor's head.
second half live - Commentator: tbc


"DANES SCARE 4-GOAL ENGLAND"
Daily Mirror
Officials

from West Germany

Denmark
FIFA ruling on substitutes
England Party

Referee


Albert Dusch
44 (6 December 1912), Kaiserslautern
Linesmen
Günther Baumgärtel


28 (2 May 1929), Hagen

Walter Zimmermann


36 (13 November 1920) Wolfsburg

Denmark Team
Rank:

No official ranking system established;
ELO rating 34th to 39th
Colours:
Red collared jerseys, white shorts, black socks
Capt:
Åge Rou Jensen
Manager:
Arne Sørensen, 39 (27 November 1917), appointed as a part-tome coach May 1956
seventh match, W 1 - D 1 - L 5 - F 14 - A 24


team chosen in Copenhagen, Sunday, 12 May 1957

Denmark Lineup
Drengsgaard, Theil
30
70 days
6 March 1927
G
Skovshoved IF
2
9ᵍᵃ
final app 1956-57
2
Amdisen, John
22
311 days
8 July 1934
RB
Århus Gymnastikforening
5
0
3
Nielsen, Verner
26
1 day
14 May 1931
LB
Akademisk Bk
12
0
4
Nielsen, Flemming

G.

23
80 days
24 February 1934
RHB
Boldklubben af 1893
3
0
5
Hansen, Ove, injured off 71st-77th min.
27
167 days
29 November 1929
CHB
Esbjerg fB
6
0
6
Olesen, Jørgen
33
114 days
21 January 1924
LHB
Aarhus Gymnastikforening
25
2
7
Hansen, Jørgen
25
142 days
24 December 1931
OR
Nøstved If
13
1
8

Jensen, John P.
20
2 days
13 May 1937
IR
Esbjerg fB
1
1
9
Jensen, Erik
25
74 days
2 March 1932
CF
Århus Gymnastikforening
3
0
10

Jensen, Åge Rou
32
233 days
24 September 1924
IL
Århus Gymnastikforening
26
10
11
Hansen, Jens Peder
30
61 days
15 March 1927
OL
Esbjerg fB
32
13
reserves:
not known
team notes:
"The amateurs have trained only as individuals since they lost the first leg at Wolverhampton in December. They will meet an hour before kick off. having done their usual jobs as lorry drivers and clerks during the day."


Ove Hansen was hurt in a tackle with Tommy Taylor in the lead up to England's second goal, indeed, the player was lying injured in the penalty area when Taylor scored. The Dane's had stopped, expecting the referee to halt play.

2-3-5
Drengsgaard -
Amdisen, V.Nielsen -
F.Nielsen, O.Hansen, Olesen -
J.Hansen, J.Jensen, E.Jensen, A.Jensen, P.Hansen

Averages:

Age
26 years 348 days
Appearances/Goals

11.6

2.4

England Team
Rank:

No official ranking system established;
ELO rating 4th
Colours:
The 1954 Umbro home uniform - White v-necked short-sleeved continental jerseys, blue shorts, red socks with white tops.


twentieth, W 13 - D 4 - L 3 - F 58 - A 24.

⁴³
Capt:
Billy Wright³
69th W 42 - D 13 - L 14 - F 179 - A 100.⁹⁰
Manager:
Walter Winterbottom, 44 (31 March 1913), appointed as FA national director of coaching/team manager on 8 July 1946;


87th match,

W 55 - D 17 - L 15 - F 253 - A 121, one abandoned.

¹³⁹

Team chosen by Selection Committee, headed by Joe Mears, on Sunday, 12 May 1957.

England Lineup

unchanged

from the previous match

FINAL league positions

(1 May)

Hodgkinson, Alan
20
272 days
16 August 1936
G
Sheffield United FC

(FL2 7th)

3

3ᵍᵃ

2
Hall, Jeffrey

J.

27
250 days

7 September 1929

RB
Birmingham City FC

(FL 12th)

16
0
3
Byrne, Roger W.
27
249 days
8 September 1929
LB
Manchester United FC

(FL CHAMPIONS)

29
0
4
Clayton, Ronald
22
283 days
5 August 1934
RHB
Blackburn Rovers FC

(FL2 4th)

13
0
5
Wright, William A.
33
98 days
6 February 1924
CHB
Wolverhampton Wanderers FC

(FL 6th)

84
3

most apps

1952-57

6

Edwards, Duncan
20
226 days
1 October 1936
LHB
Manchester United FC

(FL CHAMPIONS)

14
4
7
Matthews, Stanley
42
103 days
1 February 1915
OR
Blackpool FC

(FL 4th)

54
10

oldest England player

final app 1934-57
8

Atyeo,

P.

John

W.

25
97 days
7 February 1932
IR
Bristol City FC

(FL2 13th)

5
4
9

Taylor, Thomas
25
106 days
29 January 1932
CF
Manchester United FC

(FL CHAMPIONS)

15
14
10

Haynes, John N.
22
210 days
17 October 1934
IL
Fulham FC

(FL2 11th)

12
6
11

Finney, Thomas
35
40 days
5 April 1922
OL
Preston North End FC

(FL 3rd)

66
27
reserves:
Reg Matthews (Chelsea FC

(FL 13th)

), Roy Gratrix (Blackpool FC

(FL 4th)

), Ray Barlow (West Bromwich Albion FC

(FL 11th)

), Nat Lofthouse (Bolton Wanderers FC

(FL 9th)

), Albert Quixall (Sheffield Wednesday FC

(FL 14th)

), Dennis Stevens (Bolton Wanderers FC

(FL 9th)

), David Pegg (Manchester United FC

(FL CHAMPIONS)

).
team notes:
Billy Wright extends his record appearance tally, in his record 49th consecutive match.
2-3-5
Hodgkinson -
Hall, Byrne -
Clayton, Wright, Edwards -
Matthews, Atyeo, Taylor, Haynes, Finney.

Averages

:

Age
27 years 211 days
Appearances/Goals

28.3

5.8
Match Report
by Mike Payne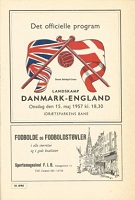 When England play away from home they invariably have to face inspired opposition. Teams seem to raise their game several levels when the former masters of the game visit their shores. This match was no exception. The added spice of a World Cup final place at stake gave Denmark all the encouragement they needed and they stretched England to the limits. With two Nielsens, three Hansens and three Jensens in their side it was also a commentator's nightmare!

It is easy to forget, when reporting on England's internationals, that other countries have an extra determination to beat us, therefore we sometimes underestimate and over-criticise some of their performances. This was just such a game. There was an awful lot wrong with England's display with several players well below par. Having said that, they went a goal down yet still ended worthy winners, something of which they can be justly proud.

For the first quarter of an hour England looked in command. Johnny Haynes and Tom Finney were producing some lovely play and all looked set for a comfortable win. But in the 26th minute, a defence-splitting pass by A.Jensen, Denmark's captain, set up a fine chance for J.Jensen, who fired a fierce shot into the roof of Alan Hodgkinson's net.

The crowd went wild but hardly had time to celebrate before England equalised. Haynes, Finney and Duncan Edwards weaved a delightful pattern down the left before Haynes ended the move with a good shot low under Drengsgaard's desperate dive.

O.Hansen twice had to save his side by heading away goalbound efforts and he was outstanding at the heart of the Danish defence. His efforts were largely responsible for his team still being on level terms at the break.

England could do nothing special early in the second half, although a Tommy Taylor blockbuster crashed against Denmark's crossbar in one attack. In fact, midway through the half it was the home side who were well on top. They missed a wonderful chance when J.Olsen's long pass caught England out only for J.Jensen, despite being clean through, to miss a golden opening by chipping just over as Hodgkinson challenged.

With 20 minutes to go there was a vital turning point. O.Hansen, Denmark's star player was badly injured in a collision with Taylor, and whilst he was off the field receiving treatment England suddenly and clinically took full advantage of the situation. Jeff Hall passed to John Atyeo and when the next pass came inside, there was Taylor, now unmarked, to shoot home.

In the 75th minute England made it 3-1 when Haynes centred from the right to find Atyeo at the far post to head in off the crossbar.

Finally, Finney, taking yet another super pass from Haynes, had the chance to centre from the left. He found Taylor's head as the centre forward continued his rich scoring vein.

Match Report
by Norman Giller
This World Cup qualifier was to prove the international swansong of 'Mr Football' Stanley Matthews, who was retired from the world stage at the age of forty-two and twenty-two years after the first of his fifty-four caps. Denmark took the lead in the twenty-fifth minute, with Johnny Haynes equalising just before half-time. It was not until the final fifteen minutes that England got on top against a brave Danish team briefly reduced by injury to ten men. Tommy Taylor scored twice to take his haul in four matches to ten goals. Taylor's double strike came either side of a seventy-fifth minute goal by John Atyeo, who rose at the far post to head in a Johnny Haynes centre. Even at forty-two, there were many who considered Stanley's England career had been finished too early. Just his name on the team sheet would have given England a psychological advantage when they played in the 1958 World Cup finals.

Match Report
as appears in the F.A. Yearbook 1957-58 page 34
In the second leg of this World Cup preliminary match Denmark proved herself as difficult to defeat at Copenhagen as she had been at Wolverhampton five months previously. Once again it was only in the last 20 minutes that England really gained the ascendancy. J. Jensen snatched a surprise goal for Denmark after 26 minutes, but Haynes equalised to make the score 1-1 at half-time. In the final quarter of an hour England scored three times through Taylor (2) and Atyeo. Two of these goals were scored while the Danish centre-half was temporarily off the field through injury, so the Danes had every right to consider themselves unlucky to be beaten by so large a margin.

Source Notes
TheFA.com
Original newspaper reports
Official matchday programme
DBU.dk

Rothman's Yearbooks




Mike Payne's England: The Complete Post-War Record


Norman Giller, Football Author


The Complete Book of the British Charts
cg