"SAVED IN EXTRA TIME SENSATION"
Daily Mirror
Officials

from Scotland

Republic of Ireland
FIFA ruling on substitutes
England Party

Referee


Hugh Phillips
36 (4 April 1921), Wishaw, Lanarkshire
"That

[last minute]

goal turned a glory day of glory into Stygian darkness for the crestfallen Irish. Never has a score been received in stonier silence, and never has a draw tasted so like defeat, for though Ireland got a point from yesterday's game two were needed to have the chance of a third meeting with England." - Irish Independent

orange flag

Linesmen

red flag

Alexander Purves


Edinburgh

William R. Leggatt


Clydebank

Republic of Ireland Team
Rank:

No official ranking system established;
ELO rating 24th
Colours:
Green jerseys with white collar, white shorts, white and green hooped socks.
Capt:
Noel Cantwell


first, W 0 - D 1 - L 0 - F 1 - A 1.

Team Manager:
John Joseph Carey, 38 (23 February 1919), appointed 1955 (also manager of Blackburn Rovers FC since 1954)
team chosen by Selection Committee on Monday, 13 May 1957
Trainer: J. Collins (St. Patricks Athletic FC)
Republic of Ireland Lineup
Godwin, Thomas F.
29
272 days
20 August 1927
G
AFC Bournemouth

, England

11
20ᵍᵃ
2
Dunne, Seamus
27
36 days
13 April 1930
LB
Luton Town FC

, England

9
0
3
Cantwell, Noel E.C.
25
80 days
28 February 1932
RB
West Ham United FC, England
6
1
4
Nolan, Ronald C.
23
209 days
22 October 1933
LHB
Shamrock Rovers FC
3
0
5
Hurley, Charles J.
20
227 days
4 October 1936
CHB
Millwall FC

, England

1
0
6
Saward, Patrick
28
275 days
17 August 1928
LHB
Aston Villa FC, England
4
0
7

Ringstead, Alfred
29
217 days
14 October 1927
OR
Sheffield United FC, England
14
6

8

Whelan, William A.
22
48 days
1 April 1935
IR
Manchester United FC, England
4
0
final app 1956-57
9
Curtis, Dermot P.
24
266 days
26 August 1932
CF
Bristol City FC, England
4
2
10
Fitzsimons, Arthur
27
154 days
16 December 1929
IL
Middlesbrough FC, England
21
5
11

Haverty, Joseph
21
91 days
17 February 1936
OL
Arsenal FC, England
5
2
reserves:
Tommy Rowe (Drumcondra FC)
2-3-5
Godwin -
Dunne, Cantwell -
Nolan, Hurley, Saward -
Ringstead, Whelan, Curtis, Fitzsimons, Haverty

Averages:

Age

25

years 173 days
Appearances/Goals

6.9

1.4

England Team
Rank:

No official ranking system established;
ELO rating 4th
Colours:
The 1954 Umbro home uniform - White v-necked short-sleeved continental jerseys, blue shorts, red socks with white tops.


21st, W 13 - D 5 - L 3 - F 59 - A 25.

⁴³
Capt:
Billy Wright³
70th W 42 - D 14 - L 14 - F 180 - A 101.⁹⁰
Manager:
Walter Winterbottom, 44 (31 March 1913), appointed as FA national director of coaching/team manager on 8 July 1946;


88th match, W 55 - D 18 - L 15 - F 254 - A 122

, one abandoned.¹³⁹

Team chosen by Selection Committee, headed by Joe Mears, on Sunday morning, 19 May.

England Lineup
one change to the previous match (Pegg>Matthews)

FINAL league positions

(1 May)

Hodgkinson, Alan
20
276 days
16 August 1936
G
Sheffield United FC

(FL2 7th)

4

4ᵍᵃ

2
Hall, Jeffrey

J.

27
254 days

7 September 1929

RB
Birmingham City FC

(FL 12th)

17
0
final app 1955-57
3
Byrne, Roger W.
27
253 days
8 September 1929
LB
Manchester United FC

(FL CHAMPIONS)

30
0

the ninth player to reach the 30-app milestone

4
Clayton, Ronald
22
287 days
5 August 1934
RHB
Blackburn Rovers FC

(FL2 4th)

14
0
5
Wright, William A.
33
102 days
6 February 1924
CHB
Wolverhampton Wanderers FC

(FL 6th)

85
3

most apps

1952-57

6
Edwards, Duncan
20
230 days
1 October 1936
LHB
Manchester United FC

(FL CHAMPIONS)

15
4
7

Finney, Thomas
35
40 days
5 April 1922
OR
Preston North End FC

(FL 3rd)

67
27
8

Atyeo,

P.

John

W.

25
101 days
7 February 1932
IR
Bristol City FC

(FL2 13th)

6
5
final app 1955-57
9
Taylor, Thomas
25
110 days
29 January 1932
CF
Manchester United FC

(FL CHAMPIONS)

16
14

10

Haynes, John N.
22
214 days
17 October 1934
IL
Fulham FC

(FL2 11th)

13
6

760

11
Pegg, David
21
301 days
20 September 1935
OL
Manchester United FC

(FL CHAMPIONS)

1
0

the 18th United player to represent England

only app 1957
reserves:
Reg Matthews (Chelsea FC

(FL 13th)

), Roy Gratrix (Blackpool FC

(FL 4th)

), Ray Barlow (West Bromwich Albion FC

(FL 11th)

), Nat Lofthouse (Bolton Wanderers FC

(FL 9th)

), Albert Quixall (Sheffield Wednesday FC

(FL 14th)

) Dennis Stevens (Bolton Wanderers FC

(FL 9th)

) and the injured Stan Matthews (Blackpool FC

(FL 4th)

).
team notes:
Billy Wright extends his record appearance tally, in his record fiftieth consecutive match.
Ronnie Clayton again, was taking on his club manager, Johnny Carey.
"Having been told by an FA official he was playing, in the next breath Matthews was informed that should England qualify, as expected, he wouldn't feature in the plans. A few days later Stan telephoned Winterbottom to inform him he had picked up a niggling injury and regrettably would be unavailable." - Between The Sticks, Alan Hodgkinson.
goalscoring records:
Tommy Taylor ends the season as the top goalscorer, scoring ten goals in six matches including two hat-tricks. Taylor is the first to score ten goals in a season for ten years. Tommy Lawton achieved the same tally in 1946-47.
2-3-5
Hodgkinson -
Hall, Byrne -
Clayton, Wright, Edwards -
Finney, Atyeo, Taylor, Haynes, Pegg

Averages

:

Age

25

years 260 days
Appearances/Goals

24.4

5.3
Match Reportpan>
by Mike Payne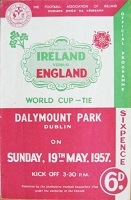 ENGLAND had made it! By virtue of this hard-won point in Dublin, they now qualify for next June's World Cup Finals in Sweden. But oh, what a narrow squeak they had in getting that conclusive point.

This was one of the most stirring internationals since the war. With so much at stake, and with a fervent sand excited 47,000-strong crowd right behind the Irishmen, it was also one of England's most difficult games. That they won a point at all says a lot for their character. Let the story unfold.

Only three minutes had gone and the crowd were hardly settled, when the Irish set the stadium alight by taking the lead. Fitzsimons began the move by creating an opening for Haverty down the left. He whipped in a cross and although Alan Hodgkinson partially saved, the ball ran loose for Ringstead to crash home a shot amid great excitement from the crowd.

They knew that a win here and victory over Denmark later would see them go through to Sweden at England's expense.

Ireland were inspired by the goal and with their half-backs looking magnificent they were formidable opposition. On 15 minutes a very important incident occurred. A superb move by the Republic began with Whelan and was carried on by Ringstead and Curtis. At the end of the attack Haverty was left with an open goal. It looked curtains for England at that moment but somehow Haverty's shot struck Hodgkinson as the goalkeeper made a despairing dive. A goal then and the game would probably have been all over.

Ireland's dominance at this stage was emphasised by the fact that they won most of the tackles and the loose balls. Whelan at inside-right, was outstanding and easily the best midfield player on view. Despite all this, the Republic still had only the one-goal lead at half-time to show for their efforts.

After the break, England really rolled their sleeves up. They realised they had a very difficult match and knuckled down bravely to their challenge. Gradually, Ronnie Clayton and Duncan Edwards imposed their powerful presence on the midfield battle. But the Republic's defence gave nothing away with Godwin and Hurley outstanding. Tommy Taylor did produce some danger with his determined running, but England, with Johnny Haynes strangely subdued, had no cool head to finish off the improved approach play. They forced many corners, on both flanks, but always the final touch was missing.

The Irish were dangerous when given the chance to break from defence with Whelan shooting just wide and Haverty seeing his shot headed off the line by Billy Wright. But by now it was nearly all England, possession wise, and with 15 minutes to go Taylor missed a sitter after he turned sharply to seize on Godwin's only mistake under the Irish crossbar. That looked to be a costly miss.

To their credit though England continued to throw everything forward and they forced corner after corner. With the 90 minutes up and injury time fast disappearing, the visitors looked destined for defeat. The crowd were at fever pitch with victory so close. But then, in virtually the last attack of the game, came the last dramatic moment of a pulsating game. Tom Finney, who up until then had had a quiet match, picked up a fine pass from Jeff Hall and set off for one last run down the right wing. He cut inside Saward's tackle and then swerved outside Cantwell. Saward ran back for another go but was beaten on the by-line. Finney then produced a perfect centre for John Atyeo to head home.

The England players jumped for joy as the Irish crowd looked on in disbelief. A truly dramatic end to an exhilarating afternoon.

Match Report
by Norman Giller
England, needing a point to qualify for the World Cup finals, were rocked and shocked by a third minute goal from Dublin-born winger Alf Ringstead. He crashed a loose ball wide of his Sheffield United team-mate Alan Hodgkinson to send the capacity crowd in Dalymount Park wild. From then on England struggled to make any impact against an inspired Irish defence in which Bournemouth goalkeeper Tommy Godwin and Millwall centre-half Charlie Hurley were outstanding. The game was into its last minute when Tom Finney fired over a perfect cross for John Atyeo to head a superbly taken equaliser that gave relieved England a passport to Sweden. David Pegg, who came in for the injured Stanley Matthews, won his only cap before becoming one of the victims of the Munich air crash. Atyeo's goal saved England a lot of embarrassment, and a hammering from the press. The selectors rewarded John by never selecting him again! He returned to Bristol where he created new goal scoring and appearance records for City before concentrating full-time on his teaching career. He eventually became a headmaster, which he had always been on the football pitch.

Match Report
as appears in the F.A. Yearbook 1957-58 page 35
By their draw at Dalymount Park, England duly gained the one point which was necessary to take them into the Finals of the World Cup. But every single Irishman in the tightly packed crowd of 47,000 will agree that there never was a narrow squeak. It was only in the final seconds of a stirring game that Atyeo headed in a perfect centre from Finney to equalise the goal which Ringstead had scored in the first few minutes.

Source Notes
TheFA.com
soccerscene.ie
Original newspaper reports
Official matchday programme

Rothman's Yearbooks




Mike Payne's England: The Complete Post-War Record


Norman Giller, Football Author
The Complete Book of the British Charts
Drew Herbertson, Scottish FA Historian
cg