Match Summary
Officials

Ireland

Type

England

Referee (-) - William E. Webb
x (-), Glasgow.

Linesmen - tbc

No substitutes permitted, as per UK ruling.

Goal Attempts
Attempts on Target
Hit Bar/Post
Corner Kicks Won
Offside Calls Against
Fouls Conceded
Possession

Ireland Team
Rank:

No official ranking system established;
ELO rating 30th
Colours:
Green jerseys, white shorts, blue socks.
Capt:
John Carey
Manager:
Team chosen by Selection Committee on Thursday, 30 September 1949 in Belfast, headed by T.H. Chambers and R. Patterson.
Ireland Lineup
Smyth, William T.
22/23
1925
G
Distillery FC
1

6

GA

2
Carey, John

J.

29
23 February 1919
RB
Manchester United FC, England
5
0
3
Martin, Cornelius

J.

25
20 March 1923
LB
Aston Villa FC, England
5
0
4
Walsh, William

R.

27
31 May 1921
RHB
Manchester City FC

, England

4
0
5
Vernon, John

J.

30
26 September 1918
CHB
West Bromwich Albion FC, England
7
0
6
Farrell, Peter

D.

26
16 August 1922
LHB
Everton FC

, England

6
0
7
O'Driscoll, John F.
27
20 September 1921
OR
Swansea Town FC, England
1
0
8
McAlinden, James
30
31 December 1917
IR
Southend United FC, England
4
0
9
Walsh, David

J.

25
28 April 1923
CF
West Bromwich Albion FC, England
6
3

10

Tully, Charles P.
24
11 July 1924
IL
The Celtic FC, Scotland
1
0
11

Eglington, Thomas

J.

25
15 January 1923
OL
Everton FC

, England

6
0

reserve:

Bud Aherne (Belfast Celtic FAC)

team notes:

Johnny Carey has also made fifteen appearances for �ire, scoring twice. Peter Farrell six times. Con Martin five appearances, Jimmy McAlinden and Billy Walsh and Davy Walsh have played twice.
Johnny Carey, Tommy Eglington, Con Martin, Billy Walsh, all played for Éire against England in 1946.
David Cochrane (Leeds United AFC) was the original named outside-right, his place going to O'Driscoll, and Sammy Smyth (Wolverhampton Wanderers FC) was on his inside, McAlinden was named as his replacement, both on Tuesday, 5 October. Cochrane and Smyth were deemed unfit.
Jimmy McAlinden signed for Southend United FC on Wednesday, 6 October.
The Irish team were based from Mount Royal Hotel in Donaghadee, County Down.
2-3-5
Smyth -
Carey, Martin -
W.Walsh, Vernon, Farrell -
O'Driscoll, MacAlinden, D.Walsh, Tully, Eglingbton.

Averages:

Age
26.4
Appearances/Goals
4.2
0.1

England Team
Rank:

No official ranking system established;
ELO rating 3rd to 2nd
Colours:
The 1946 home uniform - White collared jerseys, blue shorts, red socks.
Capt:
Billy Wright, first captaincy
Manager:
Walter Winterbottom, 35 (31 March 1913), appointed as FA national director of coaching/team manager on 8 July 1946;
16th match, W 12 - D 3 - L 1 - F 59 - A 14.


Team chosen by Selection Committee headed by Arthur Drewry, on Tuesday, 28 September 1948

England Lineup
Swift, Frank V.
34
26 December 1913
G
Manchester City FC
16

14

GA

2
Scott, Lawrence
31
23 April 1917
RB
16
0
3
Howe, John R.
32
7 October 1915
LB
Derby County FC
2
0
4
Wright, William A.
24
6 February 1924
RHB
16
0
5
Franklin, Cornelius
26
24 January 1922
CHB
16
0
6
Cockburn, Henry
27
14 September 1921
LHB
7
0
7
Matthews, Stanley
33
1 February 1915
OR
Blackpool FC
27
10
8

Mortensen, Stanley H.
27
26 May 1921
IR
Blackpool FC
8
14
the 43rd

(sixth post-war)

hattrick scored
9
Milburn, John E.T.
24
11 May 1924
CF
Newcastle United FC
1
1
10
Pearson, Stanley C.
29
11 January 1919
IL
Manchester United FC
2
1
11
Finney, Thomas
26
5 April 1922
OL
13
11

reserve:

Bill Nicholson (Tottenham Hotspur FC)

team notes:

"The honour of captaincy goes to one of the youngest members of the team. Wright is only 24, but he has been on the Wolverhampton books since 14. England first picked him two years ago. In relieving Swift of the responsibility, the selectors have apparently come to the conclusion that a goalkeeper is not the player best suited to be captain." - Belfast News-Letter, Wednesday, 29 September 1948.


The English team were based in Newcastle prior to the match, County Down. Crossing the Irish Sea in the Ulster Monarch.

2-3-5
Swift -
Scott, Howe -
Wright, Franklin, Cockburn -
Matthews, Mortensen, Milburn, Pearson, Finney.

Averages:

Age
28.5
Appearances/Goals
11.3
2.8
Match Report by

Mike Payne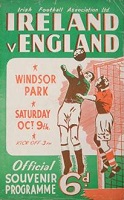 Some 53,000 people packed into Windsor Park to see this match. The result went against the home side but in no way did the final scoreline tell the full story. Indeed, only in the last 30 minutes did England finally get on top.

The game had begun with Ireland pressing forward in their usual passionate style. Frank Swift, Lionel Scott and Jack Howe all showed hesitancy in the English defence and the Irish should really have pressed home the advantage that their early play had given them. As it was, they were punished by a freak goal by Stanley Matthews after 27 minutes which gave England a lead they barely deserved.

Taking a throw-in on Tom Finney's wing, Matthews received a return pass from Jackie Milburn. He then swung across a curling centre which ricocheted off the far post, hit Smyth on the back and went into the net. It was an amazing goal and cruel luck for the Irish. England's only other worthwhile attack of the first half came just before the break when, following a brilliant five man move, Mortensen had Smyth at full strecth to save.

Five minutes into the second half, Northern Ireland equalized. O'Driscoll beat Howe for speed and Dave Walsh headed home his cross in fine style. For a few moments it seemed that the now rampant home team might forge ahead. But suddenly and unexpectedly, England and especially Matthews came to life. Within ten minutes it was 4-1 to the visitors!

First Milburn headed in Matthews' cross. Then Mortensen headed in a pass from Billy Wright after more good work by the Blackpool winger, before finally Mortensen got on the end of a fine cross by Stan Pearson to cleverly lob the ball over the advancing Smyth. Quite suddenly it was all over and the crowd, so excited a few minutes earlier, were dazed into a stunned silence.

Finney now began to lose Carey, after previously having been well held by the full-back. Milburn showed dash and spirit and England at last were now moving as a team.

Two more headers added to the goals tally. First Mortensen scored his third goal by heading a Henry Cockburn free-kick; then Pearson added number-six with a header from yet another Matthews cross. England had thus scored five goals in a little over 30 minutes. With the last kick of the game, Dave Walsh scored his and Northern Ireland's second, only to leave everyone wondering just what an earth had gone wrong.


Match Report by Norman Giller
Billy Wright's first of 90 matches as England captain. The two Stanleys - Matthews and Mortensen - dominated the match. Matthews scored the first and helped lay on a hat-trick for his Blackpool team-mate. The Matthews goal was a freak effort. His centre from the right curled and hit an upright. The ball bounced against the head of Irish goalkeeper Willie Smyth and into the net. 'Wor Jackie' Milburn announced his debut with a neatly headed goal. Davie Walsh scored his second goal with the last kick of the match to bring a little respectability to a scoreline that flattered England. Five of the England goals came in a 30 minute burst in the second-half. The Irish more than held their own for the other hour, and might have had at least two more goals but for some desperate work by the England defenders.

Source Notes
""Congratulations!" said Miss Helen Mearden, the bus conductress. "Thank you," I replied, trying to be polite but wondering what it was all about. "Yes," went on Miss Mearden, "it's a great honour to be chosen to captain England." Captain of England! If I had felt a little drowsy after so much travel those three words had the same effect as a bucket of ice-cold water being emptied over me. Miss Mearden must have noticed the look of surprise on my face, for she handed me a newspaper, saying, "The England team to meet Ireland is in the Stop Press column."" - Billy Wright, The World is My Football Pitch, p69.

TheFA.com
Original newspaper reports
Rothman's Yearbooks
Mike Payne's England: The Complete Post-War Record (Breedon Books Publishing Company, Derby, U.K., 1993)
Billy Wright's The World is My Football Pitch (Stanley Paul Co, London, U.K., 1953)
Northern Ireland's Footballing Greats
Norman Giller, Football Author
____________________

CG