Match Summary
England Squad

Type

Denmark Squad

Referee (dark blue) - Bernie Raymond Blom
40 (21 February 1974), Aphen aan den Rijn, FIFA listed 2005.

Assistant Referees - Rob van de Ven, 40 (19 September 1973), Bladel, and Charles Schaap, 36 (8 October 1977), Veenendaal.
Fourth official - Serdar Gözübüyük, 28 (29 October 1985), Harlem, FIFA-listed 2012.

Black armbands are worn by both sides, coupled with a minute's applause. England for the death of Sir Tom Finney and Bert Williams, and Denmark, following the death of their 1992 coach, Richard Moller Nielsen.

19
Goal Attempts
5
5
Attempts on Target
2
1
Hit Bar/Post
0
11
Corner Kicks Won
3
0
Offside Calls Against
0
10
Fouls Conceded
13
57%
Possession
43%

England Team
Rank:

FIFA (13 February 2014) 15th
EFO ranking Group 1 (3rd)
ELO rating 7th
Colours:
The Nike 2013 home uniform

-

White crew neck jerseys with navy blue collar, blue shorts, white socks with thin blue tops

.
Capt:
Steven Gerrard
(34th (38) captaincy

(

5)

)
Manager:
Roy Hodgson, 66 (9 August 1947), appointed 1 May 2012,
25th match, W 14 - D 8 - L 3 - F 51 - A 21.
England Lineup
1

Hart,

C.

Joseph

J.

26
320 days
19 April 1987
G
Manchester City FC
39
29ᵍᵃ
2
Johnson, Glen M.
29
194 days
23 August 1984
RB
Liverpool FC
50
1
the 55th player to reach this milestone
3
Cole, Ashley, off 46th min.
33
75 days
20 December 1980
LB
Chelsea FC
107
0
final app 2001-14
4
Gerrard, Steven G.
33
279 days
30 May 1980
CM
Liverpool FC
109
21
5
Cahill, Gary J.
28
76 days
19 December 1985
CD
Chelsea FC
22
2
6
Smalling, Christopher

L.

24
103 days
22 November 1989
CD
Manchester United FC
10
0
7
Wilshere, Jack A.G., off 59th min.
22
63 days
1 January 1992
RM
Arsenal FC
15
0
8
Henderson, Jordan B., off 77th min.
23
261 days
17 June 1990
LM
Liverpool FC
8
0
9

Sturridge, Daniel A., off 88th min.
24
185 days
1 September 1989
LF
Liverpool FC
10
3

10

Rooney, Wayne M., off 60th min.
28
132 days
24 October 1985
CF
Manchester United FC
89
37
11
Sterling, Rahee

m

S., off 86th min.
19
87 days
8 December 1994
in Kingston, Jamaica
RF
Liverpool FC
2
0
England Substitutes
1201
12
Shaw, Luke

P.H.

, on 46th min. for Cole
18
236 days
12 July 1995
LB
Southampton FC
1
0

31st Southampton player to represent England

21

Lallana, Adam

D

., on 59th min.

(58:10)

for Wilshere
25
299 days
10 May 1988
RM
Southampton FC
3
2
0
1
28
Welbeck, Daniel

N.T.M., on 60th min.

(59:34)

for Rooney
23
99 days
26 November 1990
CF
Manchester United FC
21
14
8
7
24
Oxlade-Chamberlain, Alexander M.D., on 77th min.

(76:22)

for Henderson
20
202 days
15 August 1993
LM
Arsenal FC
14
7
3
7
scoreline: England 1 Denmark 0
25
Townsend, Andros D., on 86th min.

(85:35)

for Sterling
22
232 days
16 July 1991
RM
Tottenham Hotspur FC
5
3
1
2
17
Milner, James P., on 88th min.

(87:28)

for Sturridge
28
60 days
4 January 1986
LM
Manchester City FC
45
26
1
19
result: England 1 Denmark 0
unused substitutes:
13-Ben Foster, 14-Leighton Baines, 15-Steven Caulker, 16-Michael Carrick, 18-Frank Lampard, 19-Ross Barkley, 20-Tom Cleverley, 22-John Ruddy, 23-Fraser Forster, 26-Rickie Lambert, 27-Jermain Defoe, 29-Jay Rodríguez.
team notes:
Alex Oxlade-Chamberlain's father, Mark Chamberlain, also played for England against Denmark in 1983
Stadium records:
Steven Gerrard has now captained the England side fifteen times in the National Stadium, equalling the record set by John Terry.
He has played in thirty of England's forty home matches at the National Stadium.
Luke Shaw is the twentieth player to mark his England debut at the National Stadium as a substitute.
4-3-3
Hart -
Johnson, Cahill, Smalling, Cole (Shaw) -
Wilshere (Lallana), Gerrard, Henderson (Oxlade-Chamberlain) -
Sterling (Townsend), Rooney (Welbeck), Sturridge (Milner).

Averages

(Starting XI)

:

Age
26

years

263

days

Appearances/Goals

41.9

5.8

Denmark Team
Rank:

FIFA (13 February 2014) 20th
EFO ranking Group 3
ELO rating 27th
Colours:
Made by Adidas - Red v-necked jersey with red-shadowed pin-hoops and white Adidas sleeve trim, white shorts with red hem/Adidas side trim, red socks with white tops and red Adidas trim.
Capt:
Daniel Agger
Manager:
Morten Per Olsen, 64 (14 August 1949), apptointed 16 August 2000.
148th match, W 73 - D 37 - L 37 - F x - A x
fifth match against England, W 2 - D 0 - L 3 - F 8 - A 9.
Denmark Lineup
1
Schmeichel, Kasper P.
27
120 days
5 November 1986
G
Leicester City FC

, England

3

4ᵍᵃ

6
Jacobsen, Lars C., off 46th min.
34
166 days
20 September 1979
RB
FC København
67
1
3
Kjær, Simon T., off 62nd min.
24
344 days
26 March 1989
CD
Lille OSC

, France

39
1
4
Agger, Daniel M.
29
83 days
12 December 1984
CD
Liverpool FC

, England

62
10
5
Ankersen, Peter
23
164 days
22 September 1990
LB

Esbjerg fB

, on loan from FC Red Bull Salzburg, Austria

5
0
2
Sloth, Casper B., off 62nd min.
21
344 days
26 March 1992
RM
Aarhus Gymnastikforening
8
0
Sloth cautioned in the 18th min. for a foul. After being dispossessed from the ball by Gerrard, he replies by tripping him outside his own penalty area.
7
Kvist Jørgensen, William
29
9 days
24 February 1985
CM
Fulham FC

, England, on loan from VfB Stuttgart 1893, Germany

45
2
8
Poulsen, Jakob B.U., off 81st min.
30
241 days
7 July 1983
LM
FC Midtjylland
29
1

10

Larsen, Emil, off 46th min.
22
256 days
22 June 1991
RF
Odense BK
5
0
11
Bendtner, Nicklas, off 62nd min.
26
48 days
16 January 1988
CF
Arsenal FC

, England

58
24
9
Krohn-Dehli, Michael
30
272 days
6 June 1983
LF
RC Celta de Vigo , Spain
41
6
Denmark Substitutes
14
Kusk Vangsgaard, Kasper, on 46th min. for Larsen
22
115 days
10 November 1991
RF
Aalborg BK
5
0
21
Juelsgård Kristensen, Jesper, on 46th min. for Jacobsen
24
38 days
26 January 1989
RB
FC Midtjylland
2
0
17
Zimling, Niki D., on 62nd min.

(61:26)

for Sloth
28
320 days
19 April 1985
RM
1. FSV Mainz 05

, Germany

24
1
13
Bjellend, Andreas, on 62nd min.

(61:46)

for Kjær
25
237 days
11 July 1988
CD
FC Twente

, Netherlands

13
2
18
Rasmussen, Morten N., on 62nd min.

(61:54)

for Bendtner
29
33 days
31 January 1985
CF
FC Midtjylland
7
3
Rasmussen cautioned in the 64th min. (104 seconds after coming on) for a foul. He had tumbled over Lallana on the halfway line in frustration, moments after Gerrard had made a well-timed tackle on him.
15
Olsen, Danny, on 81st min.

(80:37)

for Poulsen
28
267 days
11 June 1985
LM
Aarhus Gymnastikforening
1
0
result: England 1 Denmark 0
unused substitutes:
12-Thomas Kahlenburg, 14-Kasper Kusk, 16-Peter Andersen, 19-Thomas Delaney, 20-Jakob Ankersen, 22-Jonas Lössl, 23-Simon Makienok.
Coach Morten Olsen won a couple of his 102 Danish appearances against England, in September 1979, and in September 1983, when he was the captain in the Wembley victory.
4-3-3
Schmeichel -
Jacobsen (Juelsgård), Kjær (Bjellend), Agger, Ankersen -
Sloth (Zimling), Kvist, Poulsen (Olsen) -
Larsen (Kusk), Bendtner (Rasmussen), Krohn-Dehli.

Averages

(Starting XI)

:

Age
27

years

122

days

Appearances/Goals

32.9

4.1
Match Report by Mike Payne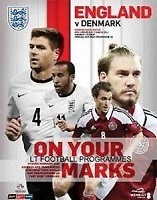 England entertained Denmark for their first fixture in this World Cup year, and the build-up was to start with a very low key friendly. It was a match that was a little tedious throughout, with Denmark desperate not to lose and England, at times, lacking the necessary guile to break them down. They did it in the end and a win is a win, but Roy Hodgson certainly has lots of work to do between now and when the tournament starts in Brazil during the summer.

There was a lovely moment before the start as there was a moment to reflect and remember three stalwarts of the game who had recently passed away, Denmark's Richard Moller Nielsen, former Wolves and England goalkeeper Bert Williams and the one and only Sir Tom Finney. A minute's applause celebrated the immense contribution made by these legends.

The game itself began very slowly, with both teams feeling their way gently into the play. There was lots of possession for England, but much of their passing went sideways across the pitch, and very little went forward. It took a full 16 minutes before anyone had a shot at goal and that came when Michael Krohne-Dehli shot wide from a good position. Raheem Sterling looked sharp and there were one or two promising moves down the right for England. On 17 minutes great hustling by Steven Gerrard won possession and just as he was about to shoot he was brought down by Casper Sloth. The free-kick was wasted by Wayne Rooney, who apparently had left his shooting boots at home, as, not for the first time on the night, his shot flew wildly over the bar.

Sterling's lovely pass gave Rooney the chance to beat Kasper Schmeichel to the ball, but again his attempt at goal was well off target. Two minutes later and Gary Cahill had a chance following a Gerrard corner, but he too fired over the bar. There were a few signs of England improving as the half wore on, but at the back there was a decidedly shaky look about the home defending, and there were one or two scares. But on 32 minutes, good work by the lively Daniel Sturridge saw him shoot across goal, although unfortunately Rooney couldn't quite touch the ball in. Six minutes later Rooney again shot hopelessly high, wide and not so handsome. Almost immediately, Jakob Poulsen had Denmark's best chance when more inept defending allowed him a clear run at goal. But Poulsen delayed his shot a fraction and England scrambled the ball clear. Rooney continued to try and hit row Z with his shooting before England finally put a good move together down the left. It ended with Ashley Cole firing in a low centre which just needed a touch from Sterling, but desperate defending and a scramble of legs saw the ball deflect on to a post before being cleared. And then right on half-time a brilliant save by Schmeichel, reminiscent of his father at his best, saved the day as Sturridge looked certain to score.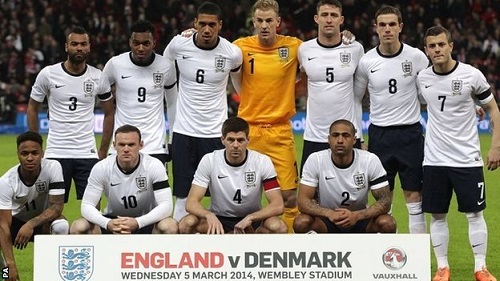 England had just about had the better of a poor half and at the break Southampton's Luke Shaw replaced Cole at left-back for his first taste of full international football. His first contribution was to be nutmegged! Although after that inauspicious start the Saints star showed all the coolness and good play that has made him hot property.

On 55 minutes Sterling, lively throughout, and Shaw combined to send another dangerous ball into the box, but again there was nobody on the end of the cross. At the other end Nicklas Bentner fired in a weak shot which Joe Hart easily saved. Just before the hour mark Adam Lallana came on for Jack Wilshere, and immediately there was a bit more bite about England. Rooney hit another poor free-kick into the wall, but Gerrard only just missed with a shot from the rebound. The skipper had a very good game and he held everything together well, showing boundless energy and leading by example.

On the hour mark, not surprisingly, Rooney was substituted, with Danny Welbeck coming on, and it was not one of Rooney's more memorable England performances. The game showed signs of warming up as Shaw and Lallana combined well, with Lallana showing terrific skills to get in a cross. Then a great save by Hart, who dived bravely to block Morten Rasmussen's effort, after Denmark had created their best chance of the night. This was followed by a Jordan Henderson shot out of the Wayne Rooney shooting catalogue. But overall England were now well on top with both Lallana and Welbeck livening up the England attacking options. On 71 minutes Schmeichel saved brilliantly from Welbeck and then four minutes later the goalkeeper did the same from an excellent snapshot by Sturridge.

Finally, after 82 minutes the breakthrough came, and the goal was completely out of character with what was a poor quality match. A short corner was worked between Sterling and Lallana, and the Southampton man showed great skill in manoeuvring a position for a cross. His pass was perfection and found Sturridge unmarked to head back across goal to beat Schmeichel all ends up. It was a terrific goal, and one, on the balance of play, that England thoroughly deserved.

Only a late Denmark free-kick troubled Hart after that and a 1-0 win was about the right scoreline in the end. There were some plusses for England on the night, but there were also some questions still to be answered. There is still time for that though and it will be interesting to see the final make-up of the England party off to Rio.

One final thing, as a Preston North End fan of some 55 years, I have to say that the result would certainly have pleased Sir Tom Finney, as he was as passionate a supporter of England as anyone. I had the honour and privilege of being able to spend some time in Tom's company on a number of occasions, and believe me, all the marvellous tributes and accolades that have been said and written about him since his death, couldn't have been more deserved or true. The man really was a Football Legend and I was so proud to know him.



Source Notes
TheFA.com
BBC Sport
DBU.dk

RateTheRef.com


Mike Payne - football historian and contributor
cg