618 vs. Argentina


672


750 vs. Argentina

Saturday

,

25 May 1991




England Challenge Cup, match three





England 2 Argentina 2

[1-0]




Wembley Stadium, Wembley, Brent, Greater London
Kick-off (BST): 3.00pm


Attendance:

44,497

[1-0] Gary Lineker header 15


diving header from 10 yards following a Pearce free-kick on the halfway line.

[2-0] David Platt header 51


powerful header from the penalty spot after a Pearce cross from the left side


[2-1] Claudio García header 65
powerful header from 4 yards from a Mohammed left corner
[2-2] Darío Franco header 70


powerful header in from the penalty spot from a Mohammed right corner

Claudio García 90

Commentator: Martin Tyler
Match Summary
Type

Argentina Squad
Referee (black) - Zoran Petrović
39 (19 April 1952), Beograd, Yugoslavia.

Linesmen - Peter Mikkelsen, 31 (1 May 1960), Amager, Denmark and Emilio Soriano Aladrén, 45 (29 October 1945), Zaragoza, Spain.
Reserve Official - John J. Shawcross, Cheshire.

Teams presented to The Right Honourable Douglas Hurd, C.B.E., M.P., Secretary of State for the Foreign & Commonwealth Office.
This match was preceded by England U19 vs. Spain U19.

Goal Attempts

Attempts on Target
Hit Bar/Post
Corner Kicks Won
Offside Calls Against
Fouls Conceded
Possession

England Team
Rank:

No official ranking;
EFO ranking
ELO rating 3rd
Colours:
The 1990 Umbro away uniform - Red collared jersey with shadowed diamonds and navy collar/white cuffs, white shorts with red/blue triangle, red socks with white tops.
Capt:
Gary Lineker
(fifth captaincy

(18) (

5)

)
Manager:
Graham Taylor,

46

(15 September 1944), appointed 23 July 1990,
8th match, W 6 - D 2 - L 0 - F 13 - A 5.
Team chosen, T

hur

sday, 23 May.
England Lineup
1
Seaman, David

A.

27
248 days
19 September 1963
G
Arsenal FC
7

5ᵍᵃ

2
Dixon, Lee M.
27
69 days
17 March 1964
RB
Arsenal FC
8
0
3
Pearce, Stuart
29
31 days
24 April 1962
LB
Nottingham Forest FC
37
1
4
Batty, David
22
174 days
2 December 1968
M
Leeds United AFC
2
0
5
Walker, Desmond S.
25
180 days
26 November 1965
CD
Nottingham Forest FC
32
0
6
Wright, Mark
27
297 days
1 August 1963
CD
Derby County FC
37
1
7
Platt, David A.
24
349 days
10 June 1966
M
Aston Villa FC
18
7
8
Thomas, Geoffrey R.
26
293 days
5 August 1964
M
Crystal Palace FC
3
0
9
Smith, Alan M.
28
185 days
21 November 1962
F
Arsenal FC
7
1
10
Lineker, Gary W.
30
176 days
30 November 1960
CF
Tottenham Hotspur FC
65
40
11
Barnes, John

C.B.

, off 63rd min.
27
199 days
7 November 1963


in Kingston, Jamaica

F
Liverpool FC
65
10
England Substitutes

scoreline:

England 2 Argentina 0
16
Clough, Nigel H., on 63rd min. for Barnes
25
67 days
19 March 1966
F
Nottingham Forest FC
2
1
0
1

result:

England 2 Argentina 2

unused substitutes:

12-Paul Parker, 13-Chris Woods, 14-Lee Sharpe, 15-Peter Beardsley.

team notes:

Gary Lineker becomes the third player to score forty goals, and the quickest to do so (6 yrs 60 days).
-
-

Averages:

Age
27 years 36 days
Appearances/Goals
25.6
5.3

Argentina Team
Rank:

No official ranking;
EFO ranking
ELO rating 12th to 11th
Colours:
Made by Adidas - Sky blue and white striped v-necked jersys with white collar/sleeves with sky blue Adidas trim, black shorts with sky blue/white hem, white socks with sky blue Adidas trim.
Capt:
Oscar Ruggeri
Manager:
Alfio Ruben Basile, 47 (1 November 1943), appointed autumn 1990.
Argentina Lineup
1
Goycochea, Sergio

J.

27
220 days
17 October 1963
G
RC de Avellaneda

GA

2

Vázquez

, Sergio

F.

25
183 days
23 November 1965
D
Club Ferro Carril Oeste
3
Enrique, Carlos

Alberto

27
164 days
12 December 1963
D
CA River Plate
4
Basualdo, Fabián A.
27
88 days
26 February 1964
D
CA River Plate
5
Gamboa, Fernando

A.

20
209 days
28 October 1970
D
CA Newell's Old Boys
6
Ruggeri, Oscar

A.

27
119 days
26 January 1962
CD
CA Vélez Sársfield
7
García, Claudio

O.T.

27
274 days
24 August 1963
M
RC de Avellaneda
8
Franco

Gatti

, Darío

J.

22
128 days
17 January 1969
M
CA Newell's Old Boys
9
Simeone González, Diego

P.

21
27 days
28 April 1970
F
AC Pisa

1909, Italy

10

Martellotto, German

R., off 59th min.

28
190 days
16 November 1962
F
CF Monterrey, Mexico
1
0
11
Boldrini, Ariel

E.

25
209 days
28 July 1965
F
CA Newell's Old Boys
Argentina Substitutes

scoreline:

England 2 Argentina 0
17
Mohammed Matijevićh, Antonio R., on 59th min. for Martellotto
21
53 days
2 April 1970
M
CA Hurácan

result:

England 2 Argentina 2

unused substitutes:

12-Albjandro Lanari, 14-Ricardo Altamirano, 15-Nestor Fabbri, 16-Gustavo Zapata.
-
-

Averages:

Age
25 years 274 days
Appearances/Goals
-
-
Match Report by Mike Payne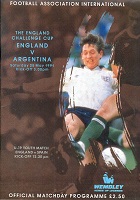 Another entertaining game at Wembley but also a disappointment for England who let a two-goal lead slip against Argentina. The draw was enough to give England the trophy on offer, but after outplaying the South Americans for so long, a victory would have been much satisfying.

The first hour was dominated by England. Playing fast, open football their neat passing movements repeatedly tore large holes in the Argentine defence. The home side deservedly opened the scoring after 15 minutes when Stuart Pearce's deep free-kick caught out Argentina who tried to push too far forward. It left Gary Lineker the opportunity to steal in and guide a marvellous diving header past Goycochea. It was his 40th goal for England and he now was only four behind the legendary Jimmy Greaves who held second spot in the all-time list of goalscorers.

Everything looked perfect for England at this point. David Batty was really impressive in his first full game and David Platt was showing some excellent touches. Geoff Thomas completed a very good midfield and the Argentinians had little answer to the play from the home team. Goycochea made a fine save from Platt and then his flying leap prevented John Barnes from curling a wonderful shot into the far corner. It seemed only a question of time before England would score again.

Seven minutes into the second half, Platt duly obliged with a second goal. Again Pearce featured in the move and his fine cross was headed home with some panache by the Aston Villa star. Everyone thought the game was as good as over for Argentina, but how wrong can you be?

With 66 minutes gone, England committed the cardinal sin of letting in a goal from a set-piece. Mohammed's corner found Garcia totally unmarked and he headed home unchallenged. Where all the home defenders were left everyone puzzled and David Seaman's positioning also left much to be desired. Seven minutes later, things went from bad to worse as England did it again. Another corner was met by Franco, who outjumped the defenders to power home an excellent header to equalize.

England were shell-shocked but they gradually settled down again and took the game to the visitors. Sadly, once again the Argentines showed the nasty side of their temperament. Cynical fouls on Lee Dixon and Smith won few friends in the crowd and they became incensed at these antics. Mind you, England were not blameless and a Mark Wright foul deserved a booking. The referee tried to show leniency but perhaps an earlier yellow card or two might have diffused a volatile situation. Sad to say the Argentinians walked off the Wembley pitch to a chorus of boos especially when they removed their shirts and taunted the crowd by waving them in the air. That was very silly.

Match Report by Glen Isherwood
Argentina had been well beaten in 1980, their last visit to Wembley, but had knocked out England in the quarter-finals in Mexico City on their way to winning the World Cup in 1986. Diego Maradona, scorer of the controversial 'hand of God' goal in that match, was now banned from football for drug offences after leading his team to their second successive World Cup final the previous year.
This was the last game of the three-team tournament for the England Challenge Cup. Two days earlier, Argentina had drawn 1-1 with USSR at Old Trafford.
Gary Lineker's header to put England, wearing red shirts, in front came from a Pearce free-kick from just inside England's half. After the interval, Pearce's cross was headed brilliantly past Goycochea by David Platt and the England Challenge Cup appeared to be comfortably in the bag.
But midway through the second half, substitute Mohammed's corner was headed in by the unmarked Claudio Garcia. Then, a corner from the same player was headed in by Dario Franco in almost identical fashion. Just as i their 1974 visit, Argentina had pulled back a two-goal deficit but it was England who won the tournament.
Argentina did not appear at Wembley again until 2000.

Match Report by Norman Giller
England carelessly let a two-goal lead slip in a four-minute spell midway through the second-half of a game that was always niggly and bad-tempered, with the Argentineans giving better than they received in the nasty tackles department. Gary Lineker scored in the fifteenth minute (his fortieth goal) and David Platt made it 2-0 five minutes after half-time. Lineker had the hollow honour of collecting the Challenge Cup as the Argentineans trudged off to a chorus of boos. Nothing had been achieved in the area of repairing the poor relationships between the two nations.

Source Notes

TheFA.com
BBC Sport


Official Teamsheet

Original newspaper reports
Rothman's Yearbooks
Mike Payne - football historian and contributor


Norman Giller, Football Author
cg