638 vs. USSR



previous match

(20 days)


670 vs. Turkey
671




FINAL MEETING vs. USSR


682 vs. CIS

Tuesday

,

21 May 1991




England Challenge Cup, match one





England 3 USSR 1

[2-1]




Wembley Stadium, Wembley, Brent, Greater London
Kick-off (BST): 8.00pm


Attendance:

23,789



[1-1] Alan Smith 16


side-footed into the net from six yards after Thomas volleyed back in a Uvarov punch




[1-0]

David Platt

penalty 44




His right-footed kick was neatly placed to Uvarov's left, as he went to his right


(Tsveiba fouled Platt)

[1-1]

Mark Wright

own goal 9




Kolivanov's cross was chested down by MihaIlićhenko into the path of Tatarchuk on the edge of box. His volley was deflected by Wright sending Woods the wrong way

[3-1] David Platt 88


Batty's pass to Platt who quickly turned and right-footed shot from 22 yards low into the bottom left corner of the goal

Dimitri Galiamin 65

Commentator: Martin Tyler
Match Summary
Type

USSR Squad

Referee (black) - Emilio Soriano

Aladrén


45 (29 October 1945), Zaragoza, Spain.

Linesmen - Peter Mikkelsen, 31 (1 May 1960), Amager, Denmark and Zoran Petrović, 39 (19 April 1952), Beograd, Yugoslavia.

Reserve Official - Don T. Morgan, Wiltshire F.A.

Goal Attempts
Attempts on Target
Hit Bar/Post
Corner Kicks Won
Offside Calls Against
Fouls Conceded
Possession

England Team
Rank:

No official ranking;
EFO ranking
ELO rating 3rd
Colours:
The 1990 Umbro home uniform - White collared jersey with shadowed diamonds and navy collar/cuff, navy shorts with white panel and red triangle, white socks with navy tops.
Capt:
Mark Wright
(only captaincy)
Manager:
Graham Taylor,

46

(15 September 1944), appointed 23 July 1990,
7th match, W 5 - D 2 - L 0 - F 11 - A 3.
England Lineup
1
Woods, Christopher C.E.
31
188 days
14 November 1959
G
Rangers FC

, Scotland

20

6ᵍᵃ

2
Stevens,

M.

Gary
28
55 days
27 March 1963
RB
Rangers FC

, Scotland

42
0
3
Dorigo, Anthony R.
25
141 days
31 December 1965
in Adelaide, Australia
LB
Chelsea FC
6
0
4
Wise, Dennis F., off 72nd min.
24
156 days
16 December 1966
RM
Chelsea FC
2
1
5
Parker, Paul A.
27
47 days
4 April 1964
CD
Queen's Park Rangers FC
14
0
6
Wright, Mark
27
293 days
1 August 1963
CD
Derby County FC
36
1


(

1

)

the 21st own goal scored by England

7
Platt, David A.
24
345 days
10 June 1966
RCM
Aston Villa FC
17
6
(1

)

48th penalty kick scored
8
Thomas, Geoffrey R.
26
289 days
5 August 1964
LCM
Crystal Palace FC
2
0
9
Smith, Alan M.
28
181 days
21 November 1962
RF
Arsenal FC
6
1

10

Wright, Ian E., off 72nd min.
27
199 days
3 November 1963
LF
Crystal Palace FC
3
0
11
Barnes, John

C.B.

27
195 days
7 November 1963


in Kingston, Jamaica

LM
Liverpool FC
64
9

BME

most apps
England Substitutes

scoreline:

England 2 USSR 1

1026
15
Batty, David, on 72nd min. for Wise
22
170 days
2 December 1968
RM
Leeds United AFC
1
0

the 21st United player to represent England

16
Beardsley, Peter A., on 72nd min. for Wright
30
123 days
18 January 1961
LF
Liverpool FC
49
38
9
11

result:

England 3 USSR 1

unused substitutes:

12-Lee Dixon, 13-David Seaman, 14-Neil Webb.

substitute notes:

David Batty is the 55th player to debut for England as a substitute. He is also the 130th different player to represent England as a substitute.

penalty notes:

David Platt's penalty was the twentieth to be converted at this stadium.
4-4-2
Woods -
Stevens, Parker, Wright, Dorigo -
Wise (Batty), Platt, Thomas, Barnes -
Smith, Wright (Beardsley)

Averages:

Age
27 years 92 days
Appearances/Goals
19.3
1.5

USSR Team
Rank:

No official ranking;
EFO ranking
ELO rating 9th to 10th
Colours:
Made by Adidas - Red v-necked jerseys with white collar/Adidas trim/piping and large shoulder panels, white shorts with red Adidas trim, red socks with white Adidas trim.
Capt:
Alexei MikhaIlićhenko
Manager:
Anatoliy Fedorovićh Byshovets, 45 (23 April 1946), appointed July 1990
USSR Lineup
1
Uvarov, Aleksandr

V.

31
128 days
13 January 1960
G
FC Dinamo Moskva
10

GA

2
Chernishov, Andrey

A.

23
134 days
7 January 1968
D
FC Dinamo Moskva
10
0
3
Kulkov, Vassili

S.

24
344 days
11 June 1966
D
FC Spartak Moskva
12
0
4
Tsveiba, Akhrik

S.

24
253 days
10 September 1966
D
FC Dinamo Kyiv
10
1
5
Galiamin, Dmitri

A.

28
133 days
8 January 1963
D
PFC Central Sports Club of the Army
5
0
6
Shalimov, Igor

M., off 67th min.

22
108 days
2 February 1969
M
FC Spartak Moskva
12
1
7
MikhaIlićhenko, Alexei

A.

28
52 days
30 March 1963
M
UC Sampdoria SpA

, Italy

30
8
8
Kanchelskis, Andrei
22
118 days
23 January 1969
M
Manchester United FC

, England

9
1
9
Kolyvanov, Igor
23
76 days
6 March 1968
F
FC Dinamo Moskva
13
1

10

Tatarchuk, Vladimir

I., off 51st min.

25
26 days
25 April 1966
F
PFC Central Sports Club of the Army
9
1
11
Kuzhetsov, Dmitri

V.

25
266 days
28 August 1965
F
PFC Central Sports Club of the Army
7
1
USSR Substitutes

scoreline:

England 2 USSR 1

13
Mostovoi, Aleksandr

, on 51st min. for Tatarchuk

22
272 days
22 August 1968
AM
FC Spartak Moskva
6
1
14
Korneev, Igor V., on 67th min. for Shalimov
23
259 days
4 September 1967
M
PFC Central Sports Club of the Army
1
0

result:

England 3 USSR 1

unused substitutes:

12-Stanislav Cherchesov, 15-Igor Dobrovolsky, 16-Ilia Tsimbalari.

team notes:

Vladimir Tatarchuk had been called up to replace the injured Sergei Aleinikov

Anatoliy Byshovets played for the USSR against England in the 1968 European Championship third place match
-
-

Averages:

Age
25 years 150 days
Appearances/Goals
11.5
1.3
Match Report by Mike Payne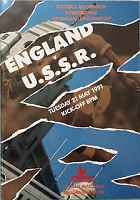 Only 23,789 people turned up at Wembley for the first of two internationals in an invitation tournament competing for the England Challenge Cup. It was a triangular competition with Argentina the third party. What a pity that so few people were present because the Soviets are attractive opposition, full of strength and skill. England did extremely well in this game, though, and they benefited from a fine display from David Platt, who was now really beginning to establish his growing reputation.

The Soviets were pegged back early on by some swift England attacks. It was obvious from the start that the visitors, and especially goalkeeper Uvarov, were vulnerable under pressure in particular from high balls into the box. Ironically though it was USSR who scored the opening goal. Eleven minutes had gone when Tony Dorigo allowed Kolyvanov to cross from the right. MikhaIlićhenko chested the ball to Tatarchuck, who instantly shot at goal. Chris Woods looked to have it covered but unfortunately, Mark Wright, who was skipper for the first time, stuck out a foot to deflect it wide of his goalkeeper. This time the official verdict was 'own-goal' which made one wonder if Staunton should have been 'credited' with England's goal against Republic of Ireland in March.

Whatever, with Platt and Geoff Thomas looking lively in midfield England did not let the goal upset them. It took only six minutes for the home side to find the equalizer and inevitably it came from a high ball into the penalty area. Paul Parker's free-kick was only flapped at by Uvarov and the ball went straight to Thomas. His instant shot looked harmless enough until that is, Alan Smith turned it into the net with a clever touch. The goal emphasised the good season he had just enjoyed with League Champions, Arsenal.

John Barnes showed some nice touches as England continued to hold all the aces and it came as no surprise when they took the lead in the 44th minute. A brilliant burst through the middle by Platt only ended when Tsveiba brought him down for an obvious penalty. In the absence of Gary Lineker, Platt himself scored from the spot-kick and his first-half display had been very reminiscent of Bryan Robson at his best.

A fine save from Mostovoi's firm header by the largely unemployed Woods, early in the second half, prevented an equalizer by USSR and then Parker was a little fortunate when his foul on the edge of the box against Kolyvanov gave away a free-kick. The ball was only just deflected over when the kick was taken. at this point the Soviets were showing signs of getting on top and Graham Taylor brought on two substitutes, new cap David Batty and the experienced Peter Beardsley. The alterations worked a treat and England were soon asserting themselves again. Smith missed a great chance when a fine run by Barnes created an opening, but with two minutes to go the result was sealed with another fine goal by Platt.

A lovely move involving several players ended with Batty finding Platt just outside the area. He side-stepped a Soviet challenge and drove a hard, low shot into the corner. That rounded off a good day for England perfectly.

Match Report by Glen Isherwood
The USSR won at Wembley for the first time in 1984 and had convincingly beaten England 3-1 in Frankfurt on their way to a record fourth European Championship final in 1988. England were aiming to beat them for the first time since a 1-0 win in Tbilisi in 1986.
The visitors took a fortunate lead when Tatarchuk's shot hit Mark Wright, on his first appearance as captain, to give Woods no chance. It was the first goal the England goalkeeper had conceded at Wembley in nine appearances for club and country.
England equalised soon after when Uvarov punched out Parker's free kick under pressure from Mark Wright. Thomas knocked the ball back for Alan Smith to turn it between two defenders on the line. Two minutes before half-time England scored again when Tseviba was adjudged to have tripped David Platt although there appeared to be no contact. Platt took the kick and sent the 'keeper the wrong way.
The final goal came in the last minute after some neat passing by England. Substitute Beardsley's final pass was almost collected by Chernishkov but he could not control it and Platt fired his second into the corner.
This was the first match of a three-team tournament called the England Challenge Cup. Two nights later, the USSR drew 1-1 with Argentina at Old Trafford.

Match Report by Norman Giller
Only 23,789 fans bothered to turn up to see England play Russia in the contrived 'England Challenge Cup', a three-way tournament that also included Argentina. David Platt got England off to a flying start with a fourth-minute goal from the penalty spot, and Alan Smith made it 2-0 twelve minutes later. An own goal by Mark Wright gave the Russians brief hope of getting back into the game before Platt finished them off with an eighty-ninth minute strike. David 'Bites Yer Legs' Batty started his international career as a seventieth minute substitute.


Source Notes

TheFA.com
BBC Sport


Official Teamsheet

Original newspaper reports
Rothman's Yearbooks
Mike Payne - football historian and contributor


Norman Giller, Football Author
cg