ONLY MEETING vs. MALAYSIA




676




next match

(4 days)


677 vs. Germany

Wednesday

,

12 June 1991




Dunhill Invitation Match





Malaysia 2 England 4

[0-3]


Stadium Merdeka, Wilayah Persekutuan, Kuala Lumpur


Kick-off (MYT): 8.30pm 1.30pm BST


Attendance: 38,000 to 42,000

Gary Lineker kicked off
[0-1] Gary Lineker

1 0:42
left-footed shot from 12-yards over Hassan from a Thomas lay-off
[0-2] Gary Lineker

23


right-footed half-volley from 3 yards at the far post after Wright flicked on a Pearce right-sided corner
[0-3] Gary Lineker

header 30

HAT-TRICK


glancing header at the near post after Platt chipped the ball in after Hassan saved Lineker shot

[1-3] Matlan Marjan 53


Matlan left-footed strike into bottom right corner from an Ahmed thro-ball





[2-4] Matlan Marjan

76
coolly rounded Woods after Batty's back pass went straight to Matlan

[1-4] Gary Lineker header 70
Salako flicked the ball over the keeper for Lineker to angle in another header from 6 yards

Highlights on BBC Sportsnight Commentator: John Motson with Trevor Brooking
Match Summary
Malaysia Squad

Type

England Squad
Referee (black) - Letchmanasamy Kathirveloo
36 (23 January 1955), Malaysia.

Linesmen - tbc

Goal Attempts
Attempts on Target
Hit Bar/Post
Corner Kicks Won
Offside Calls Against
Fouls Conceded
Possession

Malaysia Team
Rank:

No official ranking;
EFO ranking
ELO rating 135th
Colours:
Made by Adidas - Yellow v-necked jerseys with black collars/Adidas trim, shoulder and underarm panels, black shorts with yellow Adidas trim, yellow socks with black Adidas trim.
Capt:
Ali Ahmad Yusof
Head Coach:
Rahim Abdullah, 43 (12 September 1947)
Malaysia Lineup
22
Hassan, Abdul Rashid

, off 66th min.

36
330 days
17 July 1954
G
Johor Darul Ta'zim II FC

GA

3
Singh, Serbegeth
30
296 days
20 August 1960
RD
KB Negeri Pahang
5
Kin Hong, Lee
nk
not known
LD
PB Sepak Kedah Darul Aman
2
Jamil, Mohammed Zaid

, off 46th min.

nk
not known
RWB
PB Sepak Kuala Lumpur
18
Jayakanthan, Arumugam
nk
not known
CD
PB Selangor
4
Siew Yai, Chow
nk
not known
LWB
PB Sepak Kuala Lumpur
6
Yusof, Ali Ahmad
nk
not known
RM
KB Negeri Pahang
8
Yusof, Nasir
nk
not known
LM
Johor Darul Ta'zim II FC
7
Marjan, Matlan
22
237 days
18 October 1968
RF
PB Sabah
9
Salleh, Dollah
27
245 days
10 October 1963
CF
KB Negeri Pahang

17

Hassan, Zainal Abidin
29
215 days
9 November 1961
LF
KB Negeri Pahang
Malaysia Substitutes

scoreline:

Malaysia 0 England 3
12
Azizol, Abu Haniffa

, on 46th min. for Jamil

31
114 days
18 February 1960
M
PB Perak

scoreline:

Malaysia 1 England 3
21
Khairul, Azman Mohammed

, on 66th min. for Hassan.

nk
not known
G
Kelab Bolasepak Negeri Pahang
GA

result:

Malaysia 2 England 4

unused substitutes:

11-Sazali Nasir, 20-Subadron Aziz, 23-Manja Man.
5-2-3
Hassan (Khairul) -
Singh, Lee -
Jamil (Azizol), Jayakanthan, Chow -
Ahmad, Nasir -
Matian, Salleh, Zainal

Averages:

Age
n/a
Appearances/Goals
n/a
n/a

England Team
Rank:

No official ranking;
EFO ranking
ELO rating 2nd
Colours:
The 1990 Umbro home uniform - White collared jersey with shadowed diamonds and navy collar/cuff, navy shorts with white panel and red triangle, white socks with navy tops.
Capt:
Gary Lineker
(eighth captaincy

(18) (

10

)

)
Manager:
Graham Taylor,

46

(15 September 1944), appointed 23 July 1990,
12th match, W 10 - D 3 - L 0 - F 21 - A 7.
England Lineup
1
Woods, Christopher C.E.
31
210 days
14 November 1959
G
Rangers FC

, Scotland

24

8ᵍᵃ

2
Charles, Gary A.
21
60 days
13 April 1970
RB
Nottingham Forest FC
2
0
final app 1991
3
Pearce, Stuart
29
49 days
24 April 1962
LB
Nottingham Forest FC
41
2
4
Batty, David
22
192 days
2 December 1968
DM
Leeds United AFC
5
0
5
Walker, Desmond S.
25
198 days
26 November 1965
CD
Nottingham Forest FC
36
0
6
Wright, Mark
27
315 days
1 August 1963
CD
Derby County FC
40
1
7
Platt, David A.
25
2 days
10 June 1966
AM
Aston Villa FC
22
7
8
Thomas, Geoffrey R.
26
307 days
5 August 1964
RM
Crystal Palace FC
7
0
9
Clough, Nigel H.
25
85 days
19 March 1966
RF
Nottingham Forest FC
4
0
10
Lineker, Gary W.
30
194 days
30 November 1960
LF


Tottenham Hotspur FC


68
45

Lineker's record-equalling fifth hatrick


is the 75th (38th post-war) hattrick scored

2nd oldest player to score a hat-trick




(held for 2½ years)

quickest to 45 goals

11
Salako, John A.
22
121 days
11 February 1969
in Ibadan, Nigeria
LM
Crystal Palace FC
4
0

unused substitutes:

12-Earl Barrett, 13-Tony Coton, 14-Ian Wright, 15-David Hirst, 16-Mark Walters.

records:

Gary Lineker become's England's second highest scorer behind Bobby Charlton. However, Lineker was quicker to score his 45, taking just six years and 77 days, and the younger, by 33 days.
He also became the second oldest hatrician (until November 1993), behind Jack Rowley in 1949, but by far, the most-experienced - by over 30 caps.
He is the fourth captain, after Gilbert Smith, Vivian Woodward, and Bryan Robson in 1983, to score a hattrick, the eighth overall.
In almost identical circumstances 25 years previously when Jimmy Greaves scored four goals against Norway to equal, and then break, the friendly goalscoring record. Lineker's third (20) and fourth (21) goals equalled and then broke the friendly goalscoring record.
Matlan Marjan's goal is the first friendly goal England have conceded in a year and ten days, also making it the first friendly goal conceded in the Taylor reign.
4-4-2
Woods -
Charles, Walker, Wright, Pearce -
Thomas, Batty, Platt, Salako -
Clough, Lineker

Averages:

Age
26 years 60 days
Appearances/Goals
23
4.7
Match Report by Mike Payne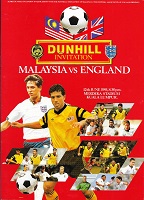 England's last match of an exhausting tour took them to Kuala Lumpar where over 41,000 people sweltered in 100 per cent humidity in the Merdeka Stadium. The game was another personal triumph for Gary Lineker, who, having missed the game in Wellington because of club tour committments, returned to the side to score all four goals in a wonderful display in the art of finishing.

The excitement began after only 42 seconds. Geoff Thomas' forward pass released Lineker on the left of goal and a rasping shot left the home goalkeeper, Hassan, helpless. It was a marvellous start for England and one of the best of Lineker's England goals. The visitors pushed forward relentlessly from then on and, midway through the half, a Stuart Pearce corner from the right was flicked on by Mark Wright and Lineker was at the far post to knock the ball into the net. On the half hour the supreme England striker collected his fifth international hat-trick with a lovely glancing header at the near post after a delicate chip by David Platt.

This burst of goalscoring left Malaysia shell-shocked, but they kept battling away and [after] half-time Matlan took advantage of some sloppy play by England to score and send the crowd wild with delight. Chris Woods was furious with his defence particularly as it was the first goal he had conceded on the tour, thus ruining his proud record.

However, this minor blot did not affect England's superiority and they coasted through the second half. On 70 minutes another lovely run from John Salako, the real hit of the tour, ended with a cross from the right which was met with a simple header from that man Lineker again. It was another clinical piece of finishing and a marvellous milestone for the Spurs player. It was his 45th goal for England, thus eclipsing Jimmy Greaves to slip into second place in the all-time list of goalscorers. Only Bobby Charlton, with 49 goals, now lay ahead of Lineker.

The only other black mark on an otherwise good day for England came when Matlan, who was already a hero for scoring one goal in the match, suddenly popped up with a second strike, which would probably give him immortality amongst his own countrymen.

It had been a long and very tiring tour for England but they ended it with four wins out of four and given Graham Taylor the chance to see one or two fringe players perform in international football. The wisdom of such a tour certainly raised questions, but there was absolutely no question that the public relation exercise proved a huge success and England won many new friends as a result.

Match Report by Norman Giller
Gary Lineker produced the second four-goal burst of his international career, taking over from Jimmy Greaves as the second top England scorer of all time and he was now just four goals behind Bobby Charlton's record 49-goal haul. Many considered this should not have been classified as a full international, but there was no doubting Lineker's ability as a deadly finisher as he found the net in the first, twenty-third, thirtieth and seventieth minutes. Lineker joined the England squad just for this match after taking part in club commitments with Tottenham. This was the second time he had scored four goals in an England shirt, and it included his fifth hat-trick.


Source Notes

TheFA.com
BBC Sport
Original newspaper reports
Rothman's Yearbooks
Mike Payne - football historian and contributor
cg