"WEARY ENGLAND LOSE CONTROL"
Daily News
Officials
FIFA ruling on substitutes
England Party
Referee (black blazer)
Emil Schmetzer
45 (19 June 1908), Mannheim, West Germany.
Linesmen
from Switzerland
Friedrich Buchmöller
Wilhelm Rufli


42 (1 December 1911),

Bremgarten

Belgium Team
Rank:

No official ranking system established;
ELO rating 15th
Colours:
Red laced-up jerseys with yellow/black collars/cuffs, black shorts, black socks with red and yellow hoop.
Capt:
Jef Mermans
Manager:
Dugald Livingstone, 56 (25 February 1898 in Alexandria, Scotland). Appointed 10 July 1953.


ninth match, W 3 - D 5 - L 1 F 19 - A 12

oldest opposing WCF captain

so far

oldest opposing WCF manager

so far

Belgium Lineup
Gernaey, Léopold A.
27
112 days
25 February 1927
G
ASv Oostende KM
8

10ᵍᵃ

2
Dries, Marcel H.
24
271 days
19 September 1929
RB
Royal Berchem Sport
8
0
3
Van Brandt, Alfons
26
358 days
24 June 1927
LB
Koninklijke Lierse Sk
20
0
4
Huysmans, Constantinus C.
25
249 days
11 October 1928
RHB
Royale Bierschot AC
6
0
5
Carré, Louis A.
29
161 days
7 January 1925
CHB
RFC Liégeois
42
0
6
Mees, Victor E.L.
27
142 days
26 January 1927
LHB
Royal Antwerp FC
35
1
16
Van den Bosch, Pieter R.
26
229 days
31 October 1927
OR
RSC Anderlecht
1
0
8
Houf, Denis M.
22
121 days
16 February 1932
IR
RSC Liégeois
1
0
9

Coppens, Henri F.L.
24
49 days
29 April 1930
CF
Royale Bierschot AC
27
12
10

Anoul, Léopold R.J.V.
31
302 days
19 August 1922
IL
Royal FC Liégeois
46
18
oldest opposing WCF scorer

so far

11
Mermans, Joseph
32
121 days
16 February 1922
OL
RSC Anderlecht
36
26
oldest opposing WCF player

so far

reserves:
not permitted
team notes:
Marcel Dries' father, Léopold, also played for Belgium against England in 1924.
Pieter Van den Bosch's brother was also in the Belgium party, Hippolyte.
2-3-5
Gernaey -
Dries, Van Brandt -
Huysmans, Carré, Mees -
Van den Bosch, Houf, Coppens, Anoul, Mermans

Averages:

Age

27

years 61 days
Appearances/Goals

20.9

4.9

England Team
Rank:

No official ranking system established;
ELO rating 4th
Colours:
The 1949 home uniform - White collared short-sleeved jerseys, blue shorts, black socks with white tops.


fortieth, W 21 - D 10 - L 9 - F 106 - A 70.

⁴³
Capt:
Billy Wright³
44th W 25 - D 9 - L 10 - F 109 - A 70.⁹⁰
Manager:
Walter Winterbottom, 41 (31 March 1913), appointed as FA national director of coaching/team manager on 8 July 1946;


62nd match, W 38 - D 13 - L 11 - F 183 - A 91

, one abandoned.

¹³⁹

Trainer: Jimmy Trotter (Charlton Athletic FC)

Team chosen by the Selection Committee headed by Harold Shentall on Friday, 11 June.

England Lineup

three changes

to the previous match

(Matthews, Broadis & Lofthouse>Harris, Sewell & Jezzard)

FINAL league positions

(FL1 26 April, FL2 29 April)

1
Merrick, Gilbert H.
32
142 days
26 January 1922
G
Birmingham City FC

(FL2 7th)

21

41ᵍᵃ

oldest WCF

goalkeeper

so far

first to 41

ᵍᵃ

2
Staniforth, Ronald
30
65 days
13 April 1924
RB
Huddersfield Town AFC

(FL 3rd)

4
0
3
Byrne, Roger W.
24
282 days
8 September 1929
LB
Manchester United FC

(FL 4th)

4
0
4
Wright, William A.
30
131 days
6 February 1924
RHB
Wolverhampton Wanderers FC

(FL CHAMPIONS)

59
3

most apps

1952-54

5
Owen, Sydney W.
31
261 days
29 September 1922
CHB
Luton Town FC

(FL2 6th)

3
0
final app 1954
6
Dickinson, James

W.

29
54 days
24 April 1925
LHB
Portsmouth FC

(FL 14th)

36

¹

eleventh own goal conceded by England

7

Matthews, Stanley
39
136 days
1 February 1915
OR
Blackpool FC

(FL 6th)

37
9

oldest outfield player

& WCF
8

Broadis, Ivan A.
31
181 days
18 December 1922
IR
Newcastle United FC

(FL 15th)

12
8
9

Lofthouse, Nathaniel
28
294 days
27 August 1925
CF
Bolton Wanderers FC

(FL 5th)

20
22

youngest WCF goalscorer

so far

the 27th player to reach the 20-app milestone

10

Taylor, Thomas
22
138 days
29 January 1932
IL
Manchester United FC

(FL 4th)

4
2

youngest WCF player

so far

11

Finney, Thomas
32
73 days
5 April 1922
OL
Preston North End FC

(FL 11th)

52
23
reserves:
not permitted
team notes:
During extra time

'Owen went off for a spell with a leg injury and resumed at outside-left with Wright at centre-half, but this was too late in the proceedings to be used as an excuse.'

records:
For the first time, England have conceded 26 goals in a single season.
World Cup Finals records:
For the first time in Major Tournament Finals, England player for two hours, as well as score four goals in a match, and three goals in ninety-minutes.
Nat Lofthouse becomes the first player to score for England in 'extra-time play'.
2-3-5
Merrick -
Staniforth, Byrne -
Wright, Owen, Dickinson -
Matthews, Broadis, Lofthouse, Taylor, Finney.


notes: Owen went off injured towards the end of extra-time, he returned to outside-left with Wright going into centre.

Averages

:

Age

30

years 96 days
Appearances/Goals

22.9

5.7

oldest post war & WCF team so far
Match Report

by Mike Payne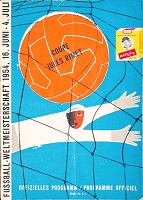 So, at last, The 1954 World Cup Finals are under way for England, and surely this match will rank as one of the most eventful of the whole tournament, no matter whatever else happens. For an hour England were magnificent.

Playing fast, purposeful football they stretched Belgium to the limit and only a tremendous display by Gernaey in goal saved them from an embarrassing defeat. Learning a good deal from their Hungarian experience, England employed much of the style of the magnificent Magyars. They overcame a shock early goal by Anoul for Belgium to quickly equalise when Ivor Broadis scored after good work by Billy Wright and Tommy Taylor had created the opening.

That goal came in the 25th minute and seven minutes later a Taylor through-pass sent Tom Finney away. The Preston winger sent over a lovely centre and Nat Lofthouse roared in to dive horizontally to head a magnificent goal.

When Broadis added a third goal shortly after half-time following a piece of typical Stanley Matthews magic it seemed all over bar the shouting. But instead of pressing home their advantage England tended to over-elaborate their passing movements and in the last 15 minutes they were made to pay for this approach. In a sudden five minute burst from Belgium the scores, remarkably, were level. First Houf and then Coppens pounced on loose defensive work to give Belgium a reward they barely deserved, extra-time.

This, too, was full of drama. Lofthouse restored the England lead when fine work by Broadis and Taylor set up the chance. However their joy was short-lived as two minutes later a tragic own-goal ended the scoring. A long hopeful cross by Dries was met by Jimmy Dickinson's head and the ball flew past Gil Merrick to the dismay of all English fans present.

This was a very frustrating result for England and particularly annoying because they should have won the match convincingly.

Match Report

by Norman Giller
A Jimmy Dickinson own goal during extra-time gave Belgium a draw in a helter-skelter match full of defensive blunders as England made an eventful start to their challenge for the World Cup. A goal down in five minutes, England produced some enterprising and energetic football and deserved their 2-1 half-time lead from goals by Ivor Broadis and Nat Lofthouse. The Lofthouse goal was a cracker, a spectacular diving header to send a Tom Finney cross powering into the net. When Broadis added a third goal early in the second half it looked odds on an England victory. Then defensive lapses let the Belgians in for two soft goals that took the game into extra-time. Nat Lofthouse made it 4-3 in the opening moments of extra-time, and England seemed destined for full points when Jimmy Dickinson turned an intended headed clearance into his own net. Billy Wright took over at centre-half in the closing stages as Syd Owen limped to a passenger's role on the wing. It was to prove the most significant positional switch of Billy's career.

Source Notes
TheFA.com
Original newspaper reports
FIFA match report
Belgiumfootball.be

Rothman's Yearbooks


Mike Payne's England: The Complete Post-War Record
Norman Giller, Football Author
The Complete Book of the British Charts
British Pathé
cg