Match Summary
Officials

Type

Referee (black shirt) - István Zsolt
32 (28 June 1921), Budapest, Hungary.

Linesmen - José da Costa Vieira

, Portugal, and Vasa Stefanović, Yugoslavia.

Goal Attempts
Attempts on Target
Hit Bar/Post
Corner Kicks Won
Offside Calls Against
Fouls Conceded
Possession

England Team
Rank:

No official ranking system established;
ELO rating 5th to 4th
Colours:
The 1949 home uniform - White collared short-sleeved jerseys, blue shorts, black socks with white tops.
Capt:
Billy Wright, 45th captaincy
Manager:
Trainer: Jimmy Trotter (Charlton Athletic FC)
Walter Winterbottom, 41 (31 March 1913), appointed as FA national director of coaching/team manager on 8 July 1946;


63rd match, W 39 - D 13 - L 11 - F 185 - A 91

, one abandoned. Team chosen by Selection Committee headed by Harold Shentall, on Saturday, 19 June 1954.
England Lineup
1
Merrick, Gilbert H.
32

26 January 1922

G
Birmingham City FC
22

41ᵍᵃ

2
Staniforth, Ronald
30
13 April 1924
RB
Huddersfield Town AFC
5
0
3
Byrne, Roger W.
24
8 September 1929
LB
Manchester United FC
5
0
14
McGarry, William H.
23
10 June 1927
RHB
Huddersfield Town AFC
1
0
4
Wright, William A.
30
6 February 1924
CHB
60
3
6
Dickinson, James

W.

29
24 April 1925
LHB
37
0
11
Finney, Thomas
32
5 April 1922
OR
53
23
8
Broadis, Ivan A.
31
18 December 1922
IR
Newcastle United FC
13
8

10

Taylor, Thomas
22
29 January 1932
CF
Manchester United FC
5
2
15
Wilshaw, Dennis J.
28
11 March 1926
IL
Wolverhampton Wanderers FC
2
3
17
Mullen, James
31

6 January 1923

OL
Wolverhampton Wanderers FC
12
6

reserves:

no reserves named.

team notes:

Stan Matthews and Nat Lofthouse were named in their same positions as against Belgium, but had to be replaced at the last moment. Finney swapped wings, and Mullen and Wilshaw formed a new left wing.
Billy Wright extends his record appearance tally.
Dennis Wilshaw becomes England's youngest goalscorer at a World Cup Finals tournament, aged 28 years and 101 days, three days after Nat Lofthouse broke the same record.
2-3-5
Merrick -
Staniforth, Byrne -
McGarry, Wright, Dickinson -
Finney, Broadis, Taylor, Wilshaw, Mullen.

Averages:

Age
28.4
Appearances/Goals
17.5
3.9

Switzerland Team
Rank:

No official ranking system established;
ELO rating 21st to 24th
Colours:
Red buttoned-up jerseys, white shorts, black socks with two thin white hoops and red tops.
Capt:
Roger Bocquet
Manager:
Karl Rappan, 48 (26 September 1905 in Austria), reappointed November 1953 for a third time.
40th match, W 13 - D 9 - L 18 - F 81 - A - 98.
Switzerland Lineup
2
Parlier, Eug�ne
25
13 February 1929
G
Servette FC
5

7ᵍᵃ

7
Neury, Andr�
32
3 September 1921
RB
Servette FC
26
0
4
Bocquet, Roger
33
19 April 1921
LB
Lausanne-Sports
46
2
14
Kernen, Wilhelm
24
6 August 1929
RHB
FC La Chaux-de-Fonds
16
1
10
Eggiman, Olivier
35
28 January 1919
CHB
FC La Chaux-de-Fonds
38
0
8
Bigler, Heinz
28
21 December 1925
LHB
BSC Young Boys
4
0
22
Vonlanthen, Roger
23
5 December 1930
OR
Grasshopper Club
11
3
15
Antenen, Charles
24
3 November 1929
IR
FC La Chaux-de-Fonds
27
13
20
Meier, Eugen
24
30 April 1930
CF
BSC Young Boys
7
1

16

Ballaman, Robert
27
21 June 1926
IL
Grasshopper Club
22
9
17
Fatton, Jacques
28
19 December 1925
OL
Servette FC
50
28

reserves:

no reserves named
2-3-5
Parlier -
Neury, Bocquet -
Kerna, Eggiman, Bigler -
Vonlanthen, Antenen, Meier, Ballaman, Fatton

Averages:

Age
27.5
Appearances/Goals
22.9
5.2
Match Report by Mike Payne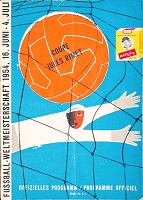 Injuries to Stanley Matthews and Nat Lofthouse caused England to make several changes to their team for this vital World Cup match against the host nation. The Wankdorf Stadium looked very impressive under a cloudless blue sky and it soon warmed to a cauldron-like atmosphere as the shirt-sleeved crwod, reminiscent of a Test match, basked in the conditions. Sadly, the football match, understandbly perhaps, never rose above the mediocre.

England, looking disjointed, never really got to grips with the game and far too often moves broke down before reaching the danger zone. The Swiss fared little better and it was hard to believe that they had already beaten Italy in these finals. On the plus side Billy Wright looked superb in his new role of centre-half and perhaps he will now settle down into a position that has been beckoning for some time.

Thirty minutes into the match, Tom Finney began to cause some flutters in the Swiss defence by moving to inside-right. Tommy Taylor also looked good and gave his market, Neury, a hard time. Five minutes before the break England broke the deadlock.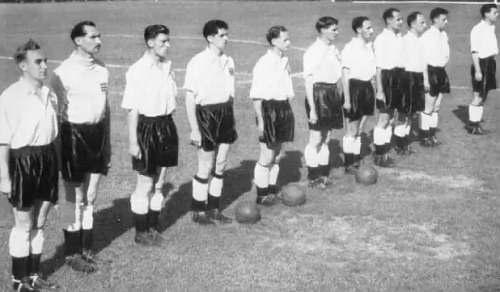 Taylor headed a long through-pass in to space and Jimmy Mullen moved in to slide the ball past Parlier. It was a much-need boost for England.

The second half was very poor with the seering heat taking its toll on all the players, so, when midway through the half England settled the result with a second goal, the relief could be felt everywhere. The chance came with Billy McGarry finding Dennis Wilshaw with a ground pass. The inside-left sold two dummies before dribbling past Neury, Bigler and Bocquet to shoot a brilliant goal beyond Parlier. It was a fine effort by the Wolves player and effectively ended the contest.

There was only one other noteworthy moment when Switzerland almost set up a granstand finish. With 15 minutes to go Ballaman flicked his shot past Gil Merrick, only to see Ron Staniforth save a certain goal by running back to clear off the line to safety.

So England moved into the next round as Britain's only survivors but they would have to improve on this performance to have any chance of progressing any further.

Match Report by Norman Giller
Wolves left wing partners Dennis Wilshaw and Jimmy Mullen scored the goals, and their club captain Billy Wright started his first match as England's centre-half. Bill McGarry gave a solid debut performance in Wright's old position at right-half against the host nation and in searing-hot conditions that sapped the energy of the players. Mullen scored the first goal three minutes before half-time to silence a capacity 60,000 crowd. Wilshaw clinched the victory with a superb individual goal midway through the second-half, cleverly evading three Swiss defenders before steering a firm shot into the net. Syd Owen's injury had accidentally solved England's on-going centre-half crisis. Billy Wright slotted into the position as naturally as if born to the job, and the Swiss centre-forward was not allowed a sniff at goal.

The

Top Twelve UK Music Chart by New Musical Express
On Friday, 15 November 1952, The New Musical Express published the first ever singles chart in the UK. However, over eighteen months later, when England beat Switzerland, Doris Day's Secret Love was still the best selling single. When the chart of Friday, 18 June 1954 was published, there were ten surviving songs from the last chart when England played:-
1.

(=)

Secret Love

- Doris Day (Philips)
7

.

(5)
Someone Else's Roses - Joan Regan (Decca)

2

.

(=)
Such A Night

-

Johnnie Ray (Philips)

8

.

(=)

The Gang That Sang Heart Of My Heart

-

Max Bygraves (HMV)

3.

(=)

Friends And Neighbours

-

Billy Cotton & His Band

(Decca)
9

.

Cara Mia

-

David Whitfield with Mantovani & His Orchestra (Decca)

4.

(10)

Wanted

-

Perry Como (HMV)



10

.

(9)

Changing Partners

-

Kay Starr (Capitol)

5.

(4)

The Happy Wanderer

-

Obernkirchen Children's Choir

(Parlophone)
11

.

(10)

The Kid's Last Fight

-

Frankie Laine

(Philips)

6

.
(=)

(Oh Baby Mine) I Get So Lonely

-

Four Knights

(Capitol)

12.
(re)
Wanted

-

A

l Martino

(Capitol)

♪Most weeks at number one when England played:


Frankie Laine five, Doris Day four, Guy Mitchell two, Al Martino, Lita Roza, Stargazers and David Whitfield one each

Source Notes
TheFA.com
FIFA match report
Football.ch
Original newspaper reports
Rothman's Yearbooks
Mike Payne's England: The Complete Post-War Record (Breedon Books Publishing Company, Derby, U.K., 1993)
Norman Giller, Football Author
officialcharts.com singles chart
____________________

CG