"FRANK SWIFT STOPPED SCOTS WITH TWO FRACTURED RIBS" Sunday Mirror
Officials
Scotland
UK ruling on substitutes
England

Referee

(red & black stripes)


David Maxwell
Belfast.
Linesmen
Joseph Oates


Kirkcaldy, Fife

F. Thurman


England

Teams presented to Field Marshall The Viscount Montgomery KG GCB DSO, both Tom Finney and Willie Thornton served under Montgomery in the Eighth Army.

Scotland Team
Rank:
No official ranking system established;
ELO rating 16th to 17th
Colours:
Dark blue jerseys with white collars, white shorts, blue socks with red tops.
Capt:
George Young
Selector:
Scottish Football Association Selection Committee
on Wednesday, 31 March 1948.

Trainer:

Willie Gibson (Queen's Park FC)

Scotland Lineup
645
Black, Ian H.
24
14 days
27 March 1924
G
Southampton FC, England
1

2ᵍᵃ

only app 1948
2
Govan, John
25
85 days
16 January 1923
RB
Hibernian FC
2
0
3
Shaw, David
30
341 days
5 May 1917
LB
Hibernian FC
4
0
4
Campbell, William B.
27
259 days
26 July 1920
RHB
Greenock Morton FC
3
0
5
Young, George L., injured, head wound
25
166 days
27 October 1922
CHB
Rangers FC
7
0
6
Macauley, Archibald R.
32
255 days
30 July 1915
LHB
Arsenal FC, England
4
0
7
Delaney, James
33
220 days
3 September 1914
OR
Manchester United FC

, England

15
7
final app 1935-48
646
8
Combe, Robert R.
24
72 days
29 January 1924
IR
Hibernian FC
1
0
9
Thornton, William
28
38 days
3 March 1920
CF
Rangers FC
5
0

10

Steel, William
24
345 days
1 May 1923
IL
Derby County FC, England
6
3
11
Liddell, William B.
26
91 days
10 January 1922
OL
Liverpool FC, England
6
2
reserves:
Travelling reserves are Cox (Rangers FC) and Aikman (Falkirk FC).
Full team of reserves are Brown (Rangers FC); McGowan (Partick Thistle FC) and McPhie (Falkirk FC), Cox and Willie Woodburn (Rangers FC); Jimmy Delaney; Turnbull (Hibernian FC) and Duncan (East Fife FC);
team notes:
Only one change to the team to that was originally selected, a straightforward replacement between Delaney and Rangers' Waddell, who had to cry off with a muscle injury sustained in his teams match against Aberdeen FC on 3 April.
George Young received a head wound to his temple in a collision with Tommy Lawton in the first half.
2-3-5
Black -
Govan, Shaw -
Campbell, Young, Macauley -
Delaney, Combe, Thornton, Steel, Liddell

Averages:

Age
27

years

206

days

Appearances/Goals

4.9

1.1

England Team
Rank:
No official ranking system established;
ELO rating 3rd
Colours:
The 1946 home uniform - White collared jerseys, blue shorts, red socks.


13th, W 10 - D 2 - L 1 - F 49 - A 12

¹⁸
Capt:

George Hardwick


13th, W 10 - D 2 - L 1 - F 49 - A 12

¹³

Manager:
Walter Winterbottom, 35 (31 March 1913), appointed as FA national director of coaching/team manager on 8 July 1946;


13th match, W 10 - D 2 - L 1 - F 49 - A 12

¹³⁹

Team chosen by Selection Committee headed by Arthur Drewry on Thursday, 1 April, in Manchester.

England Lineup
three changes to the previous match (Cockburn, Matthews & Pearson>Taylor, Langton & Mannion)

league position

(1 April)

Swift, Frank V

.

, injured 70th min., two cracked ribs
34
106 days
26 December 1913
G
Manchester City FC

(FL 9th)

13
12ᵍᵃ
2
Scott, Lawrence
30
353 days
23 April 1917
RB
Arsenal FC

(FL TOP)

13
0
3
Hardwick, George F.M., injured knee
28
68 days
2 February 1920
LB/OL
Middlesbrough FC

(FL 9th)

13
0
final app 1946-48
4
Wright, William A.
24
64 days
6 February 1924
RHB
Wolverhampton Wanderers FC

(FL 6th)

13
0
5
Franklin, Cornelius
26
77 days
24 January 1922
CHB
Stoke City FC

(FL 16th)

13
0
6
Cockburn, Henry
26
209 days
14 September 1921
LHB

/LB

Manchester United FC

(FL 2nd)

4
0
7
Matthews, Stanley
33
69 days
1 February 1915
OR
Blackpool FC

(FL 8th)

24
9
8

Mortensen, Stanley H.
26
320 days
26 May 1921
IR
Blackpool FC

(FL 8th)

6
10
9

Lawton, Thomas
28
187 days
6 October 1919
CF
Notts County FC

(FL3s 10th)

21
21
670
10
Pearson, Stanley C.
29
90 days
11 January 1919
IL
Manchester United FC

(FL 2nd)

1
0
the eighth United player to represent England
11

Finney, Thomas
26
5 days
5 April 1922
OL/
LHB
Preston North End FC

(FL 4th)

11
9
reserves:
Raich Carter (Hull City FC

(FL3N 9th)

) and Bill Nicholson (Tottenham Hotspur FC

(FL2 8th)

)
team notes:
Despite fracturing two ribs after being bundled into his goalnet in the seventieth minute, Swift refused to leave the field. Had Hardwick not been injured, he would have replaced Swift in goal. As it was, Swift remained, and collapsed on his return to the dressing room after the final whistle.
records:
The partnership at the back between Laurie Scott and George Hardwick has gone on for a record thirteenth consecutive international match.
The victory equals England's best post-war run set between 1946-47 of six matches unbeaten.
2-3-5
Swift -
Scott, Hardwick

(Cockburn) -


Wright, Franklin, Cockburn

(Finney) -


Matthews, Mortensen, Lawton, Pearson, Finney.


notes: after Hardwick was injured, he went to outside-left, Finney and Cockburn each dropped back.

Averages:

Age
28

years

209

days

Appearances/Goals

12.0

4.3

oldest post-war team so far
most experienced post-war team so far
Match Report
by Mike Payne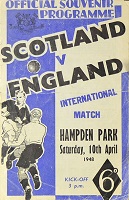 Over 135,000 people saw England retain the Home International Championship but most of the crowd went away very disappointed at Scotland's performance. From the start the Scot's employed some pretty robust tactics and resorted to some ruthless tackling to upset the usual England rhythm. But in the end their destructive tactics proved their own undoing as it was far too negative.

Early on George Hardwick and, to a lesser degree, Lionel Scott were given a hard time by the pacey Scottish wingers. Billy Wright was constantly pulled out of position by Steel's ability, but Scotland lacked the necessary thrust up front. Neil Franklin was playing theᵍᶧme of his life at the heart of the England defence and gradually they began to repel the frequent Scottish raids.

Thornton missed two easy opportunities to give Scotland the lead their early play had deserved and it wasted the good work of Govan, Shaw, Young and Macauley who had given them the upper hand. Thornton especially missed badly when he headed a perfect Steel centre wide from close in.

The England attack was occasionally breaking dangerously and Stan Mortensen showed some electric pace but generally their forward line was mostly starved of service. But, after spending most of the first half with their backs to the wall, England suddenly produced a touch of magic minute before half-time.

A superb move began with Frank Swift's clearance finding Tommy Lawton. The centre-forward flicked the ball to Stan Pearson who, in turn, found Tom Finney with a perfect through ball. The 'Preston Plumber' took the ball in his stride, beat Young and Govan by balance and footwork, to shoot magnificently past Black. The ball had gone from England's penalty area to the back of the Scottish net without a home player getting near it. It was a goal out of the text book and out of the blue.

For the first ten minutes after the break Scotland, urged on by the mighty Hampden Roar, fought to get on terms. Twice Swift received severe buffetings on his goal-line - he was later found to have suffered a cracked rib - but, he held firm. Scott blocked a shot from Steel on the line and Neil Franklin and Henry Cockburn continued to defend magnificently.

On 64 minutes, England conjured up a second and decisive goal. Lawton was the architect, robbing Macauley and putting a brilliant ball through for Mortensen to score easily.

Scotland fought desperately to salvage something. Delaneyᵍᶧve Liddell a clear chance but Hardwick saved his shot on the line and then blocked Thornton's rebound shot.

After that, Scotland faded and towards the end, with Wright now containing Steel, England became more controlled and comfortable. The robust tackling had left its mark, though. Stanley Matthews had been continually brought down by Macauley and Hardwick ended the match limping on the left wing.

Match Report
by Norman Giller
Finney and Mortensen scored a goal each in a rough-house of a match. Goalkeeper Frank Swift insisted on playing on after being knocked out in a collision with 'Flying Scot' Billy Liddell. A crowd of 135,376 saw England clinch the Home Championship, despite having skipper George Hardwick limping on the wing with a knee injury that was to finish his international career. Finney gave England the lead a minute before half-time at the end of a four-man passing movement that started in their own goal area. Lifted by the famous Hampden Roar, Scotland dominated play early in the second-half, but a 64th minute goal from Mortensen after he had combined with Lawton knocked the fight out of the Scots. Swift later collapsed on the railway platform at Manchester and was wheeled off on a porter's trolley for an examination which revealed that he had two broken ribs. The Scots kicked everything that moved, and often it wasn't the ball! Stan Pearson, the Manchester United inside-forward, was making his debut and said afterwards that he was shocked by the viciousness of the tackling because he had always thought international football was gentlemanly compared with club football. It was one of the toughest ever home internationals.

Match Report
as reported in the F.A. Yearbook 1948-49, pages 24 & 25
The last of the Internationals of the season, Scotland v. England, at Hampden Park on April 10, 1948, was as full of drama as it was empty of science. With both Scotland and Ireland out of the running for the International Championship, Wales was one point ahead of England who had to win the match to win the tournament. They did so, but only in face of certain tactics by Scotland that upset the scientific smoothness of England's style and introduced a note of ferocity into what should have been one of the best games of the season. Swift was charged so roughly in the second half that, as was discovered later, one of his ribs was cracked; Young, the outstanding Scottish defender, suffered a head wound. The Hampden crowd certainly saw a gladiatorial show, but the game was a disappointment to the true football lover.
The first goal came as a surprise, as it was entirely out of the run of play. The pall passed from the English goalkeeper to the Scottish net without a single Scottish player touching it; Swift cleared to Lawton, who passed to Pearson, and the latter sent the ball on to Finney who scored. For the rest of the first half there was no further score.
It was nineteen minutes after the interval that Mortensen got England's second goal from a pass by Lawton. Scotland pressed hard, but Hardwick was a powerful defender and alone saved the English goal from two dangerous attacks. The last 20 minutes saw England in charge of the game which came to a dull finish.
Thus England won the Championship after a season of brilliant football that will long be remembered. Apart from the individual brilliance of the members of the team, their successes have in no small measure been due to the wise policy of the Selection Committee, under the leadership of Mr. A. Drewry. This committee, itself since the war smaller and with a more static membership, has aimed to make the team as stable as possible. The team for each match has been chosen from a steady group of about 16 players, who have gone onto the field without the feeling that they may be dropped unless they play an outstanding game. This continuity, together with the appointment of a regular team manager, trainer, and masseur, and a scientific system of training, has allowed them to get to know each other's idiosyncrasies and to move as a well-coordinated unit.

Source Notes
TheFA.com
Original newspaper reports
LondonHearts.com
Drew Herbertson, Scottish FA historian

Rothman's Yearbooks


Mike Payne's England: The Complete Post-War Record
Norman Giller, Football Author
British Pathé (no sound)
cg