Match Summary
Officials

Italy

Type

England

Referee (black blazer) -

Pedro Escartín

Morán


45 (8 August 1902), Madrid, Spain.

Linesmen - tbc



The FIFA ruling of allowing a substitute to replace an injured player prior to the 44th minute, and a goalkeeper at any time, is in place.

Goal Attempts
Attempts on Target
Hit Bar/Post
Corner Kicks Won
Offside Calls Against
Fouls Conceded
Possession

Italy Team
Colours:
Dark blue crew necked jerseys, white shorts.
Rank:
No official ranking system established;
ELO rating 2nd
Capt:
Victor Mazzola
Manager:
Vittorio Pozzo
third match, W 2 - D 0 - L 1 - F 6 - A 6
Italy Lineup
1
Bacigalupo, Valerio
24
12 March 1924
G
AC Torino
3

6

GA

2
Ballarin, Aldo
26
10 January 1922
RB
AC Torino
7
0
3
Eliani, Alberto
26
14 January 1922
LB
Fiorentina
2
0
4
Annovazzi, Carlo
22
24 May 1925
RHB
AC Milan
3
0
5
Parola, Carlo
26
20 September 1921
CHB
Juventus FC
6
0
6
Grezar, Giuseppe
29
25 November 1918
LHB
AC Torino
8
0
7
Menti, Romeo
28
5 September 1919
OR
AC Torino
5
4
8
Loik, Ezio
28
26 September 1919
IR
AC Torino
8
4
9
Gabetto, Guglielmo
32
24 February 1916
CF
AC Torino
6
5

10

Mazzola, Valentino
29
26 January 1919
IL
AC Torino
10
3
11
Carapellese, Riccardo
25
1 July 1922
OL
AC Milan
4
4

unused substitutes:

-

team notes:

Bacigalupo, Ballarin, Grezar, Menti, Loik, Gabetto and Mazzola would all be dead within a year, following the Turin Air Disaster.
2-3-5
Bacigalupo -
Ballarin, Eliani -
Annovazzi, Parola, Grezar -
Menti, Loik, Gabetto, Mazzola, Carapellese.

Averages:

Age
26.8
Appearances/Goals
5.6
1.8

England Team
Rank:

No official ranking system established;
ELO rating 3rd
Colours:
The 1946 home uniform - White collared jerseys, blue shorts, red socks
Capt:
Frank Swift, first captaincy.
Manager:


Member-in-charge: Arthur Drewry.




Trainer: Jimmy Trotter (Charlton Athletic FC)

Walter Winterbottom, 35 (31 March 1913), appointed as FA national director of coaching/team manager on 8 July 1946;
14th match, W 11 - D 2 - L 1 - F 53 - A 12.


Original Party chosen by Selection Committee headed by Arthur Drewry on Sunday, 25 April 1948. Team chosen Saturday, 16 May.

England Lineup
Swift, Frank V.
34
26 December 1913
G
Manchester City FC
14

12

GA

2
Scott, Lawrence
31
23 April 1917
RB
14
0
3
Howe, John R.
32
7 October 1915
LB
Derby County FC
1
0
4
Wright, William A.
24
6 February 1924
RHB
14
0
5
Franklin, Cornelius
26
24 January 1922
CHB
14
0
6
Cockburn, Henry
26
14 September 1921
LHB
5
0
7
Matthews, Stanley
33
1 February 1915
OR
Blackpool FC
25
9
8
Mortensen, Stanley H.
26
26 May 1921
IR
Blackpool FC
7
11
9
Lawton, Thomas
28
6 October 1919
CF
Notts County FC
22
22

10

Mannion, Wilfred

J.

30
16 May 1918
IL
Middlesbrough FC
13
8
11
Finney, Thomas
26
5 April 1922
OL
12
11

unused substitutes:

Jack Aston (Manchester United), Alf Ramsey (Southampton), Bill Nicholson (Tottenham Hotspur), Stan Pearson (Manchester United), Bobby Langton (Blackburn Rovers).
Ted Ditchburn (Tottenham Hotspur FC) was a home reserve. On standby in case of injury to Swift.

team notes:

Frank Swift was chosen to captain England on Thursday, 13 May. The England team trained in Stresa, overlooking Lake Maggiore, before setting up in the Hotel Piedmonte in Turin the day before the match.
Jack Howe was wearing contact lenses, becoming the first England player to do so in an international match.
This is the oldest and most-experienced post-war team England have fielded so far.
2-3-5
Swift -
Scott, Howe -
Wright, Franklin, Cockburn -
Matthews, Mortensen, Lawton, Mannion, Finney.

Averages:

Age
28.7
Appearances/Goals
12.8
5.2
Match Report by Mike Payne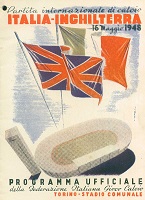 The scoreline does not reflect the closeness of this contest. A huge crowd, mostly white-shirted and dotted with black umbrellas under a blazing sun, gave the teams a tremendous welcome as they came out.

England won the toss but Carapallese and Mazzola were soon worrying their defenders. After four minutes, though, it was England who took the lead. Stan Mortensen took a clever through pass from Stanley Matthews, cut past the Italian left flank and shot home from an unbelievable angle. It was a great goal, typical of such a great player.

For the next 20 minutes England were rocked back on their heels. The Italian forwards and wing-halves pressed forward with metodical precision. Yet on 24 minutes, and completely out of the blue, England suddenly increased their lead.

This time Neil Franklin found Matthews. Again, a through-ball reached Mortensen, who then changed pace twice to leave Grezar and Parola floundering before hooking the ball back for Tommy Lawton to shoot home a thunderbolt.

Before that goal, Menti twice had goals ruled out for offside and Swift had saved brilliantly from a Gabetto close-range header. Lawrie Scott also had to save a shot from Carapallese on the goal-line and then, after the second England goal, the same Italian forced Frank Swift into another fine save.

Immediately after the interval, Mazzola was clean through and had a golden opportunity but he shot straight at Swift.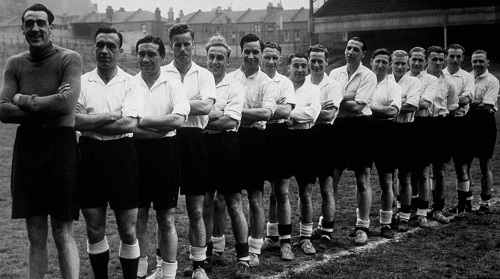 On 59 minutes a header by Gabetto rebounded from the crossbar and then Swift made yet another brilliant save, diving full-length to stop the rebound from going over the line.

Although England were now moving more comfortably with Henry Cockburn coming into the picture more, Italy were still very dangerous up front. Billy Wright was playing magnificently for the visitors and he did particularly well to stop Mazzola and Carapallese, Italy's best players.

With 19 minutes remaining, England settled the match with two more fine goals in as many minutes. A clever lobbed pass by WIlf Mannion was volleyed home by Tom Finney; and the Preston player then netted again after good work by Cockburn and Mortensen.

It was all over now and the game ended with England giving Italy a football lesson. Their superior tactics, individual brilliance and lethal finishing had won the day.

Swift, Wright, Franklin, Scott and Mortensen had all been outstanding.

Match Report by Norman Giller
Frank Swift recovered from his rib injury against Scotland the previous month in time to become the first goalkeeper to captain England, taking over from the unfortunate George Hardwick. His first match as skipper was against the two-times world champions Italy. Italy were stunned in the fourth minute when Stan Mortensen sprinted 40 yards down the right wing before cutting in and scoring with a screaming shot from an acute angle. Following a series of stunning saves by skipper Frank Swift, Morty laid on a second goal for Tommy Lawton, and two individual goals from Tom Finney finished off the Italians late in the second-half. Derby County defender Jack Howe, making his debut at left-back, was the first to play for England while wearing contact lenses. There were tears among the shirt-sleeved 58,000 spectators in Turin's Stadio Communale as the Old Masters conquered the side that had won the World Cup in 1934 and again in 1938. At the peak of Italy's attempted revival in the first-half, it was Wright and Franklin together who did most to repel the wave upon wave of Italian attacks, with Swift always alert behind them as a magnificent last line of defence. He was so proud of being made captain that he was going to refuse to let anybody put the ball past him and spoil his big day. He saved at least half a dozen times when a goal seemed certain. The Italian team included six of the gifted Torino team that was tragically killed in an air crash a year later. Among the victims was skipper Valentino Mazzola, whose two sons later went on to play for Italy. It is chilling to think that both captains in the match against Italy, Frank Swift and Mazzola, were later to die in air crashes. Big Frank died in the 1958 Munich air disaster when travelling with Manchester United as a newspaper reporter.


Source Notes
"ITALIAN SOCCER CHAMPIONS
"DIE IN PLANE WRECK ꟷ ONE ENGLISH VICTIM
"Italy's champion Association football team, the Torino F.C., with their English trainer, 38-year-old former Manchester United star, Leslie Lievesley, were killed in a plane crash near Turin on Wednesday evening.
"The death-roll includes the full team, at least three reserves, another trainer, three journalists, the president of the club (Professor Agnesina), a masseur, and the crew of the plane. In all the victims number 31.
"The aircraft, which was bringing the team back from a friendly match in Lisbon, was trying to land on Turin Airfield in bad visibility when it struck the Superga hill and burst into flames.
"Fragments of wreckage were shot through the roof of the famous Basilica of the Superga, a burial place of the Royal House of Savoy. The plane's wing-tip is thought to have touched the tower of the Basilica.
"The Torino, five teams consecutively winners of the Italian championship, included many internationals, some of whom played against a British team in Turin last year.
"A one-week 'blck-ou' of all Italian football may follow the crash." - Thursday, 5 May 1949, Belfast Telegraph



TheFA.com
Original newspaper reports
Rothman's Yearbooks
FIGC
Mike Payne's England: The Complete Post-War Record (Breedon Books Publishing Company, Derby, U.K., 1993)
Billy Wright's The World is My Football Pitch (Stanley Paul Co 1953)
Norman Giller, Football Author
____________________

CG